Oil shocks are history
On September 14, 2019 explosive drones took out one of Saudi Arabia's major oil refineries which accounted for nearly 6% of the world's oil supplies (5.7 million barrels a day). Standard media hysteria and public concern arose with the belief that Americans would soon see $4.00 a gallon gasoline all across the nation. Within days the reaction was muted. US oil supplies have increased 40% in the past three years (3.65 million barrels since the end of 2016) and supplies in reserve all over the world, will prove oil shocks like the Arab Oil Embargo of the 1970s are a thing of the past. In the US , we are seeing an increase in production everywhere. The West Texas Permian Basin will increase another million gallons per day in the next few months as new pipelines come on board to take oil to market. Four thousand more wells sit idle waiting for Hydraulic Fracturing once transport of the new oil is assured.
Saudi Arabia restored half their production within a week and reached out to other countries to obtain oil to supply all its clients. They are paying a premium to construction companies helping to build back their own supply .
The International Energy Agency (IEA) consisting of 30 oil consuming nations, including the United States and Canada coordinate their energy security. They can all release oil from their strategic reserves when necessary. President Trump authorized a release unilaterally while IEA did not yet see the need. Their rule of thumb is to do nothing until 7% of global supply is affected. This last happened during the Libyan civil war in 2011 when IEA ordered the release of 60 million barrels of oil collectively from its 30 nations.
Last week IEA reported that crude oil stockpiles around the world had increased by 2.4 million barrels when analysts expected a decline. There is now considerable worry about an over supply around the world being affected by the US- China trade war. Concurrently natural gas prices have declined for three months.
The US holds 644.8 million barrels valued at more than $35 billion at current prices, in four locations in Texas and Louisiana in underground salt caverns. The oil can be extracted at any time by pumping water into the bottom of the caverns forcing oil out the top. It takes about two weeks to draw off significant quantities.
At its peak in 2010 the US Strategic Petroleum Reserve contained 726 million barrels. Now, due to huge increases in new production, the US has been selling excess oil bringing current storage down to 644.8 barrels.
All this points to the end of the sudden distorted shocks that send oil prices up. While the media will likely continue to promote the worst case fears the public will reduce their concerns.
Concurrently the impact of the once strong threats of the Organization of Petroleum Exporting Countries (OPEC) to drive prices up at the pump, have been weakened.
Commodity cartels have generally had a poor record of elevating long term prices that markets dictate. OPEC will not stop trying to get their members to limit production. but the world is starting to pay less and less attention. Every price hike caused by OPEC spurs cheating on quotas by cartel members or an increase in production by oil producers not in the cartel. With the United States returning to its position as the world's largest oil and natural gas producer, as a result of hydraulic fracturing and horizontal drilling, Middle Eastern oil shocks will be falling on deaf ears.
SOURCE
You've heard of Amazon Prime, why not EPA Prime?
The free market system has brought some incredible things to modern society.
Take Amazon, for example. Millions of products from all over the world are available to consumers in sometimes less than two business days thanks to Amazon Prime.
Years ago, it would have taken months to receive such products, and at a much higher cost. Go even farther back in time, and these products would have never been available to consumers at all.
So why can't the same efficiencies be applied to services provided solely by government?
This fall, the EPA announced several new grants for water quality and pollution reduction.
Clean water and air are incredibly important initiatives. We should never settle for less than best, and we need to explore every avenue in making our environment and communities as safe as possible.
So, this begs the question, how could this grant awarding process be even better? The EPA could pursue a sort of private-public partnership (also known as a "P3") when it comes to funding environmental protection – an "EPA Prime" if you will.
Investopedia defines a public-private partnership as "a collaboration between a government agency and a private-sector company that can be used to finance, build, and operate projects, such as public transportation networks, parks, and convention centers."
For example, according to Onvia.com, the US Forest Service in Arizona has long been using a public-private partnership to manage the Crescent Moon/Red Rock Crossing Recreation Area in Sedona, Arizona with Recreation Resource Management (RRM).
"RRM operates the park under a public-private partnership with the U.S. Forest Service…RRM's case study compared the privately-run Crescent Moon park to the nearby Red Rock State Park. Red Rock State Park is operated by Arizona State Parks, a public agency. RRM found that while the two parks in the study are geographically close and share similar entry-fees, attendance and overall revenue numbers, Crescent Moon (operated under the P3 agreement with RRM) returns close to $45,000 to the U.S. Forest Service each year in the form of net revenue, while RRM claims the publicly operated Red Rock State Park operated by Arizona State Parks costs the U.S. Forest Service $234,000 per year."
Private enterprise will always be more efficient and cost-effective than government programs, as shown by the US Forest Service here. But this was used in managing a recreation center. A private entity can clearly have an incentive to invest because a clear profit can be made.
What about other environmental projects where it is less likely – or impossible – for a profit to be made from the investment?
Still, even here a P3 has potential.
Both large corporations and small businesses have an incentive other than profit to make investments in the community. Part of it can be name recognition, but other motivators involve the positive press or the philanthropic goals of a business' founders. Almost every little league and pee wee football league utilizes this system. Local businesses sponsor a team so they can buy equipment, and in return the business' logo is on the uniforms and banners of the playing field.
The EPA has pursued limited versions of this. In what the EPA calls "Community-Based Public-Private Partnerships (CBP3)", the EPA encourages private entities to work with local municipalities to provide "green infrastructure" to underserved communities.
Only one example is listed on the website, however. That example is the stormwater CBP3 put in place by Prince George's County in Maryland in 2015, called the Clean Water Partnership. There may be other examples but EPA has not listed them on this page as far as could be found.
The County has partnered with Corvias, a private company that "works with the U.S. military, colleges and universities and municipalities to solve their facilities and infrastructure challenges."
According to the Clean Water Partnership website, 2,372 acres have been "retrofitted and managed" for stormwater issues, 994 bags of trash have been removed, 250 trees and 6,115 shrubs have been planted, 1,834,791 lbs of sediment have been removed from the water each year, and there has been a "30% cost reduction in stormwater retrofits."
Some of this seems like corporate-speak. It is unclear exactly what the 30% cost reduction in stormwater retrofits refers to; possibly it refers to the decreased cost of water with more efficient stormwater systems.
Whether every piece of this Partnership was absolutely necessary for the health of the County can be debated, but it is clear that involving Corvias, the private company, saved the people of Maryland significant tax money, and provided many beneficial and necessary services that they would not have received otherwise.
It is likely that there are many large companies who would jump at the chance at being able to say they work with the EPA in funding water quality projects across the nation to boost their recognition and impact.
After all, given the recent budget fights in Congress that have stymied federal work for months at a time, wouldn't it be nice to have projects that aren't subject to such partisan fights?
There's tons of money out there to improve our environment, and it doesn't have to be a only public or only private scenario in every situation.
Maybe you could get water infrastructure improvements almost as fast as you can get your leggings and apple watch.
It's time for EPA Prime, so to speak.
SOURCE
Is global warming all due to super El Niño's?
Shortly after it had occurred, I also noticed the steplike rise in temperature mentioned below but I said nothing about it at the time as I did not know quite what to make of it. So I am glad to have the informed comment on it below. I also noticed that the change seemed to coincide with an El Nino and wondered if that was the crucial event.

One thing that does clearly emerge from the figures is that temperature definitely does NOT track the fairly steady rise in CO2 over the period. It is responding to some other cause

In a recent CFACT article, climate expert Joe Bastardi says super El Niños have caused all the atmospheric warming since satellite measurements began in 1978. I suggested this two years ago in a CFACT article titled "No CO2 warming for the last 40 years?" Now Joe has confirmed it.
The focus of Joe's long article is that these super El Niños are natural.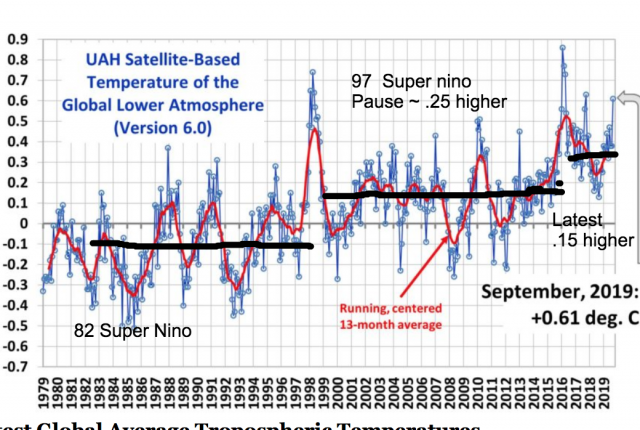 Most importantly, here is Joe's picture of the 1998-2000 super El Niño step up in global temperatures, with nothing but 15 to 20 year pauses on either side:
My description of this big step up, posted two years ago, is here.
There is little to no CO2 warming in the entire satellite record! Just a step up warming due to the super El Niño 20 years ago. I told you so. We may now have a second super El Niño step warming but it is too soon to tell. In any case there will still be no evidence of any CO2 induced warming. The gradual increase in atmospheric CO2 has nothing to do with super El Niños. Joe explains this in great detail.
Regarding the supposed surface and ocean warming, while it may be real, to my knowledge it cannot be due to the CO2 increase. (I say may be real because I have serious doubts about the validity of the convoluted statistical methods used to estimate this warming.)
I know of no mechanism whereby steadily increasing CO2 in the atmosphere can cause steady surface warming without first causing steady atmospheric warming, which the satellite data say has not happened. The surface and ocean warming would require increased back radiation from the airborne CO2 molecules, which requires increased atmospheric temperature, which we do not see.
If the surface and ocean are in fact warming, then "why?" is a very big question, which ought to be the focus of research. A solar effect seems most likely. But whatever caused it, this warming is not evidence of AGW. Unfortunately the climate science community is so wedded to AGW that this research is still waiting to happen. Why the predicted CO2 warming has not occurred is another good question, a huge one.
The elegant thing about science, at least in principle, is that a single observation can falsify a popular hypothesis. But as Thomas Kuhn pointed out in his groundbreaking book — The Structure of Scientific Revolutions– this may not be true in practice when the hypothesis is deeply entrenched, due to what I call paradigm protection. The community of believers will resist what observation clearly says. So we get the argument that the data must be wrong. However, the satellite data is accurate enough to falsify AGW.
The great philosopher of science Karl Popper said that science was a process of elegant conjectures, followed by refutation by observation. The conjecture of AGW is largely refuted by observation. CFACT reported it first.
SOURCE
Trump threatens to cut federal relief for California's wildfires and blames Governor Newsom for his poor management - who tells the 'climate change denier' president his opinion is unwanted
President Trump started his Sunday by blasting California Gov. Gavin Newsom over the state wildfires
'The Governor of California, @GavinNewsom, has done a terrible job of forest management. I told him from the first day we met that he must "clean" the forest floors regardless of what his bosses, the environmentalists, DEMAND of him,' Trump wrote.
However, neither of the two massive wildfires currently burning in California - the Maria Fire north of Los Angeles or the Kincade Fire in Sonoma County - are on forest land.
He added that he wanted to give the state 'no more' help and withhold federal financial aid.
Gov. Newsom hit back Sunday morning slamming the president saying: 'You don't believe in climate change. You are excused from this conversation.'
Although Trump has repeatedly blamed California officials for the state's fires and forest mismanagement, most of the state's forests are actually owned and managed by federal agencies. Federal agencies manage 57% of the 33million acres of forest in the Golden State.
Trump reamed Newsom on Twitter on Sunday morning, slamming the California politician for the wildfires that continue to spark new destruction year after year.
'Must also do burns and cut fire stoppers,' Trump advised. 'Every year, as the [fires] rage & California burns, it is the same thing- and then he comes to the Federal Government for $$$ help. No more.' 'Get your act together Governor,' the president added.
Trump pointed out that 'you don't see close to the level of burn in other states.'
Newsom hit back at the president pointing at his refusal to acknowledge the role climate change has in accelerating wildfires.
'We're successfully waging war against thousands of fires started across the state in the last few weeks due to extreme weather created by climate change while Trump is conducting a full on assault against the antidotes,' the Governor said in a statement to DailyMail.com on his work in the state for wildfire prevention and response.
'The reality is that while California has increased fire prevention investments and fuel management projects, the federal government has slashed its funding of those same activities,' Newsom's spokesman Jesse Melgar added.
Scientists have noted that climate change has contributed to the ferocity of wildfires, which have grown in frequency and power over the past couple of years. Hotter temperatures lead to drier, more fire-prone land, meaning blazes are more likely to occur.
In California specifically warm-season days have increased by 2.5 degrees since the early 1970s, according to a Earth's Future study.
Scientists have also said that California's forestry management isn't the only thing that can mitigate wildfires. Climate change as well as human factors like downed power lines and homes built too close together in rural areas also contribute to the blazes.
Last year's Camp Fire - which was the deadliest and more destructive in California history claiming 85 lives - was sparked by equipment operated by utility company Pacific Gas & electric.
At the moment several of the largest wildfires this season aren't even burning in forests.
The Getty Fire and Easy Fire broke out near Los Angeles in brush-filled hillsides.
After slamming Newsom, Trump then used Twitter to show his appreciation to the firefighters working on the ground.
'But our teams are working well together in putting these massive, and many, fires out. Great firefighters!' Trump said.
The president also advised that the state 'open up the ridiculously closed water lines coming down from the North.'
'Don't pour it out into the Pacific Ocean,' he said. 'Should be done immediately.'
SOURCE
Greenies were big donors in the last Australian Federal election
Zali Steggall given $1.1m donations in successful bid to topple Tony Abbott. Steggall given most among independents at election, and largest donor to independents was Climate 2020 lobby group
Climate 2020, the Simon Holmes à Court and Mike Cannon-Brookes-backed environmental lobby group, donated a total of $354,500 to independent candidates, making it their largest source of funding at the 2019 election.
According to disclosures released by the Australian Electoral Commission on Monday, Zali Steggall received a total of $1.1m of donations in her successful bid to topple Tony Abbott in Warringah, the highest of any independent.
Steggall was followed by Helen Haines, who raked in $421,000 in her successful bid to succeed Cathy McGowan in Indi; Oliver Yates, who received $363,000; and the former independent MP for Wentworth Kerryn Phelps, who received $219,000.
The disclosures reveal only donations from a single source above the $13,800 threshold received by individual candidates, independent Senate groups and their respective donors. Party declarations will be released in February.
The other independents who raised more than $100,000 were candidate for Farrer Kevin Mack, Queensland Senate candidate Hetty Johnston, ex-Liberal MP Julia Banks, former independent MP Rob Oakeshott, and disgruntled Liberal turned challenger in Gilmore, Grant Schultz.
Steggall also topped the list for the most number of donors (1,378), followed by Helen Haines (1,002) and Oakeshott (350).
Climate 2020 gave $145,000 to Oliver Yates, who failed in his bid to dislodge the treasurer, Josh Frydenberg, in Kooyong; $50,000 to the ACT independent Senate candidate Anthony Pesec; $47,500 to Phelps; $40,000 to Banks; $37,000 to Oakeshott; and $35,000 to Haines. Pesec also received $20,000 from Malcolm Turnbull's son, Alex Turnbull.
Climate 2020 Pty Ltd is an initiative of energy consultant Holmes à Court that has also received funding from Atlassian co-founder Cannon-Brookes, who describes it as a "non-partisan, non-profit project set up to assist political candidates with a clear commitment to a science-based response to the climate emergency and to restoring integrity to politics".
SOURCE
***************************************
For more postings from me, see DISSECTING LEFTISM, TONGUE-TIED, EDUCATION WATCH INTERNATIONAL, POLITICAL CORRECTNESS WATCH, FOOD & HEALTH SKEPTIC and AUSTRALIAN POLITICS. Home Pages are here or here or here. Email me (John Ray) here.
Preserving the graphics: Most graphics on this site are hotlinked from elsewhere. But hotlinked graphics sometimes have only a short life -- as little as a week in some cases. After that they no longer come up. From January 2011 on, therefore, I have posted a monthly copy of everything on this blog to a separate site where I can host text and graphics together -- which should make the graphics available even if they are no longer coming up on this site. See
here
or
here
*****************************************