BBC's Blatant Bias On Ridiculous Global Warming Claims In Full Force
Anyone who thinks that the BBC any longer pays the slightest attention to its statutory obligation to report only with "accuracy and impartiality" should have heard two items on last Tuesday's Today programme on Radio 4, each so one-sidedly propagandist that they made a complete mockery of the BBC Charter.
It was inevitable in light of the recent heat waves that the BBC would rush to publicise the "Hothouse Earth" report, in which a group of global warming zealots claimed that world temperatures are now on the verge of sending the climate spiraling out of control.
Unless we comply with the 2015 Paris climate accords (or possibly even if we do) and allow an environmentalist world government to bring about a "total re-orientation" of human behavior, an apocalypse is likely.
First interviewed was one of the report's authors, who made the astonishing claim, completely unchallenged, that, thanks to our burning of fossil fuels, we are now seeing "the highest temperatures on Earth since the last ice age".
It has long been established by proper science that in the Holocene Optimum, which followed the end of that last glaciation 12,000 years ago, parts of the Earth, for three millennia, were often far hotter than they are today.
But next, we only had a senior official of the UN body which organized the Paris conference to echo this message in spades.
What, of course, we never hear from the BBC is that the Paris accord was no more than empty wishful thinking.
The latest official figures from China show that, as already the world's greatest CO2 emitter, it is still building evermore coal-fired power stations – exactly as most non-Western countries indicated was their intention just before Paris.
Even the accord conceded that CO2 levels would continue to rise after 2015 to 40 percent above their 2005 level.
SOURCE
Ryan Zinke Torches Climate Change Narrative In Push To Save Forests From Wildfires
Here in the town dubbed the "gateway to the Sierras," the haze from the Ferguson Fire is fading as Yosemite National Park prepares to reopen, but the debate over how to stop wildfires from razing the state again next year continues to smolder.
California's catastrophic wildfire season has illuminated the yearslong stalemate between those who want to cut back the overgrown, beetle-infested national forests and environmentalists who have axed efforts to fell more trees, blaming the destructive fires on climate change.
Now the Trump administration is moving to break the logjam. As he tours one California fire site after another this summer, Interior Secretary Ryan Zinke has pressed for more active forest management while throwing cold water on the climate-first approach.
"I've heard the climate change argument back and forth," Mr. Zinke told KCRA3 in Sacramento on Sunday. "This has nothing to do with climate change. This has to do with active forest management."
His comments fueled the ire of the environmental movement, including the Center for Western Priorities, which accused him of "either being willfully ignorant or purposely deceptive."
"Any politician ignoring the role a warming climate plays in record-setting wildfire seasons loses all credibility as an honest broker," said center deputy director Greg Zimmerman. "Instead, Zinke is in California using an ongoing natural disaster to push an unpopular political agenda."
Elsewhere, Mr. Zinke has insisted that no matter what your take on global warming, the light-touch approach to thinning the national forests is doing more harm than good.
Wildfires have devastated 695,313 acres in California this year. The Mendocino Complex Fire, the largest in state history and one of nine major blazes still roiling the state, was 70 percent contained Monday after having burned 331,339 acres, according to the National Interagency Fire Center.
In West Redding, where the massive Carr Fire was 61 percent contained Monday after having burned 201,680 acres, Mr. Zinke said that "we're going to actively manage our forests, reduce the fuel load, and make sure that when we do replant, we replant diversity of species."
"The president's right. This is an example of, we have to actively manage our forests," the interior secretary said in a video from The Sacramento Bee. "I've heard the argument of climate change. It doesn't matter whether you believe or don't believe in climate change. What is important is that we manage our forests."
In December, the U.S. Forest Service announced that California had set a record with 129 million dead trees on 8.9 million acres, the result of a five-year drought and beetle-kill, but that its tree mortality task force had removed only about 1 million.
Meanwhile, the logging industry has continued its free fall, with timber harvesting dropping by 80 percent in the past 40 years, as projects in the national forests are killed or delayed by "frivolous litigation from radical environmentalists who would rather see forests and communities burn than see a logger in the woods," as Mr. Zinke put it in a Thursday op-ed.
Environmentalists have swung back by accusing the administration of using the wildfires as a pretext to prop up the ailing timber industry.
Kirin Kennedy, Sierra Club associate legislative director for lands and wildfire, accused the Trump administration of continuing to "exploit wildfires in California for political gain."
"[I]nstead of addressing or even acknowledging climate change's role in exacerbating wildfires, the administration is using fire as cover to serve special interests," Ms. Kennedy said. "Moving to increase logging and weaken protections for endangered species like salmon risks local and outdoor economies and ignores the need to reduce climate pollution, which is absolutely essential to ensuring the long-term safety of our communities."
The National Resources Defense Council said the massive California wildfires "underscore the need for California to double down on our convictions on climate" by fighting, for example, the Trump administration's recent move to lower federal fuel-efficiency standards on vehicles.
President Trump took heat last week for conflating the California water shortage and wildfires in a tweet blaming activists for diverting water supplies needed to fight fires. Fire specialists say a lack of water isn't the problem.
Mr. Trump made it clear he wanted to see more active forest management by saying, "Must also tree clear to stop fire from spreading!"
Rep. Tom McClintock, a California Republican who toured the Ferguson Fire last month with Mr. Zinke, argued that devoted climate change activists should be the first to embrace more timber harvesting in the name of thinning the national forests.
He cited the greenhouse gas emissions from out-of-control wildfires as well as the beneficial carbon-absorbing properties of healthy trees. A well-maintained forest in the Sierras should have 80 to 100 trees per acre, he said, but that figure is closer to 300 per acre in the national forests.
"Accepting their premise for the sake of argument, forest fires and dead trees make a mockery of all the laws aimed at reducing carbon emissions," said Mr. McClintock. "A burning or decaying forest releases enormous amounts of carbon into the air. A growing forest absorbs enormous amounts of carbon."
Unfortunately, said Mr. McClintock, environmentalists are "perfectly all right with dead forests that are ultimately consumed by wildfire. That's what their policies have produced."
A former congressman from Montana, Mr. Zinke has made forest health a priority. He issued a secretarial order last year directing the department to "adopt more aggressive practices" to head off catastrophic wildfires, including "robust fuels reduction and pre-suppression techniques."
"We have dead and dying timber," he said. "The density of our forests is too high. The fuel load is too great."
SOURCE
UK: Bob Ward Complains To IPSO–And Loses!
IPSO = Independent Press Standards Organisation
Readers will probably recall the following Booker piece from last January:
"One of Shakespeare's persistent themes in Hamlet is that when people set out to fool others, it will eventually catch up with them. Repeatedly he emphasises that "purposes mistook fall on their inventors' heads", that such people end up "hoist with their own petard", or get caught like a "woodcock" in their own trap.
There was a delightful example of this on our letters page last week, when that well-known propagandist for global warming, Bob Ward, tried to challenge what I had written about the recent series of unusually cold winters in North America.
The winters of 2007-08 and 2013-14, which Mr Booker highlights as particularly cold, were respectively only the 68th and 33rd coldest since records began in 1901. The mean temperature for the US in December 2017 was above average.Bob Ward, letters
Mr Ward is employed by the Grantham Institute at the London School of Economics, sponsored by a climate change-obsessed billionaire, and challenges anyone who publicly questions global warming orthodoxy. His point last week was to claim that, contrary to what I had written, recent US winters have not been unusually cold at all.
But the only evidence he could cite to support his point was the latest figures from the US National Oceanic and Atmospheric Administration (NOAA), suggesting that seven out of the past 10 US winters have in fact been "warmer than average".
What Mr Ward has not said here is that, in a way which has aroused widespread suspicion, NOAA's figures have lately been significantly "adjusted", to suggest that several famously severe recent winters, such as those in 2008 and 2014, were not unusually cold by the standards of the 20th century.
Several expert bloggers have been analysing the surprising picture given by NOAA's new figures, as in a post by Paul Homewood on his blog Notalotofpeopleknowthat headed "US cold winters mysteriously disappear". Indeed, this is only the latest in a whole series of similarly suspect adjustments made to official US temperature figures in recent years, which I have described as one of the greatest scientific scandals of all time.
Even odder in this instance, however, was the way Mr Ward failed to mention the continuing stream of academic papers and other interventions by scientists on his own side of the argument trying to explain how these freezing US winters are in fact further proof of global warming.
Their theory, as I mentioned in the item Mr Ward objected to, is that a warming Arctic is pushing the jet stream further south, to grip North America in a swirling "polar vortex" of sub-zero air, snow and ice. All of these papers are predicated on the claim that recent US winters have indeed been exceptionally cold.
Mr Ward may happily ignore all this, preferring to rest his case only on those questionable NOAA figures. But what makes it indeed delightful is that the warmists themselves have now come up with two wholly contradictory ways to explain why the runaway global warming in which they all believe should repeatedly be giving the people of North America such a horribly cold time. Only one of them pretends that this isn't really happening at all."
http://www.telegraph.co.uk/science/2018/01/20/global-warming-theorists-tripping-explain-americas-cold-winters/
Bob Ward took umbrage to this and decided to complain to IPSO, the Press Regulator, firing off a typically long winded, rambling and inchoate multipage letter.
Ward was particularly vexed that Booker should listen to a "mere blogger", rather than NOAA or the Met Office! But his ramble boiled down to just two simple points, which he claimed had been inaccurately reported:
1) Some recent US winters had been exceptionally cold.
2) NOAA's official temperature record had been adjusted with the effect of making recent years appear milder than the actual record suggested.
After being requested to help, I strongly advised the Telegraph to ignore most of Ward's rant, which simply muddied the waters, and instead focus on those two issues.
It was easy to show that both of Booker's claims were accurate, as I myself had shown in a series of posts around the time. I submitted a suggested a draft response to the Telegraph, based on these posts.
IPSO have subsequently considered Ward's complaint and firmly rejected it. Below are their findings:
Findings of the Committee
17. Clause 1 does not prevent a newspaper from publishing controversial opinions on topics which continue to be divisive, such as the existence or impact of climate change. Newspapers are entitled to publish opinions on such topics, and communicate this information in an accessible way, provided that it takes care not to do so in an inaccurate or misleading way.
18. The newspaper provided a number of examples of coverage, from both within and outside of the scientific community, which commented on the cold weather which had affected areas of North America over recent winters, including the winters of 2008 and 2014. The columnist was entitled to rely on this coverage to form the basis for their claim that recent winters in North America had been unusually cold and there was no failure to take care over the accuracy by doing so. The complainant had argued that winter temperatures should be determined by considering seasonal mean temperatures over a three month period using data from a specific landmass. However, in the context of an opinion piece within a publication for general public consumption, the Committee did not establish that readers would have been misled in a significant way, where it was a matter of public record that areas of North America had experienced periods of extreme cold weather over recent winter months. There was no breach of Clause 1 on this point.
19. It was a matter of public record that "adjustments" had been made by NOAA on raw climate data to take into account differences in how, when and where these measurements had been taken; it was not in dispute that some of these adjustments had resulted in the temperature measurements from weather stations to increase. The columnist had questioned whether it was appropriate for the adjustments to have been made on the raw data; they did not comment further on why these adjustments had been made, nor did they interrogate the validity of the corrective action which had been taken by NOAA. The columnist had commented that the adjustments were "suspect" and "questionable". The complainant strongly disagreed. However, this was an opinion which the columnist was entitled to express and he did not state that raw climate data had been tampered with by NOAA, as suggested by the complainant.
20. The columnist was entitled to reflect critically on the corrective adjustments which NOAA had made to raw data records, in circumstances where it was a matter of public record that some of these adjustments had resulted in temperature measurements from some weather stations being increased. The Committee did not establish that the columnist's discussion of these adjustments represented a failure to take over the accuracy of the article, nor did it establish that the columnist's discussion of this issue was significantly misleading or inaccurate, such as to require correction. There was no breach of the Code.
Conclusions
21. The complaint was not upheld.
https://www.ipso.co.uk/rulings-and-resolution-statements/ruling/?id=01570-18
In simple terms, IPSO found that both of Booker's claims were essentially correct, that there had been some exceptionally cold winters in the US, and that NOAA's temperature record had been adjusted.
Ward is, of course, paid to clamp down on any dissent from the global warming party line; that is his job. I have now been involved in rebutting at least four of these sort of spurious complaints from Ward, Richard Black and others. On each occasion, they have gone away with their tail between their legs.
However, their objective is to discourage in the first place articles which question global warming dogma. While they are paid to write long rambling complaints, journalists and editors have better things to do.
You may also have noticed how often the likes of Bob Ward get to have letters printed in the press. Editors find it easier to do this than spend time fighting a complaint.
It is worth comparing this situation with the BBC, who regularly and blatantly publish fake climate claims, without fear of any comeback.
SOURCE
WHERE'S THE WARMING IN JAPAN? JMA data for rural stations show NONE!
A blatant case of NASA corruptly ignoring weather stations that don't suit them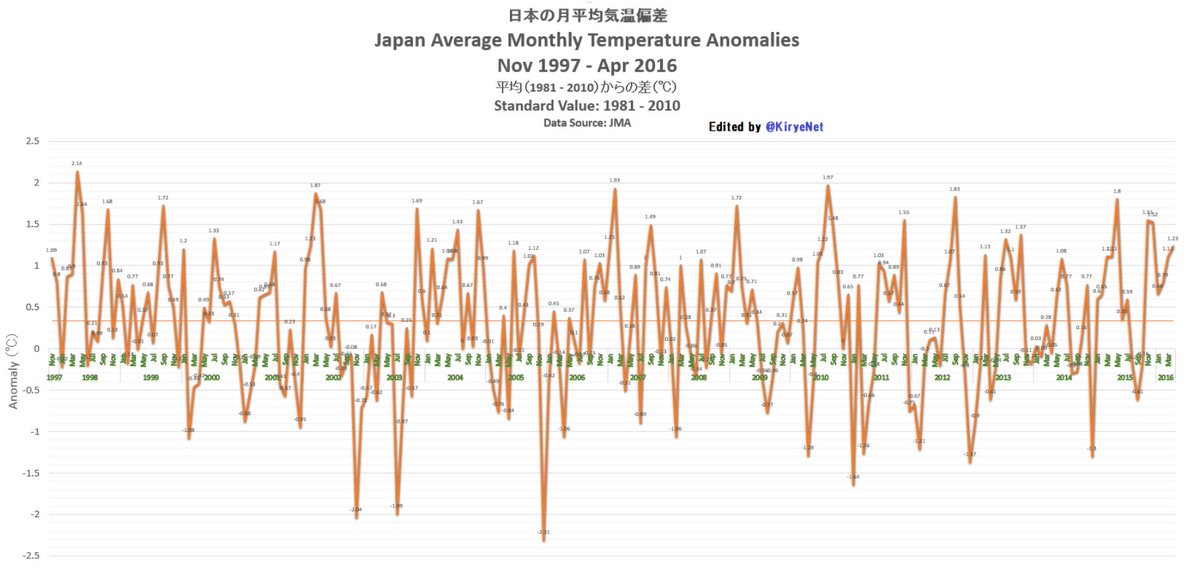 An analysis of the rural-sited Japanese weather stations used by the Japanese Meteorological Agency (JMA) shows there's been no warming at all over the the past 2 decades or more.
Strangely many of these stations, which are practically unimpacted by data-corruptive urban sprawl, are no longer used by NASA.
For example, NASA quit using the rural Fukaura station back in 1990. Up to that point Fukaura was cooling notably. What follows is the NASA chart for Fukaura:
The same, for example, is true for Nikko.
What follows below is a list of the rural stations I examined, which have a Brightness Index (BI) of 10 or less. The far right column shows the period they were used by NASA.
My earlier enquiries about stations sent to NASA via the Internet went without any answer. Perhaps they don't reply to foreign requests. I don't know.
The next chart below is the geographical plot of these rural sited stations. As you see they are all well scattered across the country:
JMA data in fact show no warming
What follows below are temperature charts for each station, using the data from the JMA, arranged in more or less alphabetical order. On some charts I plotted more than one station.
Over 90% of rural stations show cooling or no trend
Of the 22 stations plotted, 20 show no change or some modest cooling over the past two or more decades – that's more than 90%. Only two stations show some warming, but only a very modest amount.
More
HERE
(See the original for links, graphics etc.)
Australia: Token battery being installed to back up wind power
This is just a stunt for propaganda purposes. If the wind stops blowing the battery will be capable of filling in only for a matter of minutes
Wind power producer Infigen Energy will add battery storage to its Lake Bonney wind farm in South Australia to better be able to respond to industrial customers wanting renewable energy but without risks around intermittent supply.
The $38 million project, including $10 million in state and federal funding, will see a 25 megawatt, 52 megawatt-hour Tesla Powerpack battery installed adjacent to the 278.5 MW wind farm in the state's south-east near Mount Gambier.
It follows the landmark 100 MWh Tesla battery, the world's largest lithium battery, installed at the Hornsdale project in SA last year after a bet between billionaire Elon Musk and Atlassian co-founder Mike Cannon-Brookes.
Infigen last year ramped up its efforts to seal electricity sales contracts directly with commercial and industrial (C&I) customers, signing up Adelaide Brighton for supply from Lake Bonney.
Chief executive Ross Rolfe said the battery investment would enable Infigen to expand that side of the business, as well as providing other benefits in cutting costs for frequency control services and for grid stability in the system more broadly.
"We have already contracted a proportion of our Lake Bonney output into the C&I customer market in South Australia and this enables us to contract more of that capacity and manage the intermittency of production risk associated with that," Mr Rolfe said in an interview.
Stabilising the grid
He said that after deciding in 2016 to diversify its products, Infigen had examined alternative options to firm up intermittent wind generation, including pumped hydro storage and accessing fast-start gas generation. It decided that a battery was the best option, at least for South Australia, which is heavily dependent on renewables supply.
Ivor Frischknecht, chief executive of the Australian Renewable Energy Agency, which is providing $5 million for the project, said battery storage is becoming a key component of transitioning to a renewables-based energy system. ARENA is also helping fund a battery soon to be brought online in Dalrymple, South Australia, and two grid-scale systems under construction in western Victoria.
"It is clear that grid scale batteries have an important role in stabilising the grid," Dr Frischknecht said.
South Australian energy minister Dan van holst Pellekaan said Infigen's battery project is "welcome news to businesses in the state as it will increase the competitiveness of electricity prices for customers with high energy demand".
Mr Rolfe noted that the project wouldn't have been economic without the $10 million of taxpayer funding.
"The price of batteries still needs to decline, in our view, further before it's possible to look at batteries without some form of support," he said.
"No doubt in due course it will get there, we just don't know when that will be."
Construction is due to start next month on the storage project, which Infigen said would allow it to "firm" at least an additional 18 MW of power.
SOURCE
***************************************
For more postings from me, see DISSECTING LEFTISM, TONGUE-TIED, EDUCATION WATCH INTERNATIONAL, POLITICAL CORRECTNESS WATCH, FOOD & HEALTH SKEPTIC and AUSTRALIAN POLITICS. Home Pages are here or here. Email me (John Ray) here.
Preserving the graphics: Most graphics on this site are hotlinked from elsewhere. But hotlinked graphics sometimes have only a short life -- as little as a week in some cases. After that they no longer come up. From January 2011 on, therefore, I have posted a monthly copy of everything on this blog to a separate site where I can host text and graphics together -- which should make the graphics available even if they are no longer coming up on this site. See
here
or
here
*****************************************