Snowfall disaster in Russia – Crops buried under more than a foot of snow
Emergency declared in three regions of Khakassia. Harvesting of feed and grain crops temporarily suspended.
At first came the heavy rains so harvesting couldn't begin. Then came the frosts and snow, from 10 to 40 cm (4 to 16 inches) deep. Under the snow is the harvest of 2017 … A real disaster.
"Barley is completely laid down, the snow is wet, heavy, I do not know whether the ear will rise after melting snow or not. Here 120 hectares, there is a wedge of 150 hectares, and more oats. Only 480 hectares went under the snow," complains Vasily Aprelkov, a farmer from the Bograd region.
"We have in some territories 5-10 cm, in others up to 40 cm fell. But the total area of grain and fodder crops remaining under snow is enormous, "says Valery Sulekov, deputy head of the Ordzhonikidzevsky district.
According to preliminary data, 3,000 hectares were affected in the Bogradsky region, 18,000 in Shirinsky and 22,000 in Ordzhonikidzevsky. Only 43,000 hectares of grain and forage crops. At first glance, the damage amounts to 120 to 150 million rubles.
"For agrarians falling snow on unharvested fields is a real disaster," said Alexander Bashkov, the head of the Ministry of Agriculture.
SOURCE
George Monbiot is a Warmist but has had a few shocks on that account so now thinks we should all be vegetarians
He's got nothing new to say but he has to say something to get paid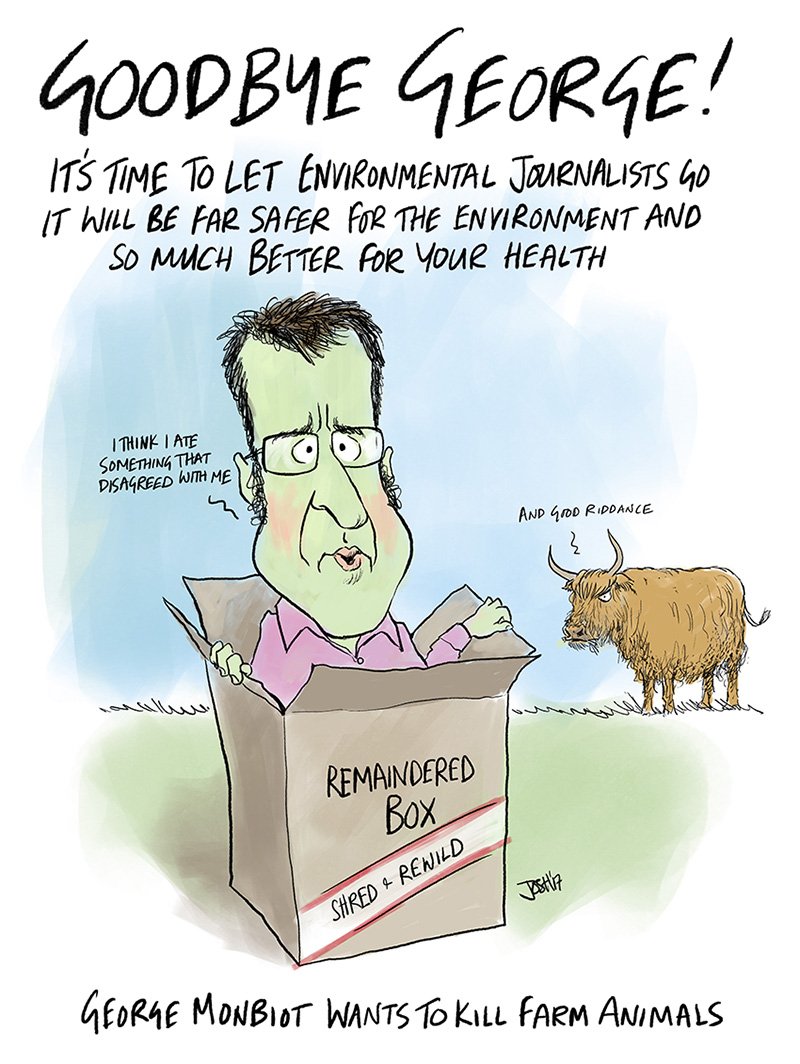 What will future generations, looking back on our age, see as its monstrosities? We think of slavery, the subjugation of women, judicial torture, the murder of heretics, imperial conquest and genocide, the first world war and the rise of fascism, and ask ourselves how people could have failed to see the horror of what they did. What madness of our times will revolt our descendants?
There are plenty to choose from. But one of them, I believe, will be the mass incarceration of animals, to enable us to eat their flesh or eggs or drink their milk. While we call ourselves animal lovers, and lavish kindness on our dogs and cats, we inflict brutal deprivations on billions of animals that are just as capable of suffering. The hypocrisy is so rank that future generations will marvel at how we could have failed to see it.
The shift will occur with the advent of cheap artificial meat. Technological change has often helped to catalyse ethical change. The $300m deal China signed last month to buy lab-grown meat marks the beginning of the end of livestock farming. But it won't happen quickly: the great suffering is likely to continue for many years.
The answer, we are told by celebrity chefs and food writers, is to keep livestock outdoors: eat free-range beef or lamb, not battery pork. But all this does is to swap one disaster – mass cruelty – for another: mass destruction. Almost all forms of animal farming cause environmental damage, but none more so than keeping them outdoors. The reason is inefficiency. Grazing is not just slightly inefficient, it is stupendously wasteful. Roughly twice as much of the world's surface is used for grazing as for growing crops, yet animals fed entirely on pasture produce just one gram out of the 81g of protein consumed per person per day.
A paper in Science of the Total Environment reports that "livestock production is the single largest driver of habitat loss". Grazing livestock are a fully automated system for ecological destruction: you need only release them on to the land and they do the rest, browsing out tree seedlings, simplifying complex ecosystems. Their keepers augment this assault by slaughtering large predators.
SOURCE
A big-money Catholic group just said it's yanking all of its cash out of fossil fuels
Good for them! It makes oil shares cheaper for the rest of us
A coalition of 40 Catholic institutions on Tuesday announced a decision to pull their money from — or block future investment in — fossil fuels. The Global Catholic Climate Movement called it the biggest collective announcement of divestment by Catholic organizations ever.
The group comes from all over the world — they include financial institutions such as Germany's Bank für Kirche und Caritas eG, and the Episcopal Conference of Belgium, which is the policy arm of the Catholic church in that country. Groups from the U.K., the United States, Australia and Italy were also among those divesting.
The Movement said that the Bank für Kirche und Caritas eG — which translates as Bank for the Church and Caritas — was one of the first Catholic banks to turn its back on fossil fuels. That entity, which has a balance sheet of 4.5 billion euros ($5.3 billion), was severing links with coal, tar sands crude, and oil shale.
"As a Catholic Church bank, we feel strongly responsible to participate in tackling the issue of climate change," Tommy Piemonte, the bank's sustainability research officer, said in a statement.
Piemonte added that the "integrity of creation and climate protection" is an issue the bank has been committed to since long before Pope Francis' 2015 encyclical Laudato Si. In that encyclical, the Pope described climate change as a "global problem with grave implications."
The announcement was welcomed by Christiana Figueres, the former executive secretary of the UN Framework Convention on Climate Change. "I hope we'll see more leaders like these 40 Catholic institutions commit, because while this decision makes smart financial sense, acting collectively to deliver a better future for everybody is also our moral imperative," she said.
SOURCE
Rick Perry just proposed sweeping new steps to help struggling coal and nuclear plants
Energy Secretary Rick Perry took sweeping steps on Friday to buttress a pair of financially-strapped nuclear plants under construction and redefine how coal and nuclear plants are compensated for the electricity they provide — a move that, if agreed to by independent federal energy regulators, could tilt some of the nation's complex power markets away from renewables and natural gas.
Perry announced the Energy Department would provide $3.7 billion in loan guarantees to three Georgia utilities struggling to complete a pair of nuclear reactors at the Alvin W. Vogtle generating plant. These loan guarantees come on top of $8.3 billion in loans the department has already given to the project, but they still might fall short of what will be required to complete the costly reactors.
The nuclear project has been running far over-budget and behind schedule, and the utilities have been scrambling to come up with financing after the main engineering company, Westinghouse, declared bankruptcy earlier this year.
The nuclear industry has urged the federal government to help, saying the AP1000 reactors are part of a new generation of nuclear plants. "I believe the future of nuclear energy in the United States is bright and look forward to expanding American leadership in innovative nuclear technologies," Perry said. He noted the project had created approximately 6,000 construction jobs and, if completed, would create about 800 permanent jobs.
The aid for Vogtle partners would be issued by the Energy Department's loan guarantee program, which President Trump's 2018 budget proposal would abolish.
"They certainly have courage to contradict their convictions," said Henry Sokolski, executive director of the Non-Proliferation Policy Education Center and a longtime critic of federal energy loan guarantees.
Many Republicans have criticized the Energy Department's loan guarantees, often citing a loan given to Solyndra, a photovoltaic panel manufacturer that went bankrupt. Defenders of the program say the loan guarantee program's failure rate is well below the level Congress anticipated when it created the program.
"First it's losing solar programs. Now it's losing nuclear programs. When are we going to stop subsidizing losers?" Sokolski said.
The new loan guarantees would provide $1.67 billion to Georgia Power, a subsidiary of Southern Co.; $1.6 billion to Oglethorpe Power Corp.; and $415 million to three subsidiaries of the Municipal Electric Authority of Georgia.
Critics of the loan guarantees say the construction of the Vogtle reactors is risky and there is a strong possibility the loans will not be repaid. The Georgia Public Service Commission must review the utilities' financial plans and construction progress regularly because the utilities have already been passing along costs to consumers.
"Department of Energy officials should be exercising more caution now, with billions of taxpayer dollars already on the line for the ill-fated nuclear reactor project. Instead, they've doubled down on a bad decision," said Ryan Alexander, the president of Taxpayers for Common Sense, in a statement.
Perry also moved Friday to help nuclear and coal plants competing in regional electricity markets. Citing his department's recent, contested study about the workings of the electric grid, Perry asked the independent Federal Energy Regulatory Commission, or FERC, to adopt new regulations that would ensure coal and nuclear plants that add to the grid's reliability can "[recover] fully allocated costs and thereby continue to provide the energy security on which our nation relies."
Perry's letter to FERC, and the proposed regulation, argue these so-called "baseload" plants provide critical stability and reliability to the electric grid and should be compensated accordingly. They cite not only the department's recent grid study, but also the recent hurricane disasters afflicting the United States and power outages during the 2014 Polar Vortex event.
"What's most significant about this is that we've been working on these issues for the better part of the last 3-plus years, even longer — and what the Secretary has done is said, enough talk, we need to actually act," said Matt Crozat, the senior director for policy development at the Nuclear Energy Institute, which hailed both of Perry's moves Friday. "And so what this is going to do is drive to some conclusion what a policy action is going to be."
FERC has 60 days to decide what action to take, and there is no guarantee the independent agency will go along with Perry's request. Trump has recently appointed people to key posts at the agency — and the commission's new chairman, Neil Chatterjee, has already signaled he could be receptive to the move.
"I believe baseload power should be recognized as an essential part of the fuel mix," Chatterjee said in an August FERC podcast. "I believe that generation, including our existing coal and nuclear fleet, need to be properly compensated to recognize the value they provide to the system."
"For years, FERC has been relatively fuel-neutral, instead focusing on broader and successful approaches to reliability," said Dan Reicher, executive director of the Steyer-Taylor Center for Energy Policy and Finance at Stanford, and former chief of staff and an assistant secretary in the Department of Energy. "The question is whether that era has ended and we'll now see different commissioners representing different fuel camps."
If FERC agrees with Perry, and if it decides coal and nuclear are more reliable, the result could potentially mean reducing the use of solar, wind and natural gas by key grid operators in favor of coal and nuclear — which would be compensated in a way that would help prevent more plant closures. Half a dozen reactors have shut down since 2007 and half a dozen more are scheduled to close in the next nine years, according to the Energy Information Administration. The number of operating reactors has dropped from 104 to 99.
Some environmental groups and defenders of renewable energy quickly attacked the proposed regulation as a way of imposing government mandates on the working of energy markets and reducing competition.
"I think this is the most significant electricity policy action in 20 years," said Rob Gramlich, who works for renewable energy clients through his consulting firm Grid Strategies LLC, and previously served as an adviser to FERC commissioner Pat Wood.
Gramlich argued if FERC goes in this direction, then grid operators are "going to pay for resources they don't necessarily need. So they're going to charge homes and businesses more than they otherwise would. And they're going to use relatively more coal and nuclear relative to gas, wind and solar."
Mark Kresowik, a deputy regional director for the northeast with the Sierra Club, said he thought that if FERC actually adopted the proposed policy, it would lead to lawsuits or even states dropping out of certain regional electricity markets that would be affected, which primarily lie in the Northeast, Mid-Atlantic and Midwest.
"Instead of coal and nuclear plants having to compete against cheaper, cleaner sources, customers would be forced to pay for unnecessary plants," Kresowik said. "Frankly, I think that states that currently compete and use the markets would leave. I certainly would expect states to walk away from organized markets. It would be the end of competitive markets in the United States of America. That's not even an exaggeration."
However, Richard Powell, who runs the conservative ClearPath Foundation and praised Perry's request, said "if you do allow a lot of these generators to go down, rates are also going to go up, because we're going to take a lot of capacity offline, which is going to mean power supply is scarcer." ClearPath is backed by wealthy North Carolina businessman Jay Faison.
Other groups, such as those representing the nuclear and coal industries, also hailed the move Friday.
"We commend Secretary Perry for initiating a rulemaking by FERC that will finally value the on-site fuel security provided by the coal fleet," said Paul Bailey, the president and chief executive of the American Council for Clean Coal Electricity, whose members include the nation's largest coal mining companies, coal-intensive utilities and coal-carrying railroads. "The coal fleet has large stockpiles of coal that help to ensure grid resilience and reliability. We look forward to working with FERC and grid operators to quickly adopt long overdue market reforms that value the coal fleet."
SOURCE
Australia: Baby crocs face climate change crunch
As far as I can see, Craig Franklin is an attention-seeking crook. A study by him is reported below. No reference is given to the underlying research report so it would appear to be unpublished. It should be unpublishable in the light of his previous work, which contradicts his conclusions below.

In his 2015 article "Diving in a warming world: the thermal sensitivity and plasticity of diving performance in juvenile estuarine crocodiles", we read: "Maximal dive performances, however, were found to be thermally insensitive across the temperature range of 28–35°C". Come again? 28–35°C is the temperature range he studied below and the central claim of the article is that crocs can't stay underwater for long if the water is hot

And in his 2013 article we need only to note the heading: "Hatchling crocodiles maintain a plateau of thermal independence for activity, but at what cost?"

He certainly owes the public an explanation if not a retraction. Why did it need a psychologist to call this Warmist galoot out?

And, anyway, there must be at least 100,000 crocs in Australian waters. No-one would miss them if there were fewer of them
Climate change could make a meal of baby crocs, with warmer water slashing the amount of time they can hide underwater to avoid being eaten.
Juvenile crocs rely on so-called fright-dives to escape their natural predators including birds of prey, large fish, freshwater turtles, and larger crocs.
But a new study shows that in warmer water - an inevitable result of climate change - their defensive dives are shortened by half.
University of Queensland researcher Craig Franklin says that could threaten survival rates as the climate continues to warm.
His study exposed baby crocs to current river temperatures of about 28 degrees, and also to temperatures of about 34 degrees, expected by the end of the century.
He worked out that as crocs get warmer, they consume oxygen faster as their metabolism increases.
That halves the length of time they can spend hiding underwater, forcing them to surface more quickly to take another breath.
Crocs conditioned to existing temperatures could stay submerged for 18.5 minutes, and over an hour if they felt particularly harassed.
But those used to the warmer water could only stay under for nine minutes, and a maximum of 28 minutes if they felt very threatened.
Crocs conditioned to the warmer water were unable to lower their metabolism, burning through oxygen faster and forcing them to the surface.
"(We) are concerned that crocodile youngsters will become more vulnerable to predators as they are likely to have to surface more frequently if the temperature continues rising," Prof Franklin and his research associate Essie Rodgers warn.
The study involved saltwater crocs, a species that already has a very high juvenile mortality rate.
Young hatchlings are often eaten, even with their longer defensive dives, and very few make it to adulthood.
Saltwater crocs were widely hunted across northern Australia until the 1960s. Since the 1970s they've been protected, and numbers have recovered but the species is still listed as vulnerable in Queensland.
SOURCE
***************************************
For more postings from me, see DISSECTING LEFTISM, TONGUE-TIED, EDUCATION WATCH INTERNATIONAL, POLITICAL CORRECTNESS WATCH, FOOD & HEALTH SKEPTIC and AUSTRALIAN POLITICS. Home Pages are here or here. Email me (John Ray) here.
Preserving the graphics: Most graphics on this site are hotlinked from elsewhere. But hotlinked graphics sometimes have only a short life -- as little as a week in some cases. After that they no longer come up. From January 2011 on, therefore, I have posted a monthly copy of everything on this blog to a separate site where I can host text and graphics together -- which should make the graphics available even if they are no longer coming up on this site. See
here
or
here
*****************************************