Global warming data comes from a very narrow clique
Scott Adams is mostly right below. Published climate data is a long way from the raw data and doing the transformation is the work of a very few scientists (or alleged scientists). The edited climate data is however readily available to all and even that data can be embarrassing to Warmists -- the tiny magnitude of the changes, for instance
One of the most famous statistics in the world of politics is the claim that 97% of climate scientists agree with the idea that humans activity is boosting CO2 to dangerous levels.
Critics say the 97% is misleading, because the critics like to include in their own list the scientists that are working for energy companies. The industry-paid scientists and engineers have less credibility, say the critics of the climate science critics.
Recently I retweeted a link to a climate science whistleblower. I don't have any way to evaluate his claims. But his story did a good job of illustrating the flow of data from the measuring devices all the way to the published papers and then to your brain. And what I got out of that was that very few people have direct access to the measuring devices and the original data. Let's say 1% of climate scientists are actually involved in generating the temperature data and deciding what to include, what to smooth, what to replace, and so on. Apparently you can measure Earth's temperature a number of ways, from ice core samples, to satellites, to ocean buoys, to land thermometers. I might be missing a few. Oh, and each of those methods probably change a bit over time, so you have some apples-to-oranges comparisons if you look at history.
In other words, even the 1% involved in direct measurements might not be involved in all the different forms of it.
What follows next is pure speculation, based on my years of experience in corporate America and my understanding of human nature. But it seems to me that 99% of the 97% are relying on the accuracy and honesty of the 1% who actually produce the temperature measurements. Sure, the other scientists read the papers, and see whatever "adjustments" were made by the authors. But that seems like opening the hood of the car, looking at the outside of the engine, and determining that it's all good on the inside.
Speaking of my corporate experience, this reminds me of a situation when I worked for the phone company. 100% of the employees believed that one of the Executive Directors in our group was a PhD in some sort of technology field. After all, he said he was, and the Human Resources group does background checks before hiring. So he had to be a PhD, right?
But it turns out he was a con man. He had no PHd. The Human Resources group was two years behind in their background checks. When they caught up with him, he was fired immediately.
I'm open to correction on my assumption that the 97% of climate scientists depend on the accuracy and honesty of the handful of people with direct access to the data. Let me know if I got that wrong. If I'm wrong, that supports my point that non-scientists such as myself can't be expected to have useful opinions on science topics.
You just witnessed a little trick I learned from President Trump. I gave myself two ways to win and no way to lose. You should try it. It works every time.
SOURCE
Swift repeal of Greenie rules leaves former staffers steaming
These frustrated little authoritarian bureaucrats who believe they are entitled to tell others what to do deserve more than steaming. How about letting them go as no longer needed?
Joe Pizarchik spent more than seven years working on a regulation to protect streams from mountaintop removal coal mining. It took Congress 25 hours to kill it.
The rule is just one of dozens enacted in the final months of the Obama administration that congressional Republicans have begun erasing under a once-obscure law — much to the dismay of agency staffers who hauled those regulations through the long process to implementation.
"My biggest disappointment is a majority in Congress ignored the will of the people," said Pizarchik, who directed the Interior Department's Office of Surface Mining Reclamation and Enforcement from 2009 through January. "They ignored the interests of the people in coal country, they ignored the law and they put corporate money ahead of all that."
The arrival of a Republican president opened the door for GOP lawmakers to employ a rarely used legislative tool, the Congressional Review Act of 1996, to nullify executive branch regulations issued since mid-June. The act allows lawmakers to sandblast recently enacted rules with a simple majority vote — as they did last week to the stream regulation, which the Interior Department had completed in December.
President Donald Trump is expected to sign off on that repeal, along with others moving through the Capitol.
Congress has successfully used the 1996 law only once before, but Republicans are wielding it now to slash away potentially dozens of late-term Obama rules. That has left officials who spent years working on those rules feeling rubbed raw.
"It's devastating, of course," said Alexandra Teitz, a longtime Democratic Hill aide who joined Interior's Bureau of Land Management in 2014 as a counselor to the agency's director and worked on a rule to curb methane waste from oil and gas production. A House-passed Congressional Review Act resolution targeting that rule awaits action in the Senate.
Pizarchik and other former Obama administration officials called the rapid repeal process intensely unfair. The 1996 law says any repeal must come within 60 legislative days after a rule becomes final.
"If there had been more time and Congress had not rushed this through but had actually deliberated on what was in the rule, [then] the results would have been different," Pizarchik said.
But proponents of the repeal process maintain that it is a blunt but necessary tool.
"It's important that Congress have a say in the rules that are applied in this country," said James Gattuso of the Heritage Foundation. "The CRA just makes it easier for Congress and the president to make sure the rules and actions of the agencies reflect their priority."
The House took up a repeal resolution for Pizarchik's stream rule shortly before 2 p.m. Feb. 1. The Senate wrapped up its vote — all Republicans but one were joined by four Democrats — shortly after 3 p.m. Feb. 2.
That's about as fast as a measure can clear Congress, and the swiftness has former Obama officials wondering if lawmakers even understood the regulations they voted to kill.
SOURCE
Don't suffer weather amnesia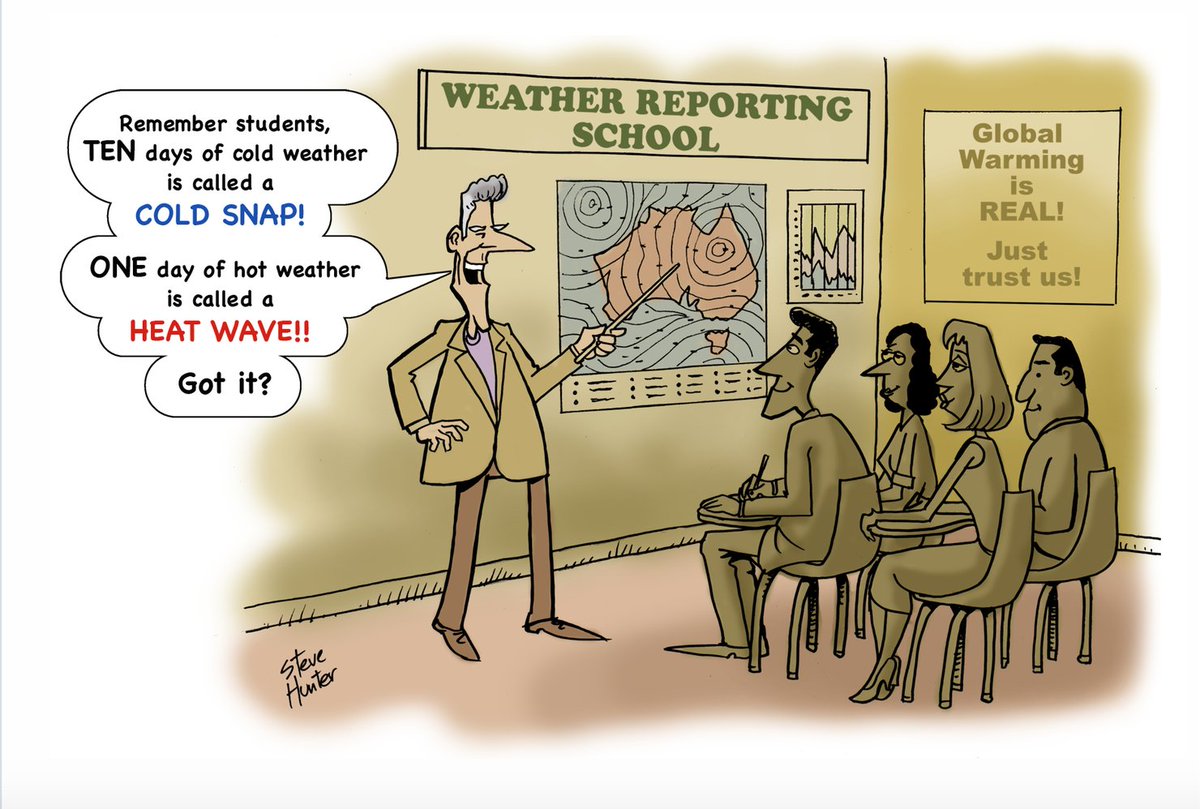 Climate Skeptic Willie Soon Addresses Packed Audience in L.A.
LOS ANGELES — Dr. Wie-Hock "Willie" Soon of the Harvard-Smithsonian Center for Astrophysics addressed a gathering of the American Freedom Alliance on Thursday night at the Luxe Hotel, describing the current state of debate about climate change as "spitting science in the face" and "treating science like a piece of rubbish."
Mixing humor and science, he entertained the gathering as he made the case for skepticism about climate change.
He began by mocking the degree to which carbon dioxide was treated like a toxic gas by proponents of radical policies on climate change. "Next it will be oxygen, it will be anything that you want on the chemical table," he joked.
"The Sun is a primary driver of climate change — and has a far greater impact than changes in CO2," he said, in a slide presented to the packed audience of about 100 conservatives.
Another slide added: "Climate science is dangerously corrupted and co-opted by multiple anti-science forces and players."
To the amusement of the audience, Dr. Soon played a clip of Al Sharpton mocking him on MSNBC, pointing to research funding he had received from fossil fuel companies. "It is really, truly, a badge of honor, Rev. Al Sharpton, to be accused by you of a conflict of interest," he said.
Dr. Soon called much of the reporting about his work in the mainstream media "fake news." And he mocked the fads and fashions that have sprung up around climate change.
For example, he said, the "locavore" movement, which stressed eating locally-produced food to save energy, actually increased greenhouse gases, because of the energy efficiencies achieved by larger and more established farms that benefited from economies of scale.
He also mocked California politicians for their statements on science — especially Governor Jerry Brown and former Governor Arnold Schwarzenegger. In 1977, he pointed out, Gov. Brown had warned of a drought of "immeasurable magnitude" — a meaningless phrase, in scientific terms.
The movement toward renewable energy sources, he said, was not a sign of progress, but regression toward the lower energy densities of the pre-industrial age. He also likened belief in carbon "pollution" to the superstitious beliefs of primitive civilizations, illustrating his point with a 1933 newspaper article describing a drought in Syria that was blamed by locals on yo-yo toys.
He then launched into his data-heady scientific presentation in earnest. For all the focus on carbon dioxide, the most important greenhouse gas in the climate system was water vapor, he said. And carbon dioxide, he noted, was not a "pollutant," as the term was conventionally used.
While it was true that the atmospheric concentration of carbon dioxide had been increasing, he said, and had passed 400 parts per million, the dominant effect of water vapor had helped flatten the greenhouse effect, such that the rise of global surface temperatures had slowed significantly.
He said that some climate scientists manipulated graphs to make climate change seem more severe than it was — for example, by representing temperature anomalies rather than absolute temperatures.
His latest work, he said, was in understanding how temperature data sets were constructed. He and his colleagues were examining data gathered in rural areas, to remove the distortion of measurements in urban areas. They found that there was, in fact, some surface temperature warming, albeit less severe than conventional data sets showed. But the effect, he said, was more likely the result of fluctuations in energy output from the sun, which in turn affected water vapor.
The major effect of cutting carbon dioxide emissions to zero, he said, would be "to kill and hurt poor people and greatly harm animals and the environment."
In the past, Dr. Soon noted, the left had attacked his research because he had taken funding from fossil fuel companies. He cited the New York Times as one of his chief antagonists, after it ran a disparaging profile of him in 2015.
As a result, he said, he had not accepted any funding for his latest research on the composition and manipulation of climate data sets.
SOURCE
Green Energy Is Causing Power Shortages In Europe During An Awful Winter
Over-reliance on green energy and freezing winter weather triggered serious power shortages across Europe.
European Union nations, including Greece and Hungary, hoarded power due to the cold winter weather. That hoarding triggered shortages that cut off electricity to tens of thousands of homes and sent power prices soaring to record levels.
Temperatures across southern Europe are expected to drop below freezing again next week. The continent has been unable to meet electricity demand, as green energy tends to go offline in the cold. Solar power, for example, tends to produce less energy in the winter because the days are shorter.
"What I see in the Balkans is clear evidence that everybody first secures its own consumption and only then, if they're in a position to do so, they'll help the others," Andras Totth, the deputy CEO of the Hungarian utility MVM, told Bloomberg.
Europe has increasingly invested in green energy in recent years, which has created big problems preventing blackouts during the winter.
The average European spent 26.9 cents per kilowatt-hour on electricity during the last full year of data, while the average American only spent 10.4 cents, according to an analysis of government data previously published by The Daily Caller News Foundation.
Even EU nations where power is relatively cheap pay a lot more for power than any U.S. state. Great Britain, for example, pays an average of 54 percent more for electricity than Americans paid last year. Much of the expense comes from subsidies for green energy, which account for roughly 7 percent of British energy bills, according to government study released last July.
Power prices are so absurdly high on the continent that cutbacks have already been made. Denmark's new government pledged to reduce the amount of money it spends on "green" energy by 67 percent in December, and Germany plans to abandon the construction of new wind power plants by 2019.
Green energy subsidies and mandates have greatly increased the price of electricity throughout Germany, especially, which has some of the continent's highest power prices. The German government has mandated that the nuclear reactors be replaced with wind or solar power, but the estimated cost of doing so is over $1.1 trillion.
SOURCE
West Australian Leftists back down on "renewable" energy target
The power outages in "green" South Australia are giving them jitters. Any hint of going down the South Australian path would paint a target on their backs
WA LABOR is attempting to climb down from a 50 per cent renewable energy target committed to in October, which Liberal ministers have swarmed upon as evidence of its economic vandalism.
Recordings have emerged of Labor energy spokesman Bill Johnston telling the National Environmental Law Association State conference in October the party had a clear target for the proportion of energy it intended to derive from renewable sources.
"The Labor Party's target is at least 50 per cent by 2030," Mr Johnston told the conference during a Q and A session.
"We don't believe that that is going to push up prices because we believe it will be done on a competitive basis and, as I say, I think setting a target leads to policy action and I think there are a lot of policy actions that are required."
The emergence of the tape comes as renewable energy leader South Australia, grappling with a heatwave, is hit by more widespread power outages in the latest of a series of rolling blackouts.
The State endured a complete blackout in October which prompted furious national debate over its near-met target of 50 per cent renewables and its ramifications for secure energy supplies and household electricity prices.
WA Labor released a statement on Thursday quoting Mr Johston saying it "will not introduce a State-based renewable energy target"
"We aspire to have more renewable energy," the statement said. "After the election, we will sit down with industry and the community to see what is achievable and affordable."
The statement said WA Labor would "co-invest to develop a diverse economy and new jobs" in coal mining town Collie and other regional communities.
Energy Minister Mike Nahan said Labor was clearly "ideologically driven" towards the 50 per cent RET by 2030, which would devastate WA's economy.
"In WA we are an energy-intensive State, we process minerals, we have hot weather, we have air conditioning and we live in a modern society where we rely on energy for almost everything we do," he said.
Dr Nahan said the Liberals had overseen uptake of about 13 per cent renewables driven mainly by solar power, and was committed to a COAG target of 23.5 per cent by 2020. "But at the same time going forward we will commit to our coal industry, and large gas," he said.
Dr Nahan said wind was unreliable as an energy source because it often dropped during hot weather, when electricity consumption was highest.
Malcolm Turnbull yesterday lumped in WA Labor's plan for a 50 per cent renewable energy target with his broader warnings about the threat to electricity prices and reliability of supplies posed by reliance on wind and solar power.
He pointed to Wednesday night's black out in South Australia as the product of favouring ideology ahead of efficient and objective management of energy.
"Labor is drunk on Left ideology on energy and they are putting Australians' livelihoods, their businesses and their households at risk," the Prime Minister said.
Social Services Minister and former WA treasurer Christian Porter told 6PR WA Labor's plans would be "a disaster for WA business and households".
"It will have the only and inevitable outcome of ratcheting up household electricity prices and making business very difficult to run in WA," he said.
"A 50 per cent RET from State Labor is a political millstone that will sit round their neck this campaign. I'm astonished they would even contemplate going there."
SOURCE
***************************************
For more postings from me, see DISSECTING LEFTISM, TONGUE-TIED, EDUCATION WATCH INTERNATIONAL, POLITICAL CORRECTNESS WATCH, FOOD & HEALTH SKEPTIC and AUSTRALIAN POLITICS. Home Pages are here or here or here. Email me (John Ray) here.
Preserving the graphics: Most graphics on this site are hotlinked from elsewhere. But hotlinked graphics sometimes have only a short life -- as little as a week in some cases. After that they no longer come up. From January 2011 on, therefore, I have posted a monthly copy of everything on this blog to a separate site where I can host text and graphics together -- which should make the graphics available even if they are no longer coming up on this site. See
here
or
here
*****************************************