Exposed: How world leaders were duped into investing billions over manipulated global warming data
I and many others said at the time that the Karl paper was full of heroic assumptions and wild improbabilities. And I now understand why a lot of Warmist bigshots distanced themselves from it in the Fyfe et al. paper. Note that German scientists also concluded that Tom Karl's "adjustments" were not validated
The Mail on Sunday today reveals astonishing evidence that the organisation that is the world's leading source of climate data rushed to publish a landmark paper that exaggerated global warming and was timed to influence the historic Paris Agreement on climate change.
A high-level whistleblower has told this newspaper that America's National Oceanic and Atmospheric Administration (NOAA) breached its own rules on scientific integrity when it published the sensational but flawed report, aimed at making the maximum possible impact on world leaders including Barack Obama and David Cameron at the UN climate conference in Paris in 2015.
The report claimed that the 'pause' or 'slowdown' in global warming in the period since 1998 – revealed by UN scientists in 2013 – never existed, and that world temperatures had been rising faster than scientists expected. Launched by NOAA with a public relations fanfare, it was splashed across the world's media, and cited repeatedly by politicians and policy makers.
But the whistleblower, Dr John Bates, a top NOAA scientist with an impeccable reputation, has shown The Mail on Sunday irrefutable evidence that the paper was based on misleading, 'unverified' data.
It was never subjected to NOAA's rigorous internal evaluation process – which Dr Bates devised.
His vehement objections to the publication of the faulty data were overridden by his NOAA superiors in what he describes as a 'blatant attempt to intensify the impact' of what became known as the Pausebuster paper.
His disclosures are likely to stiffen President Trump's determination to enact his pledges to reverse his predecessor's 'green' policies, and to withdraw from the Paris deal – so triggering an intense political row.
In an exclusive interview, Dr Bates accused the lead author of the paper, Thomas Karl, who was until last year director of the NOAA section that produces climate data – the National Centers for Environmental Information (NCEI) – of 'insisting on decisions and scientific choices that maximised warming and minimised documentation… in an effort to discredit the notion of a global warming pause, rushed so that he could time publication to influence national and international deliberations on climate policy'.
Dr Bates was one of two Principal Scientists at NCEI, based in Asheville, North Carolina.
Official delegations from America, Britain and the EU were strongly influenced by the flawed NOAA study as they hammered out the Paris Agreement – and committed advanced nations to sweeping reductions in their use of fossil fuel and to spending £80 billion every year on new, climate-related aid projects.
NOAA's 2015 'Pausebuster' paper was based on two new temperature sets of data – one containing measurements of temperatures at the planet's surface on land, the other at the surface of the seas.
Both datasets were flawed. This newspaper has learnt that NOAA has now decided that the sea dataset will have to be replaced and substantially revised just 18 months after it was issued, because it used unreliable methods which overstated the speed of warming. The revised data will show both lower temperatures and a slower rate in the recent warming trend.
The land temperature dataset used by the study was afflicted by devastating bugs in its software that rendered its findings 'unstable'.
The paper relied on a preliminary, 'alpha' version of the data which was never approved or verified.
A final, approved version has still not been issued. None of the data on which the paper was based was properly 'archived' – a mandatory requirement meant to ensure that raw data and the software used to process it is accessible to other scientists, so they can verify NOAA results.
Dr Bates retired from NOAA at the end of last year after a 40-year career in meteorology and climate science. As recently as 2014, the Obama administration awarded him a special gold medal for his work in setting new, supposedly binding standards 'to produce and preserve climate data records'.
Yet when it came to the paper timed to influence the Paris conference, Dr Bates said, these standards were flagrantly ignored.
The paper was published in June 2015 by the journal Science. Entitled 'Possible artifacts of data biases in the recent global surface warming hiatus', the document said the widely reported 'pause' or 'slowdown' was a myth.
Less than two years earlier, a blockbuster report from the UN Intergovernmental Panel on Climate Change (IPCC), which drew on the work of hundreds of scientists around the world, had found 'a much smaller increasing trend over the past 15 years 1998-2012 than over the past 30 to 60 years'. Explaining the pause became a key issue for climate science. It was seized on by global warming sceptics, because the level of CO2 in the atmosphere had continued to rise.
Thanks to today's MoS story, NOAA is set to face an inquiry by the Republican-led House science committee.
Some scientists argued that the existence of the pause meant the world's climate is less sensitive to greenhouse gases than previously thought, so that future warming would be slower. One of them, Professor Judith Curry, then head of climate science at the Georgia Institute of Technology, said it suggested that computer models used to project future warming were 'running too hot'.
However, the Pausebuster paper said while the rate of global warming from 1950 to 1999 was 0.113C per decade, the rate from 2000 to 2014 was actually higher, at 0.116C per decade. The IPCC's claim about the pause, it concluded, 'was no longer valid'.
The impact was huge and lasting. On publication day, the BBC said the pause in global warming was 'an illusion caused by inaccurate data'.
One American magazine described the paper as a 'science bomb' dropped on sceptics.
Its impact could be seen in this newspaper last month when, writing to launch his Ladybird book about climate change, Prince Charles stated baldly: 'There isn't a pause… it is hard to reject the facts on the basis of the evidence.'
Data changed to make the sea appear warmer
The sea dataset used by Thomas Karl and his colleagues – known as Extended Reconstructed Sea Surface Temperatures version 4, or ERSSTv4, tripled the warming trend over the sea during the years 2000 to 2014 from just 0.036C per decade – as stated in version 3 – to 0.099C per decade.
Individual measurements in some parts of the globe had increased by about 0.1C and this resulted in the dramatic increase of the overall global trend published by the Pausebuster paper.
But Dr Bates said this increase in temperatures was achieved by dubious means. Its key error was an upwards 'adjustment' of readings from fixed and floating buoys, which are generally reliable, to bring them into line with readings from a much more doubtful source – water taken in by ships. This, Dr Bates explained, has long been known to be questionable: ships are themselves sources of heat, readings will vary from ship to ship, and the depth of water intake will vary according to how heavily a ship is laden – so affecting temperature readings.
Dr Bates said: 'They had good data from buoys. And they threw it out and "corrected" it by using the bad data from ships. You never change good data to agree with bad, but that's what they did – so as to make it look as if the sea was warmer.'
ERSSTv4 'adjusted' buoy readings up by 0.12C. It also ignored data from satellites that measure the temperature of the lower atmosphere, which are also considered reliable. Dr Bates said he gave the paper's co-authors 'a hard time' about this, 'and they never really justified what they were doing.'
Now, some of those same authors have produced the pending, revised new version of the sea dataset – ERSSTv5. A draft of a document that explains the methods used to generate version 5, and which has been seen by this newspaper, indicates the new version will reverse the flaws in version 4, changing the buoy adjustments and including some satellite data and measurements from a special high-tech floating buoy network known as Argo. As a result, it is certain to show reductions in both absolute temperatures and recent global warming.
The second dataset used by the Pausebuster paper was a new version of NOAA's land records, known as the Global Historical Climatology Network (GHCN), an analysis over time of temperature readings from about 4,000 weather stations spread across the globe.
This new version found past temperatures had been cooler than previously thought, and recent ones higher – so that the warming trend looked steeper. For the period 2000 to 2014, the paper increased the rate of warming on land from 0.15C to 0.164C per decade.
In the weeks after the Pausebuster paper was published, Dr Bates conducted a one-man investigation into this. His findings were extraordinary. Not only had Mr Karl and his colleagues failed to follow any of the formal procedures required to approve and archive their data, they had used a 'highly experimental early run' of a programme that tried to combine two previously separate sets of records.
This had undergone the critical process known as 'pairwise homogeneity adjustment', a method of spotting 'rogue' readings from individual weather stations by comparing them with others nearby.
However, this process requires extensive, careful checking which was only just beginning, so that the data was not ready for operational use. Now, more than two years after the Pausebuster paper was submitted to Science, the new version of GHCN is still undergoing testing.
Moreover, the GHCN software was afflicted by serious bugs. They caused it to become so 'unstable' that every time the raw temperature readings were run through the computer, it gave different results. The new, bug-free version of GHCN has still not been approved and issued. It is, Dr Bates said, 'significantly different' from that used by Mr Karl and his co-authors.
Dr Bates revealed that the failure to archive and make available fully documented data not only violated NOAA rules, but also those set down by Science. Before he retired last year, he continued to raise the issue internally. Then came the final bombshell. Dr Bates said: 'I learned that the computer used to process the software had suffered a complete failure.'
The reason for the failure is unknown, but it means the Pausebuster paper can never be replicated or verified by other scientists.
The flawed conclusions of the Pausebuster paper were widely discussed by delegates at the Paris climate change conference. Mr Karl had a longstanding relationship with President Obama's chief science adviser, John Holdren, giving him a hotline to the White House.
Mr Holdren was also a strong advocate of robust measures to curb emissions. Britain's then Prime Minister David Cameron claimed at the conference that '97 per cent of scientists say climate change is urgent and man-made and must be addressed' and called for 'a binding legal mechanism' to ensure the world got no more than 2C warmer than in pre-industrial times.
President Obama stressed his Clean Power Plan at the conference, which mandates American power stations to make big emissions cuts.
President Trump has since pledged he will scrap it, and to withdraw from the Paris Agreement.
Whatever takes its place, said Dr Bates, 'there needs to be a fundamental change to the way NOAA deals with data so that people can check and validate scientific results. I'm hoping that this will be a wake-up call to the climate science community – a signal that we have to put in place processes to make sure this kind of crap doesn't happen again.
'I want to address the systemic problems. I don't care whether modifications to the datasets make temperatures go up or down. But I want the observations to speak for themselves, and for that, there needs to be a new emphasis that ethical standards must be maintained.'
He said he decided to speak out after seeing reports in papers including the Washington Post and Forbes magazine claiming that scientists feared the Trump administration would fail to maintain and preserve NOAA's climate records.
Dr Bates said: 'How ironic it is that there is now this idea that Trump is going to trash climate data, when key decisions were earlier taken by someone whose responsibility it was to maintain its integrity – and failed.'
NOAA not only failed, but it effectively mounted a cover-up when challenged over its data. After the paper was published, the US House of Representatives Science Committee launched an inquiry into its Pausebuster claims. NOAA refused to comply with subpoenas demanding internal emails from the committee chairman, the Texas Republican Lamar Smith, and falsely claimed that no one had raised concerns about the paper internally.
Last night Mr Smith thanked Dr Bates 'for courageously stepping forward to tell the truth about NOAA's senior officials playing fast and loose with the data in order to meet a politically predetermined conclusion'. He added: 'The Karl study used flawed data, was rushed to publication in an effort to support the President's climate change agenda, and ignored NOAA's own standards for scientific study.'
Professor Curry, now the president of the Climate Forecast Applications Network, said last night: 'Large adjustments to the raw data, and substantial changes in successive dataset versions, imply substantial uncertainties.'
It was time, she said, that politicians and policymakers took these uncertainties on board.
Last night Mr Karl admitted the data had not been archived when the paper was published. Asked why he had not waited, he said: 'John Bates is talking about a formal process that takes a long time.' He denied he was rushing to get the paper out in time for Paris, saying: 'There was no discussion about Paris.'
They played fast and loose with the figures
He also admitted that the final, approved and 'operational' edition of the GHCN land data would be 'different' from that used in the paper'.
As for the ERSSTv4 sea dataset, he claimed it was other records – such as the UK Met Office's – which were wrong, because they understated global warming and were 'biased too low'.
Jeremy Berg, Science's editor-in-chief, said: 'Dr Bates raises some serious concerns. After the results of any appropriate investigations… we will consider our options.' He said that 'could include retracting that paper'.NOAA declined to comment.
SOURCE
NASA / NOAA Climate Data Is Fake Data
NOAA shows the Earth red hot in December, with record heat in central Africa.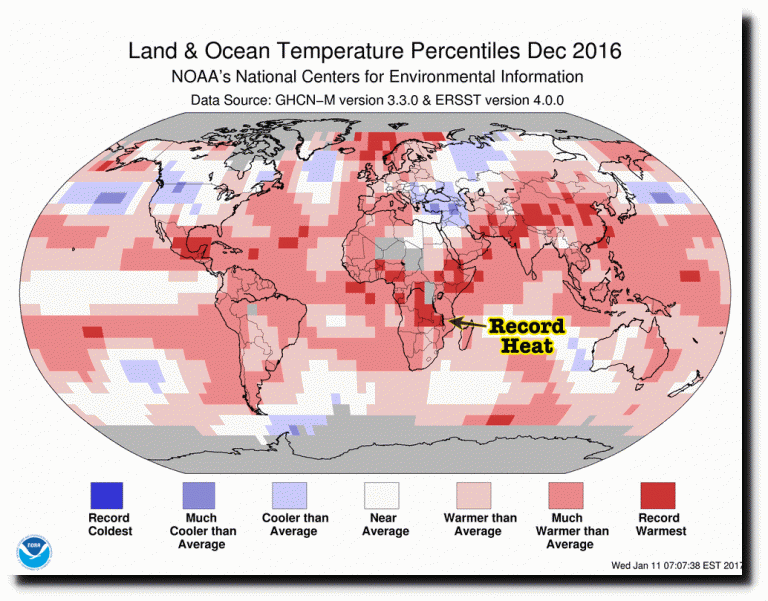 (Graphic above from
here
)
The map above is fake. NOAA has almost no temperature data from Africa, and none from central Africa. They simply made up the record temperatures. See below for a graphic showing what Thermometer Data they have: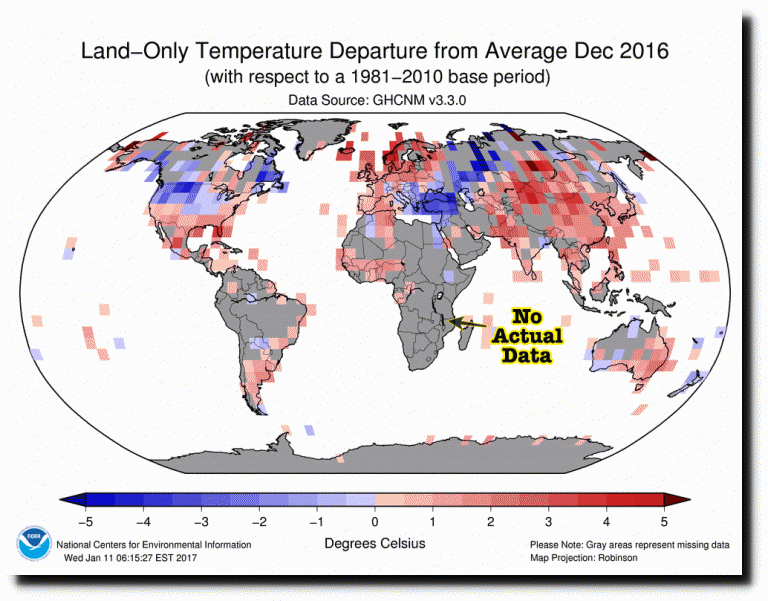 (
Source of above graphic)
More
HERE
"The ocean exerts a dominant control on atmospheric CO2 levels."
It's not coal-fired power stations after all!
SOURCE
Green movement 'greatest threat to freedom', says Trump adviser
The environmental movement is "the greatest threat to freedom and prosperity in the modern world", according to an adviser to the US president Donald Trump's administration.
Myron Ebell, who has denied the dangers of climate change for many years and led Trump's transition team for the Environmental Protection Agency (EPA) until the president's recent inauguration, also said he fully expected Trump to keep his promise to withdraw the US from the global agreement to fight global warming.
Ebell said US voters had rejected what he dubbed the "expertariat" and said there was no doubt that Trump thinks that climate change is not a crisis and does not require urgent action.
Trump has already replaced the climate change page on the White House website with a fossil-fuel-based energy policy, resurrected two controversial oil pipelines and attempted to gag the EPA, the Agriculture Department and the National Parks Service.
Trump, who has called climate change a "hoax" and "bullshit", has packed his administration with climate-change deniers but appeared to soften his stance after his election win, saying there is "some connectivity" between human activity and climate change. However, he also claimed action to cut carbon emissions was making US companies uncompetitive.
Ebell, who has returned to his role at the anti-regulation thinktank the Competitive Enterprise Institute, said on Monday: "The environmental movement is, in my view, the greatest threat to freedom and prosperity in the modern world."
The CEI does not disclose its funders but has in the past received money from the oil giant ExxonMobil. "Our special interest is, I would say, freedom," Ebell said.
During the US presidential campaign, Trump pledged to withdraw from the climate change deal agreed by 196 nations in Paris in 2015, making the US the only country considering doing so. "I expect President Trump to be very assiduous in keeping his promises," Ebell said.
Trump's pick for secretary of state, the former ExxonMobil boss Rex Tillerson, appeared to contradict the president about leaving the climate agreement at his confirmation hearing, saying the US should keep "its seat at the table".
"Who is going to win that debate? I don't know but the president was elected and Tillerson was appointed by the president, so would guess the president will be the odds-on favourite," said Ebell. "The people who elected him don't want a seat at the table."
"The people of America have rejected the expertariat, and I think with good reason because I think the expertariat have been wrong about one thing after another, including climate policy," he said. "The expert class, it seems to me, is full of arrogance or hubris."
"I don't think there is any doubt that [Trump] thinks that global warming is not a crisis and does not require drastic and immediate reductions in greenhouse gas emissions," he said. The deal agreed by the world's nations in Paris aims to hold the global temperature rise to well below 2C, a target that requires dramatic cuts in carbon emissions. Without this, the world's climate experts concluded there will be "severe, widespread, and irreversible impacts" on people and the natural world.
Ebell, speaking in London, claimed that the motivation for climate action was protecting a special interest: "The climate-industrial complex is a gigantic special interest that involves everyone from the producers of higher priced energy to the academics that benefit from advancement in their careers and larger government grants." The IMF has calculated that fossil fuels receive $10m every minute in subsidies, while the fossil fuel industry spends at least $100m a year on lobbying.
China's president, Xi Jinping, recently reaffirmed his nation's commitment to tackling climate change and said the nation's green investments were already "paying off". China pledged earlier in January to invest $360bn in renewable energy by 2020.
In an echo of Trump's claim that climate change was a hoax invented by China, Ebell said: "China is making big investments in producing more solar panels and windmills, which they sell to gullible consumers in the western world, so that power and electricity prices will become higher and the Chinese economy will become more competitive."
SOURCE
House votes to overturn Obama rule on natural gas 'flaring'
The Republican-controlled House voted on Friday to overturn an Obama administration rule that sought to reduce harmful methane emissions into the environment, part of the Democratic president's campaign to combat climate change.
Lawmakers voted 221-191 to roll back the Interior Department rule that had clamped down on oil companies that burn off natural gas during drilling operations on public lands. Three Democrats voted in favor of repealing the rule, which was finalized in November, while 11 Republicans opposed repeal.
Republicans argued that the rule is causing job losses in energy-dependent states across the West and is undercutting domestic energy production. The measure now goes to the Senate.
The House vote followed action in the Senate earlier Friday ending an Obama-era regulation that requires oil and gas companies to disclose payments to foreign governments for mining and drilling.
The House and Senate also gave final approval this week to a measure that eliminates a rule to prevent coal mining debris from being dumped into nearby streams.
The votes are among a series Republicans are taking under GOP control of Congress and the White House to reverse years of what they call excessive regulation during President Barack Obama's tenure. Rules on fracking, federal contracting and other issues also are in the GOP crosshairs.
Republicans said the natural gas rule costs energy companies more than $1 billion a year and costs states and the federal government million in lost tax payments.
"This rule is a needless burden on American families," said Rep. Doug Lamborn, R-Colo., who said the boom in natural gas production in recent years benefits "everyday Americans" by lowering energy costs and reducing air pollution from coal-fired power plants.
Energy companies frequently "flare" or burn off vast supplies of natural gas at drilling sites because it earns less money than oil. A government report said about 40 percent of gas being flared or vented could be captured economically and sold.
Gas flaring is so prevalent in oil-rich North Dakota that night-time flaring activity on drilling sites is visible in NASA photos from space.
Environmental groups and public health organizations opposed the rollback, saying the new rule will reduce the risk of ozone formation in the air and ozone-related health problems, including asthma attacks, hospital admissions and premature deaths.
Methane, the primary gas burned off during flaring operations, is strong contributor to climate change. It is about 25 times more potent at trapping heat than carbon dioxide, although it does not stay in the air as long. Methane emissions make up about 9 percent of U.S. greenhouse gas emissions, according to government estimates.
The oil industry has argued that new regulations are not needed for methane because the industry already has a financial incentive to capture and sell natural gas. Methane emissions have been reduced by 21 percent since 1990 even as production has boomed, according to the Western Energy Alliance, an industry group.
SOURCE
***************************************
For more postings from me, see DISSECTING LEFTISM, TONGUE-TIED, EDUCATION WATCH INTERNATIONAL, POLITICAL CORRECTNESS WATCH, FOOD & HEALTH SKEPTIC and AUSTRALIAN POLITICS. Home Pages are here or here or here. Email me (John Ray) here.
Preserving the graphics: Most graphics on this site are hotlinked from elsewhere. But hotlinked graphics sometimes have only a short life -- as little as a week in some cases. After that they no longer come up. From January 2011 on, therefore, I have posted a monthly copy of everything on this blog to a separate site where I can host text and graphics together -- which should make the graphics available even if they are no longer coming up on this site. See
here
or
here
*****************************************