The angry Belgian writes again
Morano offered a mild reply to the abuse levelled at him by Jean-Luc Mélice [jlmelice@hotmail.fr]. Morano wrote:

"Haha. You once called me fat but I lost a lot of weight. Now you call me bald and I can get hair transplant or do a comb over, so you're probably wrong about that too"

He got a rejoinder from Mélice as follows:
Too funny, Morano the Moron has a thin skin. The Moron reacts sooo quickly!!!
The origin of your name comes from Calabria in Italy...lots of mafiosi over there!!!
Morano in Spanish means north African nigger. I now understand your complex of inferiority, and your ugly face. Indeed, you are not of WASP origin.
So you are now a weight watcher...how ridiculous. And you need a hair transplant, exactly like Donnie the con, the orange agent who lost the election, and will be in an orange suit in prison soon. And you are still licking his ugly fat ass... disgusting!
Note that I was living in the USA during the Kennedy time. I remember very well the 3 dark days after he was shot by a fucking moron as yourself. At that time, I was in an american high school and the Americans were not anti-science as they are now.
Besides a South African nationality, I have also an US passport.
Please also that I have worked as a diplomat, besides being a super top scientist.
I would love to be in front of you during a Fox News interview. I would destroy you in a few seconds...
Remember, we are following you, and are very keen to smash your ugly mafiosi obese face with a baseball bat.
Just fokoff ... as we say in afrikaans...
He sounds very lonely and frustrated. A recent picture of him: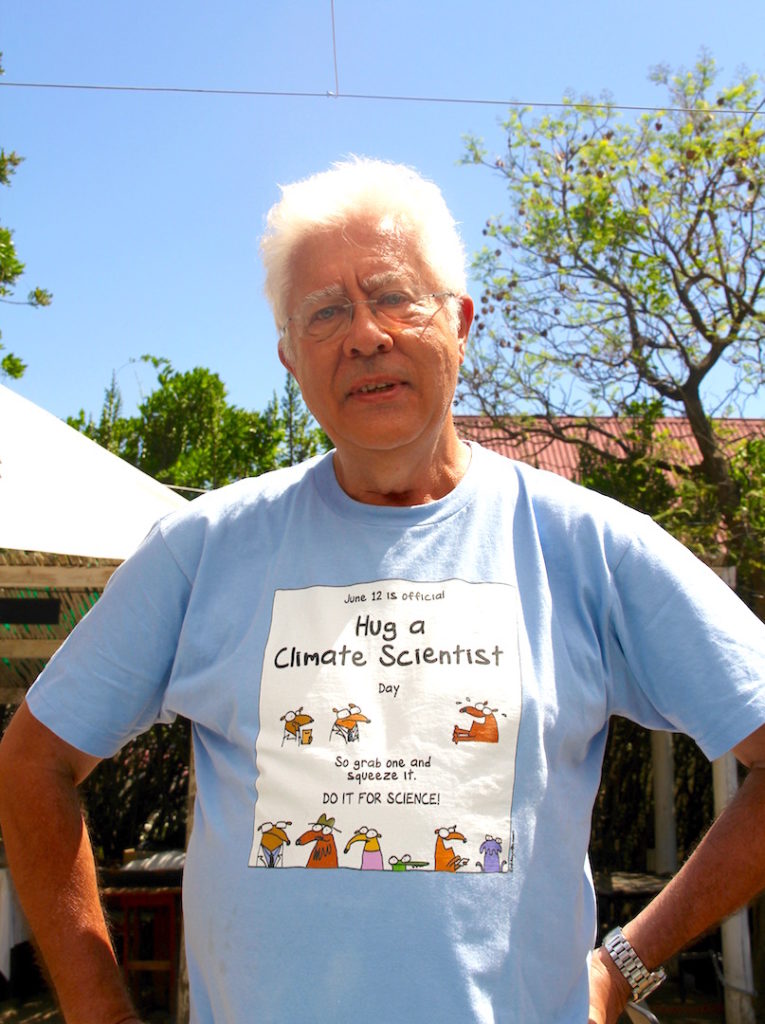 He looks rather African

His anger has even led him to use the the N-word. He rather hilariously descibes himself as a "super top scientist" above yet there is no rational debate or reference to any climate facts in his email above. I would think he was deranged except that his level of anger is common on the Left -- JR
Illinois Regulators Approve Dakota Access Pipeline Oil Capacity Expansion
Illinois Regulators Approve Dakota Access Pipeline Oil Capacity Expansion
The Illinois Commerce Commission (ICC), the agency charged with regulating utilities in the state, approved a proposal to double the capacity of the Dakota Access Pipeline (DAP), from 570,000 bpd to 1.1 million barrels per day (bpd). ICC's October 14 decision made it the last of the four states DAP passes through to approve the expansion.
Expansion to Begin
The ICC determined the equipment and pumping stations it approved were justified, because the additional oil DAP's expanded capacity could deliver would benefit the public by securing a steady, relatively inexpensive, supply of oil.
Energy Transfer Partners, DAP's operator, is in the middle of an ongoing legal battle over an approximately one mile-long stretch of the 1,127-mile pipeline beneath South Dakota's Lake Oahe that could result in the pipeline's closure. In addition, the industry faces low oil prices, resulting from a drop in demand for oil during the coronavirus pandemic. Despite these complications, Reuters reports Energy Transfer Partners said in an email it looks forward to beginning work on DAP's capacity right away.
"We are pleased with the decision by the ICC … this now allows us to proceed with the optimization of the pipeline and allows our labor union partners to go to work," Lisa Coleman, senior public relations and communications specialist with Energy Transfer Partners, said in an email.
Pipeline expansion will benefit consumers, said Chris Ventura, Midwest director of the Consumer Energy Alliance in a statement praising the decision.
"This vital project will bring an additional half a million barrels a day of domestic energy from North Dakota that will be used to fuel our farms, communities and lives in Illinois, and across the Midwest," Ventura said. "It's critical we continue to support and expand our nation's pipeline infrastructure like DAPL to help family budgets and keep our economy moving – especially in this time of recovery from COVID-19."
https://heartlanddailynews.com/2020/11/illinois-regulators-approve-dakota-access-pipeline-oil-capacity-expansion/
EU's "Farm to Fork" initiative: A disaster in the making
The European Commission has introduced a "Farm to Fork" initiative for its member states to follow. Though the initiative sounds like something that might help the Europeans access healthy food and help farmers make profit, it is anything but that. A closer look at the tenets of the initiative indicate that it is potentially dangerous to the agricultural sector in Europe.
According the European commission, the initiative's objective is to assure Europeans access to healthy, affordable and sustainable food, ensure a fair economic return in the supply chain, protect the environment, and preserve biodiversity.
Those are good objectives. But the strategies laid out in the Farm to Fork initiative act antithetical to its objectives. The following are the key strategies recommended to achieve the objectives of the initiative:
Develop Organic farming and help the EU's organic farming sector to grow, with the goal of 25 % of total farmland being used for organic farming by 2030;
Reduce fertilizer use by at least 20%;
Reduce the use of chemical and more hazardous pesticides by 50%.
Here's why these strategies antithetical to their praiseworthy objectives.
Organic Farming Means Destruction of More Trees and Loss of Biodiversity
Contrary to popular opinion, Organic farming is not necessarily an environment-friendly practice. When it comes to large scale agriculture where mass produce is needed for the billions of people on this world, Organic farming is not the future.
Growing organic plants for an average person's organic diet requires 40% more land than that is required to grow plants and raise animals that are part of a conventional diet.
A study based on organic yield data collected from over 10,000 organic farmers representing nearly 800,000 hectares of organic farmland, organic yield averaged 67% of conventional yield. It found out that organic farms produce one-third less of wheat and soybean than conventional method and up to 62% lower Potato production.
That is not good news. Going organic would mean utilization of more land, eventually resulting in clearance of more habitat for agriculture and a possible loss of biodiversity.
Reducing Pesticide and Fertilizer Use will Usher in Farmer Loss and Food Poverty
Traditionally, the use of pesticides, including insecticides, fungicides, herbicides, rodenticides, and others helped famers to protect crops from pests. It significantly reduced the losses and improved the yield of common crops such as corn, maize, potatoes, cotton, and various types of vegetables. It also protected livestocks from diseases and ticks, and humans from vector borne diseases like malaria.
The drawback and the potential harm from pesticide and fertilizer use is only when there is an excessive use, as is the case in some of the developing countries where their use is unregulated and there is an absence of quality monitoring.
When used in an appropriate quantity both pesticides and fertilizers will assure farmers a guaranteed income and keep the demand-supply gap in check in the EU.
According to the Food and Agricultural Organization (FAO) of the United Nation—which is globally recognized as a forerunner in helping countries with their agricultural sector and food security—the use of Fertilizer is extremely critical in ensuring productivity from the crops. And where fertilizer use is not so prominent, there is a very stark difference in crop productivity.
The FAO says that the lack of Fertilizer use has been one of the foremost reasons why Africa is still behind in crop productivity: "FAO data reveal that the use of productivity enhancing agricultural inputs in Africa in general, and in some sub-regions such as Eastern Africa, in particular, tend to be lower compared to other regions of the world. This extremely low fertilizer use per hectare is one of the most important limiting factors to increase crop productivity and production. In this regard, recent figures show that farmers do not significantly vary fertilizer application rates according to perceived soil fertility."
Even in regions of the world which have gone 100% organic, farmers are struggling to offset this yield ratio. One such place is the remote Indian state of Sikkim, where farmers have experienced heavy loss due to their transition to organic farming. "When chemicals were allowed, I could grow 280 to 300 kg of pulses and now, after 4 years, I barely manage to grow 80 to 85 kg", a farmer notes, blaming the low productivity and pest attacks for his monumental loss in yield.
Research has also showed that organic farming results in the depletion of nutrients in the soil. The study showed that besides causing a decrease in crop yield and efficiency, organic farming also caused a decrease in organic matter-related soil quality. Contrary to public perception, organic farming is actually bad for the soil.
One of the other key objectives mentioned in the initiative is to reduce carbon dioxide emissions. However, using organic farming to do so is counterproductive. Climate alarmists argue that organic farming results in a 21% increase in emissions as compared to growing conventional farm products.
Even scientists who view organic products as superior varieties have reservations about the increasing use of organic farming. One such person is Alexander Ruane, a research physical scientist at NASA Goddard Institute for Space Studies, who says, "the goal of organic farming in developed countries currently is about meeting the needs of those who can afford the luxury to buy the highest quality food. If the needs of this luxury interfere with the need to feed the entire population, then you have the potential for conflicts."
It is simply impossible to produce organic crops at a mass scale for the population. Even if we do manage to produce, it won't be possible without a widespread destruction of forests and a destabilizing impact on our agricultural sector, farmer revenues and affordability at markets.
The European Commission's proposal to reduce pesticide and fertilizer use will usher in a new era of European farmer poverty and imperil the food security of its member countries. It does no good to the soil or to the environment. It is time for Europeans to request their respective governments to resist the Farm to Fork initiative.
https://www.cfact.org/2020/11/23/eus-farm-to-fork-initiative-a-farming-disaster-in-the-making/
Australia: Renewables-loving NSW energy minister takes an extraordinary swipe at mining 'barons' despite 80% of power during 40C heatwave coming from coal
New South Wales energy minister Matt Kean took a swipe at 'coal barons' on Sunday after passing new laws to tackle climate change - even though coal still provides most of the state's power.
Mr Kean boasted that his plan to encourage $32billion of private investment in renewable energy projects by 2030 was a slap in the face for 'vested interests.'
In a tweet on Sunday morning, he wrote: 'Those powerful vested interests - the big energy money, the coal barons, that have decided energy policy in this country for generations - now will have to face policy settings that favour the community not their own self interest.'
Suggesting that coal power has no future, the Liberal energy minster said coal magnates complaining about his plan were like 'Blockbuster complaining about Netflix'.
Just 24 hours earlier coal was providing 80 per cent of the state's electricity as residents fired up their air-conditioning units to tackle sweltering 40C temperatures, reported the Daily Telegraph.
Mr Kean's comments were met with criticism from opponents who say his new laws, supported by Labor and the Greens, may push up power prices.
NSW One Nation leader told Daily Mail Australia that far from being a blow to vested interests, the energy bill which passed on Friday was a huge win for the major players in the renewables sector.
'It certainly represents guaranteed income for renewable energy companies and their lobbyists, paid for by electricity consumers,' he said.
The state government wants wind, pumped hydro and solar projects to replace four coal-fired power stations which are due to shut over the next 15 years.
Mr Kean says the plan - which will create Renewable Energy Zones in Dubbo and the south west - will cut household bills by $130 and small business bills by $430 a year between 2023 and 2040.
The plan will support 12 gigawatts of renewable energy and two gigawatts of storage, such as pumped hydro, and reduce carbon emissions by 90 million tonnes to 2030.
Landholders are expected to pocket $1.5 billion in rent by 2042 for hosting new infrastructure.
More than 10,000 construction and ongoing jobs will be created by 2026, with an estimated 2800 ongoing jobs in 2030, the government says.
Coal-fired power made up 77 per cent of NSW's total electricity generation in 2019 - higher than the national average of 56 per cent - but four of the state's five plants will stop by 2035.
Renewables made up 19 per cent.
The Australian Energy Council warned the government's intervention may encourage too many energy assets to be built in places where they may not be needed.
'This would ultimately mean higher costs for households,' it said in statement.
Tony Wood, energy director at the Grattan Institute, said the plan takes risk away from investors and transfers them to consumers who would potentially foot larger bills.
https://www.dailymail.co.uk/news/article-8999443/NSW-energy-minster-takes-extraordinary-swipe-coal-barons.html
***************************************
My other blogs. Main ones below
http://dissectleft.blogspot.com
(DISSECTING LEFTISM)
http://snorphty.blogspot.com
TONGUE-TIED)
http://edwatch.blogspot.com
(EDUCATION WATCH)
http://pcwatch.blogspot.com
(POLITICAL CORRECTNESS WATCH)
http://john-ray.blogspot.com
(FOOD & HEALTH SKEPTIC) Saturdays only
http://australian-politics.blogspot.com
(AUSTRALIAN POLITICS)
https://heofen.blogspot.com/
(MY OTHER BLOGS)
*****************************************