Recalculating the Climate Math
Below is the opening salvo of a new article by the obsessed Bill McKibben. It sounds scientific and hence scary but it is in fact pure theory. There are no new facts behind it at all. The "report" on which Bill relies says this:

"The basic climate science involved is simple: cumulative carbon dioxide (CO2) emissions over time are the key determinant
of how much global warming occurs"

That certainly is simple but there is no proof for it and much to suggest it is wrong. Bill's article is just old stuff in new drag

The future of humanity depends on math. And the numbers in a new study released Thursday are the most ominous yet.
Those numbers spell out, in simple arithmetic, how much of the fossil fuel in the world's existing coal mines and oil wells we can burn if we want to prevent global warming from cooking the planet. In other words, if our goal is to keep the Earth's temperature from rising more than two degrees Celsius—the upper limit identified by the nations of the world—how much more new digging and drilling can we do?
Here's the answer: zero.
That's right: If we're serious about preventing catastrophic warming, the new study shows, we can't dig any new coal mines, drill any new fields, build any more pipelines. Not a single one. We're done expanding the fossil fuel frontier. Our only hope is a swift, managed decline in the production of all carbon-based energy from the fields we've already put in production.
The new numbers are startling. Only four years ago, I wrote an essay called "Global Warming's Terrifying New Math." In the piece, I drew on research from a London-based think tank, the Carbon Tracker Initiative. The research showed that the untapped reserves of coal, oil, and gas identified by the world's fossil fuel industry contained five times more carbon than we can burn if we want to keep from raising the planet's temperature by more than two degrees Celsius. That is, if energy companies eventually dug up and burned everything they'd laid claim to, the planet would cook five times over. That math kicked off a widespread campaign of divestment from fossil fuel stocks by universities, churches, and foundations. And it's since become the conventional wisdom: Many central bankers and world leaders now agree that we need to keep the bulk of fossil fuel reserves underground.
But the new new math is even more explosive. It draws on a report by Oil Change International, a Washington-based think tank, using data from the Norwegian energy consultants Rystad. For a fee—$54,000 in this case—Rystad will sell anyone its numbers on the world's existing fossil fuel sources. Most of the customers are oil companies, investment banks, and government agencies. But OCI wanted the numbers for a different reason: to figure out how close to the edge of catastrophe we've already come.
Scientists say that to have even a two-thirds chance of staying below a global increase of two degrees Celsius, we can release 800 gigatons more CO2 into the atmosphere. But the Rystad data shows coal mines and oil and gas wells currently in operation worldwide contain 942 gigatons worth of CO2.
SOURCE
Climate change demands close watch, accurate measures in Arctic
So says Kathryn Sullivan. Fair enough. But why the Arctic only? The Antarctic contains 92% of the word's glacial ice. So isn't it what we should be watching? Would the fact that it is GAINING ice be why the excellent Ms Sulivan is ignoring it? Warmism has an amazing ability to make crooks out of people
In October 1984, I watched the sun illuminate Alaska's Malaspina Glacier from 200 miles above earth. Looking down from the space shuttle Challenger, I was able to fully appreciate the scale and magnitude of a piece of ice 40 miles wide and 28 miles long, roughly 50 times the size of Manhattan Island.
Today's space station astronauts see a very different landscape. Malaspina is melting, just like nearly every other glacier on our planet. Each year the Malaspina and other glaciers in the St. Elias Mountain Range in Southeast Alaska send about 84 gigatons of water into the ocean. That's the equivalent of the approximately 200-mile-long Chesapeake Bay, and it's just a small fraction of the water that is entering the oceans from an unprecedented melting of Arctic ice.
More than anywhere else on Earth, the Arctic has changed dramatically over the past three decades, and there is new urgency in addressing both these changes and their immense global reach. For these reasons, government ministers, scientists, and representatives of indigenous groups from more than 25 nations will hold the first Arctic Science Ministerial on Wednesday at the White House. This meeting is a significant step in recognizing the Arctic as a pivotal, yet vastly underobserved and poorly understood region of our planet.
Concerns around the world are growing because the Arctic's rapid changes are unprecedented. Temperatures are warming at least twice as fast as the global average. Melting ice sheets and glaciers are draining water into the sea at the fastest rate in recorded history, contributing to rising sea levels around the world.
SOURCE
EPA Mandate Created A $1 Billion Market In Fraudulent Biofuel Credits, Says Criminal Investigator
There may be $1 billion worth of fraudulent biofuel credits circulating in the U.S., according to a former Environmental Protection Agency (EPA) criminal investigator.
"Based on my experience, I believe the cost of these fraud schemes to victims and consumers, including taxpayers and obligated parties, is approaching $1 billion," Doug Parker, the president of E&W Strategies, wrote in a report on biofuel fraud, commissioned by the oil refining Valero Corporation.
Parker, who initiated investigations into biofuel credit fraud while at EPA, argued the federal ethanol mandate, or Renewable Fuel Standard (RFS), is "susceptible to large scale fraud" based on analyses conducted while he worked for the government.
Parker argued RFS fraud risks have grown as the credit, or RIN, market grew 15-fold in the last six years from $1 billion to $15 billion as federal law requires refiners to blend more ethanol into the fuel supply. It's also an "opaque" market that allows fraud to flourish, he wrote.
"This level of transparency and market regulation is not present in the RINs market, and the opaqueness of the market is a critical factor that allows criminal conduct to continue," Parker wrote.
Parker argues shifting the "point of obligation" of complying with the RFS from refiners to those further downstream would help reduce the risk of fraud, advocating for a policy being pushed by refiners as part of an effort to reform the RFS.
Refiners are asking EPA to move the onus of complying with the RFS from their industry to those further downstream. Refiners say complying with the RFS cost them $1 billion in 2015, making it one of their largest costs.
Energy experts expect RFS compliance costs to grow as the EPA mandates refiners blend more biofuels into the fuel supply. But ethanol lobbyists say fear of more fraud are overblown, since virtually all of it has taken place in the biodiesel market, not for conventional ethanol-blended gasoline.
"RIN fraud has not been a reality for ethanol used in the RFS program," Bob Dinneen, president of the Renewable Fuels Association, told The Daily Caller News Foundation.
Parker catalogued $271 million worth of biofuel credit fraud and $71 million in illicit profit seizures by federal agents — all of which has involved biodiesel credits.
"The author is correct that there have been instances of fraud with biodiesel," Dinneen said. "But those have been successfully prosecuted, and changes to the program put in place to protect against future abuse."
Dinneen said the report gives a distorted picture of the ethanol market, which has handled more than 90 billion RINs since its inception.
"We do not believe RIN fraud is a legitimate concern," Dinneen said. "The RFS is and has been a tremendous success for this nation's energy and economic future, and consumers across the country."
Even so, Parker says the breaching of the so-called biofuel "blend wall" has opened the door to more fraud as prices increase.
"Investigators and prosecutors are now also seeing evidence of more traditional organized criminal activity in this sector as the frauds have become larger and more complex, Parker wrote.
SOURCE
The view from 1975
The view from 1922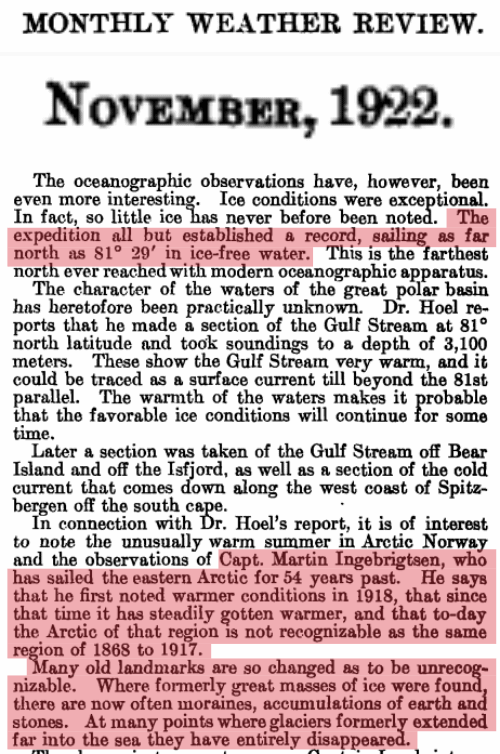 Big melt of Arctic ice. Big Arctic melts are nothing new
Greenie blindness in Australia
Yesterday I raised the issue of the Greens staging a pre-planned walkout during Pauline Hanson's first speech last week. The Greens came seriously unstuck. What was obvious to everyone is that the Greens just hate the idea of anyone saying anything to contradict their own twisted view of the world. And why is it that the Greens are so keen to defend Moslems from even gentle criticism?
The Greens are hostile to our Christian civilisation, and they instinctively ally themselves with anyone else who is hostile to Christian civilisation.
Following yesterday's editorial I received a flood of favourable comment, so here is some more on the same subject.
Pauline Hanson's Senate speech was bold and courageous in the face of the bland faces of opposition parties who have no stomach for the difficult truths Australia faces in the future. Pauline represents the silent majority who are reluctant to speak out because of our anti-free-speech laws. Many fear retribution from the very people Australia welcomed as citizens and various Muslims openly stating they have no respect for our laws or society and advocating the introduction of sharia law.
It is a sad state of affairs when in the twenty first century human beings have to deal with archaic beliefs supported by embittered people including even deranged individuals with no regard for human life. Australian governments have been asleep at the wheel when it comes to immigration from the third world. One of the main drawcards to Australia is the ridiculous welfare support given to these people. Once in the system they can manipulate and maneuver with many never working in their lifetime getting huge government payments to support their multiple spouses and numerous children. And then they tell us they don't like us!
As for the Greens, these self-righteous pompous individuals lack the basic common senses to realise their country and their lifestyles are in danger of being hijacked. Open your eyes and ears, read the news occasionally and consider the innocent Australians whose lives have been destroyed by criminals that openly support sharia law and other Islamic militants who exploit Australia's gullibility. How strange it is that some people still vote for a political party which supports such activity.
Australia is a wonderful country with many beautiful aspects and it should be kept that way. Australians don't want to live in a lawless society divided by violence and aggression so let's support the sensible politicians, like Senator Pauline Hanson, The Member for Melbourne Ports Michael Danby MP, Senator Corey Bernardi, Senator Brian Burston, Senator Jacquie Lambie, Senator Bob Day AO and the Federal Member for Dawson in Queensland, George Christensen MP. All of these proudly uphold and support the Australian way of life instead of condoning subversion.
Save Australia before it's too late!
SOURCE
***************************************
For more postings from me, see DISSECTING LEFTISM, TONGUE-TIED, EDUCATION WATCH INTERNATIONAL, POLITICAL CORRECTNESS WATCH, FOOD & HEALTH SKEPTIC and AUSTRALIAN POLITICS. Home Pages are here or here or here. Email me (John Ray) here.
Preserving the graphics: Most graphics on this site are hotlinked from elsewhere. But hotlinked graphics sometimes have only a short life -- as little as a week in some cases. After that they no longer come up. From January 2011 on, therefore, I have posted a monthly copy of everything on this blog to a separate site where I can host text and graphics together -- which should make the graphics available even if they are no longer coming up on this site. See
here
or
here
*****************************************