Warmists can be amusing: Lewandowski in particular
I have been posting about the Green/Left 6 days a week for many years, so you would think I would be suffering from burnout by now. But on the contrary, I often find the whole thing amusing. The stuff that Warmists come out with in great seriousness is often so silly that one has to laugh. And Stephan Lewandowski really is a lamebrain.
Here he is
He is a psychologist and has latched onto the old "ad hominem" Leftist idea that he can discredit conservative arguments by showing that conservatives are not right in the head. Psychologists have been trying to do that at least since 1950 and they have come up with some lulus in the course of pursuing that goal.
The oddest one
was their claim (p. 343) that Communist dictators such as Stalin, Khrushchev and Castro are conservative. But if Communist leaders and ideologues are conservatives, who is a Leftist? More on that
here
and
here
. And the "research" concerned has been much acclaimed! It's pretty clear who the twisted minds actually are. It is conservatives who are the normals.
One would feel sorry for Leftists if they were not so aggressive. They are so desperate for self-validation that they will believe just about anything that tends to support their beliefs.
Lewandowski burst onto the Warmist scene with an alleged study of climate skeptics which did indeed do the job of finding them not right in the head. The only problem was that there was absoutely no evidence that the people he "studied" were in fact a representative sample of climate skeptics. There are in fact some grounds for concluding that many of those studied were in fact from the Green/Left. Be that as it may, Lewandowski clearly has the typical psychologist's insouciance about sampling and thus conducted a study of no demonstrable generalizability. He might as well have filled out all his questionaires by himself.
Lewandowski is such a nut that he even got himself disowned by the Warmist establishment. All Warmists hate the "hiatus" in warming that has dominated this century and a couple of them have tried various tricks to "abolish" it -- to show that there really has been no "hiatus". And
Lewandowski
was one of those. His work was so shoddy, however that in
the Fyfe et al. paper
the Warmist heavies disowned the claim and reaffirmed that there was a 21st century temperature slowdown, which they explained as due to "special" factors. The joint authors of that paper were: John C. Fyfe, Gerald A. Meehl, Matthew H. England, Michael E. Mann, Benjamin D. Santer, Gregory M. Flato, Ed Hawkins, Nathan P. Gillett, Shang-Ping Xie, Yu Kosaka & Neil C. Swart. Mann and Santer are particularly well-known Warmists.
Anyway, on to Lewandowski's latest brainwave -- under the heading: "A blind expert test of contrarian claims about climate data". I think I had better reproduce
its abstract
before I go any further:
"Although virtually all experts agree that CO2 emissions are causing anthropogenic global warming, public discourse is replete with contrarian claims that either deny that global warming is happening or dispute a human influence. Although the rejection of climate science is known to be driven by ideological, psychological, and political factors rather than scientific disagreement, contrarian views have considerable prominence in the media. A better understanding of contrarian discourse is therefore called for. We report a blind expert test of contrarian claims about climatological variables. Expert economists and statisticians were presented with representative contrarian statements (e.g., "Arctic ice is recovering") translated into an economic or demographic context. In that blind test, contrarian claims were found to be misleading. By contrast, mainstream scientific interpretations of the data were judged to be accurate and policy relevant. The results imply that media inclusion of contrarian statements may increase bias rather than balance"
He starts out well -- with a straw man argument. He says that skeptics "either deny that global warming is happening or dispute a human influence". There are some skeptics who hold those positions but by far the majority of skeptics concede the theory of some CO2-induced warming but just see no evidence or reasonable argument that it is anything but trivial in magnitude or urgent in any way. In technical terms, they dispute the climate "sensitivity".
But you can accurately summarize what Lewandowski does above by saying that he examined skeptical arguments by not examining skeptical arguments. It is that bad. Another lulu! Only a true believer would give it any credence. I think anyone can see that the hole in the bucket is the "translation" of skeptical arguments into some allegedly equivalent argument in another field. I'm betting that my translations would have been very different. And the selection of "experts" was probably another hole in the bucket. Academe is heavily Leftist so getting sympathetic experts on board would have been a no-brainer.
Anyway, he provided me with the hour of entertainment that it took to write the above notes.
Australia: Warmists just LOVE the Great Barrier Reef
It enables them to tell SO many lies. That coral "bleaching" (expulsion of symbiotic algae) has been happening for millions of years goes unmentioned below -- as is the fact that corals have in the past coped with far greater temperature variations than anything we have seen recently. And corals are still with us, funnily enough.

They do respond to temperature, among other things, but the "bleaching" is mainly in order to recruit different varieties of symbiotic algae. And corals are hardier than they look. In "bleached" form they can survive for quite a while on just their normal filter feeding. "Bleached" corals are NOT dead.

And the present ocean warming is clearly due to El Nino, a temporary warming that is part of a natural cycle. It's actually the La Nina that normally follows El Nino that is the biggest concern. Corals are more likely to "bleach" in response to cooling than they are to warming.

And let me again mention my favourite fact about coral: In 1954 the USA exploded a 15 megaton thermonuclear device over Bikini atoll. And Bikini atoll had lots of coral. So there is no coral there at all now? Far from it. The corals there now are huge, abundant and thriving. So if coral reefs can recover from an H-bomb blast, why is a pissy one degree temperature rise in GBR waters of concern?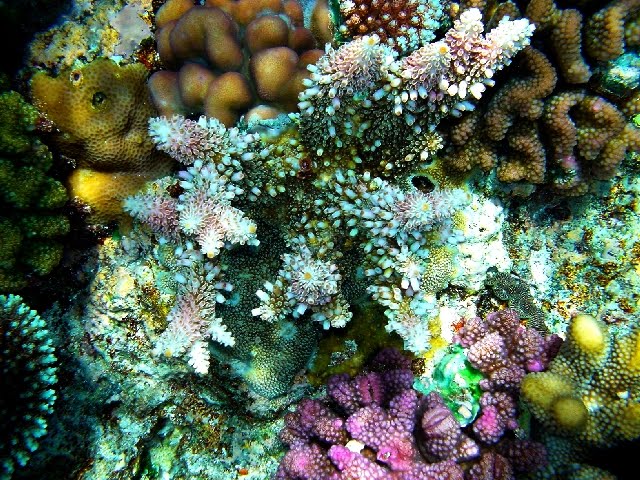 Corals at Bikini atoll today

Strange that all that goes unmentioned below, isn't it? You would not suspect any of it from the screeches below. The words below are "an orchestrated litany of lies", to quote a distinguished judge on another matter. The Waremists just want more funding and are prepared to lie and deceive to get it. Global warming is a global racket dreamt up by scientists for the benefit of scientists

The Federal Government's plan to save the Great Barrier Reef is "totally inadequate," and if whoever forms government doesn't commit at least $10 billion this election the natural wonder is likely to be doomed, scientists at James Cook University have said.
This extraordinary warning comes from leading water quality expert Jon Brodie and Emeritus Professor Richard Pearson, who are speaking out after they published a paper this week. In an interview this morning, Brodie said the Reef "will never be in its full gory again, we can't expect that, [but]it's going to get worse unless we do something".
The Scientists said the twin threats of poor water quality and climate change could put the Reef in "terminal" decline within five years, unless whoever forms government comes to office with a comprehensive, cohesive, and adequately-funded rescue plan.
The Coalition Government has released a plan, known as Reef 2050, but it scarcely mentions climate change and Brodie said it is "totally inadequate". "I'm probably the leading water quality expert for the Great Barrier Reef over the last 30 years and I'm saying the water quality [aspect of the plan]is absolutely inadequate," he said.
"It was meant to be a comprehensive plan, of course, but as has been pointed out by everyone, and particularly the Australian Academy of Science, it's totally inadequate," he said.
The James Cook University scientists said catchment and coastal management programs need to be funded in the order of $1 billion per year over the next ten years. "We need a plan to fix up water quality as best we can, to provide some resilience against the oncoming climate change impacts," Brodie said.
The Great Barrier Reef has made headlines over recent months as 93 per cent of the Reef, which is the only living structure that can be seen from space, has been affected by coral bleaching.
Fuelled by warming waters, the coral bleaching event was the worst in recorded history. The uncompromising heat was a result of an El Nino climate system, superimposed over baseline temperatures already pushed up by climate change.
"Before climate change kicked in we simply never saw bleaching," Professor Terry Hughes has previously told New Matilda. "It's quite confronting that we've now got to the stage that every El Nino event – and they happen every few years – is a threat to the Great Barrier Reef," said Hughes, the Director of the Australian Research Council's Centre of Excellence for Coral Reef Studies.
The threats posed by climate change are exacerbated by plague-like outbreaks of Crown of Thorns Starfish, which are triggered by poor water quality. According to the James Cook University Scientists, the next outbreak is most likely to occur around 2025.
If we don't make serious inroads at improving water quality by then, the fate of the Reef looks grim.
Brodie and Emeritus Professor Pearson are calling for management of the Reef to be extended beyond the bounds of the World Heritage Area, north to the Torres Strait, south to Hervey Bay, and inland to include the Great Barrier Reef catchment.
This would of course come at a cost. But Brodie points out that while $10 billion over ten years "may seem like a lot of money, we know that amount would be effective and it's small by comparison to the economic worth of the Reef, which is around $20 billion per year".
Current Federal funding, he said, "is almost nothing". And that doesn't look likely to change. "So far in the election campaign, we've seen no major commitments about the Great Barrier Reef at all from anybody really," Brodie said.
The Great Barrier Reef Campaign Director at the Australian Marine Conservation Society, Imogen Zethoven said "the massive coral bleaching taking place right now on the Reef and the latest science over recent months all point in one direction: The outlook for the Reef is dire and we must act now.
"Things are worse than we thought for the Reef's future, we are close to the brink of what this fragile ecosystem can tolerate without a credible plan for restoring it to good health," she said.
"Australia's current plans to protect the Reef are inadequate, short-sighted, lack appropriate funding and will not prevent its decline."
SOURCE
British "ECO" house doesn't work
The building's high lustre varnish finish has gone and the gardens are in need of tender. It is the futuristic eco-mansion that enthralled viewers of hit TV show Grand Designs and was branded "awe-inspiring" by host Kevin McCloud. But all is not well at this luxury ­holiday home in the Lake District.
It appears to have been abandoned – and families who have booked stays there are getting worried.
Ultra-modern, seven-bedroom Dome House Boutique nestles in the hillside above Bowness-in-Windermere and has stunning views.
Architect and owner Robert Gaukroger spent two years building the unique property, all recorded by Channel 4 cameras.
It was designed to double as a family home and luxury self-catering holiday apartments. Yet over the past few weeks, locals have noticed it stands empty.
The gardens are looking scruffy and overgrown and there is no sign of the visionary proprietor.
His absence has been noted by ­paying customers. Some claim they have been left chasing £1,000 ­deposits and say they have struggled to get hold of Gaukroger to find answers.
And websites that formerly ­described the property in glowing terms are no longer accepting bookings.
Mum of-three Claire Farn was ­hoping to spend a week at the Dome in August after paying £1,000 for two families to stay. She heard nothing back for a month when she asked if her booking was still valid.
What may have worried her more is that Gaukroger has been trying, in vain, to sell the house for some time.
Last year the property was put on the market for £2.3million. Within months the price had plunged to £1.45million. It now appears to have been removed from sale altogether.
Earlier this year it emerged Gaukroger was planning to split the building into separate apartments and sell them off. There is little evidence to show that venture got off the ground, with architect Gaukroger still listed as the registered owner of the property.
The 7,000 sq ft contemporary ­wooden structure has a curved wild grass roof and suites with Scandinavian furnishings.
When presenter McCloud took his famous walk through the completed property in 2010, he raved over its pool, hot tub and sauna, four-poster beds and stunning views.
At the time, the ­owner was equally ­enthusiastic. He said: "Not only do I have a home but what looks like a flourishing business. After Grand Designs we had 100 bookings in a week."
But since then some customers have complained about silence from the firm when they try ­updating bookings.
Mrs Farn heard ­nothing from Dome Boutique for a month. She received an email offering a full refund only on Friday morning after the Dome Boutique was contacted by the Sunday People. She said: "We couldn't get in touch with anyone and were really worried about our holiday.
"I'd seen it on Grand Designs and thought it would be amazing to stay there. I found them on eBay for about £1,400-a-week. They said they could do a deal if we contacted them ­directly to avoid the eBay fees."
After paying for the holiday they received a booking confirmation. But then things went quiet for weeks.
Claire said: "We started to get nervous. Then their website disappeared and so did the ­listing on eBay. We've tried phoning but there was ­either no answer or it was ­engaged.
"We finally got a response on Friday saying there had been ­problems and promising a refund.
"But do they realise how stressful this has been? Why didn't they reply a month ago?"
Other customers turned to Facebook to try to find out what was going on. One wrote: "Dreadful ­behaviour, the way they're treating people who have booked and paid up front for accommodation. Not at all honorable!"
Another posted: "I have a family booking for July 2016. I have emailed the owners but have not had a reply. Does anyone have an update? This may be serious for many people."
In another post he wrote: "I have booked July. I cannot get a response from them. It's all very suspicious. I have paid £1,490." Neighbours said they had seen no guests at the Dome for 10 to 12 weeks.
One said: "If it is in trouble, it's a real shame. It should be thriving. At the height of the season that place should be making £10,000-a-week.
"We know it's been on the market for a while but they've not been able to find a buyer by the looks of things. It's getting a little overgrown, they've not been maintaining it. "It's in a fantastic location and is a wonderful building."
A spokesman for Dome House admitted they had been ­experiencing problems and offered refunds. They said: "We have had a number of issues, including the pool heat and house heating ­system, which due to the bio-mass system had cause problems.
"The property had to cancel a booking at Easter. We already have May blocked out as a planned break. The follow summer season was ­intended to be the last season the property was to be offered as self-catering accommodation with a view to converting the property to affordable apartments.
"We have been looking into whether these bookings could be accommodated. Due to the nature of the bio-mass wood heating it does seem the house does not lend itself to self-catering with this system. If the electric back-up heater for the pool and heating fails it is unsatisfactory.
"With this in mind we are writing to guests to arrange refunds for the small number of bookings we have left." Gaukroger and wife Milla told the Grand Designs show the whole project cost in excess of £1million.
They took out a £600,000 mortgage but had only another £100,000 in the bank when costs began to spiral.
They were relying on other business deals to finance the project but the ­economic climate worsened and the ­couple were left with a half-finished house. Further problems saw them unable to pay creditors or the mortgage and a ­repossession order was issued. But after the house appeared on Grand Designs a woman offered them a loan. Gaukroger said: "She said it was clear this was my dream and she wanted to help."
After completion the couple had to open part of the building as a bed and breakfast to earn cash to pay off the loan. They later changed it to self-catering.
When he put the property on the ­market last year Gaukroger said he was going to complete a postgraduate ­architectural qualification in London while building a new family home in Kent.
He said: "We have a loan to pay that we don't want hanging over our heads. We will never be able to replace this house."
One guest who had stayed there wrote on Trip Advisor: "Total disappointment. No heating or hot water in half the house. The pool was not working. There was a leaking radiator and a faulty freezer."
Another said: "Although the house is potentially an amazing property, it did not meet our expectations."
SOURCE
Salby Sees Little CO2 Driving Mechanism …Skeptical View Of CO2 Science Is In Fact 'Textbook Science'
We routinely read from fellow skeptics that they wish Dr. Murry Salby's research could be made available in written form, or perhaps in a peer-reviewed paper.
Indeed we do have access to his Youtube lecture research (at least a written summary of it) from an even better source than peer-reviewed paper: Dr. Murry Salby's 2012 university-level textbook: Physics of the Atmosphere and Climate.
Here is a pdf link to the full textbook written by a world-renown expert on atmospheric physics (he's published several dozen papers in the scientific literature on the subject). We therefore can effectively say that a skeptical view of the CO2-dominated climate paradigm is actually textbook science, not "fringe" science for the "3 percent".
Below I've compiled a short list of some of the written statements from the textbook:
(a) temperature changes occur first and lead to CO2 emission from natural sources (e.g., more ocean outgassing upon warming, more CO2 retention as the ocean cools), indicating that warmer temperatures are driving up CO2 concentrations significantly more than human activity or fossil fuels;
(b) CO2 only accounts for a small portion of the greenhouse effect relative to water vapor/cloud; and
(c) our presumptions about paleoclimate CO2 concentrations are probably inaccurate (too low and too stable), as significant temperature fluctuations would have caused wider fluctuations in CO2 concentrations than current proxy-based reconstructions indicate.
Page 546:
"Together, emission from ocean and land sources (∼150 GtC/yr) is two orders of magnitude greater than CO2 emission from combustion of fossil fuel. These natural sources are offset by natural sinks, of comparable strength. However, because they are so much stronger, even a minor imbalance between natural sources and sinks can overshadow the anthropogenic component of CO2 emission."
And page 249:
"The vast majority of that [greenhouse] warming is contributed by water vapor. Together with cloud, it accounts for 98% of the greenhouse effect."
Page 249/50:
"Surface temperature depends on the atmosphere's optical depth. The latter, in turn, depends on atmospheric composition through radiatively active species. Water vapor is produced at ocean surfaces through evaporation. Carbon dioxide is produced by decomposition of of organic matter. These and other processes that control radiatively active species are temperature dependent."
Page 253:
"Revealed by natural perturbations to the Earth-atmosphere system, the sensitivity accounts for much of the observed variation of CO2 emission on interannual time scales (Fig. 1.43). It establishes that GMT cannot increase without simultaneously increasing CO2 emission – from natural sources."
Page 253:
"The results for the two periods are in broad agreement. Together with the strong dependence of CO2 emission on temperature (Fig. 1.43), they imply that a significant portion of the observed increase in r˙CO2 derives from a gradual increase in surface temperature."
Page 546:
"Warming of SST (by any mechanism) will increase the outgassing of CO2 while reducing its absorption. Owing to the magnitude of transfers with the ocean, even a minor increase of SST can lead to increased emission of CO2 that rivals other sources."
Page 254:
"The resemblance between observed changes of CO2 and those anticipated from increased surface temperature also points to a major inconsistency between proxy records of previous climate. Proxy CO2 from the ice core record (Fig 1.13) indicates a sharp increase after the nineteenth century. At earlier times, proxy CO2 becomes amorphous: Nearly homogeneous on time scales shorter than millennial, the ice core record implies virtually no change of atmospheric CO2. According to the above sensitivity, it therefore implies a global-mean climate that is "static," largely devoid of changes in GMT and CO2.
Proxy temperature (Fig. 1.45), on the other hand, exhibits centennial changes of GMT during the last millennium, as large as 0.5–1.0◦ K. In counterpart reconstructions, those changes are even greater (Section 1.6.2). It is noteworthy that, unlike proxy CO2 from the ice core record, proxy temperature in Fig. 1.45 rests on a variety of independent properties.
In light of the observed sensitivity, those centennial changes of GMT must be attended by significant changes of CO2 during the last millennium. They reflect a global-mean climate that is "dynamic," wherein GMT and CO2 change on a wide range of time scales. The two proxies of previous climate are incompatible. They cannot both be correct."
These statements fully correspond with some of the main themes of his lectures.
SOURCE
Orwellian Global Warming Dreams
In March a group of Democratic attorneys general formed "AG's United for Clean Power."
It sounds nice enough, doesn't it? New York Attorney General Eric Schneiderman, standing beside a grinning Al Gore, announced that the gang was going after any energy providers and distributors who may have committed thought crimes such as questioning the human cause of the 0.8oC global warming since 1880.
MIT atmospheric scientist Richard Lindzen said the appropriate response to this tiny warming is to shrug and say, "So what?" It is a tiny fraction of the daily temperature change in most places, and a smaller fraction of the seasonal temperature change. But at the AGs' meeting Al Gore called it a "climate crisis."
The state AGs are in lockstep with federal Attorney General Loretta Lynch, who recently said she is considering legal actions against "climate change deniers" (a nonexistent species, since no one denies that climate changes).
You may wonder how this could be possible in the United States, where freedom of speech is guaranteed in the Constitution.
Imagine a society in which one is under near-ubiquitous surveillance. Such a vision is remarkably close to the reality of 21st century America, if the words of Supreme Court Justice Steven Breyer are to be believed. In statements regarding a recent case he said, "If you win this case, then there is nothing to prevent the police or the government from monitoring 24 hours a day the public movement of every citizen of the United States."
We're already under a voluntary microscope with tools like Facebook. Small wonder that politicians desire a similar bonanza. With total data coverage, attorneys general will find it easy to harm those who are not in total support of correct political priorities. Justice Breyer thought such a possibility resembled, too closely for comfort, the dystopian society George Orwell wrote of in his novel 1984.
In more than this we resemble Orwell's Oceania, which had its own form of twisted English called Newspeak. Newspeak was carefully devised to meet the ideological needs of Ingsoc, or English Socialism. It made it difficult, nearly impossible, for the common prole to have incorrect ideas. Newspeak, as a mode of expression, acted to develop correct mental habits and make all other thoughts inconceivable.
"It was intended," wrote Orwell, "that when Newspeak had been adopted once and for all and Oldspeak forgotten, a heretical thought, that is, a thought diverging from the principles of Ingsoc, should be literally unthinkable, at least so far as thought is dependent on words."
This brings me to global warming. The term occurs frequently in Al Gore's 1992 book, Earth in the Balance (I stopped counting at 81 times). But when Mr. Gore stood beside the attorneys general there was not even a nostalgic reference to global warming. It has passed out of the memory tubes governed by Newspeak.
The problem with global warming is its precision. The words global and warming have precise and well-understood meanings. Global refers to an all-encompassing entity, in this case geographically specified—the planet Earth. Earth is a medium-sized planet located in space approximately 1.5×1011 m from its closest star. And Earth is warmer, on average, now than it was in the past—well, the late 14th through early 19th centuries, anyway. (It's also cooler now, on average, than it was in the Holocene Climate Optimum, and probably also the Minoan Warm Period, the Roman Warm Period, and the Medieval Warm Period, but polite conversation doesn't encompass such inconvenient truths.)
This is hardly groundbreaking. Our planet has had many periods of warming and cooling.
The AGs insist the direct cause of escalating temperatures is rising atmospheric concentration of CO2—the gas of life—driven by the European and American economic boom post World War II. They warn that warming will become catastrophic unless emissions are stopped.
But the modest warming has stopped while emissions have skyrocketed. This is opposite to the warming computer models predicted. There has been no warming trend from 1997 to the present. (The short-term warming of the first few months of 2016 is due to an unusually, but not unprecedentedly, strong El Niño in the south Pacific and does not constitute a trend.)
Today those who question the idea of a runaway global warming caused by human CO2 emissions are called deniers. What precisely the deniers deny is never quite specified. That is the point in Newspeak. It is sufficient to wrap words related to rationality and objectivity in the single word denier. Greater precision would be dangerous.
It is the flat line of no warming for almost 20 years that also makes "global warming" unacceptable. It is too precise.
Changing to terms such as Al Gore's "climate crisis" has the conscious purpose of subtly changing the meaning, by cutting out most of the associations that would otherwise cling to the more precise term.
Climate crisis and climate change are terms that can be uttered almost without taking thought, whereas global warming is a phrase over which one is obliged to linger at least momentarily. So linger a while before the attorneys general make it a thought crime to hold a different opinion.
SOURCE
Portland Public Schools bans material that casts doubt on climate change
The Portland Public Schools Board on Tuesday decided to ban any classroom materials that cast doubt on climate change. The resolution passed unanimously and requires that textbooks and other material purchased by the district present climate change as a fact rather than theory.
Material will also need to present human activity as one of the phenomenon's causes.
In testimony to the board, Bill Bigelow, a former Portland teacher, told district officials that "we don't want kids in Portland learning material courtesy of the fossil fuel industry."
Bigelow said that material that treats climate change as anything other than fact is published by companies making concessions for fossil fuel companies. He pointed to words such as "might," "may" and "could" in educational materials.
The story started making waves on Friday when The Blaze, a conservative news site founded by Glenn Beck, picked it up. U.S. News and World Report also picked it up, which incited one commenter to say, "Well this is special....ban books because you dont (sic) agree with the context. Sounds like teaching professionals promoting a very personal and liberal agenda."
Republican representatives in Congress agree, but it seems America's conservative politicians are alone in this regard — much of the world's right-leaning leaders have urged action on climate change. In the U.S., the Environmental Protection Agency has been doing the same, calling it a public health issue.
Even entertainers have gotten into the action. Jimmy Kimmel earlier this month urged viewers to be skeptical of a documentary endorsed by former Alaska Gov. Sarah Palin that casts doubt on climate change. Instead, Kimmel said during a segment on his late-night show, Americans should be listening to scientists.
SOURCE
***************************************
For more postings from me, see DISSECTING LEFTISM, TONGUE-TIED, EDUCATION WATCH INTERNATIONAL, POLITICAL CORRECTNESS WATCH, FOOD & HEALTH SKEPTIC and AUSTRALIAN POLITICS. Home Pages are here or here or here. Email me (John Ray) here.
Preserving the graphics: Most graphics on this site are hotlinked from elsewhere. But hotlinked graphics sometimes have only a short life -- as little as a week in some cases. After that they no longer come up. From January 2011 on, therefore, I have posted a monthly copy of everything on this blog to a separate site where I can host text and graphics together -- which should make the graphics available even if they are no longer coming up on this site. See
here
or
here
*****************************************