The bugs that COOL the planet: Tiny bacteria could be the Earth's greatest defence against climate change
Is this included in the models? Guess not. Note that the theory below is the exact opposite of orthodox Warmism. Warmists cling to the theory that more clouds will WARM the earth. The thinking below says that they will COOL the earth. Is that the "settled science" we hear about? Most evidence suggests cooling
Humankind's battle against climate change is being helped by an organism which too small to be seen by the naked eye, yet which exists in unimaginable numbers in the oceans.
The bacterial group Pelagibacterale could be the most abundant creature on the planet, accounting for about a third of all cells on the ocean surface. As many as half a million exist in every teaspoon of sea water.
Scientists have now discovered that this tiny bacterium is one of Earth's greatest defences against climate change.
The bug plays a key role in a reverse-feedback loop that creates more clouds as the climate warms, helping to shade the planet from the sun's energy.
As the climate warms, Pelagibacterale grow rapidly. The bacteria produce the chemical dimethylsulfide (DMS) which, through a series of chemical processes, increases cloud droplets.
The resulting clouds are both more abundant and a whiter colour, which reduces the amount of sunlight hitting the ocean surface and lowering temperatures.
Dr Ben Temperton, lecturer in biosciences at the University of Exeter, was a member of the international team that has for the first time identified Pelagibacterales as a major source of DMS.
'This shows that the Pelagibacterales are an important component in climate stability.
'If we are going to improve models of how DMS impacts climate, we need to consider this organism as a major contributor.'
Pelagibacterales have some of the smallest genomes of all free-living organisms, and small genomes take fewer resources to replicate. This allows the bacteria to multiply rapidly when conditions are right.
'The production of DMS is like a pressure release valve', says Dr Temperton. 'Kinetic regulation like this is not uncommon in bacteria, but this is the first time we've seen it in play for such an important biogeochemical process.'
THE CLAW HYPOTHESIS
The CLAW hypothesis explains how a reverse-feedback system helps to regulate the Earth's climate.
Warmer temperatures allow micro-organisms to thrive, producing dimethylsulfide (DMS) gas which leads to more cloud cover.
These clouds reflect sunlight back into space, slowing temperature increases on the planet.
CLAW is named from the initial letters of the scientists who proposed it: Robert Charlson, James Lovelock, Meinrat Andreae, and Stephen Warren.
Lovelock is best known for his Gaia hypothesis, which sees the planet Earth as a vast self-regulating organism.
The Gaia notion was put forward over 40 years ago, and is sometimes criticised for being a quasi-religious contradiction of the principles of natural selection.
SOURCE
Today's Climate Fraudster Of The Day – Andrew Freedman

More accurate satellite temperatures show that April 1998 was warmer, and this April was just another El Nino spike – which will quickly disappear. April temperatures have generally been declining over the past 18 years. Why did Andrew forget to mention that?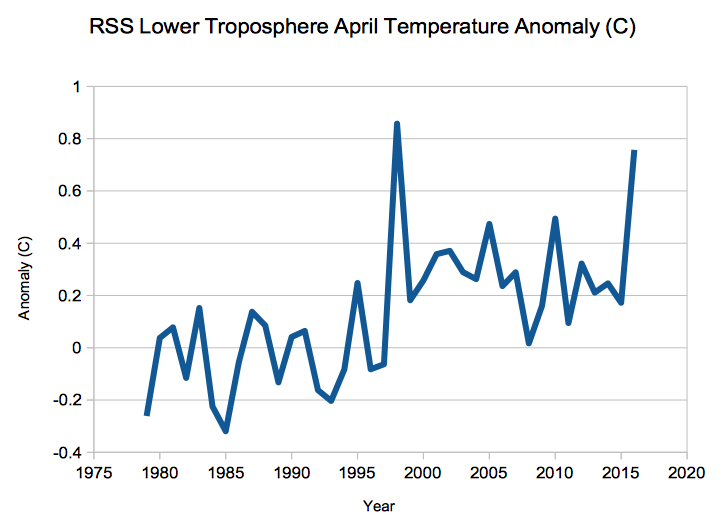 SOURCE
Rules, Rules and More Rules to Combat Climate Change
EPA head Gina McCarthy announced first-ever standards to reduce the amount of methane the oil and gas industry releases into the air. The announcement this week was days away from a supposed mid-May deadline to pass rules for the Obama administration, one last-ditch attempt to slow the economy down.
The rules are yet another push by the Obama administration to further cement its climate change fighting chops — in other words, expand federal control. In her announcement, McCarthy claimed the rules are supposedly to help make the oil and gas industries safer, but that's a transparent attempt to make the regs easier to stomach.
Kyle Isakower, a vice president of policy at the American Petroleum Institute, said, "The industry is already leading the way on methane reductions, because it is good for the environment and good for business. Imposing a one-size-fits-all scheme on the industry could actually stifle innovation and discourage investments in new technologies that could serve to further reduce emissions."
But Obama is living out the twilight of his time in the White House, so what's he got to lose?
Speaking of losing, this new rule came out on the day ObamaCare lost a big court battle. Lose one battle, begin another one, Obama says. Toss down a pile of regulation and let the bureaucrats in Washington sort it out. Maybe some of it will survive challenges in court. It's a terribly cynical way of "fundamentally transforming America."
Speaking of energy, the Senate passed its first normal appropriations bill since 2009 — funding energy and water development. But it's not a conservative bill. Being generous, the Senate gave $261 million more than what the Obama administration asked. Hello, fiscal conservatism?
SOURCE
Stick It, Mike
It doesn't take much to annoy the "Distinguished Professor of Atmospheric Studies" as Micheal Mann refers to himself. I mentioned him and his dubious hockey stick graph in only one paragraph of my column published two weeks ago, but Mann responded angrily in a long letter to the editor in The Conway Daily Sun, one of the papers in which it ran.
Mann might be realizing the thin ice he's standing on has nothing to do with global warming. It's cracking under his feet because scientists are not coming forth to assist him with amicus briefs in the court case he brought against Mark Steyn. Mann accused Steyn of "defamation of a Nobel prize recipient," which Mann falsely claimed he was.
He had to modify that wording when the Nobel Committee declared he never received one. Mann is learning that Steyn, when he refused to withdraw his charge that Mann's graph was a fraud, wants his day in court. I think he also realizes that Steyn will take him apart.
When I first saw the hockey stick graph, it took me less than a minute to know it was BS. Picture a hockey stick laying horizontally with the blade sticking up in the air to your right. The "shaft" of Mann's hockey stick purports to show a fairly stable temperature for 900 years - until the 20th century when the "blade" shot up, ostensibly because of fossil fuels burned by expanding industries beginning in 1900.
Though I took a course in meteorology and climatology in college, I do not claim to be an expert. History is my subject.
As a boy I was fascinated by stories of pre-Columbian discoveries of North America. I was ten in 1961 when I learned about Norwegian archaeologist Helge Ingstad's discovery of the Viking settlement at Newfoundland's L'Anse Au Meadows. Viking voyages to North America had been described in Icelandic Sagas from the period of 1000 AD during what is now called the "medieval warming period."
Back then, historians called it "the little climate optimum." In the sagas, Viking voyagers described shorelines of today's Canadian maritime provinces that didn't make sense until researchers realized that ocean levels were higher when the Vikings sailed by them a thousand years ago due to melting of the ice caps. The shaft of Mann's hockey stick graph ignores all this. By showing a straight line where he should show a significant bump, Mann totally ignored the medieval warming period.
I also knew the Viking Greenland settlement was abandoned when the climate turned cold during the "Little Ice Age" a few centuries later, but this centuries-long period isn't depicted in the straight shaft of Mann's ridiculous hockey stick either. Those two anomalies were all I needed to understand that the "distinguished professor" of atmospheric studies was peddling academic and scientific BS.
Seldom do I respond to letters to the editor. An editor advised me twenty years ago to trust my readers. "They've read what you wrote and they've read the responses. Trust them to make up their own minds." It was good advice, and I've followed it closely ever since. The only exception I've made is when the facts I offered are questioned. Then, as now, I'll respond with evidence. Also, I'll admit, Mann's hubris is too rich to ignore.
On Twitter, Mann claimed he "disabused" me as a denier. The word means to "persuade someone that a belief or idea is mistaken," and the purpose of this column is to disabuse readers of that tweet that I'm persuaded of any such thing.
Anthropogenic climate change has been invented by the left. They hope that by propagating that narrative, they can justify taking over what Vladimir Lenin referred to as "The Commanding Heights" of the economy, which they have proceeded to do under the Obama Administration.
While climate certainly affects humans, the evidence for humans affecting climate is thin or none no matter what the "distinguished professor" may claim. Mann's hockey stick graph is all about political propaganda, not science.
Mann and his devoted followers seem to exemplify what the 18th century British scientist Joseph Priestly wrote: "A philosopher who has long been attached to his favorite hypothesis, and especially if he have (sic) distinguished himself by his ingenuity in discovering or pursuing it, will not, sometimes, be convinced of its falsity by the plainest evidence of fact. Thus, both himself and his followers are put upon false pursuits and seem determined to warp the whole course of nature to suit their manner of conceiving its operations."
My hope is to watch the trial during which I expect Mark Steyn to make a fool of him and his hockey stick, and thereby render him forever the extinguished professor of atmospheric studies.
SOURCE
52 climate activists arrested in Wash. railroad protest
SEATTLE — Authorities cleared the railroad tracks of protesters and arrested 52 climate activists Sunday morning in Washington state after a two-day shutdown.
About 150 people spent the night in tents and sleeping bags on the tracks near two refineries in northwest Washington, according to BNSF Railway spokesman Gus Melonas.
They were asked to leave at about 5 a.m. and most gathered their belongings and left the area near Anacortes, Melonas said. "It was peaceful," he said. "Eighty percent removed their belongings and cleared out."
The 52 people arrested were cited for trespassing, according to the Skagit County Department of Emergency Management. One person was also cited for resisting arrest.
Skagit County Sheriff Will Reichardt said that before anyone was arrested, officers advised protesters that they could move to another designated location and demonstrate.
A spokeswoman for the protesters said she expected everyone arrested would be processed and released.
Emily Johnston said protests would continue around Anacortes on Sunday, but she didn't expect people to return to the railroad tracks.
Johnston, who had participated in a blockade of the Seattle harbor to protest Shell Oil's plans to drill for oil in the Arctic, said the success of protests like the one in Anacortes can mostly be seen in the way they inspire people to speak out about climate change. "People power matters," Johnston said.
She also spoke about the contrast between arresting people for protesting about saving the planet and the lack of government action against the fossil fuel industry.
"We really need to hold the fossil fuel industry accountable," Johnston said.
The rail line has been closed since Friday because of the protests, and trains will begin running again Sunday afternoon after a cleanup and safety sweep of the tracks, he said.
Protesters in kayaks, canoes, on bikes, and on foot also took part in demonstrations near Anacortes, about 70 miles north of Seattle, to demand action on climate and an equitable transition away from fossil fuels such as oil and coal.
Hundreds marched to the refineries Saturday and a smaller group blocked the railroad, all demanding energy policy changes. The railroad had rerouted rail traffic to avoid the area.
The railroad spur provides transportation for the nearby Shell and Tesoro oil refineries, as well as animal feed and other products.
The protests are part of a series of global actions calling on people to "break free" from dependence on fossil fuels. Similar demonstrations were held around the country during the weekend.
In upstate New York, climate activists gathered Saturday at a crude-oil shipment hub on the Hudson River in an action targeting crude-by-rail trains and oil barges at the Port of Albany.
A group of activists sat on tracks used by crude oil trains headed to the port. Albany is a key hub for crude-by-rail shipments from North Dakota's Bakken Shale region.
Other events were held during the weekend in Los Angeles, Chicago, and Thornton, Colo., as well as in Germany, Turkey, New Zealand, Brazil, and Nigeria.
In the New York protest, about 40 activists from several Northeast groups attempted to line up across the river in kayaks Friday to practice blocking oil barges, but police and Coast Guard boats herded them into a cluster that paddled past a riverfront park where a banner saying "Water not oil" was hung.
Police blocked access to a railroad bridge over the river where activists had planned to unfurl banners. Another group on Saturday sat on tracks used by crude oil trains headed to the port.
For three years, residents of a low-income housing project beside the oil train route have been fighting expanded crude oil shipments at the port by Global Partners, a fuel transport firm based in Waltham, Mass.
"We have to stop these explosive bomb trains from rolling through our communities across the continent," Marla Marcum, a member of the Climate Disobedience Center in Arlington, Mass., said on Friday. "We have to keep fossil fuels in the ground and bring the focus to renewables."
Mark Romaine, chief operating officer of Global Partners, said Friday the company is committed to safety and has been inspected more than 270 times in the last three years with only a handful of minor infractions that were promptly corrected.
"It's clear we take our jobs and our responsibility to the community, to safety, and the environment very seriously," Romaine said.
The organizers of the Washington state demonstration targeted two refineries that are among the top sources of greenhouse gas emissions in the state. Tesoro has started shipping Bakken crude oil to its refinery, and Shell is proposing an expansion project that would similarly bring in Bakken crude oil by train.
Officials with Shell and Tesoro said they respect the right of people to demonstrate peacefully, and that safety is their highest priority.
Crowd estimates of Saturday's march ranged from several hundred to about 1,000 people, Skagit County spokeswoman Bronlea Mishler said.
Bud Ullman, 67, who lives on Guemes Island, participated in the march, which he described as good-spirited, peaceful.
"The scientists are right. We have to get away from our dependence on fossil fuels, and it has to be done in a way that takes into serious consideration the impact on workers, families, and communities," he said.
Many of the groups that organized the event also participated in large on-water kayak protests against Shell's Arctic oil drilling rig when it parked last year at a Seattle port.
SOURCE
New England Greenies find they can't have their cake and eat it too
They shut down a nuclear plant so now have to turn to power generated by hydrocarbon fuels. So their CO2 output is INCREASING! Horror!
For the first time in five years, power plants across New England are producing more carbon emissions, dealing a setback to Massachusetts' legally mandated efforts to reduce greenhouse gases and raising concerns that reduced production of nuclear energy will undercut environmental gains.
Last year, the region's power plants released 5 percent more carbon dioxide than the year before, the first year-to-year increase since 2010, according to ISO New England, an independent company in Holyoke that operates the region's power grid.
The uptick comes as Massachusetts works to curb carbon emissions in nearly every sector of its economy, in hopes of reaching its 2020 targets.
Massachusetts is legally required to reduce greenhouse gases 25 percent below 1990 levels by that date — part of a national effort to stave off global warming.
"We need this part of the puzzle to continue to fall precipitously in order to have a chance of meeting the 2020 goal," said Ian Bowles, who served as energy and environmental affairs secretary during the Patrick administration and now helps finance renewable energy projects. "We need steep, sustained declines in emissions here, and not a step back."
State officials acknowledge the need for greater reform, and have urged lawmakers to pass legislation that would substantially increase the amount of hydroelectric power that is fed into the region's grid.
"Action is needed on existing policies . . . to further diversify our energy portfolio and meet the goals set forth in the Global Warming Solutions Act," said Katie Gronendyke, a spokeswoman for the state's Executive Office of Energy and Environmental Affairs. "The administration continues to work toward our state's emission reduction goals."
The cold winter of 2015 may have contributed to the state's unexpected rise in carbon emissions by increasing the use of electric heaters — which run on power produced by plants that, in turn, contribute to carbon emissions.
But the bigger factor was probably the 2014 closing of the Vermont Yankee nuclear plant, specialists said.
Nuclear power is largely carbon-neutral, and the loss of Vermont Yankee spurred the need for replacement energy, resulting in a 13 percent increase in the use of natural gas-generated electricity.
Such plants last year provided about half of the region's electricity, according to ISO New England.
While natural gas is thought of as a clean energy source that produces fewer greenhouse gases than coal or oil, burning it still releases substantial amounts of carbon dioxide and methane into the atmosphere.
A second nuclear plant, the Pilgrim Nuclear Power Station in Plymouth, is scheduled to close in 2019; that will again cost the state a carbon-neutral source of electricity.
Overall, carbon emissions in New England have declined by about 25 percent in the past 15 years, and state officials released a report in January that suggested Massachusetts was still on course to meet its climate goals, set forth in a 2008 law that created a framework for reducing heat-trapping emissions.
But the report acknowledged that a significant amount of projected emissions declines depend on the expansion of cleaner energy sources.
Over the next few weeks, lawmakers will debate whether to compel utilities to enter into long-term contracts to buy hydroelectric power from Canada, or other renewable energy from outside of Massachusetts.
For much of the past decade, power plants contributed about 22 percent of the region's carbon emissions, substantially less than cars and other forms of transportation, which emit more than 40 percent.
Most of the rest comes from homes, businesses, and industrial sources.
While not the largest source of greenhouse gases, the power sector offers the best opportunity to make drastic reductions, officials and advocates say.
"The electricity sector is by far the lowest-hanging fruit," said Ken Kimmell, who served as commissioner of the state's Department of Environmental Protection during the Patrick administration. "We need to make disproportionately large cuts there to meet our overall goals."
Kimmell, now president of the Union of Concerned Scientists, said the region will have to make fundamental changes in its electricity production to reduce its carbon footprint, especially as more residents drive electric vehicles.
"We need to be supplying that electricity through renewable energy," Kimmell said.
In the state's January report, officials estimated that nearly 17 percent of required emissions cuts would come from hydropower, or other clean energy imports.
An additional 23 percent would come from increased energy efficiency, and nearly 16 percent would come from new fuel-economy standards.
But environmental advocates have raised doubts that the state can reach the 2020 target thresholds.
In January, lawyers for the Conservation Law Foundation, an environmental advocacy organization based in Boston, argued before the state's top court that the Baker and Patrick administrations had violated the law by failing to enact the policies necessary to meet the mandated levels.
Advocates have insisted that the state has fallen behind and needs a major course correction — well beyond action on the hydro plan — to meet the law's requirements.
Even if lawmakers pass a hydroelectric bill, the expensive power lines might never get built, they say.
Some would be likely to pass through New Hampshire, where the proposal remains highly controversial, and others would require an expensive extension into Vermont.
In 2014, before Pilgrim's owners announced that it would be closed, a collaborative effort by local environmental groups called the Global Warming Solutions Project projected that Massachusetts was on pace to reduce emissions by 20 percent below 1990 levels, well short of the goal.
A more recent report by the Conservation Law Foundation, which factors in the closing of Pilgrim, estimated that the state is more likely to cut its emissions between 16 and 19 percent without major policy changes.
That begins with becoming less reliant on natural gas, environmental advocates say — even though it is cleaner than oil and coal.
"We are over-dependent on natural gas for power in New England," said Caitlin Peale Sloan, a staff attorney at the Conservation Law Foundation. "Natural gas is no longer a part of the solution in the fight against carbon emissions in New England, but part of the problem."
Jack Clarke, the director of public policy at Mass Audubon, said the state is running out of time.
"Going backward is a major concern," he said.
SOURCE
***************************************
For more postings from me, see DISSECTING LEFTISM, TONGUE-TIED, EDUCATION WATCH INTERNATIONAL, POLITICAL CORRECTNESS WATCH, FOOD & HEALTH SKEPTIC and AUSTRALIAN POLITICS. Home Pages are here or here or here. Email me (John Ray) here.
Preserving the graphics: Most graphics on this site are hotlinked from elsewhere. But hotlinked graphics sometimes have only a short life -- as little as a week in some cases. After that they no longer come up. From January 2011 on, therefore, I have posted a monthly copy of everything on this blog to a separate site where I can host text and graphics together -- which should make the graphics available even if they are no longer coming up on this site. See
here
or
here
*****************************************