Temp. rise 1910-1940 same as 1970-2000, IPCC does not claim former is from CO2
Tweet from Patrick Moore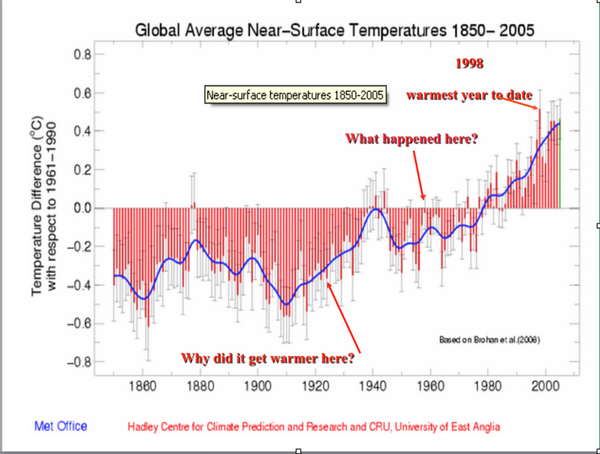 A Closer Look At Record August Fraud From NASA
August was cool in the US, western Europe, southern Asia, parts of Siberia, Australia, Africa, South America, Antarctica and the Arctic. It was the first or second coldest summer on record north of 80N.
And NASA says it was the hottest August ever.
Compare vs. August 1998, when almost the whole world was hot.
We have passed a tipping point of full out fraud at government agencies.
SOURCE
What Can Conservatives Do About Climate Change?
Climate change is clearly a prime issue for Democrats who want to increase government power and reach. "The science is settled," they insist, even as it's apparent to those willing to look that the science is not settled at all. Undeterred, Democrats slander "deniers" and demand we all submit to the latest whims of the Environmental Protection Agency. But assuming for the sake of argument the climate is changing, is there a conservative response that would account for it without giving in to leftist demands?
To ask the question is almost to answer it. Yes, conservatives can address the environment without selling out to the other side of the political aisle.
Few deny that climate change is a real feature of the planet we inhabit. What we do deny is that man-made greenhouse gases are the sole cause, or that top-down government control is the only way to address it. Control is the true creed of ecofascists, and it's why they bang on their highchairs so vociferously about the science as justification.
Climate alarmists make some assumptions that belie the anti-capitalist roots of their environmentalism. Writing in The Atlantic, historian Jeremy Caradonna elucidates: "The stock narrative of the Industrial Revolution is one of moral and economic progress. Indeed, economic progress is cast as moral progress." He continues scornfully, "This narrative remains today an ingrained operating principle that propels us in a seemingly unstoppable way toward more growth and more technology, because the assumption is that these things are ultimately beneficial for humanity."
Well, let's see. Among other things, the Industrial Revolution and accompanying advances eased poverty by making goods and services more affordable (just think of all the comforts and conveniences the poor in the U.S. have today) and dramatically increased life expectancy (which leftists see as a problem). Those things are by no means utopian, nor did they come without cost, but they seem to us "ultimately beneficial." Certainly beneficial enough to oppose self-interested bureaucrats and politicos who would degrade these advances in the name of questionable science.
So, what is a conservative approach? More specifically, how do we continue supporting an ever-burgeoning human population with growing energy needs while stewarding the planet?
James Pethokoukis of the American Enterprise Institute asserts, "[H]umans have a poor record of understanding risk in complex systems, full of interdependencies, feedback loops, and nonlinear responses. Perhaps humility and caution and consideration are warranted. Doing nothing about climate change, I would argue, is a one-way, all-or-nothing bet with huge potential downside."
In a later post, Pethokoukis added, "[T]he choice doesn't have to be an all-or-nothing bet between (a) doing nothing about carbon emissions and (b) embracing a low-energy future of scarcity and stagnation. Rather, the challenge is creating a high-growth, high-abundance, high-energy future for mankind that minimizes the risk of a dangerous climatic shock."
We would put it this way: The free market should put forth the best ideas for energy production with the goal of getting the most out of both conservation and wealth generation. Government policy should foster innovation rather than picking winners and losers through political favoritism and cronyism. The current system of heavily regulating some industries while lavishly subsidizing others is antithetical to a market-driven economy, and it's no way to move forward.
Columnist David Harsanyi writes, "I suppose it makes me a technoutopian to trust that we can adapt and create ways to deal with whatever consequences – and obviously there are consequences – a thriving modern world drops on us. Historically speaking, though, would it have been better for humanity to avoid an 'Age of Pollution' and wallow in a miserable pre-Industrial Age, where poverty, death, disease and violence, were far more prevalent in our short miserable lives? Or would we have chosen global warming? I think the latter. And I think we'd do it again." Think about that the next time Al Gore touches down in his private jet to tell you to quit driving your SUV.
Many people making many little decisions leads to much better and far faster results than one or a few making big decisions. And the risk of many "bad" little decisions is far less severe and far more recoverable than one or a few big bad decisions.
SOURCE
Scientists turn to Pope Francis to "save the planet"
It has been one of the most fraught relationships of recent centuries, at least in the popular imagination.
But a group of scientists are pinning their hopes for the salvation of the planet, in the face of climate change and habitat destruction - on religion.
Their case, set out in an essay in the journal Science, is being described a "watershed moment" for scientists and faith leaders alike.
It argues that engaging religious leaders, rather than relying on politicians, could hold the key to mobilising billions of people around the world to change aspects of their lifestyles to help prevent catastrophic climate change.
The article singles out Pope Francis and the Roman Catholic Church, with its 1.2 billion-strong network of followers, as the key but calls for religious leaders of every stripe to be recruited.
It argues that religion can provide a unique combination of "moral leadership" and global organisational structures required to bring about practical changes which could have an immediate effect, such as providing millions of the world's poorest people with cleaner forms of fuel.
It comes as Pope Francis finalises a widely anticipated papal encyclical on the environment, throwing the full weight of the Catholic Church behind efforts to limit climate change.
The article is co-authored by Prof Veerabhadran Ramanathan, a climate scientist at the University of California, San Diego, and Prof Sir Partha Dasgupta, an economist based at St John's College, Cambridge.
"Natural and social scientists have done their part in documenting the irreversible environmental damages (albeit with large uncertainties) that we have inflicted and in spelling out specific mitigation actions," they write.
"The transformational step may very well be a massive mobilisation of public opinion by the Vatican and other religions for collective action to safeguard the well-being of both humanity and the environment."
They argue that the "invisible hand" of the market, the term coined by the philosopher and economist Adam Smith to describe how economies can regulate themselves, can never achieve the kind of change needed to protect the planet.
"The rise of market fundamentalism and the drive for growth in profits and gross domestic product (GDP) have encouraged behaviour that is at odds with pursuit of the common good," they write.
"Finding ways to develop a sustainable relationship with nature requires not only engagement of scientists and political leaders, but also moral leadership that religious institutions are in a position to offer."
Professor Naomi Oreskes, a leading Harvard historian of science, said: "This is a watershed moment.
"For 20 years, scientists have been reluctant to speak out on the need to change business as usual for fear of being labelled 'political,' and reluctant to address the moral dimensions of climate change for fear of being labelled 'unscientific.'
"Professors Dasgupta and Ramanathan remind us that we are all responsible for the common good."
SOURCE
The EPA is more concerned with what sounds good than what actually works
In this hyper-partisan environment, it is good to know that a majority of Senators can still agree on an issue. When such a rare moment happens, the rest of us should pay attention, as it is probably something very important.
On September 11, 53 Senators (43 Republicans and 10 Democrats) signed a letter to Gina McCarthy, Administrator of the Environmental Protection Agency (EPA), begging for a 60-day extension of the comment period for the "Carbon Pollution Emission Guidelines for Existing Stationary Sources: Electric Generating Units" — also known as the Clean Power Plan (CPP). The original 120-day comment period — which is already longer than the traditional 60-day comment period — is coming to a close within the next 30 days (October 16).
Regarding the EPA's new plan, the letter calls the coordination needed between multiple state agencies, public utility commissions, regional transmission organizations, and transmission and reliability experts: "Unprecedented, extraordinary, and extremely time consuming." The Senators ask for more time so that states and stakeholders can "fully analyze and assess the sweeping impacts that the proposal will have on our nation's energy system." It also points out: "The EPA proposal provides no mechanism for adjusting the state emission rate targets once they are adopted"—which makes it imperative that the states can fully "digest" the rule, review the 600 supporting documents, and collect the data and justification for the states' responses.
It is not just the majority of Senators who have concerns about the EPA's proposed rule, a diverse and growing coalition, including the Exotic Wildlife Association, the Foundry Association of Michigan, California Cotton Growers Association, Texas Aggregates and Concrete Association, The Fertilizer Institute, Georgia Railroad Association, Nebraska Farm Bureau Federation, electric utilities and co-ops, and city and state Chambers of Commerce from coast-to-coast, has sprung up in opposition to the plan. Yet most people are unaware of the potential impacts or of the pending deadline for public comment.
I have written on the CPP twice in the past few months — originally when it was first announced on June 2 and then after I gave testimony in Atlanta at one of the EPA's four scheduled "listening sessions." Upon release, we didn't really know much — after all, it is, as the Senators' letter explains, complex and sweeping. But as more and more information is coming out, we see that the impact to the economy and U.S. energy security will be devastating.
Despite my efforts to spread the word — with my second column on the topic being one of my most popular ever, I find that the CPP isn't even on the radar of the politically engaged (let alone the average person). Because this is an issue of utmost importance, I am, once again, bringing it to the attention of my readers with the hope that you will share it with everyone you know. At this point, we don't know if the EPA will extend the comment period, so please take time now to get your comments in. The Hill reports: "Adding 60 days to the comment period could make it harder for the EPA to finalize the rule by June 2015, as President Obama has ordered."
I've written this week's column with the specific intent of giving you verbiage that you can simply cut and paste into the comment form.
The CPP will radically alter the way electricity is generated, transmitted, distributed and used in America—all with dramatic cost impacts to the consumer. It is based on the discredited theory that climate change is a crisis caused by the use of fossil fuels emitting carbon dioxide into the atmosphere. It aims to reduce overall carbon dioxide emissions by 30 percent below 2005 levels by 2030. The combination of the CPP and previous regulation will shut down more than 40 percent of coal-fueled generation — representing 10 percent of all electricity-generation capacity — within the next 6 years.
What will this forced, premature elimination of America's electric capacity do?
The proposed EPA plan will seriously threaten America's electric reliability
Unless the EPA backs down on its harsh regulations and coal-fueled power plants get a reprieve, blackouts are almost guaranteed — especially in light of the projected cold winter. About the 2014 "polar vortex" that crippled the U.S., Alaska Republican Senator Lisa Murkowski, at an April Senate hearing on grid reliability, stated: "Eighty-nine percent of the coal electricity capacity that is due to go offline was utilized as that backup to meet the demand this winter." Murkowski's comments were referencing coal-fueled power plants that are already due to be shut down based on regulations from five years ago, before the proposed CPP additionally reduces supply.
Affirming Murkowski's comments, Nicholas Akins, president and CEO of Ohio-based American Electric Power Company Inc., sees the 2014 near crisis as a warning sign. At that same hearing he said: "The weather events experienced this winter provided an early warning about serious issues with electric supply and reliability. This country did not just dodge a bullet — we dodged a cannonball." And, Federal Energy Regulatory Commissioner Philip Moeller said: "the country is undergoing an unprecedented energy shift in a very short time frame." And added: "grid operators in the Midwest are struggling to gauge whether they will have sufficient capacity to handle peak weather during the next five years."
While these comments are about the 2014 severe cold, Texas experienced a similar scare in 2011, when a protracted heat wave resulted in razor-thin reserve electric capacity margins. A Reuters report titled: "Heat waves pushes Texas power grid into red zone," stated: "Texas has the most wind power in the country, but the wind does not blow during the summer." Just a few months earlier, Texas ice storms forced rolling blackouts for hours because electric supplies dropped below demand." All of these reports are before the projected closure of an additional 75 megawatts of coal-fueled electricity generation due to the new regulations. If McCarthy was serious when, prior to the release of the proposed regulations, she stated: "Nothing we do can threaten reliability," she'd withdraw this plan, as it will do just that.
The proposed EPA plan will chase away more American industry
While the CPP appears to be about forcing the power sector into reducing carbon-dioxide emissions, there are spillover impacts of higher electricity rates on overall economic activity — especially energy-intensive industries such as steel, manufacturing, and chemicals. America's abundance of affordable, reliable energy provides businesses with a critical operating advantage in today's intensely competitive global economy. The EPA's proposal will reduce America's advantage, as it's acknowledged that the proposed regulations will raise electricity rates in the contiguous U.S. by 5.9 percent to 6.5 percent in 2020. Europe, and especially Germany, is threatened by an industry exodus due to its higher energy costs that have been created by its move to increase green energy. Germany's pharmaceutical and chemical giant Bayer is already making significant investment in its Chinese manufacturing operations, with expansion also taking place in Brazil and India. If industry continues to leave the U.S., the CPP will have the opposite effect. Emissions will increase as companies move to countries with lower labor costs, cheaper energy, and lax environmental policies. An additional unintended consequence will be more jobs lost in manufacturing.
The proposed EPA plan will kill hundreds of thousands of jobs
In late July, the International Brotherhood of Electrical Workers (IBEW) International President Edwin D. Hill said: "If these rules are implemented as written, dozens of coal plants will shut down and with no plans to replace them, tens of thousands of jobs will be lost and global carbon emissions will rise anyway."
Investor's Business Daily reports: "The IBEW has now joined the United Mine Workers of America, the Boilermakers and several other unions opposed to the new anti-carbon rules." The United Mine Workers of America has estimated that the rule will result in 187,000 direct and indirect job losses in the utility, rail, and coal industries in 2020 and cumulative wage and benefit losses from these sectors of $208 billion between 2015 and 2035.
The EPA rules hitting industry in rapid succession create uncertainty — and, as we've seen with Obamacare — uncertainty thwarts investment and hiring. The same industries that will be taking the regulatory hit from the CPP, are expecting additional impacts from the follow-on rules that are yet to be promulgated. No wonder the economy is sluggish and the jobs picture is bleak.
The proposed EPA plan will cause harsh economic consequences while having virtually no impact on the reported goal of stopping global climate change
From increased energy costs to job losses, the CPP will damage the economy. A statement from the International Brotherhood of Electrical Workers on the EPA proposal, points out: "estimates regarding the damage to jobs and the economy created by poorly planned climate regulations have consistently been shown to be true in comparison to the overly optimistic predictions made by the EPA."
Perhaps these economic consequences would be worth it, if they actually did anything to really reduce carbon-dioxide emissions — assuming what humans breathe out and plants breathe in is actually the cause of global warming. But even the EPA acknowledges that the CPP is less about reductions and more about being a global leader to "prompt and leverage international decisions and action." In Hillary Clinton's September 4 speech at Senator Harry Reid's National Clean Energy Summit, she stated that the U.S. needs to lead other countries in green energy and that we need to show the world we are committed.
Yet, the U.S., which did not ratify the Kyoto Protocol, is the first country to actually reduce carbon dioxide emissions and meet the Kyoto requirements. We are already a leader, but the other countries aren't following — instead they are abandoning the sinking green ship and Germany, which claims to still be committed to the green ideology, is actually increasing its number of coal-fueled power plants and CO2 emissions. Carbon dioxide emissions from non-Organisation for Economic Co-operation and Development countries — such as China and India—are projected to grow by nine billion tons per year. The Partnership for a Better Energy Future reports: "for every ton of CO2 reduced in 2030 as a result of EPA's rule, the rest of the world will have increased emissions by more than 16 tons." Our reduction in 2030 would offset the equivalent of just 13.5 days of carbon-dioxide emissions from China. The CPP will become the definition of "all pain and no gain." Or, as economist Thomas Sowell calls it: "replacing what worked with what sounded good."
The EPA's October 16 deadline will be upon us before you know it. Take a few minutes now to send them your comments. Pick any of the above suggestions, customize them as you please, and send them on to the EPA. For America to grow, we need energy that is effective, efficient, and economical, rather than that which is threatened by the EPA's flood of excessive and burdensome regulations.
SOURCE
Australia: NSW faces gas shortages due to onerous environmental requirements
The New South Wales government says "nothing is off the table" in its desperate bid to stave off potential shortages in gas supplies that could drive manufacturers from the state and push up household energy bills if coal seam gas projects by AGL Energy and Santos don't start up on time.
NSW deputy secretary for resources and energy Kylie Hargreaves said on Thursday that gas savings schemes were under study, as well as ways to help gas users switch to electricity, so additional gas could be made available instead to heavy users that rely on it.
But she said that the government was assuming that potential gas shortages would not arrive as early as some observers were warning, and that by the time it was assuming - 2018-19 - both AGL's Gloucester CSG project in the northern Hunter region and Santos's Pilliga CSG project should have come into production as long as they meet regulatory requirements for approval.
"We're looking at everything, nothing is off the table in all honesty because we just want to make sure we try and do whatever is reasonable to try and address the pressures in the industry," Ms Hargreaves told a conference in Sydney.
"The last thing we want is manufacturing going out the door."
NSW, which produces only 5 per cent of its own gas, has been slow to develop its plentiful CSG resources and projects such as Gloucester and Pilliga are running behind schedule.
Santos had been targeting mid-2014 to lodge an environmental impact statement for its controversial $2 billion Pilliga project but has yet to submit the document, putting its tentative schedule for production in 2017 in doubt. AGL has flagged a final investment decision for its Gloucester project in the December quarter this year. Those two projects could together supply 70 per cent of NSW's gas requirements by 2020, although production initiallly would be lower.
But industrial gas users at the conference, including petrochemicals producer Qenos, queried the NSW government's appreciation of the problems the lack of certainty on future gas supplies are having on their businesses, and signalled they were having difficulty sourcing gas from 2017 onwards.
Ms Hargreaves said the government was dealing with individual projects to try to facilitate gas supplies to customers that rely on them.
Western Power non-executive director Paul Underwood questioned whether the NSW government had considered the possibility of building an LNG import terminal to tackle the problem.
"We're open to be looking at any and all options," Ms Hargreaves said. "Our fundamental driver is security of supply, affordability of supply, and I'm happy to look at almost anything in that space."
The idea of a gas pipeline from the Northern Territory that could bring gas to NSW via South AUstralia or Queensland is also being supported by the NSW government, she added.
Ms Hargreaves said that the government also had a working group into how to help gas users to switch to electricity if necessary and possible, and making that gas available to heavy users that depend on it for their business. It is also studying the potential for a scheme that would create financial incentives for organisations to invest in projects to save gas, similar to the Energy Savings Scheme in electricity.
SOURCE
***************************************
For more postings from me, see DISSECTING LEFTISM, TONGUE-TIED, EDUCATION WATCH INTERNATIONAL, POLITICAL CORRECTNESS WATCH, FOOD & HEALTH SKEPTIC and AUSTRALIAN POLITICS. Home Pages are here or here or here. Email me (John Ray) here.
Preserving the graphics: Most graphics on this site are hotlinked from elsewhere. But hotlinked graphics sometimes have only a short life -- as little as a week in some cases. After that they no longer come up. From January 2011 on, therefore, I have posted a monthly copy of everything on this blog to a separate site where I can host text and graphics together -- which should make the graphics available even if they are no longer coming up on this site. See
here
or
here
*****************************************