Capitalism in crosshairs as Socialism promoted at opening event of People's Climate March
The Communist sympathizers are getting bolder. That they called it a "people's" march alone tells you that. It is classic Communist jargon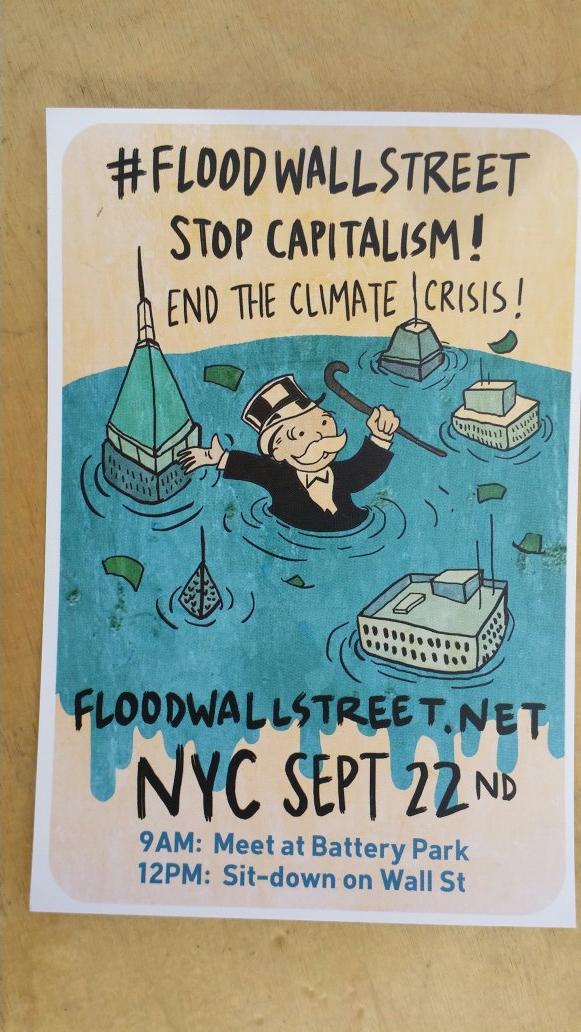 New York City – Socialism was praised and promoted to raucous applause by the hundreds in attendance at the People's Climate March event on September 20, featuring organizer Bill McKibben, author Naomi Klein, socialist Seattle City Council member Kshama Sawant and socialist Senator Bernie Sanders of Vermont.
The event, held at the Unitarian Church of All Souls, was titled "THE CLIMATE CRISIS: WHICH WAY OUT." The event was permeated with socialist literature with the Socialist Alternative newspaper prominently on display.
When Kshama Sawant, a socialist who won a seat on the Seattle City Council, noted she was the first socialist elected in decades, the church erupted in applause. "A socialist world that will deliver a high standard of living for all," Sawant said to applause.
Sawant ripped the current economic system: "The market is God, everything is being sacrificed on the altar of profits," Sawant declared. "We must bring giant corporations into public ownership. You cannot control what you don't own," she added.
Senator Bernie Sanders ripped Fox News Channel: "We all know what Fox TV does not know. Climate change is real," he said to laughter. Sanders declared the "debate is over." "This is the planetary crisis of our time." "Unless we address global warming this planet will be even more unstable than it is today."
350.org founder and march organizer McKibben called global warming the 'greatest crisis.' "This is the biggest problem that humans have ever been up against," he declared.
McKibben warned of an apocalyptic future of human caused global warming. "The science of climate change is dark and hard," he said and warned of 8 or 9 degree F [temperature rise] before the century is out."
Also featured on the panel with McKibben was author Naomi Klein, author of the new book "This Changes Everything: Capitalism vs. The Climate".
During the panel discussion, Klein was asked: "Even if climate change issue did not exist, you would be calling for same structural changes. Klein responded: 'Yeah.'
Following the panel, Climate Depot asked Klein if she would support all the same climate "solutions" even if the science was wrong.
"Yes, I would still be for social justice even if there was not climate change. Yes, you caught me Marc," Klein answered sarcastically as she abruptly ended the interview.
Klein told the activists she recommended "weaving this [climate] movement into all of our movements."
Klein also singled out Climate Depot's Marc Morano during her panel presentation, noting that "climate deniers and Heartland Institute people like Marc Morano, who I am told is here tonight, they understand that if the science is true, if the science is right, then of course we have to break every rule in their idiotic playbook because it is at war with life on Earth. " The audience roared with approval.
Klein noted that the "ecological clock is ticking." "We are dealing with an existential terror," she added.
SOURCE
Some questions must not be asked
Actor Mark Ruffalo [Hulk Actor] declared certain questions off limits to the media today at the People's Climate March in New York City.
During the media availability press event, Ruffalo was asked in a one-on-one interview with Climate Depot if celebrities like Leonardo DiCaprio, who boasts that he will fly around the world to fight global warming and former VP Al Gore, are the best spokesmen for global warming given their huge carbon footprints.
"Oh brother. That is a question you shouldn't be asking here today because that defies the spirit of what this is about," Ruffalo told Climate Depot.
The interview was conducted for the upcoming climate documentary Climate Hustle.
Ruffalo starred in the Hulk film series and has been a climate activist.
"That is a kind of a mental Jujutsu — that question. The fact of the matter is why — if they did not have any power, why are they attacking people like Leonardo DiCaprio?"
An agitated Ruffalo continued: "The fact of the matter is Leonardo DiCaprio's voice carries farther than anyone one of those politicians, even the President. And that is significant and he knows he has a responsibility to the people in the world to get this message out because he feels in his heart it is right."
"Anyone who attacks Leonardo DiCaprio is either a coward or an ideologue," he added.
DiCaprio has been criticizied for his oversized lifestlye.
SOURCE
'You can either make history or be vilified by it': Leo DiCaprio lectures UN on climate change
But no mention of his four homes, private jets and renting the FIFTH biggest yacht in the world from an OIL billionaire
With his speech in front of the United Nations today, Leonardo DiCaprio cemented his reputation as one of the world's highest-profile activists on climate change. 'You can make history ...or be vilified by it,' he dramatically told world leaders.
After marching with 400,000 others on the streets of New York this weekend to demand tough regulations to cut the amount of CO2 being pumped into the air, DiCaprio opened a UN climate change summit by urging the world to crack down on polluters and 'put a price tag on carbon emissions.'
But the 39-year-old Hollywood star's own jetset lifestyle reveals a double-standard on the issue of climate change.
In his speech to the UN, he said: 'This disaster has grown beyond the choices that individuals make.'
MailOnline can report that DiCaprio took at least 20 trips across the nation and around the world this year alone - including numerous flights from New York to Los Angeles and back, a ski vacation to the French Alps, another vacation to the French Riviera, flights to London and Tokoyo to promote his film Wolf of Wall Street, two trips to Miami and trip to Brazil to watch the World Cup. And those were just the trips where he was spotted in public.
Additionally, DiCaprio owns at least four homes: two apartments in New York and mansions in Hollywood and Palm Springs. He also recently sold an estate in Malibu for $17million.
And this summer, he spent his World Cup vacation on the fifth largest yacht in the world, a 482-foot behemoth owned by Mansour bin Zayed Al Nahyan - a billionaire oil tycoon from the UAE.
A rep for DiCaprio declined to comment for this story.
DiCaprio has tried to stay green in other parts of his life. He owns a $4million apartment in an eco-friendly apartment building in Battery Park City. He drives a Toyota Prius and a $100,000 Fisker electric sports car. He's been spotted riding a bike around New York.
In 2007, he produced and narrated the 11th Hour, a documentary about climate change and other threats to the planet.
He also represents several environmental charities and has thrown his star power behind Formula E, a new racing circuit that uses electric cars, instead of roaring gasoline-powered vehicles.
However, his jetsetting - both for business and pleasure - means that he he's producing a lot more CO2 than most people.
Even if he flew on a commercial jet for all of flights, his carbon footprint so far in 2014 would be a minimum of 40million metric tons of CO2 spewed into the atmosphere, more than twice the average American output for an entire year.
That figure only takes into account his flights and assumes that he flew exclusively on commercial airlines - even though the $220million A-lister is known to charter private jets.
He told a reporter from conservative PJTV media: 'We want to create 100percent clean energy, we need to make a transition in this country and we need to show leadership. 'And that's what we're doing.'
However, when the reporter asked him about how his jetset lifestyle impacts the environment, she was quickly shunted away from the Wolf of Wall Street star by a minder.
SOURCE
Six reasons why light rail is a terrible idea
Somewhere along the way, hipsters and train travel forged an unholy union.
I hear it all the time in Austin, Texas. Every time I'm at a party and someone is complaining about traffic or having to get a cab, someone says "If only we had a train!" And everyone nods sympathetically, because of course trains will solve all of our problems. It doesn't occur to anyone that wanting an easy way to get home when drunk is not a sufficient reason to build an entire light rail system. And since there is a $1.4 billion bond on the Austin ballot for November, these conversations are becoming even more common.
Most people haven't really examined light rail; they just accept that, because it seems to fit with other cherished liberal ideas, like improving health, reducing car emissions, creating denser cities, etc., it is also good idea. The truth is that light rail is not the panacea that planners think it is. For the most part, it's an extremely expensive "solution" that solves nothing: it doesn't help the environment, reduce congestion, or improve mobility for those who need it most. Here's the truth about light rail:
Light Rail Is Not Environmentally Friendly
The most important point is that, once you factor in the energy costs of construction and feeder buses, light rail is not environmentally friendly. In this example from the Southwest light Rail Transit project in Minnesota, it would take more than 100 years to offset the energy costs of constructing the rail line, as compared to the bus transit system. For that same rail line, the use and maintenance of light rail would use more energy per year than bus transit. And finally, claims that light rail decreases carbon dioxide emissions fail to take into account the transit system as a whole; light rail transit requires an extensive system of feeder buses, which have low ridership. So each passenger mile, including both rail and bus, ends up consuming more energy than just using bus transit. Even without looking at the transit system as a whole, light rail would cut emissions by one-tenth of one percent – we'll see better energy savings than that as old, energy-inefficient cars are retired from the roads.
Light Rail Does Not Make a City More Affordable
Austin's proposed light rail bond for $1.4 billion is only the first step in a proposed $32.4 billion project, 80% of which will be financed by local taxpayers. Just the first installment for $1.4 billion will be one of the largest tax raises in Austin's history. Rents in Austin have already risen 49% since 2003, which has resulted in the flight of families with children and low-income renters to the suburbs, which face a growing problem of poverty and crime. Light rail would only add to this problem.
Light Rail is Not Cost Effective
Light rail is 9 times more expensive than bus transit and 27 times more expensive than van service on a per-passenger, per-mile basis, according to the Congressional Budget Office. Every dollar that is spent on construction of a light rail project is money that isn't spent on schools, police force, or benefits and salaries for city employees.
Light Rail Does Not Fix Congestion
Light rail does not create new transit users. The majority of light rail riders were previously bus riders, not car drivers. Light rail simply does not serve enough people to reduce congestion. At most, the Austin light rail will serve one-third of one percent of riders. And since light rail is often given signal priority, it often makes congestion worse — not to mention the increased congestion during construction.
Light Rail Does not Necessarily Make People Healthier
There is some evidence linking use of light rail with walking an additional 4.5 minutes on top of the six minutes walked by bus users. However, in-depth assessments of the health impact of light rail has not been conducted anywhere in the U.S.
So what's the alternative?
So what's the alternative, at least for Austin? Build more roads, particularly a loop connecting the main arteries. Austin is the only large city in Texas that doesn't have a loop. In fact, Houston, San Antonio and Dallas each have more than one. Traffic light synchronization can help reduce congestion, as it has in Houston. Self-driving cars, which are already on the road in Nevada, would drastically reduce congestion and increase safety. Self-driving cars, furthermore, can be used by anyone, including those without driver's licenses, and the money not spent on rail bonds could easily be used for transportation vouchers for the low-income and disabled.
There are alternatives available. Let's not choose rail just because it sounds good.
SOURCE
This One Policy Switch Could Make Gas Way Cheaper
For nearly 40 years, there's a been a ban on exporting crude oil from the United States to other nations in the world.
Now, a just-released study from a liberal think tank says lifting the ban could boost the U.S. economy between $600 billion to $1.8 trillion and save motorists up to 12 cents a gallon at the pump.
Researchers for the Energy Security Initiative of the Brookings Institution called the ban "an anachronism that has long outlived its utility and now threatens to impair, rather than protect, U.S. energy, economic, and national security" and cites modeling that predicts broad-based economic benefits that include more jobs, better wages and higher gross domestic product if the ban was ended.
The study from Brookings, which is considered a left-of-center think tank, claims the sooner the ban is lifted, the greater the economic impact.
"What is most important is our finding that in all these modeling scenarios, there are positive gains for U.S. households," the analysis said.
For example, the Brookings study says lifting the ban would increase domestic oil production, which would increase gasoline supply. This, in turn, would lead to a drop of at least nine cents and perhaps as much as 12 cents per gallon over the next five years.
Furthermore, according to the Brookings modeling done by National Economic Research Associates, lifting the export ban reduces unemployment by 200,000 each year between 2015 and 2020.
"Allowing crude oil exports is in the national interest," wrote the study's authors. "Our analysis shows a direct correlation between increased U.S. oil production, net benefits to society, and lower gasoline prices."
But more production means more use of hydraulic fracturing, commonly known as "fracking," and that's something environmental groups are dead-set against.
"I think the last thing we need to be talking about is exporting fossil fuels," said Jeremy Nichols, climate and energy program director for WildEarth Guardians. "We're struggling to try to rein in carbon pollution as a nation … The American people want to see action and are concerned about the costs in increased pollution or a failure to reduce carbon pollution effectively. If we're talking about exporting oil, we're just talking about burning it somewhere else."
SOURCE
John D.'s descendants aren't as bright as he was
Maybe they just want to be loved
The Rockefeller family, which made one of the world's largest fortunes through its vast oil business, is to slash its investments in fossil fuels to less than 1pc and reinvest in clean energy.
The Rockefeller Brothers Fund, which oversees $860m of investments, will divest its coal and tar sands assets "as quickly as possible", it said in a statement.
Stephen Heintz, an heir of John D Rockefeller, who built a multi-billion-dollar fortune after founding Standard Oil in the late 19th century, said the move away from fossil fuels would be in line with his ancestor's wishes.
"We are quite convinced that if he were alive today, as an astute businessman looking out to the future, he would be moving out of fossil fuels and investing in clean, renewable energy," Mr Heintz said.
The Rockefeller Brothers Fund is a supporter of the global Divest-Invest coalition, a group made up of 650 individuals and 180 institutions that aim to divest more than $50bn of fossil fuel assets.
"We're making a moral case, but also, increasingly, an economic case," Mr Heintz said.
Valerie Rockefeller Wayne, a great-great-granddaughter of John D Rockefeller, added: "There is a moral imperative to preserve a healthy planet."
The fund's statement said: "Given the Rockefeller Brothers Fund's deep commitment to combating climate change, the fund is now committing to a two-step process to address its desire to divest from investments in fossil fuels.
"Our immediate focus will be on coal and tar sands, two of the most intensive sources of carbon emissions. We are working to eliminate the fund's exposure to these energy sources as quickly as possible.
"Given the structure of some commingled investment funds and investments in highly diversified energy companies, we recognise there may continue to be minimal investments in our portfolio in those energy sectors, but we are committed to reducing our exposure to coal and tar sands to less than one percent of the total portfolio by the end of 2014.
"As we take the steps to divest from coal and tar sands investments, we are also undertaking a comprehensive analysis of our exposure to any remaining fossil fuel investments and will work with the Investment Committee and board of trustees to determine an appropriate strategy for further divestment over the next few years."
The fund's announcement comes as 120 heads of state address the United Nations Climate Summit in New York on Tuesday.
SOURCE
***************************************
For more postings from me, see DISSECTING LEFTISM, TONGUE-TIED, EDUCATION WATCH INTERNATIONAL, POLITICAL CORRECTNESS WATCH, FOOD & HEALTH SKEPTIC and AUSTRALIAN POLITICS. Home Pages are here or here or here. Email me (John Ray) here.
Preserving the graphics: Most graphics on this site are hotlinked from elsewhere. But hotlinked graphics sometimes have only a short life -- as little as a week in some cases. After that they no longer come up. From January 2011 on, therefore, I have posted a monthly copy of everything on this blog to a separate site where I can host text and graphics together -- which should make the graphics available even if they are no longer coming up on this site. See
here
or
here
*****************************************