Fluctuations of CO2 in the last 1000 years higher than expected
The quantity of the greenhouse gas CO2 in the atmosphere has strongly fluctuated during the last thousand years. The Netherlands Organisation for Applied Scientific Research (TNO) and the the University of Utrecht draw that conclusion after a study of leaf stomatal frequencies in Limburg sediment cores. Fossil stomatal frequency analysis shows strong changes in atmospheric CO2-content in the last eight hundred years. These CO2-changes correspond to 30% of the current human-induced increase. These results show that natural CO2 changes have been large enough to contribute to climate changes over the last thousand years.
This contradicts an assumption of the Inter-Governmental Panel on Climate Change (IPCC). The IPCC assumes that the effects of natural CO2 changes on the climate change in the last thousand years have been negligible. A better understanding of natural CO2 variations leads to a better prediction of the future effects of CO2 increase on the climate.
CO2 is used by plants as building material. Plants adjust the amount of openings on the leaf surface (stomata) to the amount of CO2 in the air. If there is more CO2, fewer plant stomata are needed to guarantee sufficient CO 2 absorption. So the number of stomata on fossil leaves can be used to reconstruct the quantity of CO 2 in the atmosphere of the past.
The results of this research are published this week in
PNAS Early Edition
as: Thomas B. van Hoof et al. "A role for atmospheric CO 2 in preindustrial climate forcing
Source
. (In Dutch. Translation by JR)
Global Warming MIA in U.S. Election Campaign
Is it time yet to put global warming on milk cartons? Perhaps. You might have noticed, or rather, not noticed the lack of much discussion of global warming in this campaign despite months of hammering by the mainstream media about its supposed danger to the planet. Al Gore even stated last summer that global warming was even more of a threat to us than ter rorism. And now that the election campaign has begun, nothing, or almost nothing, on this topic. Why? One reason is probably that the MSM is believing the polls which oversample the Democrats due to Operation Chaos as well as fraudulent ACORN "voters" and don't want to jinx things for Barack Obama by bringing up the topic of global warming and all the spending they previously claimed would be necessary to counter it. Another reason is that Mother Nature is just not cooperating with the global warming theory. Here is a sampling of current weather reports from around the nation starting with this report from the Idaho Mountain Express:
A low-pressure weather system is lined up to hit the Wood River Valley tonight and into the weekend, delivering cold temperatures and, possibly, snow in the higher elevations.

A weather forecast from the National Weather Service this morning predicts that the system will roll into the region later today, bringing a 40 percent chance of snow tonight. The greatest chance of snow, according to the National Weather Service, will come during the day Friday and again on Saturday night.

The latest NWS forecast for Ketchum is:

Today: A 10 percent chance of snow showers after noon. Partly sunny, with a high near 49. North northwest wind 7 to 11 mph becoming south.

Tonight: A 40 percent chance of snow. Mostly cloudy, with a low around 16. Northwest wind between 11 and 14 mph becoming calm. Winds could gust as high as 22 mph. Little or no snow accumulation expected.

Friday: A 50 percent chance of snow. Cloudy, with a high near 41. North northwest wind between 5 and 14 mph, with gusts as high as 22 mph. New snow accumulation of around an inch possible.

Friday night: A 40 percent chance of snow. Mostly cloudy, with a low around 15. North northwest wind between 7 and 13 mph, with gusts as high as 21 mph.

Saturday: A 40 percent chance of snow. Mostly cloudy, with a high near 34. North northwest wind between 13 and 18 mph, with gusts as high as 26 mph.

Saturday night: A 50 percent chance of snow. Mostly cloudy, with a low around 14.

Sunday: Partly sunny, with a high near 41.

Sunday night: Partly cloudy, with a low around 14.
Okay, but that was in a mountainous area. How about lower elevations? Well, here is a report from KAPP TV in Yakima, Washington:
YAKIMA -- The cold weather has turned this year's harvest into a race against time. Barret Orchard workers are scrambling to get the red wine grapes off the vine. "They're perfect right now, we've got real good sugars in these reds right now," says owner Mark Barret. Since they don't have a machine, workers have to do it by hand as fast as they can.

If the grapes stay on the vine for much longer, our recent cold weather may make them not so perfect. "If it's gonna get down to 25 we can get some freeze damage in them and they won't have as good of a quality in the grape," says Barret. The cold weather has pushed up not only the grape harvest, but the apple harvest as well.
An even wider range of plummeting temperatures was reported by the Weather Underground:
The season's first large western snowstorm was expected to continue across the Intermountain West and northern Rockies on Sunday, while showers and thunderstorms were forecast from the southern Plains to the upper Mississippi Valley.

Snow was predicted as far east as western Colorado and the western Dakotas. The heaviest snow was expected from eastern Idaho into northern Wyoming and eastern Montana, where up to a foot or more was likely.

Severe thunderstorms were possible across parts of the southern and central Plain s, with the main threat being large hail and damaging winds. Tranquil weather was forecast for the rest of the nation, except for parts of the Southeast, where scattered showers and thunderstorms were possible.

Another chilly day was forecast across the West. Temperatures could drop to record or near-record levels Sunday morning in parts of the Pacific Northwest and California.
It's a bit tough to be injecting global warming into this campaign when much of the nation is experiencing record or near-record cold temperatures even though we are still in the first half of October. Or should the manufactured climate change crises shift gears to warn of impending global cooling? In any event, the global warming topic seems to have gone missing from the campaign trail.
Source
Efforts on global warming chilled by economic woes
The economic free fall gripping the nation may brin g down one of the main environmental objectives: capping the greenhouse gases that are blamed for global warming. Democratic leaders in the House and the Senate, and both presidential candidates, continue to rank tackling global warming as a chief goal next year. But the focus on stabilizing the economy probably will make it more difficult to pass a law to reduce carbon dioxide and other greenhouse gases. At the very least, it will push back when the reductions would have to start.
As one Republican senator put it, the green bubble has burst. "Clearly it is somewhere down the totem pole given the economic realities we are facing," said Tom Williams, a spokesman for Duke Energy Corp., an electricity producer that has supported federal mandates on greenhouse gases. Duke is a member of the U.S. Climate Action Partnership, an association of businesses and nonprofit groups that has lobbied Congress to act.
Just months ago, chances for legislation passing in the next Congress and becoming law looked promising. The presidential candidates support mandatory cuts and a Democratic majority is ready to act on the problem after years of the Bush administration's resisting federal controls. But the most popular remedy for slowing global warming, a mechanism know as cap-and-trade, could put further stress on a teetering economy.
Under such a sys tem, the government would establish a market for carbon dioxide by giving or selling credits to companies with operations that emit greenhouse gases. The companies can then choose whether to invest in technologies to reduce emissions to meet targets or instead buy credits from other companies who have already met them.0A
In an interview with The Associated Press, Rep. Rick Boucher, D-Va., said that in light of the economic downturn, a bill that would give polluters permits free of charge would be preferable. "The first way we can control program costs is by not charging industrial emitters," said Boucher, who released a first draft of a bill this past week with the chairman of the House Energy and Commerce Committee, Rep. John Dingell, D-Mich. Giving away right-to-pollute permits was one of the options.
Other Democrats, however, see a cap-and-trade bill - and the government revenues it would generate from selling permits - as an engine for economic growth. Democratic presidential nominee Barack Obama supports auctioning off all permits, using the money to help fund alternative energy. "If you see this as a job creation opportunity for the U.S. to develop the products that are then sold around the world, then you should be optimistic about what the impact of passage would mean for the American economy," said Rep. Edward Markey, D-Mass.
Conservative Repu blicans who were never fans of a law to curb greenhouse gases have used the economic downturn as a rallying cry. Oklahoma Sen. James Inhofe, the senior Republican on the Senate Environment and Public Works Committee, in a blog entry this month criticized 152 House members for releasing a set of principles to tackle global warming in the midst of the economic turmoil. "The current economic crisis only reinforces the public's wariness about any climate bill that attempts to increase the costs of energy and jeopardizes jobs," Inhofe said. Rep. Joe Barton, R-Texas, took the argument a step further when he said the Boucher-Dingell bill could lead the country "off the economic cliff."
But even supporters of federal regulation of greenhouse gases acknowledge that something has to give given the state of the economy. Sen. John Warner, R-Va., a lead sponsor of a Senate bill to curb greenhouse gases that failed this year, acknowledged that the economy could delay when reductions in carbon dioxide would start. Warner told the AP that any bill should allow the president to decide.
More
here
A look at climate skepticism from Britain's "Greenest" newspaper:
Global warming is happening and we're to blame, right? That's certainly the view of almost every expert in the field. But a die-hard band of naysayers continues to rail against the consensus. Are they completely mad? Judge for yourself...
The caption calls him the "high priest of deceit and global destruction". The picture has him belching fire like a dragon. And who is the subject of this highly personal attack? None other than Al Gore, who last year won the Nobel Peace Prize, along with the Intergovernmental Panel on Climate Change (IPCC), for their success in bringing the climate-change crisis to global public attention.
Not everybody likes Gore and his beliefs about the future of our planet - and especially not Hans Schreuder, the 62-year-old former chemist who runs the Gore-baiting website Ilovemycarbondioxide.com (see page 29). Schreuder is one of the climate-change sceptics who continue to make their case despite the mounting evidence of climate change that we, the public, are presented with every day; despite the unanimous endorsement of climate-change theory by every national academy of science in the industrialised world.
Even President Bush, who stalled developments for so long, has conceded that climate change is real, and caused by man-made carbon emissions. And even Bush has tried, however half-heartedly, to do something about it in the last days of his administration. (Though the big challenge remains to persuade the new major emitters - China and India - to sign any agreement on reductions.)
The sceptics declare that the central evidence for carbon-driven climate change in the reports of the IPCC are nonsense. Specifically, the "hockey stick" graph, which correlates the steep rise in world temperatures to the steep rise in carbon emissions, and which Gore demonstrates, with the help of a hydraulic crane, in his film An Inconvenient Truth. Gore's opponents say there's evidence that world temperatures have, in fact, begun to fall since 2000.
In 2005, the House of Lords Economics Committee voiced "concerns" about the objectivity of the IPCC, suggesting some of the agency's emissions projections were "influenced by political considerations". The committee's claims were subsequently rejected by the Government and the Stern Review on the economics of climate change, but the vested-interests argument unites sceptics, and mirrors the accusations often levelled at them in turn, that they are in the pockets of big oil, big gas, or the US Republican Party.
The sceptics come from the worlds of politics, economics, television and, crucially, science. David Bellamy (opposite), a professor of botany who was formerly the televisual face of eco-evangelism, has been compared with a Holocaust denier because he doesn't believe carbon emissions cause climate change. Climatologist Piers Corbyn (page 25) is convinced climate change is caused by solar activity, not CO2. Economist Ruth Lea (page 25) warns of the IPCC's political and business interests. Martin Durkin (page 28), maker of the documentary The Great Global Warming Swindle, says the green industry is in too deep to afford to acknowledge scientific law. And the former Chancellor, Nigel Lawson (page 27), maintains that though the science of climate change could be broadly correct, its consequences have been exaggerated.
Should we give their opinions the time of day? Whether you agree or not (and chances are you won't), the climate-change sceptics have no intention of shutting up.
The conservationist: David Bellamy
David Bellamy is an environmental campaigner and former television presenter. He was senior lecturer in Botany at Durham University until 1982, where he is now an honorary professor
"Global warming is the biggest scam since the church sold indulgences back in the Middle Ages. If our Government actually believes that all those people are going to die, why did it build Terminal Five?
"I've been doing research on the stability of ecosystems, which is all tied up with human activity, for 22 years. That's why I became a leading greenie in the early days. I have probably stood on more picket lines than anyone to stop forest-clearing, wind farms and the overfishing of the sea. But when the scientific arguments don't add up, one starts to question them: CO2 levels have risen in the atmosphere, but why don't all the other bits of science fall in around that?
"The speed of retreat of glaciers worldwide has not changed. The latest data shows that both the northern and southern ice caps are actually growing. The recent studies of the ice core show that rises in temperature are followed by a release of carbon dioxide, not the other way around. I'll be in New Zealand soon, and two of the major glaciers there are growing like the clappers. And from 1998 there has been no rise at all in the temperature of the earth. Indeed, all the sunspot data tells us we're headed for 15 very cold years.
"Many peer-reviewed papers show that as CO2 goes up, many plants and forests grow up to 40 per cent faster. The New Scientist has reported that 300,000 square kilometres of former desert are now covered with trees. Why don't we have all those good points publicised?
"Global temperature has risen at a natural rate that began 300 years ago. That slope of change has not changed since then, so how can we say that carbon is the driver? The sun has more correlations with temperature change than carbon. "The whole world is hooked on a fear of carbon, and there really is nothing to fear.
"The scientific consensus is not strong, but every time I turn on the television or read a newspaper, I hear that it is. The BBC constantly tells us the lakes in Africa are drying up because of global warming. The lakes are drying up because of the dams around them, and the fact that we are using that local water to produce cut flowers for the European market. Why aren't we told these things?
"If you go through the peer-reviewed literature on our side of the argument, it's near-unanimous in not predicting climate catastrophe. But it has got to a state of McCarthyism within science. As a university don, I used to try to get every tenth paper of mine into [the weekly science journal] Nature. But Nature will not touch any papers which are anti the global-warming ethic. I have been called a Holocaust denier. If they weren't really frightened they were losing the argument, they wouldn't write those things." '
The economist: Ruth Lea
Ruth Lea is economic adviser to the Arbuthnot Banking Group, and formerly held positions including director of the Centre for Policy Studies, head of the Policy Unit at the Institute of Directors, and economics editor of ITN
"The foundation of our climate-change policy is the projections made by the Intergovernmental Panel on Climate Change (IPCC). We've signed up to the IPCC, as an agency of the UN, and it's portrayed as an impartial, independent scientific organisation. In fact, it's highly political, most of its members are governmental appointees, and it contains a strong element of evangelical environmentalism. But whatever you think about it politically, you have to look at its projections, as they are core to the whole debate.
"The IPCC makes assumptions on economic growth, assumptions on fuel prices and demographics, then it puts all these assumptions into a model, which produces a forecast for carbon-dioxide emissions. Then it puts those results into a climate model, which predicts temperature change for the next century.
"I wouldn't claim to be qualified to speak about the climate models, but as an economist and statistician, I look at its predictions for economic growth, fuel consumption, demographics and so on, and I ask myself how it can possibly know what these will be by the end of the century.
"I made some economic forecasts about six weeks ago, and then we were hit by a financial crisis, so who knows where fuel costs are going? Yet the IPCC says it knows what'll be happening in 100 years' time.
"Climate-change policy is predicated on the IPCC stuff being taken as gospel. When I started to study the economics, I was shocked. Like many people, I assumed the IPCC findings were rock- solid and unquestionable. But when I looked at how it made its projections, I was horrified. I don't think people realise the vast uncertainties. When you hear people saying the temperature is going to rise by four degrees this century, do you hear anyone explaining that there's only a 0.001 probability that will happen? No.
"I wrote a sceptical letter to the FT in 2006, and there was a very dismissive, patronising, curt response from the Royal Society as if to say, 'How dare you question any of this?' I was amazed at its tone. And the writer and environmentalist George Monbiot has accused me of being financed by the oil companies. If only!
"Anybody who disputes the IPCC's projections is branded a Holocaust denier. I find that offensive. If I had relatives who'd been murdered in the Holocaust, I'd be beside myself with anger.
"When I started to utter my views, I discovered there were quite a few vested interests in green industry, not least in carbon-trading. And boy, they didn't like it. Questioning this stuff rips away the foundations of their business.
"There are probably more economists in a position to speak freely than there are scientists - we can afford to. The problem for scientists is that they have to go along with government policy, which currently states that we're all going to be fried alive in the next 50 years."
The climatologist: Piers Corbyn
Piers Corbyn is the maverick weather forecaster and owner of Weather Action, which makes forecasts up to a year in advance based on Corbyn's theory of the 'Solar Weather Technique'
"There's no evidence that carbon dioxide drives world temperatures or climate change. The 'hockey stick' is fraud, Al Gore's film is fraud, and schemes to remove CO2 from the atmosphere by machines are a scam.
"Temperatures rose since about 1915, but if you look in more detail, estimates show that they've declined since 2002. As it grew, the global-warming empire set about trying to find data to prove its case, but the data it found actually disproves its case. That's why the Arctic Climate Impact Assessment Project doesn't highlight the results that negate the theory.
"The idea that climate change causes extreme weather is preposterous. The average number of landfall storms per decade in the US was higher between 1900 and 1960 than in the past 30 or so years. I've met scientists who've said I'm probably right, but if you're in a university funded to research global warming, you're not going to speak up.
"People say that I oppose climate-change theory because I want my way of forecasting to be proved right. But the reason I think the CO2 theory is wrong is that the CO2 theory is wrong." '
The politician: Nigel Lawson
Now Lord Lawson of Blaby, the former Chancellor of the Exchequer this year published 'An Appeal to Reason: A Cool Look at Global Warming', in which he was critical of climate-change policy, including the Kyoto Protocol and the Stern Review
"There has been no global warming this century, and that is apparent from figures produced by the Hadley Centre, the branch of the UK Met Office that monitors world temperatures.
"There's also uncertainty over the impact of climate change, even if it does happen. If you take the trouble to read the IPCC reports, there's a mixed bag of potential consequences, some of them beneficial.
"After the hot summer of 2003, the Department of Health looked into what might happen in the UK if the temperature by 2050 matched predictions. It found there would be an increase in deaths from dehydration of 2,000 per year, but a reduction in deaths from hypothermia of 20,000 per year.
"We're told that there has to be a global agreement to deal with global warming, to cut back drastically on carbon-dioxide emissions, but it's simply not going to happen. The Chinese and Indians have made it clear that they're not going to cut back, and with good reason. Their number-one priority is to get their people out of poverty. That means the most rapid possible rate of growth, which means using the cheapest available form of energy, which, now and for the foreseeable future, is carbon-based energy.
"If warming occurs, we should adapt, as mankind has always done. People live in a whole range of climates already. Technology will develop in ways that we can't predict. We can help poor countries to adapt with aid programmes, which will be infinitely cheaper than wrecking our own economies.
"There is a great clash going on between the developing world and the developed world over this, which is politically dangerous. People as diverse as the EU industry commissioner, President Sarkozy of France, and the Democrats in the US Congress, are saying that if China and India won't cut back emissions, then we must impose tariffs on their goods. That kind of retreat into protectionism would be very damaging economically.
"Still, I think you'll find now that both major parties are giving this issue a lot less prominence than they were a year ago, and that is all to the good. The last thing we want is foolish and damaging commitments being made."'
More
here
UK government proposes speed camera network covering every A-road in the name of fighting global warming.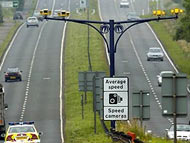 The UK Commission for Integrated Transport last year proposed a nationwide blanket of speed cameras as a means of fighting global warming. After a series of trials, the Home Office is now set to make this a reality by approving early next year the SPECS3 "distance over time speed measuring device" that will make it impossible to drive on any primary road in Britain without being tracked and subjected to an instant fine for exceeding the posted speed limit.
"With respect to technology, we are in a period of explosive evolution in traffic control technology," a commission report entitled Transport and Climate Change explained. "The Highways Agency already uses several technologies which are either intended to manage speed, or lend themselves to that purpose by monitoring speed and sending drivers messages about their behavior.... Reducing climate impacts of the motorway network should be a major consideration in the development of motorway control and communications technology."
The commission estimated that new SPECS3 cameras could monitor every driver on 31,136 miles of principal rural and urban roads at a cost of US $769,693,415. While the initial investment appears substantial, the commission noted that "enforcing the 70 MPH limit using SPECS would pay for itself within around two years."
The original SPECS systems, first approved in 1999, photographed vehicles when they entered a road, communicating the time of entry via a fiber optic link to a second camera positioned, say, two miles distant. After the second camera had identified the passing vehicle, the amount of time it took the car to pass between the two points was converted into an average speed. The system's limitations included an inability to ticket cars that changed lanes in between camera locations and a purchase price of US $1.4 million to deploy over a distance of just a mile and a quarter.
SPECS3 solves those limitations. It uses an ISDN connection to transmit data between any two cameras in the entire network, as well as the police headquarters, without the need for the expensive dedicated connection. This configuration slashes deployment cost over the same distance to just US $116,000. The system can also track drivers not only as they change lanes, but as they switch between different roads and highways. Pilot projects are already underway in Camden, Surrey and Northern Ireland where road trials began in April. Once established nationwide, records on all vehicle movements20will be stored for five years in a central government Automated Number Plate Recognition (ANPR) server, allowing police to keep tabs on criminals and political opponents. Work on the data center in north London began in 2005 and officials expect real-time, nationwide tracking capability to be available by January.
The original SPECS cameras were found to be quite successful. Between 2000 and 2005, a single camera in Nottinghamshire generated 76,000 tickets worth US $7.2 million. London's entire SPECS network generated as many citations in just three weeks. London camera officials did admit, however, that 5600 tickets were sent to motorists who were completely innocent.
Source
Australia: "Time to Erase the Emissions Trading Nightmare."
A statement by Viv Forbes, Chairman of the Carbon Sense Coalition.
The Carbon Sense Coalition today called on the Premier of Queensland and all elected members to bring pressure to bear on the Federal Government to immediately abandon plans for Emissions Trading. The Chairman of "Carbon Sense", Mr Viv Forbes, said that at a time of world economic crisis, the last thing productive Queensland industries need is the threat of this destructive policy hanging over them. "Emissions Trading and its carbon taxes must harm Australian industry, and Queensland will suffer most.
We are assured there are real environmental or climate benefits from all this sacrifice and warned of dire consequences if we do not act immediately. Prophecies of climate doom issue weekly from the pulpit of CSIRO. However, there is growing scientific evidence and opinion that carbon dioxide in the atmosphere does not control the climate. Thus all the resources spent on attempting to limit or remove it will be totally wasted.
Australia is totally dependent on carbon-based fuels and farm animals dependent on the natural carbon cycle. To allow scaremongers from the Canberra hot-house to demonise the use of these harmless natural products on which we all depend is economic suicide.
Moreover, there is no proven technology and insufficient capital and time to significantly replace carbon-based fuels without the nuclear option being chosen by many countries. And the kangaroo grazing option is too silly for words.
The targets demanded by Garnaut and the Greens can only be reached if we engineer or have thrust upon us a major depression of economic activity. It is time some grass roots politicians from the provinces demanded two things: Firstly, an independent scientific assessment of the role of carbon dioxide in the atmosphere. Secondly, an independent cost-benefit analysis of this attempt to control the climate.
Source
***************************************
For more postings from me, see TONGUE-TIED, EDUCATION WATCH INTERNATIONAL, POLITICAL CORRECTNESS WATCH, FOOD & HEALTH SKEPTIC, GUN WATCH, SOCIALIZED MEDICINE, AUSTRALIAN POLITICS, DISSECTING LEFTISM, IMMIGRATION WATCH INTERNATIONAL and EYE ON BRITAIN. My Home Pages are here or here or here. Email me (John Ray) here. For readers in China or for times when blogger.com is playing up, there is a mirror of this site here.
*****************************************