SWEDEN RECORDS COLDEST EASTER IN MORE THAN 100 YEARS
An email from Jens Kieffer-Olsen, M.Sc.(Elec.Eng.), Slagelse, Denmark [dstdba@post4.tele.dk]
Sweden has experienced the coldest Easter in more than a century:
"A violent cold front moved down from the Arctic. And places like Nikkaloukta in Northern Lappland experienced the iciest Easter in more than 100 years. 41 degrees below zero had the most hardened Nikkaloukta citizen contemplate, if it was really necessary to go outside."
See
here
("En valdsam kallfront drog ner fran Arktis. Och stallen som Nikkaloukta i norra Lappland fick uppleva den iskallaste pasken pa over 100 ar. 41 minusgrader fick den mest hardade Nikkalouktabo att fundera pa om det verkligen var nodvandigt att ga ut").
Gore fails to respond to challenge from forecasting expert
Communication from Scott Armstrong below:
The extended due date for the Global Warming Challenge passed with no word from Mr. Gore. Although he and Professor Armstrong have had a number of communications, Mr. Gore offered no response to the key question:
"When and under what conditions would you be willing to engage in a scientific test of your forecasts?"
Validation of forecasting methods is a key issue in climate change because, although we know that climate varies, we have been unable to locate a single scientific forecast that supports global warming. If Mr. Gore or anyone else is aware of such a forecast, they should reveal the source to the scientific community. Claims that science supports global warming forecasts have, to date, failed to provide sources.
A history of the Global Warning Challenge is provided
here
. It includes all correspondence between Scott Armstrong and Al Gore. The site will post all papers that purport to provide scientific forecasts of global warming. The papers must provide full disclosure on how the forecasts were made, as full disclosure is one of the basic principles of science.
Sunspots Erupt Suddenly
Nice to see below an admission of how little we understand about variations in solar activity
After months of relative quietude, a trio of new sunspot groups appeared this week and they are all growing rapidly. But there's something strange about these spots.
Sunspots are cool regions of intense, twisted magnetic activity at the solar surface. They act like caps on the upwelling of energy, and when the caps pop, flares of radiation and ejections of charged particles are unleashed. Major solar storms can disrupt communications on Earth and even disable satellites.
The sun goes through an 11-year cycle of activity. The last peak, when sunspots were common and flares frequent, was in 2001 and 2002. The new cycle, Solar Cycle 24, began recently, scientists figure, based on a sunspot with reversed polarity appearing. But pinning down exactly when the shift occurred has proven challenging - it might have been in 2006, sun-watching scientists reported initially, or perhaps 2007, they later said.
Adding to the tangle of understanding, the new sunspots have a magnetic polarity consistent with Solar Cycle 23 rather than the new cycle, proving yet again that much remains to be learned about the temperamental sun.
One of the new sunspots, No. 989, kicked up a moderate solar flare Tuesday. NOAA forecasters put the odds at 50-50 for additional moderate flares today. Solar storms sometimes generate colorful auroras above Earth's polar regions. No significant auroral displays are expected this week, however. Though forecasts vary wildly, some scientists predict Solar Cycle 24 will be intense. If so, "it could have significant impacts on telecommunications, air traffic, power grids and GPS systems," according to a NASA statement issued in December.
[Odd that they left out climate there]
Source
FRANCE AND BRITAIN TO STEP UP NUCLEAR POWER CO-OPERATION
A two-day bilateral summit is to culminate today (27 March) with the signing of a new accord that will see France help the UK develop a new generation of nuclear power stations. French President Nicolas Sarkozy and UK Prime Minister Gordon Brown are to seal the agreement on Thursday at the Emirates Stadium in North London, the home of Arsenal football club.
Speaking on Tuesday on the eve of Sarkozy's arrival, UK Business Minister John Hutton said he wanted Britain to become "the number one place in the world for companies to do business in new nuclear". "I believe that the revival of nuclear power in Britain today [.] has the potential to be the most significant opportunity for our energy economy since the exploitation of North Sea oil and gas," said Hutton, according to Reuters.
EDF, the state-controlled French power utility, said it wanted to build four new plants to help replace Britain's ageing stock of 23 nuclear power stations, which currently provide about 20% of the UK's electricity. The new reactor would be the state-of-the-art EPR model developed by French group Areva, which is also partially state-owned. The deal would allow Britain to regain the expertise in nuclear power engineering that it lost following a planned phase-out of atomic power. The last of Britain's existing nuclear plants is scheduled for closure by 2035, leaving the country with a potential energy gap.
In Brussels, the European Commission has recently backed the technology, saying it will be needed if Europe is to meet its ambitious climate change goals and reduce CO2 emissions by a quarter by 2020. "Energy consumption worldwide is likely to double between 2000 and 2050, and nuclear energy will remain a key element in future low-carbon energy systems," the Commission said in September last year, presenting its new Sustainable Nuclear Energy Technology Platform (SNETP)
Speaking in October 2007, Commission President Jose Manuel Barroso said the EU must hold a "full and frank" debate on the nuclear issue. "Member states cannot avoid the question of nuclear energy," he said. Environmental groups have applauded the Commission's move to open the nuclear debate but argue that the technology is dangerous and not required to reduce CO2 emissions.
Source
WE NEED MORE NUCLEAR PLANTS TO AVOID BLACKOUTS, SAY GERMAN POWER CHIEFS
Senior German energy executives warned yesterday that Europe's biggest economy faces growing blackouts unless it follows the Franco-British lead in promoting new nuclear power stations. They seized on a weekend report in the Guardian that Gordon Brown and French president Nicolas Sarkozy will unveil an alliance to build nuclear plants and export the modern technology worldwide at their "Arsenal" summit at the Emirates Stadium this week to press the case for Germany to pursue its own new nuclear renaissance.
As commentators said Germany risked being left behind, Wulf Bernotat, E.ON chief executive, said the country could face an electricity shortage of 12 to 21 gigawatts (GW), according to official estimates from the German energy agency (Dena). "The conclusion arises: we still need nuclear power and we need modern gas- and coal-fired power stations that emit significantly less CO2," he told Welt am Sonntag newspaper.
His comments echo similar warnings from Jrgen Grossmann, his opposite number at RWE, Germany's second-biggest energy group. Grossmann said that blackouts could occur as early as this summer because of problems with wind power and cooling difficulties in other power plants. RWE estimates Germany could face a 30GW power gap by 2015.
E.ON and RWE, among Britain's top five energy suppliers, have both said they are keen to build new-generation nuclear plants in the UK. Along with British Gas owner Centrica, they are cited as would-be purchasers of British Energy, the nuclear operator put up for sale a week ago.
France relies on nuclear power for 80% of its primary energy need. It is building a new-generation plant on the Channel coast and Brown has given the go-ahead for new plants in Britain, probably on existing sites already connected to the grid.
Bernotat, head of Germany's biggest power group, warned that prices were bound to rise if demand outstripped supply and said the easiest way to overcome the gap was to prolong the life of Germany's existing 17 nuclear power plants. Under an agreement between the ruling grand coalition partners, Germany will close all of its plants by 2021 and build no new ones.
Germany's nuclear plants account for 21GW of capacity, a quarter of its power production. Chancellor Angela Merkel favours prolonging their lives and building new nuclear plants, but is bound by the agreement - which could fall by the wayside if she forms a different government after next year's general election.
Source
Earth Hour should be grounded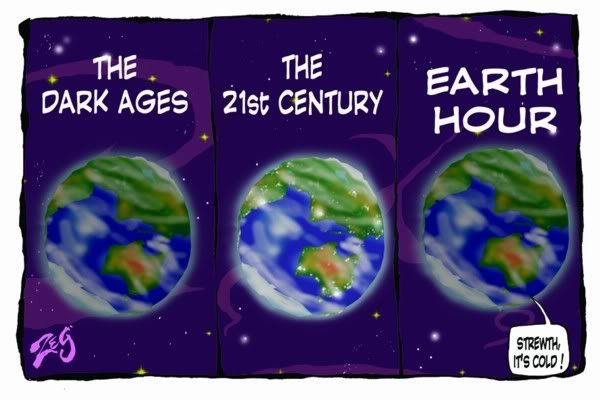 Comment from Andrew Bolt in Australia
A lot of hot air is going into tomorrow's Earth Hour, and I don't just mean the hot-air balloon sent up last Saturday to promote this hour-long switch-off. But, good God, why did the organisers choose that way to promote a campaign to make us cut our gases? Sending up the 32-metre light globe-shaped billboard burned so much gas - and emitted so much carbon dioxide - that we'll have to switch off 10,000 lights tomorrow just to make it up.
Perfect, then, that it landed in the Peanut Farm Reserve, and equally symbolic that The Age gave this wildly inappropriate stunt fawning coverage. Why? Because Earth Hour proves that what threatens us is not so much global warming, but lousy journalism. Asking us to turn off lights between 8pm and 9pm is a crusade by The Age and The Sydney Morning Herald. And already one light is staying on and flashing alarm.
You see, it's always a danger when newspapers take up campaigns. Suddenly they get tempted to report only stuff that pushes their agenda, and to ignore facts that don't. The Age and SMH - already giddy with global warming evangelism - perfectly illustrate this danger.
Earth Hour started last year in Sydney, where the SMH campaigned furiously to get everyone in the CBD to turn off their lights for an hour after dusk to "raise awareness" that our gases from electricity use were allegedly warming the world to hell. But it was a flop - lights blazed on - yet you won't read that in The Age or SMH. On the contrary, the SMH's Sunday paper, The Sun-Herald, instead ran "before and after" pictures purporting to show Sydney plunge from a blaze of light into a great gloom. But the dark "after" picture turned out to have been badly under-exposed compared with the "before" picture. And the "before" picture turned out to have been taken not just before Earth Hour but two days earlier, when, as Media Watch reported, "weather conditions helped make the whole scene look much lighter".
Nothing dishonest was done, of course. It's just that these two "mistakes" suited the paper's agenda. It didn't stop there. Check how The Age now routinely reports last year's "success":
"Last year's first Earth Hour had as many as 2.2 million Sydneysiders and 2000 businesses turn off their lights, causing a 10 per cent drop in the city's energy use."
Really? First, it's mad to think half of Sydney's population switched off for a stunt centred on the CBD. This figure is actually a huge extrapolation from a poll of fewer than 800 guilty people who claimed they'd maybe switched off something or other during the hour. Second, the claimed dip in power was just for the CBD, not all Sydney. Third, the 10 per cent cut claimed for the CBD is itself a gross exaggeration.
A cut so tiny is trivial - equal to taking six cars off the road for a year. But David Solomon, a finance PhD student at the Chicago University's graduate school of business, crunched Sydney's power figures to exclude seasonal and daily fluctuations, and concluded there was actually close to no power saving at all. "When a fixed effect is included for the whole day, the drop in electricity use during Earth Hour is statistically indistinguishable from zero."
So why does The Age exaggerate? Because it's on a campaign to persuade, not inform, which is why it also won't report other awkward facts. Here's one: global temperatures have fallen since 1998. Indeed, all four big global temperature tracking outlets, including Britain's Hadley Centre, now say global temperatures over the past year have dropped sharply. NASA adds that the oceans have also cooled for the past few years.
Why doesn't The Age tell its readers this, instead of scaring them with reports, and balloons, that are just hot air? That's crusading, not reporting.
Source
***************************************
For more postings from me, see TONGUE-TIED, EDUCATION WATCH INTERNATIONAL, POLITICAL CORRECTNESS WATCH, FOOD & HEALTH SKEPTIC, GUN WATCH, SOCIALIZED MEDICINE, AUSTRALIAN POLITICS, DISSECTING LEFTISM, IMMIGRATION WATCH INTERNATIONAL and EYE ON BRITAIN. My Home Pages are here or here or here. Email me (John Ray) here. For times when blogger.com is playing up, there are mirrors of this site here and here.
*****************************************