Trump causes hurricanes!
Can Trump do anything right? Not according to the mainstream media. The article below ran under the heading: "Another hurricane is about to batter our coast. Trump is complicit."

Tony Heller has a fun graph listing number of hurricanes per President. And Trump is not in the race. If the Washington Post wants to blame presidents for hurricanes, then the top three perpetrators are Grover Cleveland, Rutherford B. Hayes and William Howard Taft.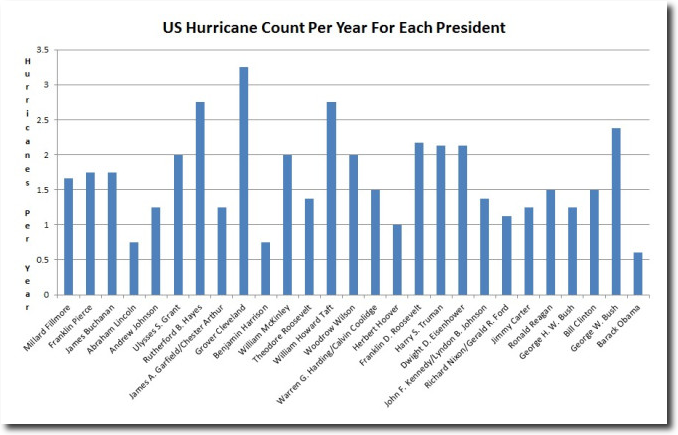 YET AGAIN, a massive hurricane feeding off unusually warm ocean water has the potential to stall over heavily populated areas, menacing millions of people. Last year Hurricane Harvey battered Houston. Now, Hurricane Florence threatens to drench already waterlogged swaths of the East Coast, including the nation's capital . If the Category 4 hurricane does, indeed, hit the Carolinas this week, it will be the strongest storm on record to land so far north.
President Trump issued several warnings on his Twitter feed Monday, counseling those in Florence's projected path to prepare and listen to local officials. That was good advice.
Yet when it comes to extreme weather, Mr. Trump is complicit. He plays down humans' role in increasing the risks, and he continues to dismantle efforts to address those risks. It is hard to attribute any single weather event to climate change. But there is no reasonable doubt that humans are priming the Earth's systems to produce disasters.
Kevin Trenberth, a climate researcher at the National Center for Atmospheric Research, co-wrote a May paper showing that Harvey's cataclysmic wetness came from the unusually hot Gulf of Mexico water that fed the hurricane before it slammed into Texas. "Harvey could not have produced so much rain without human-induced climate change," he and his colleagues concluded. Now Florence is feasting on warm Atlantic Ocean water. "The ocean is warming up systematically," Mr. Trenberth said, explaining that, though natural variation can turn surface temperatures up or down a bit, the oceans' energy content is inexorably rising. "It is the strongest signal of global warming," Mr. Trenberth added.
Scientists also warn that climate change may be slowing the wind currents that guide hurricanes, making storms more sluggish and, therefore, apt to linger longer over disaster zones. Tropical cyclone movement has slowed all over the planet. Harvey's stubborn refusal to leave the Houston area was a decisive factor in its destructiveness. Florence may behave similarly.
And human-caused sea-level rise encourages higher storm surges and fewer natural barriers between water and people.
With depressingly ironic timing, the Trump administration announced Tuesday a plan to roll back federal rules on methane, a potent greenhouse gas that is the main component in natural gas. Drillers and transporters of the fuel were supposed to be more careful about letting it waft into the atmosphere, which is nothing more than rank resource waste that also harms the environment. The Trump administration has now attacked all three pillars of President Barack Obama's climate-change plan.
The president has cemented the GOP's legacy as one of reaction and reality denial. Sadly, few in his party appear to care.
SOURCE
Jerry Brown's Plan For 'Negative' CO2 Emissions Is Based On 'Science Fiction'
California Democratic Gov. Jerry Brown issued an executive order Monday mandating "carbon neutrality" by 2045, then ordering the state to "maintain net negative emissions thereafter."
Brown's executive order came the same day he signed into law a bill mandating California get 100 percent of its electricity from renewables and "zero-carbon" energy sources. Brown is also preparing to host a global warming activist summit Wednesday.
"California is committed to doing whatever is necessary to meet the existential threat of climate change," Brown said Monday. "But have no illusions, California and the rest of the world have miles to go before we achieve zero-carbon emissions."
Brown is right in one sense. California does have "miles to go" to meet Brown's executive order because it relies on "magical thinking" and "science fiction," according to experts.
Existing executive orders call for California to cut greenhouse gas emissions 80 percent below 1990 levels by 2050, and state law requires emissions to be cut 40 percent by 2030. However, that's not enough to meet the goals of the Paris climate accord, according to United Nations models.
What Brown ordered is not just reducing emissions, but instead implied sucking more greenhouse gas out of the air than human activities in his state put up — and not just for electricity. Brown's order applies to the entire economy, including transportation and agriculture.
So what does negative emissions mean in practice? Well, no one really knows, but experts have put forward ideas to suck carbon dioxide from the atmosphere.
Brown's office said negative emissions would be achieved through "increased carbon sequestration in forests, soils and other natural landscapes," according to its press release. But how would this even work?
Scientists have also proposed technologies to literally suck carbon dioxide from the air and store it underground or in the ocean. Experts have also suggested reforestation, ocean fertilization and what's known as enhanced weathering.
Enhanced weathering is the rather hilarious idea that one can use rocks to, in effect, store CO2 emissions. In theory, the rocks would react with CO2 and water to form an alkaline solution that leaks into the ocean.
However, all of these proposals remains "magical thinking" at this point, according to an editorial in the journal Nature.
Enhanced weathering, for example, would require "an area about the size of Texas … of US agricultural land every year" just to "soak up 13% of the annual global emissions from agriculture," according to Nature.
Another proposed technology that's cited by the IPCC is bioenergy with carbon capture and storage (BECCS). This is basically removing CO2 through growing plants, which are then burned for energy. The emissions are then captured and stored underground.
Of course, BECCS is another magical solution that's baked into the IPCC's models of what needs to be done to limit future global warming to 2 degrees Celsius.
University of Colorado professor Roger Pielke, Jr. recently published a paper on the problems with the UN's use of BECCS to sell the Paris climate accord.
"Carbon dioxide removal at massive scale is science fiction — like a light saber, incredible but not real," Pielke wrote.
"Yet BECCS plays a very real role in today's climate policy arena," Pielke wrote, "by helping to maintain the climate policy envelope and save us from having to do the enormously difficult and uncomfortable work of thinking how we might go about addressing accumulating carbon dioxide in the atmosphere differently than we have since the 1980s and '90s."
"If nothing else, full implementation of BECCS 'at scale' would require the use of a global land area one and a half times the size of India," Pielke wrote about the staggering environmental cost of "negative emissions" technology.
Indeed, the European Academies Science Advisory Council concluded in early 2018 that negative emissions technologies "offer only limited realistic potential to remove carbon from the atmosphere and not at the scale envisaged in some climate scenarios."
SOURCE
House Leaders Question Environmental Group's Ties With China
China's special representative on climate change, Xie Zhenhua, speaks Nov. 15. 2017, during a high-level forum at a U.N. conference in Bonn, Germany. (Photo: Shan Yuqi/Xinhua/Newscom)
Congressional leaders are pressing their case against environmental activists who are closely aligned with Chinese government officials.
In a letter Wednesday to the Washington-based World Resources Institute, Reps. Rob Bishop, R-Utah, and Bruce Westerman, R-Ark., ask the leader of the nonprofit international research group to document compliance with federal law covering agents of foreign powers.
Bishop and Westerman note that World Resources Institute consistently has praised China's actions through certain media platforms even as it sharply criticizes recent U.S. policy under the Trump administration:
While WRI criticizes policies of the U.S. government, WRI is silent on Chinese human rights violations such as arrests of environmental protesters and the mass detention of ethnic minorities. By contrast, WRI advocates on behalf of the rights of indigenous peoples and ethnic minorities in other countries. On important issues for Chinese leadership, WRI's position appears to closely reflect China's goals and objectives.
Bishop is chairman of the House Natural Resources Committee and Westerman is chairman of its oversight and investigations subcommittee.
The Foreign Agents Registration Act requires anyone who acts as an agent of foreign principals "in a political or quasi-political capacity" to disclose that relationship periodically with the U.S. government, according to the Justice Department. The law also requires disclosure of all "activities, receipts, and disbursements in support of those activities."
The two congressmen's letter to Andrew Steer, president and CEO of World Resources Institute, notes that the organization has operated in China since 2008.
It says the institute's "leadership regularly interacts with senior Chinese government and Communist Party officials and provides public support for Chinese environmental programs, including supplying positive quotes for Chinese government press releases and op-eds in the government-controlled China Daily."
China Daily is an English-language newspaper that is registered under the Foreign Agents Registration Act, the letter says.
The two House Republicans quote FBI Director Christopher Wray as calling China "the broadest, most challenging, most significant" counterintelligence threat to the U.S.
For this reason, Bishop and Westerman argue, "the apparent strong ties between the People's Republic of China, the ruling Chinese Communist Party, and certain U.S.-based tax-exempt organizations" warrant clarification and investigation.
Steer, an economist from Great Britain, previously worked as a special envoy on climate change for the World Bank. He is a member of the China Council for International Cooperation on Environment and Development, an advisory body sanctioned by the Chinese government.
Bishop and Westerman set a deadline of Sept. 12 for Steer to respond to the request to document compliance with the law.
The Daily Signal asked World Resources Institute for comment on its compliance, its reaction to the letter, and meeting the deadline. In an email Friday, the institute replied:
In order to respond to the world's most urgent sustainability challenges, it's vital to work in the world's developing countries and major economies, including China, the world's most populous country. We are proud of our work in China, including on issues related to air pollution, traffic congestion, and water quality.
We welcome the opportunity to respond to the [Natural Resources] Committee's letter, as we vigorously pursue our goal of making the planet safer, healthier and more prosperous for all people.
World Resources Institute, founded in 1982, received its initial funding in the form of a $15 million grant from the John D. and Catherine T. MacArthur Foundation.
The institute describes its mission as "to move human society to live in ways that protect Earth's environment and its capacity to provide for the needs and aspirations of current and future generations."
In June, the Natural Resources Committee sent similar letters to two other environmental advocacy groups, the Natural Resources Defense Council and the Center for Biological Diversity, asking questions about their relationships with China.
The letters also asked whether the two groups were in compliance with the Foreign Agents Registration Act, and to provide documentation. Both complied with June deadlines to submit information detailing compliance.
Neither the Natural Resources Defense Council nor the Center for Biological Diversity is registered as a foreign agent. Both maintain they operate in America's national interest despite their close ties to foreign governments and litigation against the U.S. military.
One point of contention raised in the House Republicans' letter to Steer and World Resources Institute concerns the Paris Agreement on fighting climate change in 2016, which was reached under the Obama administration.
Bishop and Westerman note that the research group praised China's stated commitment to begin to reduce greenhouse gas emissions by 2030.
At the same time, the institute criticized Trump administration policies for resisting and pulling out of the international climate deal. The congressmen argue that China's pledge to reduce emissions was not genuine, while the Trump administration recognized that the Paris Agreement would have dire economic consequences.
Bishop and Westerman write:
On important issues for Chinese leadership, WRI's position appears to closely reflect China's goals and objectives. For instance, WRI promotes China's controversial Belt and Road Initiative (BRI), a multibillion dollar global infrastructure plan designed to increase China's global influence. WRI portrays China's BRI as an opportunity for environmentally sustainable development and to strengthen environmental protections.
Environmental groups from countries where BRI-financed projects are located and other experts, however, describe Chinese-funded projects as causing "permanent environmental degradation" with no positive impact on environmental governance.
The Foreign Agents Registration Act, which predates World War II, is the subject of legislation from Rep. Mike Johnson, R-La., that he says "corrects long-standing loopholes exploited by lobbyists of foreign entities to conceal their work to influence U.S. government activities."
The Johnson bill also would clarify reporting requirements, authorize investigative tools, and establish enforcement safeguards.
Sen. Chuck Grassley, R-Iowa, chairman of the Senate Judiciary Committee, has introduced a companion bill.
SOURCE
Los Angeles wants to use the Hoover Dam as a giant battery — but its biggest hurdle isn't the $3 billion dollar price-tag
Los Angeles is looking into whether it should spend an estimated $3 billion on a massive, 20-mile underground pumped hydropower storage system that would be connected to the iconic Hoover Dam on the Colorado River outside of Las Vegas.
If it does get built, this system would essentially serve as a giant battery to store power.
Having written a book about the aggressive propaganda program behind the Hoover Dam's construction in the 1920s and 1930s, I can say that the technical and financial challenges of this plan are sure to pale in comparison to the legal and political roadblocks that will have to be overcome.
Among the biggest obstacles are the long-running fights over the Colorado River and its water, and that the Colorado is a shrinking river
Los Angeles has two basic motives for this plan. First, the water level of Lake Mead, the nearly 250-square-mile reservoir that provides water to Arizona, California, and Nevada, continues to drop due to long-term drought. The lower water levels are reducing the power that Hoover Dam's electrical turbines generate.
Second, California has mandated statewide cuts in fossil-fuel use and increases in renewable energy production.
Solar and wind energy seem ideal, but have one major drawback: wild fluctuations. When there's calm wind or no sunshine, there isn't enough power to keep the lights on. When it's sunny and windy, there can actually be too much power for the grid to function smoothly. Even in tandem, they are not reliable enough for utily-scale electricity, without some way to store excess energy.
The proposed plan would use wind and solar power to pump water from below Hoover Dam back upstream, depositing water into Lake Mead to be released again at a future time. The idea is to use the stored water to both offset renewable energy fluctuations, and supplement the grid during peak electrical demand.
It would do this by pumping water when electricity generated from solar or wind power is cheap and abundant, and releasing water through Hoover Dam when demand for power is high or renewable sources aren't generating much energy — essentially turning Lake Mead into a giant battery.
The concept of using pumped hydropower to store energy is not new. The earliest examples date to the late 1800s in Europe, and the early 1900s in the US. Many countries including Spain, Norway, Switzerland, and the US already use large pumped hydro storage systems. The world's biggest is located along the West Virginia-Virginia border.
One key difference here is that this proposed project would use wind and solar electricity to pump the water. Another is the Hoover Dam's complicated history. The biggest hurdle, I predict, would be negotiating a new use for the Colorado River's water at a time when the region is growing more parched.
The river is regulated by a document called the Colorado River Compact, an agreement forged among seven Western and Southwestern states in 1922 that dictates how much of the river's water each state may use. The compact has helped to constrain what likely would have been endless litigation over the water.
This pact took years to negotiate, with many failed attempts along the way. Arizona took 44 years to officially ratify the agreement, and it has repeatedly sued its neighbors over the river, with some cases ending up at the Supreme Court.
In fact, Arizona nearly declared war against California in 1934 when its governor sent the Arizona National Guard to the border to "defend" against encroaching Bureau of Reclamation engineers scouting locations for Parker Dam, 155 miles downstream from Hoover Dam on the Colorado River.
Despite the compact, litigation over access to Colorado River water continues to this day. This endless conflict is why historian Philip L. Fradkin calls the Colorado "the most used, most dramatic, and the most litigated and politicized river in this country, if not the world."
To make matters worse, Western states have long been wary of the motives of Los Angeles and California when it comes to water. Consequently, the current proposal, which calls for the Los Angeles Department of Power and Water to be put in charge of a massive new hydropower project in Nevada, would likely be met with a large dose of skepticism.
More considerations
Proponents of the Hoover Dam battery concept say it would be an environmentally friendly way to generate more electricity without using fossil fuels. Yet there are more considerations here, too.
First, the project calls for nearly 20 miles of new underground pipes to run from below the dam back into Lake Mead. The water that it takes to fill those pipes along with the water that is circulated in perpetuity will take some coveted Colorado River water permanently out of the downstream flow.
Second, the time hardly seems right. The Colorado is in decline. With climate scientists predicting that the volume of water in the Colorado River will continue to decrease, states that rely on the river are bracing for potentially drastic cuts to water supplies.
Moreover, the Bureau of Reclamation states that Hoover Dam produces 4 billion kilowatt-hours of electricity per year, which sounds like a lot. But that's only enough to cover 1.3 million households, or roughly a third of all Angelenos.
Considering that Hoover Dam hydropower is distributed across Southern California, Arizona, and Nevada, it actually provides only a small slice of the overall energy consumed in the West.
That is why, regardless of whether or not this project moves forward, I contend that the competing interests of the river's many stakeholders will prove to be as durable a roadblock as any technical or budgetary constraint.
SOURCE
Solar Power Too Cheap to Meter? Another Green Dream
Greenies regularly ignore capital costs and the duplication of generating capacity
Not satisfied with the mere claim that solar and wind are reaching parity with the costs of conventional energy technologies, green enthusiasts are upping the ante claiming that, as one UBS bank analyst recently put it, by "2030, the cost [of solar] could be so near to zero it will effectively be free."
But no amount of research or torturing of reality, however, will lead to that result. Both physics and history offer instructive lessons.
The nuclear industry has been plagued by its own "too cheap to meter" trope ever since 1954 when Lewis Strauss, the first chairman of the Atomic Energy Commission, originated that phrase in a lecture extolling the unbounded potential of fission energy. Nuclear did proceed to grow from under 1% of U.S. electricity in 1968 to 20% by 1988, where it's remained ever since. For all its manifold advantages, the inherently high capital costs of that technology remain the obvious challenge.
As for solar electricity, today it supplies 1% of U.S. electricity. Of course it's possible that share will yet grow to match, say, nuclear—not least because of policymakers' zealous embrace of subsidies and mandates. While that is, as they say, not nothing, it is far from everything. More to the point, the central claim that such an outcome is inevitable not because of subsidies but because solar, and wind, are already cheap is just not true.
The real underlying engineering-centric economics are only visible if you strip out subsidies, hyperbole, regulatory subterfuge, and fake prices that emerge from mandates. Fortunately, both the Department of Energy and SEC filings of public corporations provide plenty of reliable data about the core engineering costs of the hardware needed to produce energy, whether solar panels, wind turbines, or drilling rigs. Here's what they show:
Buy $1 million worth of solar panels and, over a 30-year operating period, they will produce about 25 million kilowatt-hours (kWh). Never mind what one is paid for those kWh, whether directly or indirectly through tax and regulatory jiggering, or legal mandates, that's the quantity of energy one gets. Period.
By comparison, $1 million worth of a modern wind turbine will produce 50 million kWh over the same 30 years. That basic fact explains why wind today contributes about 600% more to the grid than does solar; wind power is a lot cheaper.
Alternatively, purchase $1 million worth of a shale rig and, over those same 30 years, that capital will produce enough natural gas to generate 400 million kWh. The 400 is not a typo. That same $1 million of hardware producing natural gas yields 10 and 20-fold more 'product' (kWh) than either wind or solar respectively. And this basic fact explains why, over the past decade, private investment in shale gas has added 500% more energy to America than government subsidized wind and solar combined.
Of course, solar and wind costs will continue to decline. But there is simply nothing in the underlying physics of either of those technologies that points to the possibility of anything like a 10-fold reduction in capital costs, never mind getting to "effectively free."
The cognoscenti will note that the above cost comparisons do not include the capital cost of equipment (a gas turbine) to convert natural gas into grid-useful kilowatt-hours. Nor do the calculations incorporate the capital cost of equipment (batteries) that converts episodic solar or wind output into grid-useful 24x7 electricity. Including those costs, however, further disadvantages solar and wind. The capital cost per kilowatt for batteries is several-fold greater than for a gas turbine. And while there are aspirations for far cheaper batteries, there's no known physics path for them to become several-fold cheaper.
At present, wind and solar technologies receive subsidies that amount to between 45% and 140% of their capital costs. (Similar subsidies exist in much of Europe.) But with solar and wind supplying a combined total of only about 7% of the nation's electricity, such underlying cost burdens have so far been disguised in the labyrinth of mandates and subsidies, and also masked by—in effect 'borrowed' from—the savings from the last decade's radical declines in the cost of natural gas and coal which together supply 70% of U.S. electricity. Aspirations for radically increasing solar and wind electricity will necessarily require ramping up subsidies to the point they will ultimately become visible.
That scenario has played out in Germany and Britain, both far further down the green path, leading to radically higher electricity prices there — 200% to 300% higher than in America. The green subsidy effect was also visible in Ontario, Canada. A punitive rise in electric rates over the past decade, created by the Ontario Liberal Party's pro-green subsidies, contributed directly to an epic ballot-box defeat for the Liberals earlier this year, ending 15 years in power. A key feature of the opposition's winning strategy? Calling for the reversal of green subsidies.
In due course, the same political realities will become as visible and painful in America too. It is far more likely that we'll see solar electricity too expensive to tolerate than too cheap to meter.
SOURCE
***************************************
For more postings from me, see DISSECTING LEFTISM, TONGUE-TIED, EDUCATION WATCH INTERNATIONAL, POLITICAL CORRECTNESS WATCH, FOOD & HEALTH SKEPTIC and AUSTRALIAN POLITICS. Home Pages are here or here. Email me (John Ray) here.
Preserving the graphics: Most graphics on this site are hotlinked from elsewhere. But hotlinked graphics sometimes have only a short life -- as little as a week in some cases. After that they no longer come up. From January 2011 on, therefore, I have posted a monthly copy of everything on this blog to a separate site where I can host text and graphics together -- which should make the graphics available even if they are no longer coming up on this site. See
here
or
here
*****************************************