Climate Scientists Versus Science
Climate scientists have been telling us for decades that skiing is doomed due to global warming. The organization "Save Our Snow" is dedicated to shutting down fossil fuels in order to save the ski industry.
It isn't clear how people would get to ski resorts without fossil fuels, how the lifts would operate or how they would keep people warm and fed – but the bigger issue is that reality is not cooperating with junk climate scientists. More snow is falling, it is falling over a wider area, it is lasting longer, and ski areas are seeing record snow.
Janette Janssen, general manager at Cairngorm Mountain, said:"It has been a fantastic and amazing season…. We started at the beginning of November and it has been a long and great season."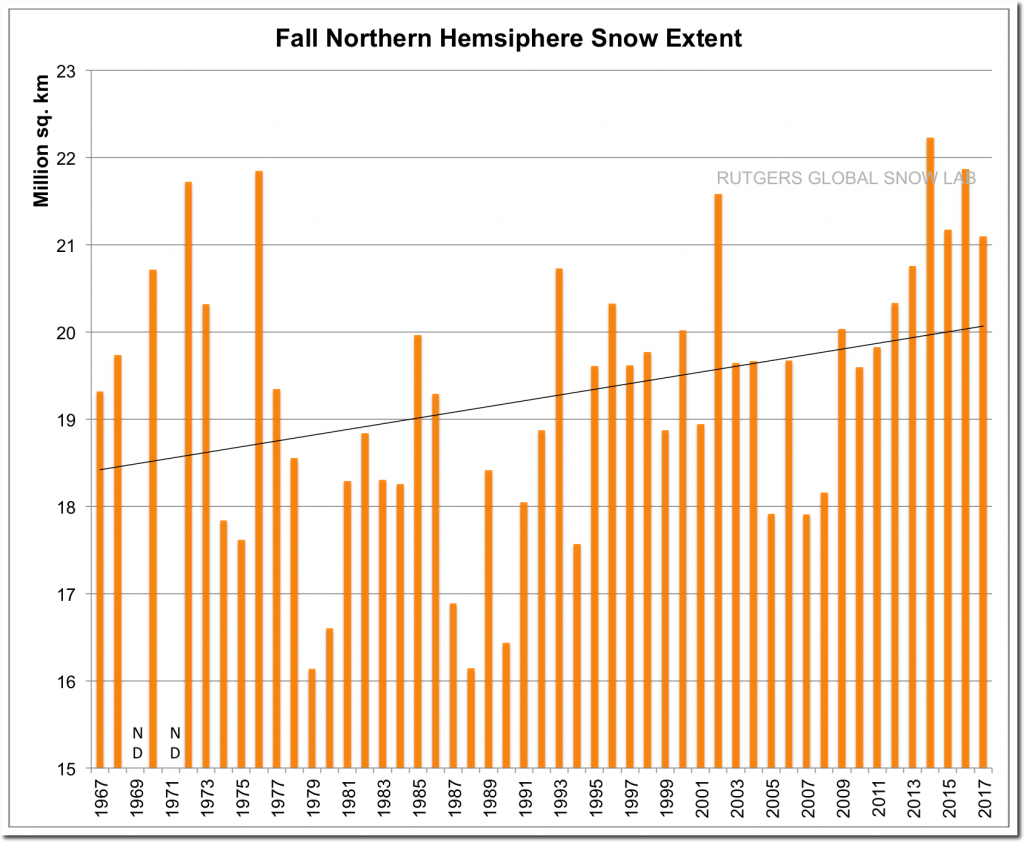 Most climate science is based around a superstition that CO2 controls the climate. It is one of the stupidest group think episodes in science history.
More
HERE
Energy Department Petitioned To Stop Making Dishwashers Even Crappier
A conservative think tank is petitioning the Department of Energy (DOE) to adopt a new energy efficiency standard for dishwashers that can cycle in an hour or less.
The Competitive Enterprise Institute (CEI) sent a petition to the DOE Wednesday, pointing out an unintended consequence of increasingly strict standards on energy and water standards: dishwasher cycle time.
"It used to take you only an hour to get a full load of dishes washed and dried in your dishwasher. Today, thanks to federal energy efficiency standards, the average time is nearly 2.5 hours," CEI General Counsel Sam Kazman said in a statement. "That's not progress; it's bureaucracy. And for many consumers, it's a royal pain. We hope the Department of Energy will change course."
Dishwasher cycle times have not averaged an hour or less since 1983, before the DOE began regulating dishwashers. A lengthy wash cycle time is one of four major sources of dissatisfaction Americans have with dishwashers.
In 1987, Congress passed the National Appliance Energy Conservation Act (NAECA), establishing minimum efficiency standards for many appliances, including dishwashers. Subsequent regulations increased standards and mandated the DOE keep to a schedule to review efficiency standards and update them as necessary.
Congress did not intend to sacrifice other features for an ever-increasing energy efficiency standard when passing NAECA and other regulations, and it passed a provision to "preclude DOE from promulgating a standard that manufacturers are only able to meet by adopting engineering changes that eliminate performance characteristics," the provision states, according to CEI.
The National Energy Conservation Act of 1978 gave the Secretary of Energy authority to create an entirely new class of appliance and set of standards within a type of product. Under this power, Energy Secretary Rick Perry could create a class of dishwasher that is able to complete a cycle in an hour without discarding the rules adopted so far.
The move would give manufacturers more flexibility in dishwasher design and as lines of one hour cycle dishwashers come to market, give consumers a choice of product no longer in existence due to government regulation, CEI argued.
"Dishwasher speed is an important factor for huge numbers of consumers," the CEI petition states. "Manufacturers clearly have the ability to satisfy these consumers, and the DOE has the discretion under the law to accommodate them. It should do so."
SOURCE
Astrophysicist – Mini Ice Age accelerating – New Maunder Minimum has started
"We are plunging now into a deep mini ice age," says astrophysicist Piers Corbyn. "And there is no way out."
For the next 20 years it's going to get colder and colder on average, says Corbyn.
The jet stream will be wilder. There will be more wild temperature changes, more hail events, more earthquakes, more extreme volcano events, more snow in winters, lousy summers, late springs, short autumns, and more and more crop failures.
"Carbon dioxide levels do not have any impact – I repeat, any impact – on climate," says Piers. "The CO2 theory is wrong from the start."
"The fact is the sun rules the sea temperature, and the sea temperature rules the climate."
"The basic message is that the sun is controlling the climate, primarily via the sea."
"What we have happening – NOW! – is the start of the mini ice age…it began around 2013. It's a slow start, and now the rate of moving into the mini ice age is accelerating."
"The best thing to do now is to tell your politicians to stop believing nonsense, and to stop doing silly measures like the bird-killing machines of wind farms in order to save the planet (they say), but get rid of all those things, which cost money, and reduce electricity prices now.
https://www.youtube.com/watch?v=zDBbfDbaiA4
Thanks to Argiris Diamantis and Eric9027 for this link
SOURCE
A New Zealand environmentalist who has a point
New Zealand dairy farmers have a higher number of cows than the environment can sustain, according to a government minister.
Environment minister David Parker warned of beefing up regulation in order to make New Zealand's waterways swimmable again when he appeared on TVNZ's Q+A program on Sunday.
Because of the country's increasing dairy cattle density, a growing amount of animal faeces has ended up into waterways.
The pollution has resulted in a rise in potentially fatal pathogen and E Coli. New Zealand has by far the highest documented rate in the world of the infection.
Mr Parker told Q+A host Corin Dann on Sunday that dairy farmers will have change their practices or consider destocking.
'Cow numbers have already peaked and are going down, but yes, in some areas, the number of cows per hectare is higher than the environment can sustain,' Mr Parker said.
'That won't be done through a raw cap on cow numbers; it will be done on nutrient limits, the amount of nutrient that can be lost from a farm to a waterway, because it's not just a dairy cow issue.'
There were 10.08 million cattle (3.61 million beef and 6.47 million dairy) in the New Zealand in 2017, according to Stats New Zealand.
'The total number of dairy cattle increased 68.6 percent, from 3.84 million in 1994 to 6.47 million in 2017,' the website states.
'However, from 2012 this increase slowed to 0.45 percent (up 28,826 in 2017 from 6.45 million in 2012).'
Mr Parker ruled out compensation for farmers who could be forced to reduce destock. 'No you don't compensate people for stopping pollution. Just because you could pollute last year doesn't mean you should be allowed to do it all, or paid to stop doing it.'
The minister admitted no analysis on the economic impact it will have on farmers has been done, particularly in regional areas.
'But it's very, very difficult to model, because second-best from the farmer perspective may still be very close to the same outcome profit-wise,' Mr Parker said.
'Can I go back to what I was saying that I think one of the answers to this in south Canterbury, for example, lies in land use change towards more cropping, more horticulture, which are high-value land uses.'
Mr Parker said reversing some of the environmental damage 'does require changes in behaviour over time.'
'I don't think it's unreasonable for New Zealanders that their rivers in summer are clean enough to swim in, put their head under without getting crook,' he said.
The minister wouldn't say when regulation would be implemented.
Mr Parker said it was part of his government's 2017 election commitment to cleaning up New Zealand's waterways.
'I've spent a lot of my life trying to fight for environmental causes. This is my last time through cabinet, and I'll have failed as a politician if I don't use my position now to stop this [happening],' he said.
It could be a hot topic at the DairyNZ Farmers' Forum in Hamilton this week (May 8-9), where business and political leaders will discuss New Zealand's dairy sector and its future.
SOURCE
Big Greenie Rally against plan to build cable car up Tasmanian mountain
There's never any end to their protesting. Building dams, cutting down trees, there's always something they are against. They talk as if the cable car will make the mountain shrivel up and disappear. In reality the cable car will simply allow more people to enjoy the mountain.

But Greenies always do want to restrict access to natural features by non-Greenies. It's stark elitism. They think they are the only ones who deserve the privilege of entering natural areas. Only they have the "sensitivity" required



It's just another local mountain

Thousands of people descended on Cascade Gardens in South Hobart to protest against a plan to run a cable car up to the summit of Mount Wellington-kunanyi.
So many people were packed into the park for the Mountain Mayday rally — held near the proposed base station for the project — that some had to stand outside the fence on the road in order to see.
The speakers included Tasmanian author Richard Flanagan, former Australian Greens leader Bob Brown and independent MP Andrew Wilkie.
They said the process for the cable car development had been corrupt and lacking transparency and community consultation.
Mr Flanagan talked down the likelihood the cable car project would ever get up, likening its chances to MP Rene Hidding getting the Speaker's role that was snatched away from him by fellow Liberal Sue Hickey earlier this week.
"The Hobart cable car company says the Hobart public support the cable car," he said.
"Rene Hidding's more likely to become Speaker than you can believe a word the cable car company says.
"The cable car company says they'll take the kids free up to the top of the mountain. "Well, I've got some news — the mountain's always been free. Kids have been enjoying it forever and I was one of them.
"I've loved the mountain since I was little. To have this wonderland, this thumb of the southwest sitting itself into the pie of our city always seemed to be a miracle.
"I've walked all over it, camped in snow caves as a kid, I climb the zig-zag most weeks, I've watched the snow swirl round the columns of the organ pipes and I've walked on into the wonder."
Referring to the state's housing crisis, Mr Flanagan asked: "Why is this government more interested in building a cable car than houses for the homeless?"
Bob Brown said "kunanyi is in our safekeeping and kunanyi will be saved from this cable car".
Independent MP Andrew Wilkie told the crowd the strong support the Hodgman Government had provided the sole proponent of the project, the Mount Wellington Cable Car company (MWCC) led by Adrian Bold, had put many people offside.
"This is a monumental achievement to get so many of us so cross," he told the crowd.
"Even those people that support the idea of a cable car, or are at least open minded to the idea of a cable car, even they're getting cross now because what they see is unacceptable.
"In the last week, I had one person who supports the cable car say 'but it really should be publicly owned'.
"I heard someone else say I support the cable car and I think it should be privately owned but I'm worried it's going to be bailed out by the taxpayer."
Government Minister Michael Ferguson said the process was transparent and had been proven so.
"You couldn't be more transparent than the Minister for State Growth [Peter Gutwein] cancelling a permit to ensure best practices are being followed," he said.
"There is a Green constituency in Tasmania that will never accept any development on Mount Wellington and that is what you are seeing.
"We understand there's different points of view on the cable car, but overwhelmingly people of Tasmania do support that [the cable car], voted for that and expect us to get on with it."
Luke Martin from the Tourism Industry Council of Tasmania said the public needed to consider the alternatives.
"Within a few years there is likely to be more than a million people heading to the summit each year," he said.
"It is simply unsustainable to continue to have more and more vehicles and tour buses driving up a century-old road and a seemingly ever-expanding car park.
"What do they propose we do? Shuttle buses that mean expanding the summit road? Limiting visitor numbers through some kind of fee or quota system?
"Ironically, across the globe it is conservationists who are pushing for the development of cable way technologies."
On Monday Mr Bold said the MWCC was not deterred by the protest and the large turnout.
[It] doesn't necessarily change our view of what the social licence should be," he said.
"We're quite aware that there are hundreds of thousands of people who didn't go to Cascade Gardens. "We've been listening to the people for a good six, seven-and-a-half years now and meeting with residents one-on-one, collecting and responding to thousands of emails. "We just have to stick it out, essentially."
The proposal from the MWCC has faced stiff opposition from conservationists and sectors of the Hobart community since it was announced that preliminary drilling works had been approved days before the state election.
SOURCE
***************************************
For more postings from me, see DISSECTING LEFTISM, TONGUE-TIED, EDUCATION WATCH INTERNATIONAL, POLITICAL CORRECTNESS WATCH, FOOD & HEALTH SKEPTIC and AUSTRALIAN POLITICS. Home Pages are here or here. Email me (John Ray) here.
Preserving the graphics: Most graphics on this site are hotlinked from elsewhere. But hotlinked graphics sometimes have only a short life -- as little as a week in some cases. After that they no longer come up. From January 2011 on, therefore, I have posted a monthly copy of everything on this blog to a separate site where I can host text and graphics together -- which should make the graphics available even if they are no longer coming up on this site. See
here
or
here
*****************************************