2016 weather report: Extreme and anything but normal (?)
Dedicated Warmist, Seth Borenstein, has put up an extensive farrago of claims below, which are all designed to advance the global warming theory. Most of them are easily debunked but there are so many of them that I would have to spend half a day doing that. Instead I will concentrate on the central issue: Temperature. Unless there was a substantial temperature rise all the rest falls flat.

And there was indeed a temperature rise. Both 2015 and 2016 were unusually warm years. According to NASA the J-D temperature anomalies for 2015 and 2016 were respectively .87 and .99 of a degree Celsius. Most years before that during this century were around .65. So those two years were hotter than usual by about a quarter or a third of one degree: Extremely trivial is the only extreme thing about that. Certainly the 2016 temperature was a lot more trivial than you would gather from the shriek below.

But if that was a continuing effect it could be important. So was the rise a lasting effect or just an example of El Nino at work? Does it indicate a lasting trend or not? We don't of course have a figure for 2017 yet. The most recent figure is for June -- and it is back in the .60s -- .69 in fact. It was .68 in June, 2005.

So it's true that 2016 was a slightly exceptional year but that has now run its course and we are back to a temperature stasis. Goodbye 2016 and welcome to a routine 2017.

But a 1922 version of Seth Borenstein might also be of interest: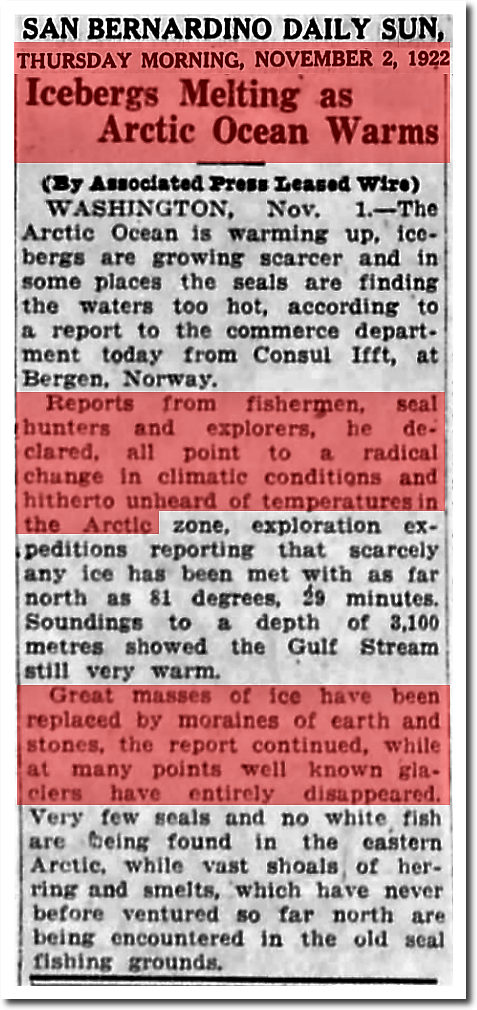 That was 95 years ago. The more things change, the more they stay the same. Putting together a collection of adverse weather events proves nothing.

Berfore I close, however, let me mention just one of the claims below about unusual weather. They claim: "There were 93 tropical cyclones across the globe, 13 percent more than normal."

But look at the graph below from Ryan Maue.




Ryan Maue is a research meteorologist for the private sector firm WeatherBELL Analytics and an adjunct scholar at the Cato Institute. He has developed and maintained a popular weather maps and climate data service based on the world's best numerical weather prediction systems.

His data show a DECLINE -- Fewer cyclones recently, with the 80s and 90s being the peak period

You shouldn't believe all you read in the papers

Last year's global weather was far more extreme or record breaking than anything approaching normal, according to a new report.
The U.S. National Oceanic and Atmospheric Administration on Thursday released its annual checkup of the Earth, highlighting numerous records including hottest year, highest sea level, and lowest sea ice in the Arctic and Antarctica.
The 299-page report, written by scientists around the world and published in the Bulletin of the American Meteorological Society, shows that 2016 was "very extreme and it is a cause for concern," said co-editor Jessica Blunden, a NOAA climate scientist.
Researchers called it a clear signal of human-caused climate change. A record large El Nino, the warming of the central Pacific that changes weather worldwide, was also a big factor in last year's wild weather.
"2016 will be forever etched in my brain as the year we crossed a new threshold of climate change — one that gave us a grim glimpse into our future," said Georgia Tech climate scientist Kim Cobb, who had no role in the report.
Here's what you need to know about the government report on climate change. For starters, it's real.
Scientists examined dozens of key climate measures and found:
— At any given time, nearly one-eighth of the world's land mass was in severe drought. That's far higher than normal and "one of the worst years for drought," said report co-author Robert Dunn of the United Kingdom Met Office.
— Extreme weather was everywhere. Giant downpours were up. Heat waves struck all over the globe, including a nasty one in India. Extreme weather contributed to a gigantic wildfire in Canada.
— Global sea level rose another quarter of an inch (3.4 millimeters) for the sixth straight year of record high sea levels.
— There were 93 tropical cyclones across the globe, 13 percent more than normal. That included Hurricane Matthew that killed about 1,000 people in Haiti.
— The world's glaciers shrank — for the 37th year in a row — by an average of about 3 feet (1 meter).
— Greenland's ice sheet in 2016 lost 341 billion tons of ice (310 billion metric tons). It has lost 4400 billion tons (4000 billion metric tons of ice since 2002.
"2016 was a year in the Arctic like we've never seen before," said NOAA Arctic research chief Jeremy Mathis, who called it "a clear and more pronounced signal of warming than in any other year on record."
Many of the findings have been previously released, including that 2016 was the hottest year on record for the third consecutive year. A separate study based on modeling and weather patterns shows three hot years in a row is close to impossible to be a natural coincidence.
The odds of three years in a row setting heat records without man-made global warming is only 0.7 percent, compared to 30 to 50 percent with greenhouse gases according to a separate study published Thursday in the Geophysical Research Letters.
NOAA report co-editor Deke Arndt said the only notable normal global measure in 2016 was snow cover in the Northern Hemisphere.
SOURCE
Massachusetts approves major new rules to cut carbon emissions
Issuing regulations will do little. Where are the methods to implement the regulations? No mentions below except for a dream of a vast fleet of electric cars. And who is going to buy them? That power plants will be required to cut emissions from nearly 9 million metric tons of carbon dioxide in 2018 to 1.8 million metric tons in 2050 is amusing. How are they going to do that?
A little more than a year after the state's highest court ruled Massachusetts had to do more to cut carbon emissions, state officials Friday will issue sweeping new regulations that set specific limits on sources of greenhouse gases, the emissions linked to climate change.
The new rules, swiftly criticized as insufficient by environmental advocates and unfair by the power industry, aim to reduce the state's carbon emissions 25 percent below 1990 levels by 2020, as required by state law.
The tougher standards, which will focus on the transportation and energy sectors, could cause utility costs for ratepayers to climb as much as 2 percent a year, state officials said.
"Combatting and preparing for the impact of climate change remains a top priority of our administration," Governor Charlie Baker said in a statement. "These regulations will help ensure the Commonwealth meets the rigorous emission reductions limits."
The new regulations, which take effect in January, seek to reduce emissions from natural gas leaks, power plants, the state fleet of passenger vehicles, other parts of the transportation sector, and electrical system components.
In a meeting with reporters on Thursday, Matthew Beaton, the state's secretary of the energy and environmental affairs, said he was "very confident" the stricter emissions limits will allow the state to comply with the 2008 Global Warming Solutions Act, which mandated the 25 percent decline.
"We feel we're in a good position to meet the immediate goals," he said.
Energy and environmental officials said that, as of 2014, the state had already reduced emissions by 21 percent, a figure that environmental advocates dispute.
For that reason, some environmental advocates contend that the new rules don't go nearly far enough and belie Baker's pledge to intensify efforts to reduce emissions since President Trump pulled the United States out of the Paris climate accord in June.
Craig Altemose, executive director of 350 Mass, an environmental advocacy group in Cambridge, called them "weak regulations.'' "This move shows Baker's stance on climate is more posturing than policy," he said.
But Dan Dolan, president of the New England Power Generators Association, said the rules "violate the intention and plain reading" of the 2008 law, which also required the state to reduce carbon emissions to 80 percent below 1990 levels by 2050.
"In doing so, these regulations are expected to increase regional emissions and costs for consumers," Dolan said. "That simply cannot be what was intended."
Under the state's plan, nearly 90 percent of emissions reductions will come from the electricity sector, although the state's power plants have already reduced emissions by 60 percent since 1990, far more than any other sector, he said.
While the regulations might reduce emissions in Massachusetts, they could backfire by causing electricity production to be diverted to less efficient power plants outside the state that might use more polluting energy sources, such as coal or oil, Dolan has said.
"These regulations make the problem worse, not better," he said.
Beaton noted the regulations mainly aim to comply with the 2020 requirements, and aggressive action is necessary to meet 2050's targets.
He also said Massachusetts needs to do more to reduce transportation emissions, which now account for more greenhouse gases than any other sector of the state's economy.
"The whole world is wrestling with the transportation sector," Beaton said. "We are cognizant that we won't hit our 2050 goals without transportation."
State officials said they've been working with other states, as well as provinces in Canada, on regional solutions to reducing transportation emissions.
The state has already joined others in the region in a pledge to register 300,000 electric vehicles by 2050; the state has 11,000 electric vehicles, or less than 1 percent of all registered vehicles in Massachusetts.
The rules also require utility companies and other power providers to obtain 16 percent of their energy from clean sources, such as wind and solar, in 2018. That requirement will increase by 2 percentage points a year until 2050, when 80 percent of their power must come from emissions-free sources.
The state's remaining 21 fossil fuel power plants will be required to cut emissions from nearly 9 million metric tons of carbon dioxide in 2018 to 1.8 million metric tons in 2050.
The regulations also require the state Department of Transportation to set specific, declining annual limits on emissions from their vehicles. Utilities will be required to set similar, declining limits on methane leaks from natural gas mains.
Advocates from the Conservation Law Foundation, whose 2014 lawsuit led to last year's ruling by the Supreme Judicial Court, had mixed feelings about the state's regulations.
He noted that the regulations exempt 44 town-owned utilities — which are responsible for about 15 percent of the state's electricity supply — from the requirement to buy an increasing amount of renewable energy every year.
"While we're disappointed that these regulations exempt these towns from having to purchase clean energy, they do put the commonwealth as a whole back on track to meet our near-term carbon pollution limits and establish a clean, renewable energy future," said David Ismay, a senior attorney at the foundation, which is in Boston.
Other advocates said they were concerned about the lack of emissions caps between 2020 and 2050, and urged the Legislature to set interim requirements for reducing carbon emissions in 2030 and 2040.
"This will ensure that this and future administrations constantly focus on emission reductions as statutory requirements and not as aspirations," said Jack Clarke, director of public policy at Mass Audubon.
Beaton noted that the administration has already set targets for 2020 and 2030, but he declined to say whether the administration would support the bill that would make the targets legal obligations.
SOURCE
No self-insight at all
Albert Gore is shocked that Lord Lawson was interviewed about global warming "despite having no scientific qualifications or training". Since Gore's only qualifications are in theology and political science, that is a bit rich. As a former Chancellor of the Exchequer, Lord Lawson is more erudite than Gore will ever be
Al Gore said he was shocked after the BBC "engaged in climate change denial" this morning.
The former Vice-President was speaking to James O'Brien this morning to discuss his new film An Inconvenient Sequel.
Earlier in the day, he appeared in an interview on the BBC where Mr Gore was stunned to hear Lord Lawson, who was invited on to dispute scientific claims on climate change, despite having no scientific qualifications or training.
Mr Gore told LBC: "It's shocking how the BBC is engaged in climate denial, isn't it?
"I had a personal experience with it this morning. It's really shocking."
Mr Gore insists that the scientific proof is absolutely clear - and compared climate change deniers with the doctors that claimed tobacco did not cause lung cancer last century.
SOURCE
Lamar Smith Slams NYT 'False Allegations,' 'Fake News' of 'Leaked' Climate Report
"The alarmist climate media is at it again," U.S. House Science Committee Chair Rep. Lamar Smith declared Tuesday after liberal media pounced on a debunked New York Times report claiming it exclusively obtained a "leaked" report the Trump Administration may be trying to cover up.
The supposedly-leaked and suppressed report had, in fact, been publicly available for months before the New York Times reported its "scoop" - forcing the Times to publish a correction to its story. But, as Newsbusters analysis shows, that didn't stop liberal news networks from sensationalizing and repeating the discredited story:
"On Monday, all three networks pounced on the story, speculating about the Trump administration's nefarious plans. Good Morning America's George Stephanopoulos warned, "No word yet on whether they will suppress, dismiss, or endorse the report." (Isn't it hard to suppress something that's already public?)
"On CBS This Morning, Major Garrett offered a lecture on what the document means: "The lack of comment from officials here and from those at some of the relevant federal agencies about this report's startling conclusions suggest not just skepticism but, at least initially, a lack of curiosity."
"The three networks did not inform their audiences on Tuesday that the secret report was not, in fact, secret."
The false reports prompted U.S. House Science, Space, and Technology Committee Chairman Lamar Smith (R-Texas) to lash out at liberal media for their agenda-driven "fake news" on the draft climate assessment reported on by the New York Times.
Rep. Smith blasts the New York Times for its "exaggerated statements and false allegations":
"The alarmist climate media is at it again. In its latest reporting of a so-called leaked climate assessment the New York Times relies on exaggerated statements and false allegations of cover-ups in order to push an agenda.
"To treat a climate report that has been public for months and is currently undergoing official comment by numerous federal agencies as a final document does a disservice to the American people. In numerous instances, the report fails to examine some of the most current data. For example, the impact of El Nino on the climate is completely downplayed and misconstrued to conflict with historical reports."
By their "attempts to falsely link" climate change to weather events, media are violating the principles of scientific integrity – and merely reporting "fake news," Smith concludes:
"Moreover, this alarmist reporting attempts to falsely link extreme weather events to climate change, when the data has never suggested this. Making temperature predictions far into the future has proven to be nothing more than speculation, and goes against the principles of scientific integrity. We should treat this document for what it is, an unfinished draft that requires serious revision. To report it in any other way is just fake news."
SOURCE
Ending the EPA's Billion-Dollar Green Energy Rip-Off
How Agency Regulators Leverage the Courts to Create their own "Power of the Purse"
The U.S. Environmental Protection Agency (EPA) in recent years has established a pattern of making industrial policy through legal settlements. In effect, the agency has abused its regulatory enforcement authority to create its own de facto power of the purse by leveraging enforcement actions to drive spending in support of policies that have not been enacted by Congress. Guidelines to safeguard against obvious separation of powers concerns raised by the EPA's extra-statutory "mitigation" projects have been ineffective. Hopefully, Attorney General Jeff Sessions's recently announced policy against federal abuse of legal settlements will end what to date has been a $1.55 billion EPA program to fund bureaucratic priorities never approved by Congress.[1]
Congress has subsidized renewable energy and electric vehicles to some extent.[2] However, since 2005, the EPA—assisted by the Justice Department—has used settlements in 18 Clean Air Act enforcement actions to move $1.55 billion in private-sector funds to renewable energy, energy efficiency, and electric vehicle infrastructure projects without congressional authorization.[3] The EPA calls these green energy projects "mitigation," which are defined as "injunctive relief sought by the government to remedy, reduce or offset past—and in some cases ongoing—harm caused by the alleged violations in a particular case."[4]
The EPA's promotion of green energy projects through "mitigation" is inappropriate policy making by an administrative agency. A data set of green energy mitigation projects shows that the agency has diverted $1.55 billion toward its own priorities, funds that would otherwise have remained in private hands or gone to the Treasury as penalties subject to congressional appropriation. A new Justice Department policy barring settlement payments to third parties may prevent the EPA from pursuing such settlements. However, lawmakers should ensure that freelance policymaking through "mitigation" has ended once and for all.
EPA's Negotiation of Green Energy Projects into Settlements. The EPA Office of Enforcement and Compliance Assurance (OECA) enforces the nation's environmental laws.[5] Over the last decade, OECA's enforcement activities have sought to implement industrial policy through the inclusion of so-called "mitigation" actions in settlements negotiated with alleged violators of environmental statutes. In a 2012 guidance document, OECA described the agency's pursuit of mitigation actions as being a function of injunctive relief:
In settlement of certain civil environmental enforcement cases, consent decrees negotiated by EPA and Department of Justice typically include injunctive relief obligations to ensure that defendants' future operations are in compliance with the law. … However, at least one other form of injunctive relief is available to the government under appropriate circumstances: relief requiring a defendant to remedy, reduce, or offset harm caused by past or ongoing violations. This relief is often referred to as "mitigation" or "mitigation actions."[6]
Mitigation actions can take the form of physical improvements or operational changes at the facility liable for pollution.[7] However, the EPA also negotiates mitigation actions that go "beyond the fence-line" of the defendant's manufacturing facility. Since 2005, the EPA and the Justice Department have reached 18 judicial settlements pursuant to Clean Air Act enforcement actions, including:
$74.4 million spent on renewable energy projects;
$257 million spent on energy efficiency projects; and,
$1.2 billion spent on electric vehicle infrastructure.
All but two settlements allocating a combined total of $7 million were negotiated during the Obama administration.
Congress has never delegated authority or appropriated money for the EPA to fund and oversee projects for renewable electricity generation, energy efficiency, and electric vehicles. Instead of congressional intent, OECA roots the legal foundation for mitigation in the power of the judiciary:
Mitigation derives from courts' authority to employ all equitable remedies necessary to achieve complete justice. This fundamental principle derives from the English common law tradition and is a long-standing element of American legal doctrine. Where the public interest is involved, a court's equitable authority is curtailed only by a clear signal from Congress.[8]
As a statutory basis for mitigation actions, OECA cites provisions of environmental laws that recognize the courts' equitable powers as a means of providing remedy for violations.[9] On the basis of these theories, OECA reasons that "EPA's ability to obtain mitigation in settlement is based on the likelihood that, in litigation, the United States could establish mitigation was needed to redress past or ongoing harm to the environment and public health."[10]
The EPA proposes mitigation projects under threat of civil penalties for the regulated entity.[11] OECA guidance states: "A defendant's willingness, especially if demonstrated early in negotiations, to perform certain mitigation actions as part of a settlement might provide a rational for some reduction in the gravity-based penalty."[12]
While the agency stresses that civil penalty reductions are not guaranteed when a defendant agrees to undertake a mitigation project,[13] an industry counsel who has been on the other side of the negotiating table confirms that regulated entities are motivated by the prospect that every dollar spent on a mitigation project results in more than a dollar's decrease in civil penalties.[14]
EPA Safeguards Do Not Protect Against Constitutional Aggrandizement by the Executive Branch. OECA's use of judicial settlements to advance green energy projects raises the troubling prospect that the EPA is performing an end-run around congressional appropriations. While the EPA has established a number of safeguards to ensure against impermissible usurpation of Congress' appropriations power, these safeguards have failed to effectively limit OECA's discretion. It has created a "power of the purse" independent of Congress.
More
HERE
***************************************
For more postings from me, see DISSECTING LEFTISM, TONGUE-TIED, EDUCATION WATCH INTERNATIONAL, POLITICAL CORRECTNESS WATCH, FOOD & HEALTH SKEPTIC and AUSTRALIAN POLITICS. Home Pages are here or here. Email me (John Ray) here.
Preserving the graphics: Most graphics on this site are hotlinked from elsewhere. But hotlinked graphics sometimes have only a short life -- as little as a week in some cases. After that they no longer come up. From January 2011 on, therefore, I have posted a monthly copy of everything on this blog to a separate site where I can host text and graphics together -- which should make the graphics available even if they are no longer coming up on this site. See
here
or
here
*****************************************