What an airhead!
The fantasy below is by Ida Auken, a Member of the Parliament of Denmark and a priest of the Church of Denmark. She is a member of a radical Leftist party and as Green as they come




Her fantasy set out below reminds one powerfully of an earlier fantasy, which predicted that "the state will wither away" (Marx, Engels, Lenin) -- which was a very bad prophecy. The State in fact grows rather than recedes. She thinks private property will wither away, which is also Marxist and just as improbable. Her prophecy dismisses almost the whole of human experience.

Ida's idea seems to be that a coming era of robotics will abolish the need to work. But that prophecy has been made many times as machines became more and more sophisticated. Yet the proportion of the population working remains much the same through all these changes. People's needs and wants expand as the possibilities do.

And private property is now way more extensive than ever before. Kitchen gadgets alone have proliferated enormously. I have an electric crockpot, an electric can-opener, an electric rice-cooker, a microwave oven, an electric sandwich maker etc. My parents had none of those even in their declining years.

The actual trend in society is massively opposite to what the poor deluded woman hypothesizes. The brain beneath her blonde hair clearly has some twisted bits in it. She is high on dreams. Her no. 1 passion seems to be recycling, which is quite labor-intensive. One wonders how that fits in with her dream of idleness below

Welcome to the year 2030. Welcome to my city - or should I say, "our city". I don't own anything. I don't own a car. I don't own a house. I don't own any appliances or any clothes.
It might seem odd to you, but it makes perfect sense for us in this city. Everything you considered a product, has now become a service. We have access to transportation, accommodation, food and all the things we need in our daily lives. One by one all these things became free, so it ended up not making sense for us to own much.
First communication became digitized and free to everyone. Then, when clean energy became free, things started to move quickly. Transportation dropped dramatically in price. It made no sense for us to own cars anymore, because we could call a driverless vehicle or a flying car for longer journeys within minutes. We started transporting ourselves in a much more organized and coordinated way when public transport became easier, quicker and more convenient than the car. Now I can hardly believe that we accepted congestion and traffic jams, not to mention the air pollution from combustion engines. What were we thinking?
Sometimes I use my bike when I go to see some of my friends. I enjoy the exercise and the ride. It kind of gets the soul to come along on the journey. Funny how some things seem never seem to lose their excitement: walking, biking, cooking, drawing and growing plants. It makes perfect sense and reminds us of how our culture emerged out of a close relationship with nature.
"Environmental problems seem far away"
In our city we don't pay any rent, because someone else is using our free space whenever we do not need it. My living room is used for business meetings when I am not there.
Once in awhile, I will choose to cook for myself. It is easy - the necessary kitchen equipment is delivered at my door within minutes. Since transport became free, we stopped having all those things stuffed into our home. Why keep a pasta-maker and a crepe cooker crammed into our cupboards? We can just order them when we need them.
This also made the breakthrough of the circular economy easier. When products are turned into services, no one has an interest in things with a short life span. Everything is designed for durability, repairability and recyclability. The materials are flowing more quickly in our economy and can be transformed to new products pretty easily. Environmental problems seem far away, since we only use clean energy and clean production methods. The air is clean, the water is clean and nobody would dare to touch the protected areas of nature because they constitute such value to our well being. In the cities we have plenty of green space and plants and trees all over. I still do not understand why in the past we filled all free spots in the city with concrete.
The death of shopping
Shopping? I can't really remember what that is. For most of us, it has been turned into choosing things to use. Sometimes I find this fun, and sometimes I just want the algorithm to do it for me. It knows my taste better than I do by now.
When AI and robots took over so much of our work, we suddenly had time to eat well, sleep well and spend time with other people. The concept of rush hour makes no sense anymore, since the work that we do can be done at any time. I don't really know if I would call it work anymore. It is more like thinking-time, creation-time and development-time.
For a while, everything was turned into entertainment and people did not want to bother themselves with difficult issues. It was only at the last minute that we found out how to use all these new technologies for better purposes than just killing time.
SOURCE
Almost middle of summer and still no Northwest Passage
As they say, a picture is worth a thousand words.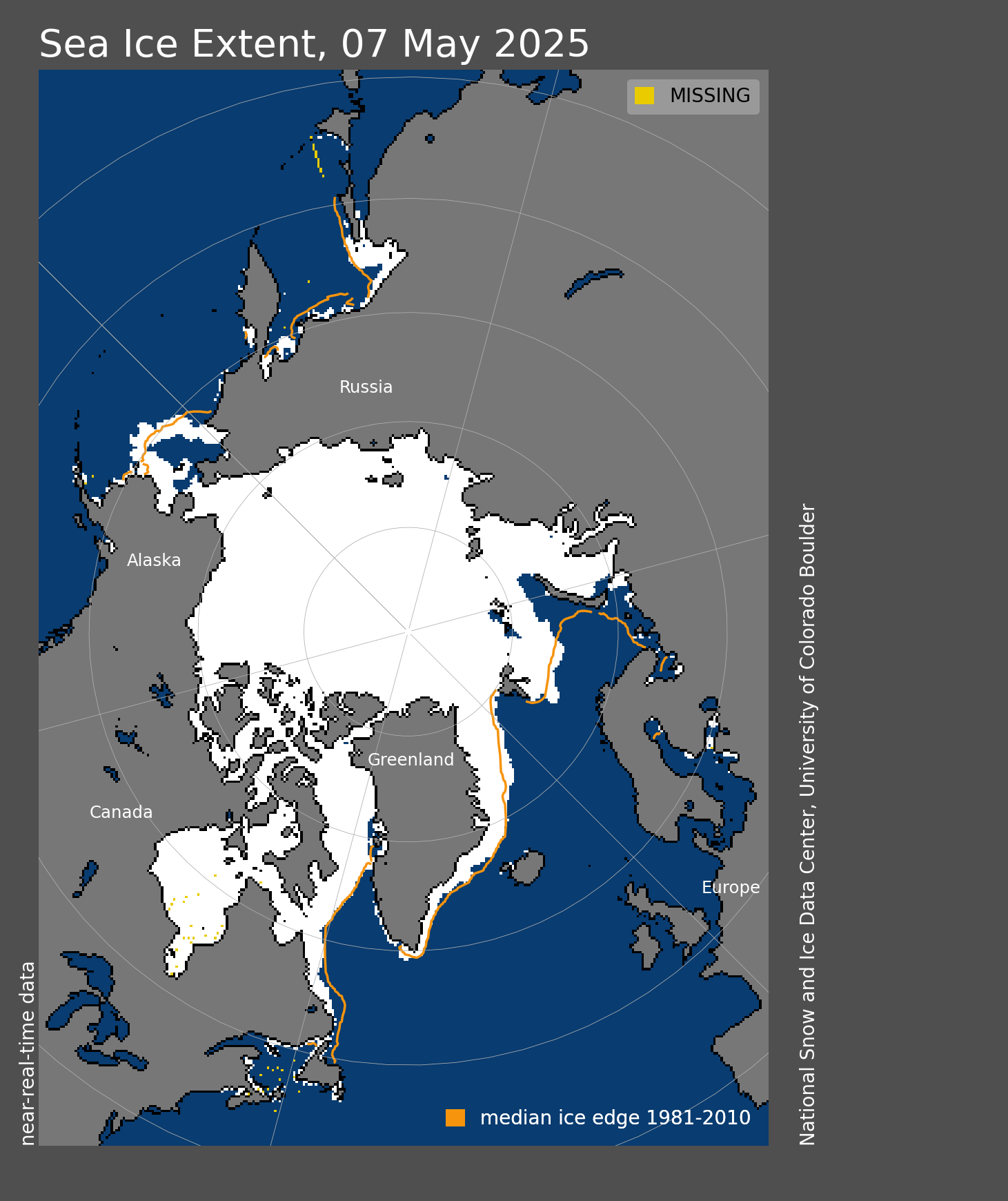 Marin, San Mateo counties sue Big Oil over climate change
Two Bay Area counties and a Southern California city concerned about rising sea levels sued 37 of the world's biggest oil and coal companies Monday, claiming the fossil fuel giants should pay for damages wrought by climate change — a first-of-its-kind challenge that some liken to the high-stakes litigation of the tobacco industry in the 1990s.
Marin County, San Mateo County and Imperial Beach (San Diego County) filed separate but nearly identical lawsuits in their respective Superior Court offices that seek to tie fossil fuel development to climate-related problems in coastal areas. Lawyers for the three communities worked together to document such effects as more frequent flooding and beach erosion as well as the possibility that water will eventually inundate roads, airports, sewage treatment plants and other real estate.
The lawyers contend that the oil companies knew about the damage their actions were causing, denied it and sought to discredit scientific findings that greenhouse gas emissions were heating the Earth's atmosphere.
The suits are the latest in a small but growing effort to hold Chevron, ExxonMobil, BP, Shell and other major energy companies accountable for the effects of global warming. Legal experts say the challenge is more comprehensive than previous endeavors, and is based on better climate science and more evidence to support a claim of conspiracy among oil company executives.
SOURCE
Steve Goddard comments: "Apparently no one told these left-wing morons that sea level isn't rising in the San Francisco Bay.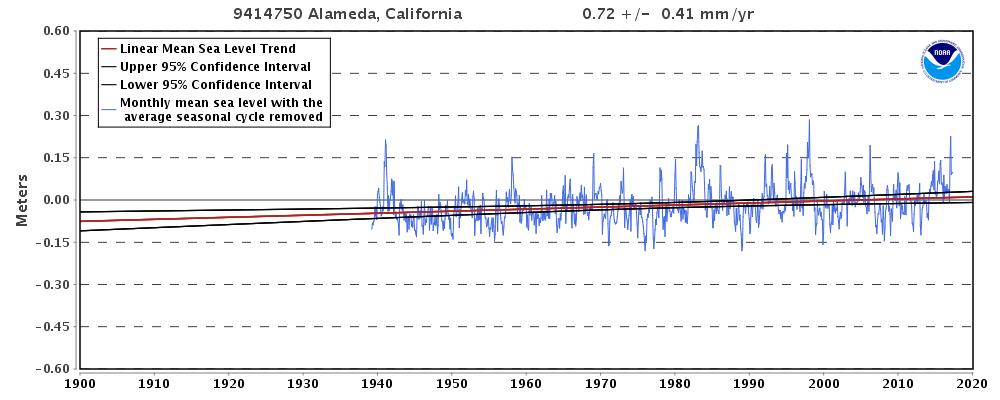 And as far as San Diego county goes, sea level there has hardly changed in 145 years. Please put me on the witness stand. I will have the plaintiffs crying for mercy in about five minutes. King Canute must be rolling in his grave at the stupidity on display by Democrats
The magic of 59 degrees -- where did it go?
Just exactly how much has the climate changed in recent decades? Longtime New York Times readers can be forgiven if they are now thoroughly confused on the matter.
Anyone old enough to have been a Times reader in the late 1980s may recall a series of stories that helped educate the public on how cool our planet used to be. Here's one report from March of 1988:
"One of the scientists, Dr. James E. Hansen of the National Aeronautics and Space Administration's Institute for Space Studies in Manhattan, said he used the 30-year period 1950-1980, when the average global temperature was 59 degrees Fahrenheit, as a base to determine temperature variations."
The paper returned to the topic in June of that year, and reminded readers of the planet's colder past:
"Dr. Hansen, who records temperatures from readings at monitoring stations around the world, had previously reported that four of the hottest years on record occurred in the 1980's. Compared with a 30-year base period from 1950 to 1980, when the global temperature averaged 59 degrees Fahrenheit, the temperature was one-third of a degree higher last year."
The following year, the paper reported a new record high in global temperatures and affirmed its climate history, which seemed to be the consensus view—at least among scientists quoted by the Times:
"The British readings showed that the average global temperature in 1988 was 0.612 degrees Fahrenheit higher than the long-term average for the period 1950 through 1979, which is a base for comparing global temperatures. The average worldwide temperature for that 30-year period is roughly 59 degrees Fahrenheit, the British researchers said."
In 1991, the Times reported yet another record high, and published yet another reminder of how cool the planet used to be:
"The Goddard group found that the record average surface temperature for the globe was eight-tenths of a degree Fahrenheit above the 1951-1980 average of 59 degrees. The British group found it seventh-tenths of a degree higher than the 1951-80 average."
By that point a reasonable consumer might have been ardently hoping to return to that magical era in which global temperatures averaged just 59 degrees. But in the ensuing years it must have been difficult for Times readers to stay hopeful. As the years and then the decades rolled by, The Times routinely reported record or near-record highs as global temperatures appeared to march ever higher.
In January of this year, the newspaper published a feature entitled, "How 2016 Became Earth's Hottest Year on Record." The Times noted the disturbing news that "2016 was the first time that the hottest year on record occurred three times in a row." And things could be about to get much worse. "We expect records to continue to be broken as global warming proceeds," climate enthusiast Michael Mann told the Times.
Is there any way to return to the salad days of 59 degrees? Well, it turns out to be easier than you might think. In January, as the government's National Oceanic and Atmospheric Administration was reporting the third consecutive year of record highs, it noted that the average global temperature in 2016 had surged to a sizzling... 58.69 degrees.
Over the years researchers seem to have concluded that the planet was not as hot as they thought. Oops.
The most important facts in the climate debate are subject to frequent revisions. This doesn't mean the global warming thesis is wrong, but it argues for skepticism. The Journal's Holman Jenkins noted in 2015:
"By the count of researcher Marcia Wyatt in a widely circulated presentation, the U.S. government's published temperature data for the years 1880 to 2010 has been tinkered with 16 times in the past three years."
While waiting for the science to settle, this column's advice to Times readers is to go ahead and fly around the world on the newspaper's luxurious jet—if you don't mind the company.
SOURCE
Australia: Who's afraid of the big bad climate monster?
IN Al Gore's latest cinematic dose of climate scaremongering, a young Asian man is crying.
"I feel so scared" he wails, before vision of solicitous uncle Al patting his hand in an attempt to soothe away his fears of the apocalypse.
Scaremongering is what Gore does best, and fear is the business model that has made him rich, though his every apocalyptic scenario has failed to materialise.
In Australia last week to spruik his upcoming movie An Inconvenient Sequel, the former US vice president tried it on again, claiming Mother Nature was "screaming" and the world would ­descend into "political disruption and chaos and diseases, stronger storms and more ­destructive floods" unless we buy his snake oil.
Silly Labor premiers bought that snake oil last week, pledging alongside the grinning Gore that Victoria, Queensland, the ACT and South Australia would embrace renewables to produce zero net emissions by 2050.
They haven't learned the lesson from SA's extreme green experiment with renewable energy that has produced nothing but crippling blackouts and the highest electricity prices in the world.
Any normal person with such a woeful record of accuracy as Gore would be ashamed to show his face. Eleven years after his Inconvenient Truth movie scared little kids witless, his warnings of climate armageddon have come to nothing.
"Unless we take drastic measures the world would reach a point of no return within 10 years," he told us then. Wrong. In fact the world has just been through almost 20 years in which there has been a hiatus in global warming, even as carbon dioxide has increased: an "inconvenient pause" as some wags put it.
Around the world people are waking up to the fact that their leaders have been crying wolf, while their electricity bills go through the roof.
Australia's prosperity is built on the reams of cheap, abundant fossil fuel under our feet, and yet green zealots have forced us into an energy crisis.
But when Liberal backbencher Craig Kelly last week pointed out the logical fact that Australians will die because of high power bills, he was slammed as a "scaremonger" by the very people who worship at Al Gore's feet.
Yes, cold kills, and electricity prices have doubled in the past decade, as uncertainty plagues the energy sector, and cheap coal-fired power is priced out of the market by government subsidies for unreliable renewable energy production.
The states, which bear much of the blame, continue with the fantasy that you can replace coal with wind and solar while simultaneously banning the development of onshore gas fields.
The iron-clad law of ­energy supply is that more ­renewables force out baseload power, which you need when the sun doesn't shine and the wind doesn't blow.
Yet SA is pretending that the world's biggest battery built at huge taxpayer expense by another global green huckster, Elon Musk, is going to save the day.
The diabolic task facing federal Energy Minister Josh Frydenberg is to wrangle agreement on something approaching a rational energy policy out of the recently ­released Finkel Review.
Unlike Donald Trump, this government doesn't have an electoral mandate for pulling out of the Paris treaty.
Tony Abbott was a climate sceptic yet he signed us up to the Paris renewable energy target of slashing emissions by 26-28 per cent by 2050.
That was all he could get through Senate where even mining millionaire Clive Palmer had been got at by Al Gore. So this is where we are.
Appointing Alan Finkel as chief scientist was one of Malcolm Turnbull's first tasks after he deposed Abbott. Like Turnbull, Finkel is a climate true believer who drives an electric car and powers his South Yarra home on ­renewables.
He's also an accomplished scientist and entrepreneur with a PhD in electrical ­engineering.
He's smart but he has produced a report bullish on renewables and bearish on coal.
Finkel is right that wimpish investors have deserted coal in Australia and that electricity prices have soared because of the uncertainty that ensued since Labor's vandalism from 2007.
But coal is nowhere near obsolete. As the Australian Minerals Council points out, coal is the world's leading source of electricity and will be till at least 2040.
In our region countries are busy building new clean coal plants. In East Asia alone 1250 new plants are under construction or planned.
Yet in the past eight years in Australia not a single new baseload coal or gas generation unit has been built.
That has to change.
Turnbull has now come around to that realisation, telling the Liberal National Party state convention in Brisbane yesterday: "Those people who say coal and other fossil fuels have no ­future are delusional."
Fossil fuels are here to stay, despite Al Gore.
SOURCE
***************************************
For more postings from me, see DISSECTING LEFTISM, TONGUE-TIED, EDUCATION WATCH INTERNATIONAL, POLITICAL CORRECTNESS WATCH, FOOD & HEALTH SKEPTIC and AUSTRALIAN POLITICS. Home Pages are here or here. Email me (John Ray) here.
Preserving the graphics: Most graphics on this site are hotlinked from elsewhere. But hotlinked graphics sometimes have only a short life -- as little as a week in some cases. After that they no longer come up. From January 2011 on, therefore, I have posted a monthly copy of everything on this blog to a separate site where I can host text and graphics together -- which should make the graphics available even if they are no longer coming up on this site. See
here
or
here
*****************************************