The latest bit of lying propaganda from the NYT
We read
:
"In recent days, American Airlines has been forced to cancel more than 40 flights in Phoenix. The reason: With daytime highs hovering around 120 degrees, it was simply too hot for some smaller jets to take off. Hotter air is thinner air, which makes it more difficult — and sometimes impossible — for planes to generate enough lift.

As the global climate changes, disruptions like these are likely to become more frequent, researchers say, potentially making air travel costlier and less predictable with a greater risk of injury to travelers from increased turbulence.

"We tend to ignore the atmosphere and just think that the plane is flying through empty space, but of course, it's not," said Paul D. Williams, a professor in the Department of Meteorology at the University of Reading in Britain who studies climate change and its effect on aviation. "Airplanes do not fly through a vacuum.

The atmosphere is being modified by climate change."

This is another "evergreen", trotted out whenever we get hot weather, to re-inforce the global warming faith.
However, as usual there is more behind the headline:
We also read:
"American Airlines canceled flights using Canadair Regional Jet (CRJ) equipment. These are the business jets that cover routes between hubs and smaller markets. Larger passenger jets are rated to tolerate higher temperatures, well above those currently being experienced in the American Southwest—after all, planes also fly from Dubai, Riyadh, and Cairo.

The CRJ's history might play a role in its airworthiness under extreme heat. CRJs are currently made by Bombardier, a multinational transportation manufacturer. Bombardier bought the CRJ line from Canadair, a Canadian state aerospace company. These jets were originally designed for business use, and only later developed to serve the commercial regional jet market.

They were not necessarily intended for use in all conditions and markets, nor to be packed full of passengers like they are today. (Bombardier did not immediately respond to a request for comment.)

That circumstance is a consequence of deregulation and consolidation in the American airline market. When regulation demanded that airlines serve all markets, larger jets serviced smaller airports. But as those requirements lifted, and as more airlines merged, even once-thriving hubs like Cincinnati, St. Louis, and Memphis have become minor markets.

Airlines began relying on equipment like the CRJ, because they can transport a smaller number of people at a lower cost. Were the affected flights on Boeing large jets instead, there would be no question about their ability to fly."

Phoenix of course, is HOT. Record high for June is 1990, at 122 F, 50C. It seems everything is really pretty normal, but hey, it's Global Warming, right?

As usual,
Tony Heller
has the detail about Arizona heat
H/T Dennis Ambler
Does Nuclear Energy Have a Future in the United States?
In May, the U.S. Energy Information Administration released a daily energy briefsummarizing the current and future state of nuclear energy production in America. According to the EIA, nuclear's share of the nation's electricity generating capacity will drop from 20 percent to 11 percent by 2050. That decline coincides with a predicted growth in electricity demand of up to 92 percent—nearly doubling current consumption—over the same period.
Nuclear-powered plants can produce reliable, base-level electricity—typically generated by fossil fuels—with zero carbon emissions. Engineering innovations have resulted in advanced nuclear reactors that are much safer, more efficient, and more affordable than reactors currently in use. Such technology should have a promising future as a part of the U.S. energy portfolio. Unfortunately, regulatory requirements here at home have driven the cost of bringing new reactor technology to market so high that power companies are instead lobbying for billions in subsidies to keep decades-old technology in operation.
Transatomic, a company founded by nuclear engineers from MIT, are developing molten salt reactors that are "walk-away" safe (they do not require constant supervision), and produce less than half as much radioactive waste yearly as traditional nuclear reactors. The scientists at NuScale Power have developed a small modular nuclear reactor (SMR) that can be assembled in a factory and shipped on a flatbed truck, reducing up-front construction costs and providing more flexibility for electricity providers. Because of their small size, SMRs also cannot melt down. Bill Gates' nuclear company (TerraPower) has designed a traveling wave reactor that can run continuously for 40 years, eliminating the need for refueling as the reactor consumes all of its original fuel.
In order to get their technologies to market, nuclear innovators must navigate a complex, burdensome regulatory framework established decades ago in the name of public safety. Innovation has put to rest many of the safety concerns that regulation was meant to protect us from. This regulation now operates mainly as a barrier to clean, affordable energy. NuScale Power's SMR technology offers perhaps the best hope of next generation nuclear finding its way to the US power grid, but even that may take a decade or more to become reality.
In the beginning of 2017, NuScale submitted the first-ever design certification for a SMR in the United States. That application, 12,000 pages long, must be reviewed by the Nuclear Regulatory Commission. At the end of the 40-month review period, the NRC will issue NuScale a design certification for their reactor. That certification will be valid for 15 years, during which time NuScale will file for a combined license to build and operate that plant. The licensing process will take another 5 years, after which time construction finally can begin.
The NRC charges $265 per professional staff-hour to review permits, licenses, and other required documentation. According to Mason Baker, Chief Legal Officer for the Utah Area Municipal Power Supply (which is working with NuScale to build their first SMR), UAMPS relies on a 50 percent financial partnership with the Department of Energy to cover initial development costs. Without such support, the cost of regulatory compliance—which Baker estimated would amount to seven figures by the end of the submission process—would prevent the project from ever getting off the ground.
TerraPower signed an agreement with China National Nuclear Corporation at the end of 2015 to build its reactor design overseas. The company hopes eventually to bring the technology back home.
If the U.S. wants a future of diversified, clean energy, the NRC needs to reform the way it permits and licenses nuclear technologies. The current framework effectively stymies innovation and forces nuclear companies to rely heavily on government support. Heavy government involvement in energy production does not make for a healthy, competitive energy market.
SOURCE
Study Finds Fracking Doesn't Harm Drinking Water in Texas
Hydraulic fracturing hasn't contaminated groundwater in Texas, isn't an earthquake hazard, and has been a boon for the state's economy, according to a study released Monday.
The new study's conclusions on drinking water are in line with multiple other studies of hydraulic fracturing, popularly known as fracking.
Hydraulic fracturing is the process of drilling into rock and injecting a high-pressure mixture of water, sand, and chemicals to obtain shale gas and oil, which is produced from fractured rock. Some environmentalists argue that it can harm water supplies.
The report initiated by the Academy of Medicine, Engineering and Science of Texas, based in Austin, asserted that "direct migration of contaminants from targeted injection zones is highly unlikely to lead to contamination of potential drinking water aquifers."
Americans need an alternative to the mainstream media. But this can't be done alone. Find out more >>
To conduct the three-year study, the academy assembled a panel called the Task Force on the Environmental and Community Impact of Shale.
"In Texas and pretty much everywhere, hydraulic fracturing has not been proven to have an adverse impact on drinking water," Christine Ehlig-Economides, a professor of petroleum engineering at the University of Houston who is chairwoman of the task force, told The Daily Signal.
The study examined the impact of fracking on drinking water.
"The average annual water use for hydraulic fracturing activities in 2011 and 2012 in Texas was about 20 billion gallons of water," the report said, citing an Environmental Protection Agency study from last year. "Because this volume represents on 0.2 percent of total water use in the state, and 0.7 percent of total state consumptive use, it might be considered small."
The study also explored the impact of fracking in five other areas: geology and earthquake activity; land resources; air quality; the economy; and society. It found generally positive results for each.
However, in a sixth category, transportation, the report found that fracking produced a surge of trucks, damaging pavement at an estimated cost to state taxpayers of $1.5 billion to $2 billion per year.
Even so, the study concluded that fracking adds $473 billion to the Texas economy and created 3.8 million jobs.
"Texas has had a long history of oil and gas technology for the world," Economides said. "Has it had environmental impacts? Yes, it has since it started in the 1850s. But over that time, the industry has learned and corrected those mistakes."
Last year, the Obama administration's Environmental Protection Agency completed a five-year study that didn't find evidence of widespread contamination as a result of fracking. The EPA said fracking can affect drinking water "under some circumstances," but didn't cite any confirmed instances and determined there were too many uncertainties about existing data of contamination.
The Texas academy study cited a 2011 Groundwater Protection Council study, which found that 10 of the 211 contamination incidents examined occurred because of drilling and none was related to fracking.
The Texas academy study asserted that direct fracking into rock affecting the state's drinking water supply "has not been observed in Texas."
In March, a U.S. Geological Survey of 116 wells across Louisiana, Arkansas, and Texas found fracking was not a major source of chemicals and methane in drinking water wells. It concluded that the detected levels of methane were likely naturally occurring.
A University of Texas study found methane levels from well water in two Texas counties, Parker and Hood, weren't the result of North Texas's Barnett Shale, after a sample of 479 wells in those counties.
A Duke University study dated July 2017 noted a "lack of changes in water quality observed in drinking-water wells following the installation of nearby shale-gas wells."
SOURCE
EPA Ends $1 Million Taxpayer-Funded Gym Membership Program
The Environmental Protection Agency has ended a nearly $1 million program that provided gym memberships for employees.
The new administration under EPA administrator Scott Pruitt identified the gym memberships as an abuse of taxpayer dollars. Examples of the program's misuse included $15,000 for gym memberships for 37 EPA scientists in Las Vegas last year.
"We have ended taxpayer-funded fitness centers at EPA; a program that was costing American taxpayers $900,000 per year," said EPA spokesperson Jahan Wilcox. "Disinvestment in using federal funds for EPA fitness centers will allow the agency to invest this money in core activities to protect the environment."
Pruitt vowed an end to taxpayer-funded programs after the Washington Free Beacon report on the agency spending $15,000 on gym memberships in Las Vegas, earlier this year. Employees in the U.S. Environmental Science Division billed taxpayers $399 each for gym memberships, even though employees had access to a "state-of-the-art" gym on the University of Nevada, Las Vegas (UNLV) campus.
The campus gym includes a relaxation room with massage chairs, fitness assessments, personal trainers for hire, a registered dietician, a spa and leisure pool, indoor jogging, and a "gender neutral bathroom."
The EPA began notifying employee unions last week that the agency is discontinuing fitness subsidies and fitness center funding, according to an EPA official.
The benefits will officially end on July 31, and no additional funds for fitness centers will be provided. For facilities that already have gym equipment that is paid for, the EPA will no longer pay for the maintenance of the equipment and will not purchase any new equipment.
The Trump administration has proposed cutting the EPA budget by 31 percent.
SOURCE
Australia's Chief Scientist accidentally exposes the lie of Australia's climate policies that are de-industrialising Australia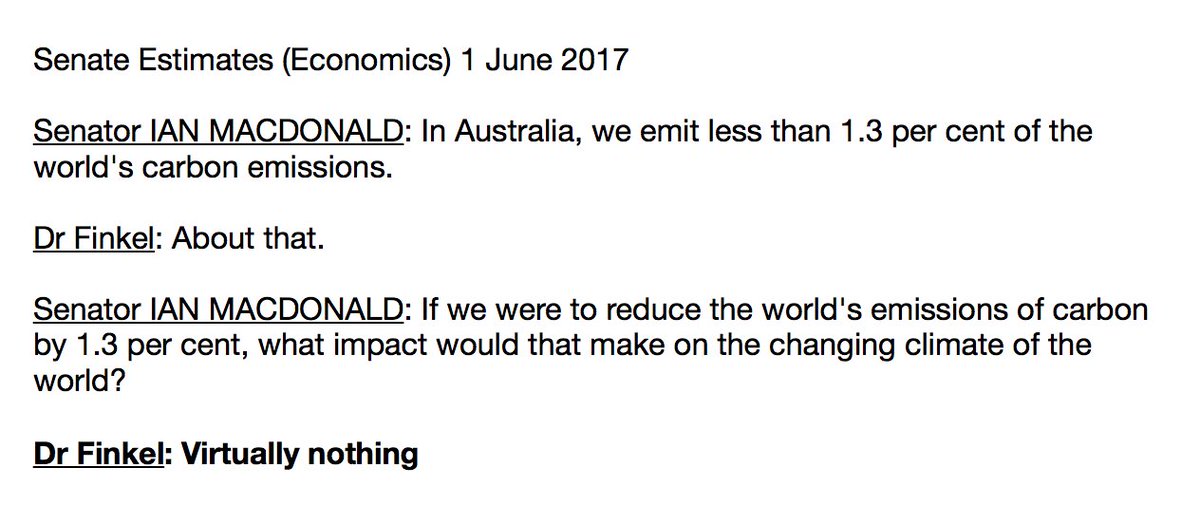 ***************************************
For more postings from me, see DISSECTING LEFTISM, TONGUE-TIED, EDUCATION WATCH INTERNATIONAL, POLITICAL CORRECTNESS WATCH, FOOD & HEALTH SKEPTIC and AUSTRALIAN POLITICS. Home Pages are here or main.html or here. Email me (John Ray) here.
Preserving the graphics: Most graphics on this site are hotlinked from elsewhere. But hotlinked graphics sometimes have only a short life -- as little as a week in some cases. After that they no longer come up. From January 2011 on, therefore, I have posted a monthly copy of everything on this blog to a separate site where I can host text and graphics together -- which should make the graphics available even if they are no longer coming up on this site. See
here
or
here
*****************************************