Another blast from the past -- via Steve Goddard
40 years ago, the National Academy of Sciences wanted to evacuate 6 million people to save them from global cooling.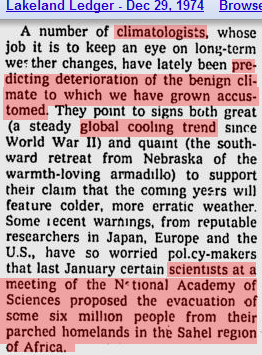 Climate change will allegedly make food TASTE bad: Global warming will lead to tougher meat and flavourless carrots
It's all Warmist theory-based prophecy. Karoly is an old shell-backed Warmist. And we know how good Warmist prophecies are

But let me mention some facts instead. If warming is bad for flavour, fruit from the Tropics should be insipid. But I grew up in the tropics and I can assure you that tropical fruit are yummy: Pawpaws and mangoes are of course well-known but there are also Granadillas, Soursops, Custard apples and other fruit which are little known because they do not travel well -- but which are very tasty indeed. If you've never eaten Granadilla and ice-cream, you haven't lived. And the sad things called pawpaws outside the tropics are nowhere nearly as good as pawpaws straight off the tree.
As for any overall shortage of food being caused by warming, that is utter nonsense. Plantlife flourishes in warm climates like nowhere else. It almost leaps out and grabs you at times in the tropics
For those hoping global warming will bring more opportunities for a summer barbecue, there may be disappointment ahead - climate change is likely to make steaks and burgers far less appetising.
In a major report on the impact of global warming on food, scientists have concluded that the quality of many meats and vegetables is due to decline at temperatures increase.
The researchers predict that as heatwaves become more common, steaks and other meats are likely to become stringier and tougher - putting the traditional barbecue at risk.
Popular vegetables like carrots are also likely to become less flavoursome and have a less pleasant texture.
Potatoes are likely to suffer far more from blight, which rots the tubers and makes them inedible.
Onions could get smaller if temperatures early in the season increase while fruit and nut trees in some regions may not get cold enough to signal fruit development.
The report, produced by scientists at the University of Melbourne, also warned that milk yields could decrease by up to 10-25 per cent as heatwaves grow more common.
Lower levels of grain production could also hit dairy cattle, meaning their milk contains less protein, which would result in poorer quality cheese.
Professor Richard Eckard, director of the primary industries climate challenges centre at the University of Melbourne, said: 'It's definitely a wake up call when you hear that the toast and raspberry jam you have for breakfast, for example, might not be as readily available in 50 years time.
'Or that there may be changes to the cost and taste of food items we love and take for granted like avocado and vegemite, spaghetti bolognaise and even beer, wine and chocolate.
'It makes you appreciate that global warming is not a distant phenomenon but a very real occurrence that is already affecting the things we enjoy in our everyday lives, including the most common of foods we eat for breakfast, lunch and dinner.'
The scientists assessed the impact of the changing climate on 55 foods grown in Australia and other parts of the world.
It predicted that as weather conditions get warmer, with heatwaves and other extreme events increasing in frequency, agricultural production will be hit hard.
The cost of apples could rise as farmers try to combat damage from extreme temperatures on fruits like apples by using shade cloths.
Heat stress will have a particular impact on meat production with cattle and chickens suffering in higher temperatures and affecting their appetite.
This will mean meat is likely to be be tougher and more stingy.
Pigs could have particular problems in the heat as they do not possess sweat glands.
Avocados are also likely to get smaller in warmer temperatures as the plants get stressed while the trees themselves will flower far less.
Temperatures above 27 degrees can cause beetroot flowering stems to grow early and result in smaller bulbs, while the vegetable can also lose some of its distinctive red colouring in warmer temperatures.
Professor David Karoly, an atmospheric scientists at the University of Melbourne and one of the co-authors of the report, said countries like Australia, where drought is already a major problem, are likely to be worse hit.
He said: 'Global warming is increasing the frequency and intensity of heatwaves and bushfires affecting farms across southern and eastern Australia, and this will get much worse in the future if we don't act.
'It's a daunting thought when you consider that Australian farms produce 93% of the food we eat.'
SOURCE
Solar power is now becoming more affordable (?)
Some dubious thinking from South Africa. When you read the article, it turns out that what they mean is: because the ESKOM utility company raised the tariffs by 25.3%, now more people will be using solar energy. Because it may be cheaper to opt out of the grid
Eskom plans to increase electricity tariffs by up to 25.3%, could mean that homeowners and businesses are increasingly using solar power.
Janine Myburgh, president of the Cape Chamber of Commerce and Industry, said yesterday that its tariffs are becoming more expensive, while increasingly becoming more affordable to use solar power.
The underlying problem is that Eskom is selling less electricity than a decade ago. Almost a quarter of Eskom's power stations do not generate power because of maintenance or because something was wrong, said Myburgh.
"The less electricity supplied by Eskom, the more shrinkage income from power sales. Eskom to try to solve this by increasing electricity tariffs, but now Eskom is becoming increasingly expensive, while solar power becoming more affordable. "
Eskom's biggest problem is its expenses. Last year it was calculated that Eskom's coal accounts for the increase in the six years to 2014 to R19 billion to R70 billion per year. In this period the utility increased its number of employees from 11,515 to 46,919, Myburgh said.
"Eskom's expenses rise, therefore, while power sales drop. Eskom has a big problem with the productivity of its employees and maintenance that is not done. "
Myburgh said the Eskom dilemma has also had a positive result. Green and renewable energy is becoming increasingly popular as people are forced to use solar panels and solar water heaters to avoid the constantly rising utility rates.
Chris Haw, managing director of Future Energy Sola, who constructed among others the roof-top solar power system at the Black River Park office complex in Observatory, explained solar power is a way to avoid the expensive Eskom.
When the owner of a building decided to invest in solar energy, there is a fixed expense to its budget because the solar power system is guaranteed for 25 years.
Businesses that have mostly energy needs through the day may fit well with solar energy, making it a good choice to be more independent of Eskom.
SOURCE
(Translated from Afrikaans by John Ray with a lot of help from Google Translate)
Radical environmentalism's death campaigns
Its anti-DDT war is a lethal "death-rate solution" imposed on Third World countries
Paul Driessen
The terms racism, white supremacy, crimes against humanity are bandied about so often that they have become almost meaningless. But they are absolutely appropriate in an arena where they are too rarely applied: radical environmentalism's campaigns that perpetuate poverty, disease and death, by denying Earth's most impoverished and powerless people access to modern life-saving technologies.
Imagine activist groups preventing you from having your child vaccinated against polio or hepatitis, or from starting her on chemotherapy for leukemia – because they are "concerned" about "possible side-effects" and the "ethics" of permitting such "risky" procedures. Absurd! you say. Outrageous!
Of course it is. But that is what radical environmentalists are doing to Third World countries. By denying people access to abundant, reliable, affordable electricity, modern fertilizers and biotech seeds, and especially DDT to prevent malaria and other insect-borne diseases, they are killing millions every year.
Many of my articles have documented this. Now a new film written, self-financed and produced by Dr. D. Rutledge Taylor, MD graphically presents powerful new evidence of how the Audubon Society, Sierra Club, other predominantly white environmentalist pressure groups and the U.S. Environmental Protection Agency conspired to hide and discredit scientific evidence, and wage a campaign of disinformation and outright lies, to ban the most effective weapon yet devised to prevent malaria and other vicious diseases.
3 Billion and Counting: The death toll is mounting shows how DDT was invented on the eve of World War II and became a secret weapon that kept Allied soldiers on the battlefield, instead of in hospitals or graves. After the war, it was sprayed on millions of Europeans to prevent typhus. It then eradicated malaria in Europe, the United States and other developed nations. No one ever got sick from DDT.
Available on demand and through Amazon.com, You Tube, Google Play, iTunes and elsewhere, the film chronicles how Rachel Carson's wildly inaccurate book Silent Spring helped persuade the Audubon Society to launch the Environmental Defense Fund for the sole purpose of demanding a DDT ban.
Why would Audubon do such a thing? Its own research and Department of the Interior studies showed that bird and animal populations were exploding during the two decades when DDT was used most widely. Countless other studies documented that the life-saving chemical was safe for humans and most wildlife, including bald eagles. People actually tried to kill themselves with DDT – and repeatedly failed.
An EPA scientific panel conducted six months of hearings, compiled 9,312 pages of studies and testimony, and concluded that DDT was safe and effective, was not carcinogenic, and should not be banned. Nevertheless, without attending a single hour of hearings or reading a single page of the panel's report, EPA Administrator William Ruckelshaus banned U.S. production and use of DDT in 1972 – at a time when over 80% of the chemical was being exported for disease control.
Then why the attacks? As EDF scientist Charles Wurster said 1969, "If the environmentalists win on DDT, they will achieve a level of authority they have never had before." When asked later how he justified human deaths from pesticides that replaced DDT, versus the "mere loss of some birds," he said "organophosphates act locally and only kill farm workers, and most of them are Mexicans and Negroes."
Ruckelshaus said he had a political problem, and fixed it. He never considered the plight of malaria victims, and anti-DDT activists still ignore their agony and deaths. Audubon, EDF, Sierra Club, Greenpeace, World Wildlife Fund, Pesticide Action Network, Natural Resource Defense Council and other radical groups that oppose DDT just don't give a damn – even as they have become filthy, callously rich by opposing the life-saving chemical and other technologies.
Sierra Club executive director David Brower, Population Bomb author Paul Ehrlich and other arch-environmentalists believed the biggest problem facing Planet Earth was "uncontrolled growth" in human populations. Ehrlich argued that the "instant death control" provided by DDT exports was "responsible for the drastic lowering of death rates" in underdeveloped countries. Those countries were not practicing a "birth rate solution" – and thus needed to have "death rate solutions" imposed on them, via campaigns against energy, Golden Rice and other biotech crops, and especially DDT.
Almost 3.5 billion people worldwide are at risk of getting this horrific disease, 207 million are actually infected every year, and over 800,000 die year after year from malaria. The vast majority are children and pregnant women, and some 90% of them are in Sub-Saharan Africa. In that region, a child still dies every minute from malaria, and most African children have been brain-damaged to some degree by malaria. Worldwide, nearly 80% of all infectious diseases are spread by insects.
Malaria is certainly a disease of poverty. But poverty is a disease of malaria. It leaves victims too sick to work or care for their families, for weeks on end. Medicines and hospital stays drain families' meager savings. The disease costs tens of millions of lost work hours, billions in lost wages, and tens of billions for medicines and care in antiquated hospitals. It leaves entire nations impoverished.
However, spraying small amounts of DDT on the walls and eaves of cinderblock and mud-and-thatch homes, once or twice a year puts a long-lasting mosquito net over entire households. It keeps 80-90% of mosquitoes from even entering the homes; irritates any that do enter, so they leave without biting; and kills any that land. No other chemical, at any price, can do all this.
In response to these facts, anti-DDT pressure groups rail about risks that are trivial, illusory or fabricated. DDT is associated with low birth-weights, slow reflexes and weakened immune systems in babies, and could cause premature birth and lactation failure in nursing mothers, they claim.
Not one peer-reviewed scientific study supports any of this fear-mongering. Every one of these alleged problems is definitely associated with malaria and other endemic Third World diseases. And compared to the death and devastation that DDT could prevent, the alleged DDT risks are irrelevant.
However, constant deception and harassment by these groups have caused many health agencies and aid organizations to not use or fund DDT, and often other pesticides. Instead, they focus on bed nets, education, "capacity building," and treatment with drugs that are too often unavailable, counterfeit, or ineffective because the malaria parasites have become resistant to them.
Still, the efforts have been somewhat successful. Millions of women and young children now sleep under insecticide-treated nets. Millions now get diagnosed more quickly and receive better care and medicines, often at clinics where two doctors examine up to 400 patients a day. In 2010, the World Health Organization and Roll Back Malaria boasted of an 18% reduction in child mortality, compared with 2000.
But that is not nearly good enough. We would never tolerate 18% as "good enough," if American or European children's lives (or Greenpeace and EDF kids' lives) were at stake and a 90% reduction were possible – as it would be, if health workers were also eradicating mosquitoes and spraying DDT.
Instead, they protect Africans and Asians from minimal or illusory risks, by condemning them to agonizing deaths from readily preventable diseases. "They are using us in anti-DDT experiments," says Ugandan human rights activist Fiona Kobusingye. "They are playing with our lives."
They are also playing with American lives. Spraying clothes with DDT once a year would keep infected ticks away and prevent Lyme disease that leaves tens of thousands battling chronic, debilitating pain and illness for years, Dr. Taylor explains. But the same anti-pesticide radicals are dead-set against that.
Dr. Taylor ends his film by drinking 3 grams of DDT … in 2008 – with no ill effects, then or today.
Watch 3 Billion and Counting. Then contact these Big Green pressure groups and their staffs and board members, and the foundations, politicians and bureaucrats who support them. Tell them it's time to end their eco-manslaughter.
Paul Driessen is senior policy analyst for the Committee For A Constructive Tomorrow (www.CFACT.org), author of Eco-Imperialism: Green power - Black death, and coauthor of Cracking Big Green: Saving the world from the Save-the-Earth money machine. He is a featured expert in 3 Billion and Counting.
Via email
Feds To Block FEMA Funds For States That Deny Man-Made Global Warming
Well, there's one way to ensure that everyone buys into the man-made global warming hoax: extortion. Starting next year the Federal Emergency Management Agency (FEMA) will stop funds from going to states that refuse to believe that humans are causing climate change.
This news comes straight from the leftist eco-nuts at Inside Climate News, so you can be assured that it isn't a "paranoid" conservative interpretation of an innocuous FEMA regulation:
"The Federal Emergency Management Agency is making it tougher for governors to deny man-made climate change. Starting next year, the agency will approve disaster preparedness funds only for states whose governors approve hazard mitigation plans that address climate change".
Sounds pretty fascist to me. If you have the truth on your side, you do not need to force people to believe it. Only liars and charlatans resort to bullying tactics like this.
"This may put several Republican governors who maintain the earth isn't warming due to human activities, or prefer to do nothing about it, into a political bind. Their position may block their states' access to hundreds of millions of dollars in FEMA funds".
Basically it works like this: state governments must accept that man-made global warming is real and commit public funds to programs designed to mitigate the effects of it, even if it isn't real. State governments that fail to do this will loose out on millions, if not billions, in FEMA funds.
"Specifically, beginning in March 2016, states seeking preparedness money will have to assess how climate change threatens their communities. Governors will have to sign off on hazard mitigation plans. While some states, including New York, have already started incorporating climate risks in their plans, most haven't because FEMA's old 2008 guidelines didn't require it".
And it appears that this isn't just about global warming, but all things that environmentalist hate:
"This could potentially become a major conflict for several Republican governors," said Barry Rabe, an expert on the politics of climate change at the University of Michigan. "We aren't just talking about coastal states." Climate change affects droughts, rainfall and tornado activity. Fracking is being linked to more earthquakes, he said. "This could affect state leaders across the country."
What the hell does fracking have to do with global warming? Does this mean that states that allow fracking are also going to have funds withheld? Probably.
Don't go thinking this new regulation is a shakedown. According to FEMA spokeswoman Susan Hendrick forcing states to accept global warming as reality is actually just a way to "raise awareness and support for implementing the actions in the mitigation strategy and increasing statewide resilience to natural hazards."
Raise awareness? Sounds more like a fun run than a tyrannical mandate. Here's the best part about all this:
"The new federal rules don't require public involvement in the creation of states' disaster preparedness plans, eliminating the opportunity for environmental groups and concerned citizens to submit comments or concerns about the assessments".
So FEMA, an unelected body, will withhold vital funds from states if they don't believe in man-made global warming and there is to be no public debate or scrutiny. That's as Obama as it gets. I'm sure if this works out, he'll try a similar scheme for gun control, gay marriage, and abortion.
SOURCE
DOE Wind Fantasies (same assumptions, same results)
"Before Americans are asked to pay more billions for an energy resource that still, after 23 years, cannot stand on its own two feet, Congress should ask DOE to get out of the vision business and report on the practicality of wind energy reaching even 10% of the U.S. power market."
The Department of Energy, has once again buddied up with its friends in the wind industry to releasing an updated vision of how the United wind energy can achieve a 20% market share of the electricity (not total energy) market by 2030. This time, DOE went a step further to claim we could get to 10% wind by 2020 and a whopping 35% wind by 2050 (wind's current electric-market share is 4.5%).
A quick review of the report suggests it suffers the same flaws as DOE's last attempt from 2008. For example, using DOE's own numbers, between now and 2020 (5 years), the U.S. would need to:
1) Install another 52,000 MW of wind. That would be more than 10,000 MW per year;
2) Of this, 3,000 MW would be offshore, where none exists today. (DOE's analysis was completed before Cape Wind collapsed);
3) Improve overall capacity factors to 40% average where they have stagnated at 30% for years.
Obviously, we will not see a change in capacity factors for existing wind projects, so that means the next 52,000 MW will have to operate at efficiencies of roughly 50%. DOE's report, apparently banks on technology improvements between now and 2020 to achieve the increases in production. It also banks on the continuation of the wind production tax credit (PTC).
But what DOE seems to be downplaying is the fact that the wind PTC has never led to the type of wind development the agency is claiming possible.
The years when we had large deployments of wind turbines were tied to the 1603 cash grant program in place from 2009-2012. And these were discrete events – 2010 had 10,000 MW and 2012 had 13,000 MW – with an average across the four years of roughly 8,000 MW. In 2013, only 1,000 MW were installed after the cash grant program expired and the industry flushed it's project pipeline racing to get the grant money.
Whether DOE's vision has credibility is one question before us. The second is whether American taxpayers want, or can afford the "investment" in wind power. The federal budget deficit promises to be a major issue for reform in the 2016 elections, if not before.
According to EIA, wind energy received the largest share of direct federal subsidies and support in FY 2013, accounting for 37% of total electricity-related subsidies ($5,936 billion). Nearly three-fourths of FY 2013 wind energy subsidies were direct expenditures largely resulting from the grant program. FY 2013 did not represent the biggest payout for wind. Costs associated with the federal grant program are assigned to the year in which a project is placed in service. In FY 2010, 84% of Section 1603 grant payments went to wind energy.
Looking at the cost per megawatt hour paid to fund wind versus other beneficiaries, the numbers are staggering. The below table relies on data from EIA for the years 2007, 2010, and 2013.
These numbers represent only the federal subsidies paid to wind versus other technologies. Additional subsidies are available to wind through state renewable portfolio standards and integration costs borne by rate- and taxpayers.
Before Americans are asked to pay more billions for an energy resource that still, after 23 years, cannot stand on its own two feet, Congress should ask DOE to get out of the vision business and report on the practicality of wind energy reaching even 10% of the U.S. power market.
SOURCE
***************************************
For more postings from me, see DISSECTING LEFTISM, TONGUE-TIED, EDUCATION WATCH INTERNATIONAL, POLITICAL CORRECTNESS WATCH, FOOD & HEALTH SKEPTIC and AUSTRALIAN POLITICS. Home Pages are here or here or here. Email me (John Ray) here.
Preserving the graphics: Most graphics on this site are hotlinked from elsewhere. But hotlinked graphics sometimes have only a short life -- as little as a week in some cases. After that they no longer come up. From January 2011 on, therefore, I have posted a monthly copy of everything on this blog to a separate site where I can host text and graphics together -- which should make the graphics available even if they are no longer coming up on this site. See
here
or
here
*****************************************