British Labour Party leader Promises To Nationalise Britain's Energy Companies To Prevent 'Climate Catastrophe'
This makes not a scrap of sense but it may win a lot of votes
Jeremy Corbyn will nationalise all of Britain's energy companies in order to avoid the "climate catastrophe" threatened by global warming, the Labour leader said today.
Corbyn used his appearance at his party's "alternative models of ownership" conference in central London, to promise that he will buy up Britain's entire energy network.
"The challenge of climate change requires us to radically shift the way we organise our economy," he said.
"In 1945, elected to govern a country ravaged by six years of war, the great Attlee Labour Government knew that the only way to rebuild our economy was through a decisive turn to collective action. Necessary action to help avert climate catastrophe requires us to be at least as radical."
The Labour leader said his government would be part of a "wave of change" in favour of nationalising public utilities across the world.
"We can put Britain at the forefront of the wave of change across the world in favour of public, democratic ownership and control of our services and utilities," Corbyn said.
"From India to Canada, countries across the world are waking up to the fact that privatisation has failed, and taking back control of their public services.
The Labour leader raised the possibility of local communities being told to produce their own energy, which would then be hooked up to the national grid. "The greenest energy is usually the most local," he said.
"But people have been queuing up for years to connect renewable energy to the national grid. With the national grid in public hands, we can put tackling climate change at the heart of our energy system. To go green, we must take control of our energy."
Corbyn's announcement follows his similar calls to nationalise the railway network and other utilities.
Recent polling has found high support for Labour's agenda. A Populus poll, commissioned by the Legatum Institute last October, found that 83% of the public supported nationalising water providers, while 77% supported nationalising the electricity and gas networks and 76% supported nationalising the railway network.
However, business leaders today dismissed Corbyn's announcement as "missing the point."
"Labour's calls for nationalisation continue to miss the point," Neil Carberry, CBI Managing Director for People and Infrastructure, said,
"At a time when the UK must be seen more than ever as a great place to invest and create jobs, these proposals would simply wind the clock back on our economy.
"If Labour turns its back on good collaboration between the government and the private sector, public services, infrastructure and taxpayers will ultimately pay the price."
SOURCE
*******************************
EPA head Scott Pruitt says global warming may help 'humans flourish'
EPA administrator says 'There are assumptions made that because the climate is warming that necessarily is a bad thing'
Scott Pruitt, the head of the Environmental Protection Agency, has suggested that global warming may be beneficial to humans, in his latest departure from mainstream climate science.
The EPA administrator said that humans are contributing to climate "to a certain degree", but added: "We know humans have most flourished during times of warming trends. There are assumptions made that because the climate is warming that necessarily is a bad thing.
"Do we know what the ideal surface temperature should be in the year 2100 or year 2018?" he told a TV station in Nevada. "It's fairly arrogant for us to think we know exactly what it should be in 2100."
Pruitt said he wanted an "honest, transparent debate about what we do know and what we don't know, so the American people can be informed and make decisions on their own".
Under Pruitt's leadership, the EPA is mulling whether to stage a televised "red team blue team" debate between climate scientists and those who deny the established science that human activity is warming the planet.
Donald Trump has also repeatedly questioned the science of climate change, tweeting during a cold snap in December that the US "could use a little bit of that good old Global Warming that our Country, but not other countries, was going to pay TRILLIONS OF DOLLARS to protect against".
The EPA itself is unequivocal that warming temperatures, and resulting environmental changes, are a danger to human health via heatwaves, smoke from increased wildfires, worsening smog, extreme weather events, spread of diseases, water-borne illnesses and food insecurity.
Research has pointed to some potential benefits in certain areas of the world, such as areas of the Arctic opening up to agriculture and shipping as frozen soils thaw and sea ice recedes. Deaths from severe cold are also expected to drop, albeit offset by rising mortality from heatwaves.
Since being installed by Trump to lead the EPA, Pruitt has overseen the repeal or delay of dozens of environmental rules, including the Obama administration's clean power plan, which sought to curb greenhouse gas emissions from coal-fired power plants.
"There was a declared war on coal, a war on fossil fuels," Pruitt said in his Nevada interview. "The EPA was weaponized against certain sectors of our economy and that's not the role of a regulator. Renewables need to be part of our energy mix, but to think that will be the dominant fuel is simply fanciful."
SOURCE
MPs Warn UK Government Not To Drop Manifesto Pledge To Block Onshore Wind Farms
MPs have warned the Government not to drop its manifesto pledge to block onshore wind farms after ministers suggested the rules could be relaxed.
David Cameron's 2015 manifesto vowed to halt the spread of subsidised onshore wind turbines after more than 100 Conservative MPs wrote to the Prime Minister calling for wind subsidies to be scrapped.
But the dormant row over onshore wind farms threatens to reigniteafter energy ministers Claire Perry and Richard Harrington alarmed their backbench colleagues by revealing that they are working on ways to support future projects.
Ms Perry raised eyebrows late last year after saying that onshore wind "is absolutely part of the future" and that she is working on ways "to see how we might bring forward onshore wind, particularly for areas of the UK that want to deploy it."
Richard Harrington, the junior energy minister, has also said publicly that he sees "no reason" why onshore wind farms should not compete on a level playing field against other energy options vying for financial support.
Glyn Davies, the MP for Montgomeryshire in Wales, who played a leading role in the backbench campaign against onshore wind farms, said he was "alarmed" by the change of tone among energy ministers.
"I've spoken to Claire Perry because I wanted to let her know my view. The minister assured me that there hasn't been a change and I am a bit reassured by that," he said.
"We've got huge numbers of people who demonstrated their opposition previously and I think all those people would be reactivated if the Government changed its position," he warned.
SOURCE
Australia: Townsville is NOT dry because of global warming
Townsville is always pretty dry because of where it is. Why was Townsville founded? It has a negligible natural harbour, can't grow much, has no natural resources and only service industries.

Townsville was founded for one reason and one reason only. There is immediately behind it a gap in the Great Dividing Range and the gap is close to the coast. There are some small hills around the place -- who can miss the pink granite monolith of Castle hill? -- but nothing like the behemoths of the great Dividing Range elsewhere, like Mt. Bartle Frere and Bellenden Ker.

So Townsville was an ideal place to run bullock teams and later a railway from the coast through to some pretty good country inland, including the Charters Towers goldfields and the rich silver, lead and zinc mines of Mt Isa. Both trains and bullock teams are very bad at handling mountains but by starting out at Townsville, severe gradients could be avoided (maxing at 2%).

But the Great Dividing Range is the reason why the East coast strip of Queensland is generally so wet. When trade winds blow inland from the Pacific, they are heavily laden with moisture from ocean evaporation. They hit the mountains of the Great Divide and drop the moisture as rain. So a couple of hours drive to the North of Townsville are two of the highest mountains in the State -- Bartle Frere and Bellenden Ker. And guess what lies in their foothills? The town of Innisfail, one of the wettest places in the world.

So Townsville's reason for existence, a break in the Great Divide there is also the main reason why it is dry. You can't have your cake and eat it too. So the guff below is total nonsense. There's NO "invisible barrier that stops rain". It's the lack of a barrier that stops rain. Townsville will always be dry. It would not exist otherwise.

Townsville pipes in water from Mt Spec and Lake Paluma. And the Ross river has a dam on it which also supplies some water. So, with irrigation, Townville does grow crops and life is comfortable, even without much rain.

TOWNSVILLE could go from being the driest city in North Queensland to the wettest place in the state due to a quirk of global warming, a leading professor says.
Professor Ray Wills spoke to the Bulletin after a recent article which stated geography in Townsville could be to blame for the notorious "dome" — an invisible barrier that stops rain — and instead blames climate change.
Prof Wills is a commentator and adviser on sustainability and technology and responded to comments made by Thomas Hinterdorfer, a forecaster from weather group Higgins Storm Chasing.
Mr Hinterdorfer said the geography of Mount Stuart and other smaller surrounding hills were forming a barrier against rain.
Prof Wills noted Townsville had historically experienced wet periods and argued climate change was the real driver of the long dry period and failed wet seasons.
"Mount Stuart hasn't changed in height, however the climate has and it is changing as a result of global warming," he said.
Prof Wills said the phenomenon was linked to atmospheric circulation, temperature and rainfall.
He said Townsville temperatures were up and rainfall was down, especially in summer.
The Bureau of Meteorology's 2017 Annual Climate Survey showed Townsville was the driest of the coastal cities in North Queensland last year and had 30 per cent less rain than the long-term average.
Townsville received just 791mm in 2017, against the long-term average of 1128mm. It is the fifth consecutive year of below-average rainfall in Townsville. The city's residents also endured a year of hotter-than-average temperatures. But it might not stay dry for long.
Prof Wills said climate change was moving the "climate belt" — areas with distinct climates — south. "What Townsville could well be experiencing is what would have been a dry area further north that is being pushed southward," he said.
With places such as Tully to the north of Townsville — where average annual rainfall is more than 4000mm — that could mean a wet future for Townsville.
"That's a possible scenario," Prof Wills said, but it could take decades. He also said mountains surrounding Townsville complicated forecasts, as did oceanic currents and atmospheric circulation.
Prof Wills said although some areas could benefit from climate change, overall it should be treated as a concerning phenomenon.
SOURCE
Firsthand in Fukushima: Fish, Evacuations, and the Real Dangers of Our Opinions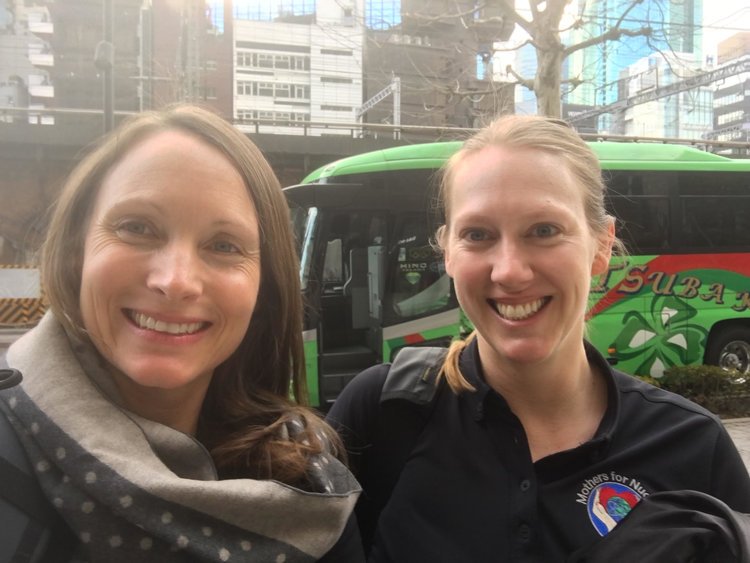 Ever since Heather and I launched Mothers for Nuclear on Earth Day, 2016, we have fielded a steady barrage of anti-nuclear sentiment from people who are not convinced about the merits of nuclear energy. One consistent taunt we hear is "go to Japan, go to Fukushima, then you'll see that nuclear energy is not the clean energy solution you say it is." So, on one chilly day in February of 2018, we accepted the challenge.
The timing could have been better. Besides the winter cold, I am six months pregnant and girding myself for the inevitable accusations that I am an irresponsible mother. Piles of research papers fill the backpack at my feet telling me that my choice is safe, but data alone does not explain the pull that I feel to see firsthand what happens when nuclear energy goes wrong.
We park at a TEPCO building and meet with employees to receive a briefing on our visit, who relay the current status of the site cleanup. We are directed to leave our cameras and cell phones behind, and we board a bus that will take us into the evacuation zone.
The evacuation zone is surreal – buildings devastated by the magnitude 9.0 earthquake are frozen in time. Cars are abandoned in driveways, signs for commercial buildings teeter in the air and violent piles of broken glass lay across showroom floors. Vehicle traffic passes through, but turnoffs and driveways are gated to restrict anyone from lingering. Although my intellect is aware that the earthquake caused this damage, my emotion weaves the words "nuclear disaster" into the images passing by our icy windows.
Trees and grasses didn't get the evacuation message, and they happily stayed behind to take over buildings, parking lots, and abandoned cars. Fields that were once rice paddies are now young forests - branches tangling together and reaching for the sun with no one there to restrict their growth.
As we arrive onsite, the first thing I see is a wide expanse of tanks. These aren't just any tanks, they are huge, hulking, welded steel giants, a silent army standing before us. TEPCO has clear-cut a forest to create space for yet another tank farm, and we learn that the site has capacity for a whopping 300 more tanks. These tanks hold processed water that was removed from the basements of the reactor buildings. Although the water has been filtered and cleaned up, the presence of tritium, a mildly radioactive isotope of hydrogen, complicates the future of this water.
Although the level of tritium in the water is far below levels that would have an impact on human health, the scientific perspective is not the only lens through which to view this issue (Conca, 2017). Officials are wrestling with the complicated issues of public perspective and stakeholder involvement – while the science says it's safe, what will release of this water do to public opinion? Will the fishing industry be affected? Will public trust be affected? Will discrimination towards people and agricultural products from the prefecture persist? The situation requires careful consideration, and it is not a decision I envy.
After arrival onsite we are ushered into a building to begin the entry process into the radiation-controlled area. We receive another briefing, this one related to radiation exposure. I am always cautious about my radiation exposure, and especially so when pregnant. I wrote earlier about the fear that radiation exposure causes – a fear that's amplified by our inability to see radiation or perceive how much dose we are receiving. I am not immune from that fear, but the thing that many people don't realize about nuclear sites is the high attention given to radiation detection and measurement. For people who like being informed, a nuclear site is a comfortable place to be in regards to radiation – you can find out the radiation levels in an area before you go there, and you can use precise measuring equipment to monitor your exposure. This knowledge enables you to make real-time adjustments and keep your exposure low.
On this journey we have the honor of traveling with delegates from many different countries. A representative from Finland shared her perspectives on radiation, relating the relatively high levels of naturally occurring background radiation in Finland and in other areas around the world. If our entire globe was being held to the same cleanup standard as the land around Fukushima Dai-ichi, whole countries would be on the cleanup list ("Nuclear Radiation and Health Effects," 2016, and "First Returns and Intentions…," 2016). In the same conversation, we also noted the long life expectancy that Fins enjoy, and the fact that she looks close to my age when in fact she is a grandmother. Perhaps a little extra radiation isn't the worst thing.
As the bus winds through the surprisingly large site, we see that much of the rubble created by the hydrogen explosions at Units 1, 3 and 4 has been cleared away. An enclosure is being built around the Unit 4 fuel pool to prepare for the next steps of fuel removal and storage. Radiation levels around Unit 3 are the highest that we encounter onsite as our bus passes next to the crippled structure. Closer to the water we see huge tanks that were thrown around by the tsunami like children's bath-toys. On the site it is especially difficult to differentiate tsunami and earthquake damage from the damage caused by the hydrogen explosions. After this experience it is easier to understand why the natural disasters are conflated with the nuclear accident in the hearts and minds of people around the world.
The cleanup at the Fukushima Dai-ichi site will take decades and cost billions of dollars, although it is hard to say that this is a direct result of the nuclear accident. Some of this is also a product of our fears. Because of our fear of radiation and lack of public support for nuclear, policies are created that impose arduous and costly cleanup measures. While some of these measures are essential for continued protection of public and worker safety, many are not, and the line between the two is very blurred and very gray.
Conflicting messages from government, academic, nuclear industry, environmental advocates, and anti-nuclear groups all play a role in low public opinion and widespread mistrust. Scientists tell us that low levels of radiation are not harmful, but the policies regarding radiation limits for the general public are inconsistent. For example – in Fukushima prefecture, an evacuation order can be lifted once the radiation levels are low enough to result in an annual dose to the public of 20mSv ("First Returns and Intentions…," 2016). However, the government also set 1mSv annual dose as a long term goal ("For Accelerating the Reconstruction of Fukushima…," 2013). So what is safe – is 20mSv per year safe, or is 1mSv per year safe? It is not difficult to see why the public is suspicious ("First Returns and Intentions…," 2016).
Communication needs to improve, that is undeniable. The public needs to hear consistent and accurate information about why nuclear energy is important to them, the trade-offs inherent in every energy source, and the real risks involved in their choices. Most people want to know why something matters to them before they will spend time asking questions about how it works. We can't expect the public to become discerning nuclear experts just because a policy paper has been distributed, someone handed out a leaflet on radiation, or some guy in a suit announced that nuclear is safe. The nuclear industry has gained expert status at scaring people.
Although decades of poor communication have crippled public acceptance of nuclear energy, perhaps the most egregious offenders in this space are those individuals and organizations who intentionally spread misinformation for the purpose of stoking public fears. There is no kind way to justify this behavior. Not everyone will accept nuclear energy even when given correct information, and it is their right to be able to make up their own minds. However, I think it is also the public's right to have access to accurate information upon which to base their decisions.
Spreading fear of nuclear is not a victimless act. Have you ever said "Fukushima" to someone as a way of expressing an opinion about nuclear energy? Heather and I see this all the time on social media, as many commenters think that simply typing the word communicates enough for us to change our minds and start spewing vitriol about nuclear energy. However, did it occur to you that Fukushima is the name of an entire Japanese prefecture? Callous exaggerations of the dangers of low level radiation and the branding of the Fukushima prefecture as a toxic disaster zone is a shameful attack on the many beautiful citizens of this area, their livelihoods, their identities, and their futures.
The ocean is fine, the reopened areas are fine, and the people living here need your support (Buesseler, 2016; Conca, 2017; and "First Returns and Intentions…," 2016). Many of these people are the same ones who saw 18,000 of their friends, family, and neighbors killed in an instant by a monstrous wave. These people deserve empathy and compassion as they rebuild their lives, not the scarlet letter that the world has pinned on them for their association with one troubled nuclear site.
Our freedom of thought is one of our most valuable treasures, but we should all understand the impact our beliefs and opinions have on others. I don't fault those who make decisions they feel are "conservative" when lacking information, but the behavior I'd like to see us all adopt is a willingness to change our minds when presented with better information instead of digging in our heels and turning to fringe websites and discredited sources to confirm our original opinions. This is especially important when our opinions have a victim on the other end of them.
It will take weeks, months, or maybe longer to unpack and process everything I saw and learned on this visit, but for now I'll close with these thoughts – nuclear accidents are scary, natural disasters are scarier, fear of radiation hurts people, and the fish from Fukushima are delicious.
SOURCE
***************************************
For more postings from me, see DISSECTING LEFTISM, TONGUE-TIED, EDUCATION WATCH INTERNATIONAL, POLITICAL CORRECTNESS WATCH, FOOD & HEALTH SKEPTIC and AUSTRALIAN POLITICS. Home Pages are here or here. Email me (John Ray) here.
Preserving the graphics: Most graphics on this site are hotlinked from elsewhere. But hotlinked graphics sometimes have only a short life -- as little as a week in some cases. After that they no longer come up. From January 2011 on, therefore, I have posted a monthly copy of everything on this blog to a separate site where I can host text and graphics together -- which should make the graphics available even if they are no longer coming up on this site. See
here
or
here
*****************************************