New York City sues Shell, ExxonMobil and other oil companies over sea level rise
The "damage" they quote from global warming is the expense of defending the city from sea level rise. Problem: There has been no overall sea level rise in the vicinity of NYC in the 21st century. Sea levels have just bobbed up and down. So the lawsuit is based on hypothetical future rises rather than on present reality. Note that CO2 has continued to rise to unprecedented levels over the 21st century but it has not affected the sea level at all so the whole basis of the lawsuit is moot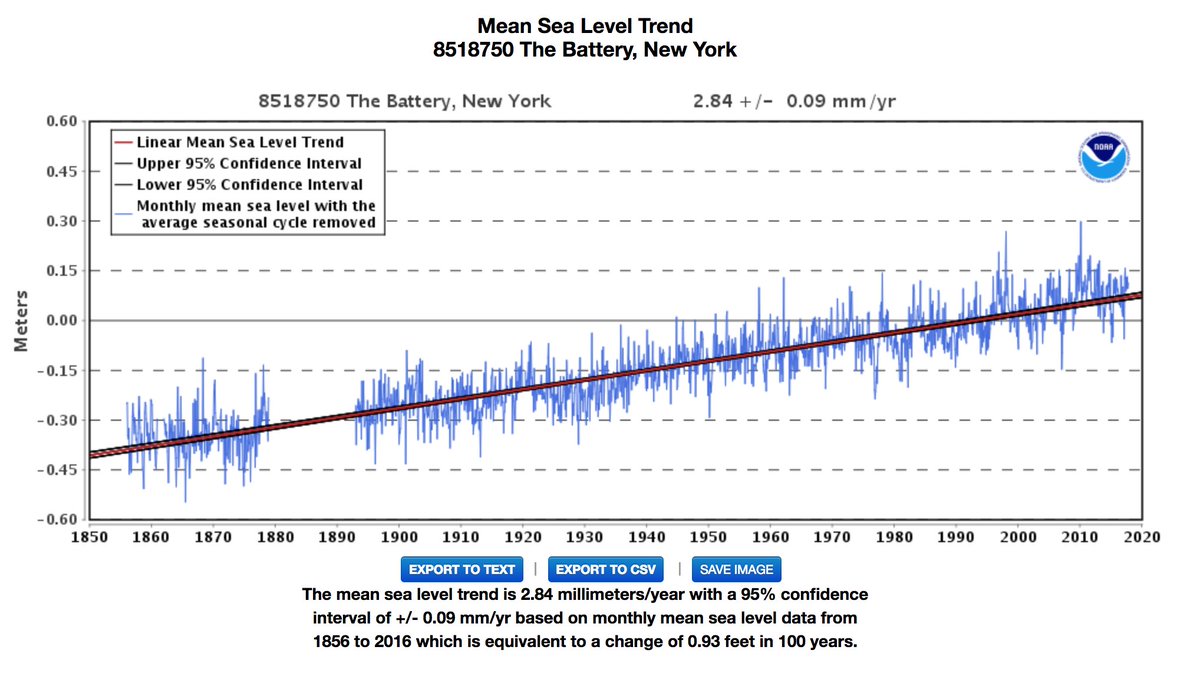 The New York City government is suing the world's five largest publicly traded oil companies, seeking to hold them responsible for present and future damage to the city from climate change.
The suit, filed Tuesday against BP, Chevron, Conoco-Phillips, ExxonMobil and Royal Dutch Shell, claims the companies together produced 11 percent of all of global-warming gases through the oil and gas products they have sold over the years. It also charges that the companies and the industry they are part of have known for some time about the consequences but sought to obscure them.
New York charges in the lawsuit that it is "spending billions of dollars" to protect its coastlines, its infrastructure and its citizens from climate warming.
"To deal with what the future will inevitably bring, the City must build sea walls, levees, dunes, and other coastal armament, and elevate and harden a vast array of City-owned structures, properties, and parks along its coastline," the lawsuit says. "The costs of these largely unfunded projects run to many billions of dollars and far exceed the City's resources."
The suit does not specify precisely how much money it is asking for from the oil companies in what it calls "compensatory damages," saying that should be established in the case.
At a news conference Wednesday afternoon, New York City Mayor Bill de Blasio focused on the devastation caused by Hurricane Sandy in 2012, calling it "a tragedy wrought by the actions of the fossil fuel companies." He detailed the 44 people who died in New York as a result of Sandy, as well as the estimated $19 billion in damage it caused. "That is the face of climate change," de Blasio said. "That is what it means in human and real terms."
SOURCE
Six Decades of Glacial ADVANCE in the Western Ross Sea, Antarctica
Paper Reviewed: Fountain, A.G., Glenn, B. and Scambos, T.A. 2017. The changing extent of the glaciers along the western Ross Sea, Antarctica.
Geology
45: 927-930.
Climate alarmists have long anticipated Earth's polar regions to symbolize the proverbial canary in the coal mine when it comes to witnessing the impacts of CO2-induced climate change. In these high latitudes, temperatures are predicted to warm so fast and to such a degree so as to cause unprecedented melting of ice that even the most ardent of climate skeptics would be forced to concede the verity of global warming theory. Consequently, researchers pay close attention to changes in climate in both the Arctic and Antarctic.
The most recent work in this regard comes from the scientific team of Fountain et al. (2017), who analyzed changes in glacier extent along the western Ross Sea in Antarctica over the past 60 years. More specifically, using digital scans of paper maps based on aerial imagery acquired by the U.S. Geological Survey, along with modern-day satellite imagery from a variety of platforms, the authors digitized a total of 49 maps and images from which they calculated changes in the terminus positions, ice speed, calving rates and ice front advance and retreat rates from 34 glaciers in this region over the period 1955-2015.
In discussing their findings, Fountain et al. report that "no significant spatial or temporal patterns of terminus position, flow speed, or calving emerged, implying that the conditions associated with ice tongue stability are unchanged," at least over the past six decades. However, they also report that "the net change for all the glaciers, weighted by glacier width at the grounding line, has been [one of] advance" (emphasis added) with an average rate of increase of +12 ± 88 m yr-1 (see Figure 1 below).
In pointing out the significance of the above findings, it is important to note that, over a period of time in which the bulk of the modern rise in atmospheric CO2 has occurred, not only have the majority of glaciers from this large region of Antarctica not retreated, they have collectively grown! This stark reality stands in direct contrast to climate-alarmist predictions for this region; and it reveals that if there is any canary in the coal mine to be seen, it is in the failure of global warming predictions/theory to match real-world observations. What will it take for climate alarmists to concede this fact?
SOURCE
Frigid cold is why we need dependable energy
Cheap, abundant coal is key to national security, warm homes and wintertime survival
By Tom Harris
Recent record-setting low temperatures have underscored the creature comfort and often life-saving importance of abundant, reliable, affordable energy. They also reminded us how appropriate it was that America's 2017 National Security Strategy (NSS) emphasizes energy security – and was released on December 18, three days before this extra chilly winter officially began.
This first Trump Administration NSS identifies four vital national interests. Two of them – "promoting American prosperity" and "advancing American influence" – require that the United States "take advantage of our wealth in domestic resources." However, America is no longer taking full advantage of one of its most important of its domestic resources: its vast coal reserves, the largest of any nation on Earth.
Testifying November 28 in Charleston, West Virginia, at the Environmental Protection Agency's (EPA) public hearing on repealing the Clean Power Plan, Robert E. Murray, president and CEO of Murray Energy Corp., summarized the bleak state of affairs.
"Prior to the election of President Obama," Murray noted, "52% of America's electricity was generated from coal, and this rate was much higher in the Midwest. That percentage of coal generation declined under the Obama Administration to 30%. Under the Obama Administration, and its so-called Clean Power Plan, over 400 coal-fired generating plants totaling over 100,000 megawatts of capacity were closed, with no proven environmental benefit whatsoever."
Much of this was driven by Obama's determination to be seen as contributing to "arresting climate change," to quote from his 2015 NSS, by mandating severe reductions of carbon dioxide (CO2) emissions from power plants. Unbelievably, this NSS listed "climate change" ahead of "major energy market disruptions" in its list of "top strategic risks to our interests."
That made no sense. Climate is, and always will be, variable. There is nothing we can do to stop it. And many scientists do not support the hypothesis that our CO2 emissions will cause dangerous climate change.
Regardless, recent climate change has been unremarkable. It is certainly not "unprecedented," and it clearly does not constitute a national security threat by comparison to a lack of affordable, reliable energy to power the nation and its military, and export to world markets. President Donald Trump was right to make only passing reference to climate change in the 2017 NSS.
Even in the unlikely event that CO2 emissions were or became a problem, developing countries are the source of most of the world's emissions, and China alone currently emits about twice as much the USA. Those nations are not about to follow Obama's lead. They understand that they must continue building coal-fired power plants at an aggressive pace, to meet their growing electricity needs.
Even the New York Times admitted that "As Beijing joins climate fight, Chinese companies build coal plants" (July 1, 2017).
"Chinese corporations are building or planning to build more than 700 new coal plants at home and around the world, some in countries that today burn little or no coal, according to tallies compiled by Urgewald, an environmental group based in Berlin…. Overall, 1,600 coal plants are planned or under construction in 62 countries, according to Urgewald's tally, which uses data from the Global Coal Plant Tracker portal. The new plants would expand the world's coal-fired power capacity by 43 percent."
Similarly, India's heavy reliance on coal will continue even in 2047, according to the June 16, 2017 report "Energizing India," by the National Institute for Transforming India (NTTI) and Institute of Energy Economics, Japan (IEEJ). Coal is forecast to rise from its 2012 46% of India's total energy mix to 50% in 2047 in the "business as usual scenario." Even in an "ambitious" scenario in which renewables supply 12% of India's primary energy (in 2012 it was 3%), coal still accounts for 42% of India's energy mix.
The authors of the NTTI/IEEJ report state, "India would like to use its abundant coal reserves as it provides a cheap source of energy and ensures energy security as well." Simply put, coal is essential if the rest of India's population is to gain access to electricity and rise up out of abject poverty. Even today, some 240 million Indians (nearly seven times the population of Canada!) still do not have electricity.
India and these analysts are right, of course. So it is a welcome development that Trump is promoting a resurgence of the American coal industry.
Obama's dedication to the climate scare contributed significantly to coal's tragic decline in America. Besides the impact of his Clean Power Plan, a rule that will hopefully be withdrawn very soon, coal has been hammered as a result of a 2015 EPA rule that limits plant-fertilizing carbon dioxide emissions from new coal-fired power stations. The result is that the U.S. can no longer build modern, clean, efficient coal plants to replace older stations, as is happening in China, India and even Europe. Here's why:
The 2015 EPA rule, titled "Standards of Performance for Greenhouse Gas Emissions From New, Modified, and Reconstructed Stationary Sources: Electric Generating Units," limits CO2 emissions on new coal-fired stations to 1,400 pounds per megawatt-hour of electricity generated. When releasing the new standard, the EPA asserted that it "is the performance achievable by a [supercritical pulverized coal] unit capturing about 20 percent of its carbon pollution." This is irrational.
CO2 is no more pollution than is water vapour, the major greenhouse gas in Earth's atmosphere. By calling the gas "carbon," the Obama EPA deliberately and falsely encouraged the public to think of it as something dirty, like graphite and soot, which really are carbon. Calling CO2 by its proper name, carbon dioxide, would have helped people remember that it is an invisible, odourless gas that we exhale and is essential to plant photosynthesis. Mr. Obama apparently did not want people to remember that.
Moreover, the technology of CO2 capture on a full-scale power plant is still a technological fantasy. So in reality, the EPA was actually banning even the most modern, most efficient, least polluting, supercritical coal-fired stations – because even their CO2 emissions are at least 20% above the arbitrary EPA limit.
Speaking at the November 9, 2017 America First Energy Conference in Houston, Texas, keynote speaker Joe Leimkuhler, vice president of drilling for Louisiana-based LLOG Exploration, showed that America has 22.1% of the world's proven coal reserves, more than any other country, and enough to last for 381 years at current consumption rates.
So it is a tragedy that America can no longer build modern coal-fired power stations to replace its aging fleet. Clearly, the rule limiting CO2 emissions from new coal-fired power stations must be cancelled as soon as possible.
The climate scare has also impeded coal's development in the USA by restricting its export. In particular, Asia would be a huge market for inexpensive American coal if sufficient U.S. export facilities were available. But, again, thanks largely to the climate scare contributing to the blocking of construction of coal export terminals, America exports only about as much coal as does Poland.
To ensure energy security, especially when demand soars during bitterly cold spells and heat waves, and to "restore America's advantages in the world and build upon our country's great strengths" (quoting from the NSS fact sheets), the U.S. must expand its fleet of coal-fired power stations and build coal export facilities as quickly as possible. To make that possible, the Trump administration must do everything in its power to thoroughly debunk the climate alarm that has so crippled coal's development.
Tom Harris is executive director of the Ottawa, Canada-based International Climate Science Coalition. He writes from Ontario, a province that seriously damaged its economy by banning all coal-fired power generation.
Via email
Fake Environmental Lawsuits Drive Up California Home Prices
A state Senate committee in Sacramento recently found that the California Environmental Quality Act (CEQA) does little to hinder state projects. It wasn't asking the right question. Had its survey reached out to the non-governmental sector, the findings would have been far different. Private developments, especially residential housing projects, are significantly harmed by CEQA and the extra costs, delays, and uncertainties imposed by its environmental impact reporting requirements, explains Independent Institute Research Fellow Adam Summers, in an op-ed for the Orange Counter Register.
Tellingly, few lawsuits filed under CEQA are initiated by environmental groups. Nor do the plaintiffs who sue developers under that law seem particularly motivated by environmental concerns. According to a 2016 study, "about 14,000 housing units were targeted by CEQA lawsuits in Southern California from 2013-2015, 98 percent of which were in 'infill' areas surrounded by existing development, not in open space or more rural land that is much more likely to be environmentally sensitive," writes Summers.
It's not lost on Gov. Jerry Brown that CEQA lawsuits are a weapon of NIMBYism directed against the interests of the larger community. Brown, along with past California governors Arnold Schwarzenegger, Gray Davis, Pete Wilson, and George Deukmejian, have decried the proliferation of anti-development lawsuits under CEQA, a law Gov. Ronald Reagan signed into law in 1970. As Summers notes, CEQA is hardly the only roadblock to affordable housing in the Golden State—other regulations and costs also play a detrimental role. But until Sacramento reforms it—or better yet, relegates it to the scrap heap of history—little hope can be held that California developers will create enough housing supply to keep up with the growing demand.
SOURCE
"Green" South Australia relies on a fleet of diesel generators to keep the lights on
Britain does too. Diesels put out a lot of particulate pollution -- as in clouds of blue smoke -- but that's OK apparently. Anybody who expects rationality from Greenies will be sadly disappointed
SCORCHING temperatures of 41C for Adelaide on both Thursday and Friday have triggered a warning of low power reserves, as the State Government puts its diesel generators on standby.
The Bureau for Meteorology says Adelaide faces a maximum 37C today and last night upped its predictions to 41C on both Thursday and Friday.
The Australian Energy Market Operator is now warning of an elevated blackout risk for SA on Thursday evening. But AEMO and the Government stress it doesn't mean blackouts will occur.
AEMO has a three-stage system to warn states of emerging blackout risks. The "lack of reserve 1" notice issued on Tuesday is the lowest alert level, meaning blackouts could occur if there were unexpected problems with infrastructure or demand was higher than expected.
Operators of the state's largest power station, the gas-fired plant on Torrens Island, have previously warned it is nearing the end of its practical life and losing reliability.
Mineral Resources and Energy Minister Tom Koutsantonis said he was ready to respond to the heat with measures in Labor's energy plan, including flicking on emergency diesel generators.
"We will, of course, monitor the situation and be ready to use our new ministerial powers of direction over the market or our state-owned power plant if required," he said.
"That is considered very unlikely at this stage. We launched our energy plan to boost local power supply and improve grid security, and importantly, the independent market operator has said that our plan has put SA in a good position this summer."
The period of blackout risk is from 5.30pm to 6pm Thursday — the crossover point where workplaces and factories are still consuming large amounts of power as some workers return home to switch on airconditioners and appliances. It also often coincides with a drop off in production from wind farms and solar panels.
AEMO figures indicate SA will use all the energy generated within its borders as demand peaks on Thursday afternoon, while imports from Victoria ensure extra supply is available.
SA's only other low reserve warning of the summer was in early December and is heading into its highest electricity demand period of the year, with temperatures rising and many workplaces and factories firing back up after the new year break. With a state election in March, the Government faces a political test of its energy plan. The statewide blackout in September 2016 was followed by a forced outage in February last year, in which 90,000 homes and businesses were temporarily shut down.
SOURCE
***************************************
For more postings from me, see DISSECTING LEFTISM, TONGUE-TIED, EDUCATION WATCH INTERNATIONAL, POLITICAL CORRECTNESS WATCH, FOOD & HEALTH SKEPTIC and AUSTRALIAN POLITICS. Home Pages are here or here. Email me (John Ray) here.
Preserving the graphics: Most graphics on this site are hotlinked from elsewhere. But hotlinked graphics sometimes have only a short life -- as little as a week in some cases. After that they no longer come up. From January 2011 on, therefore, I have posted a monthly copy of everything on this blog to a separate site where I can host text and graphics together -- which should make the graphics available even if they are no longer coming up on this site. See
here
or
here
*****************************************