New crop varieties 'can't keep up with global warming'
How ridiculous can you get? Do the BBC have no pride to publish this excreta? For a start, global warming has been so slight in C21 that there is debate over whether it exists at all. It is certainly not racing ahead in the way the article below implies.

Secondly, we don't need new crop varieties. We just use ones we already have. There are heaps of areas on the earth that are both very hot and which grow crops. A warming world would simply see them more widely used. Just as a minor example of heat-adaptation, the tropical Australian city of Townsville produces grapes, normally a cool temperature crop, And what is the effect of growing grapes there? They are bigger and juicier and reach the table up to a month before most other table grapes. We ALREADY have heat adapted crops if we need them.


A large muscadine grape native to sub-tropical Florida
Some very tasty Chambourcin grapes from Townsville

Warmer temperatures tend to suit crops in fact, which is why the greatest biodiversity is in the tropics. And maize is just such a plant. It is it is "cold-intolerant". It likes warmth. It is already grown in temperatures up to 35C in India. The most usual limitation on maize crops is drought. But warming oceans should give off more water vapor -- which comes down as rain -- so maize should get more water and yield very well in a warming world.

And I suppose I should mention the obvious: According to Warmist theory, there will be lots more CO2 in the atmosphere of a warming world. And plants LOVE CO2. They suck it up. It's the raw material that they use to build themselves. So again, a warmer world would be a CO2-rich world in which plants would flourish as never before

So a bit of global warming would IMPROVE maize crops. The picture below of the sad lady holding maize ears is just another example of Warmists lying with pictures
Crop yields around the world could fall within a decade unless action is taken to speed up the introduction of new varieties. A study says temperatures are rising faster than the development of crop varieties that can cope with a warmer world.
In Africa, researchers found that it can take 10-30 years before farmers can grow a new breed of maize. By the time these new crops are planted, they face a warmer environment than they were developed in.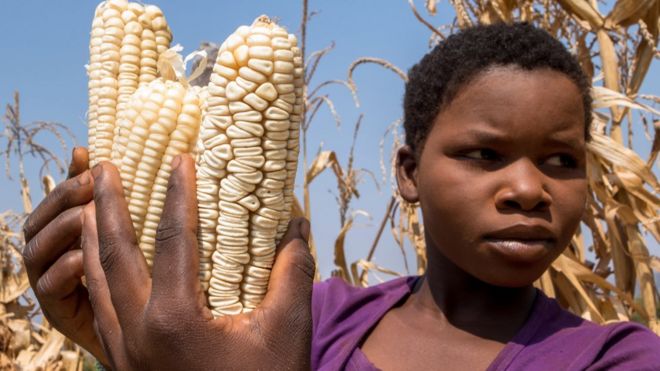 The scientists behind the study, published in the journal Nature Climate Change, looked closely at the impact of temperature rises on crop duration - that's the length of time between planting and harvesting.
They found that in a warmer world durations will be shorter meaning these varieties will have less time to accumulate biomass and yields could be affected.
Out of date
In their paper, the researchers write that crop duration will become significantly shorter as early as 2018 in some regions but by 2031, the majority of maize-growing areas of Africa will be affected.
"The actual changes in yield may be different but this effect is there, the impact of this change in duration will occur unless breeding changes," said lead author Prof Andy Challinor from the University of Leeds.
"The durations will be shorter than what they were bred for - by the time they are in the field they are, in terms of temperature, out of date."
The scientists say the lag is down to a combination of factors including the limited number of crops you can grow in a season, the need for government approved testing and there are also a number of problems of access to markets that can increase the time it takes before the farmers have the new seeds to plant.
"We can use the climate models to tell us what the temperatures are going to be," he told BBC News, "We can then put those temperature elevations into the greenhouses and then we can breed the crops at those temperatures. People are beginning to do this, but this paper provides the hard evidence of the necessity of it."
Researchers are also working on the impact of heat stress on crops at sites in Zimbabwe, Kenya and Ethiopia. Data from these trials is being used to identify species that could cope with warmer conditions.
But would the use of genetic modification (GM) help speed up this type of work? "GM does some things faster, so you would get a new variety of crop faster," said Prof Challinor.
"But it doesn't get you out of the testing requirement in fact the testing may in fact be greater and it doesn't help it all with farmers accessing seeds and markets - the problem will remain even for a magic GM crop."
Better techniques and more money for research are the keys according to others in this field, familiar with the study.
"Investment in agricultural research to develop and disseminate new seed technologies is one of the best investments we can make for climate adaptation," said Dr Andy Jarvis, from the International Centre for Tropical Agriculture,
"Climate funds could be used to help the world's farmers stay several steps ahead of climate change, with major benefits for global food security."
The researchers believe that the study also has implications beyond Africa, especially in the maize growing regions of the tropics.
SOURCE
How ironic that the modern green movement got started with the book Silent Spring and a concern for bird deaths
Hard to believe that this is a green thing to do. (Via J. Munshi)
The Nanny State Advances Statement on Passage of Anti-Soda Tax in Philadelphia
In the first success of its nature for "nanny state" advocates after many years of trying, Philadelphia Thursday became the first major city to attempt to control the non-alcoholic drink choices of its residents by enacting a 1.5-cent-per-ounce tax on soda, tea, sports and energy drinks. This is expected to embolden nanny state tax advocates across the United States.
The tax, like others on food and food-related items, will fall disproportionately on lower income individuals.
The National Center for Public Policy Research's director of Risk Analysis, Jeff Stier, is available to speak with reporters and has a statement:
The only good thing about Philadelphia's newly-imposed soda tax is that proponents were somewhat honest about it, admitting it wasn't about improving public health. Instead, they admitted it was a money grab, albeit a highly regressive one.
Perhaps it was a wise tactical move, because soda-tax campaigners have failed to persuade scientists or the public that the tax reduces caloric consumption, obesity, or diabetes.
Adding to the absurdity of this tax, Philly's treats diet soda and full sugar alike, failing to even distinguish between sugary drinks, which, like all caloric food and beverages, can contribute to obesity, and zero or low calorie beverages. Similarly, advocates across the country are pushing to equalize cigarette and e-cigarette sin taxes, the latter of which is primarily used by adult smokers trying to lower their risk. If soda was the new tobacco, now diet soda is the new e-cigarette.
In March, Stier told the Daily Caller that "Soda tax proponents are asking us to suspend normal assumptions about human behavior and simply assume that people who reduce soda consumption to avoid the tax, won't just make their own sugary drinks and won't replace the calories with other high-calorie foods or drinks."
In an op-ed in the Houston Chronicle in 2014, Stier explained the real rationale for soda taxes: "Rather simply, it is Sutton's Law. The 'law' is named after the infamous American bank robber Willie Sutton, who was incorrectly credited with answering a reporter who asked him why he robs banks by saying, 'That's where the money is.'"
SOURCE
It's more like global LUKEwarming
Turning to the investigation of climate change: What do we know about climate? Climate has always changed, is changing, and will always change. There were times when the earth was much colder or warmer than it is now, and during both those circumstances CO2 levels were at times higher or lower than now. Solar cycles, volcanic activity, greenhouse gasses, ocean currents, and macro weather patterns such as El Nino/La Nina all have an effect on climate. Our understanding of climate most evidently suggests there is much we don't understand about climate. It would therefore stand to reason that any investigation of the human influence on climate should begin with a broadly exploratory study of climate and the factors influencing climate.
However, that has not been the case. The International Panel of Climate Change (IPCC) temperature modeling is based in the following deductive reasoning: CO2 is a relatively abundant greenhouse gas. The noncontroversial physics of atmospheric CO2 predicts that a doubling of atmospheric CO2 concentrations should result in a temperature increase of 1.1 – 1.2 degrees C. The IPCC computer modeling further incorporates a 2-3X or more amplification of the predicted CO2 temperature increase, postulating that CO2 increased temperature will warm the oceans creating more water vapor – a greenhouse gas – and thereby amplify the CO2 greenhouse gas temperature effect.
So how well has this deductive reasoning predicted the observed reality.
John Christy, a climate expert from the University of Alabama, gave the following report on climate change to a joint meeting of Senate and House committees on Dec. 8, 2015.
He first compared the observed temperature data to the IPCC computer modeled temperature for the middle troposphere. The troposphere is the earth's active weather zone, and extends from the surface to around 40,000 feet. The observed temperature record was a product of two different temperature measurements – balloon data and satellite data.
The balloon data is the compilation of four separate data sets from weather balloons launched twice a day simultaneously across the world so to get a snapshot of the physical properties of that day's atmosphere. These balloon launches have occurred twice daily since 1979. The satellite temperature recordings go back 35 years and are derived from measuring the vibration of diatomic oxygen in the lower atmosphere which turns out to produce a much more accurate temperature measurement than standard mercury-in-glass instruments.
The data demonstrates that for the 36-year period from 1979 to 2015, the observed tropospheric temperature was less than that predicted by the mean of the 102 computer models, and at times significantly so. Over that time period, the observed warming has been roughly one-third of that predicted by the models. This data also shows the observed tropospheric temperature increase over the last 10 years has been less than 0.05 degrees C.
Dr. Christy also compared the most recent revision of each of the five observed global temperature records to that of the average of the 108 IPCC climate models predicted temperatures. His analysis demonstrates for all periods from 10 years (2006-2015) to 65 (1951-2015) years in length, the observed temperature trend was in the lower half of the climate model temperature predictions, and for several periods, the observed trend lies very close (or even below) the 2.5th percentile of those predictions.
This empirical data also demonstrates a "pause" or "slowdown" in the rate of global warming has taken place over the past 15 years – a period during which more than 100 billion tons of carbon dioxide has been released into the atmosphere.
This pause only recently has been acknowledged in the climate change scientific journals. One such article, whose authors included Michael Mann, the Penn State climatologists accused of fudging data to create the famed hockey stick shaped global warming prediction, states, "It has been claimed that the early-2000s global warming slowdown or hiatus, characterized by a reduced rate of global surface warming, has been overstated, lacks sound scientific basis, or is unsupported by observations. The evidence presented here contradicts these claims."
Climate scientists have proposed over 40 explanations for the warming hiatus including particulate matter from small volcanoes and pollution, ocean movements, data gathering problems, natural variability, and several more. The 40-plus explanations can't all be right, but all potentially provide insight into better understanding climate change. The pause tells us that there is significant underlying natural climate variability. The pause tells us that our knowledge of climate change is limited and incomplete. The pause tells us that the science is not settled.
Given that the observed rate of warming in the satellite-sensed and balloon data is barely a third of that predicted by global climate models, it is both reasonable and prudent to cut the modeled temperature forecasts for the rest of this century by 50 percent.
Most experts believe that warming of less than 2 degrees Celsius from pre-industrial levels will result in no net economic or ecological damage. In fact, for up to two degrees of total warming, the benefits will generally outweigh the harmful effects. Warming of up to 1.2 degrees Celsius over the next 70 years (0.8 degrees have already occurred), most of which is predicted to happen in cold areas in winter and at night, would extend the range of farming further north, improve crop yields, slightly increase rainfall (especially in arid areas), have a continued greening effect on the earth, and lower winter-related deaths.
What conclusions should be drawn from the observed – as opposed to computer predicted – temperature data?
Our knowledge of climate and climate change remains limited and incomplete. The science is not settled! Secondly, models are not evidence. Finally, given the huge political and economic implications of climate policy, climate change study merits a vigorous, broad and open-ended investigation – not research to confirm a pre-ordained conclusion.
SOURCE
Report: World Not Building Enough Nuclear Power To Fix Global Warming
A report published Tuesday by the World Nuclear Association found reactors are not being built quickly enough to meet the world's global warming goals.
The report found 1,000 gigawatts of new nuclear capacity need to be added by 2050 to come close to limiting global warming. A single gigawatt of power provides enough energy for roughly 700,000 homes.
That means roughly 100 new nuclear power plants need to be built worldwide by 2050, but only three were constructed last year. The report blames the slow rate of construction on a lack of public support in Europe and tough economic conditions in America. It also points out that Japan's permanent shutdown of six reactors since the Fukushima accident in 2011 has substantially slowed the industry's growth.
"The situation facing the nuclear industry globally is challenging." Agneta Rising, director general of the World Nuclear Association, stated in the report preface. "Substantial progress has also been made towards the commercialization of small and advanced reactor designs. The rate of new build is, however, insufficient if the world is to meet the targets for reducing the impacts of global warming."
America currently operates 99 nuclear reactors across 61 commercially-operated nuclear power plants, according to the Energy Information Administration. Of the 66 new nuclear reactors under construction worldwide, only four of them are being built in the U.S. — just enough to compensate for shutting down older reactors. Instead of building more modern reactors, the government is planning to simply extend the operating licenses against the advice of its own technical staff. It takes an average of 73 months to construct a new nuclear reactor, according to the report.
The average American nuclear reactor is 35 years old, nearly obsolete by modern design standards and near the end of its operating license. Within the past two years, six states have shut down nuclear plants and many other reactors are risking premature retirement. America could get less than 10 percent of its electricity from nuclear by 2050, according to the International Atomic Energy Agency.
Sixteen American nuclear reactors are more than 42 years old, according to government data compiled and mapped in April by The Daily Caller News Foundation.
Other countries haven't shown the same reluctance as the U.S. to embrace nuclear power. India has a rapidly growing nuclear power program and the country plans to get 25 percent of its electricity from nuclear reactors by 2050. China is also planning to build new nuclear plants and has plans to build 20 floating nuclear reactors in the South China Sea, strengthening its claim to the valuable and disputed region. The country plans to have 150 gigawatts of nuclear power by 2030, according to the World Nuclear Association.
The average nuclear plant employs between 400 and 700 highly skilled workers, has a payroll of about $40 million and contributes $470 million to the local economy, according to the Nuclear Energy Institute.
SOURCE
Solar and wind power simply don't work — not here, not anywhere
By Keith DeLacy, a former Labor treasurer of Queensland, Australia.
One policy which seems to have escaped scrutiny during this election campaign is Labor's commitment to increase the Renewable Energy Target to 50 per cent by 2030. I am surprised because it is a proposal that has enormous ramifications for economic growth and living standards, and disproportionate impacts on traditional Labor constituencies.
The problem we have in Australia is when we talk renewable energy we are talking wind and solar only — low value, expensive, unreliable, high capital cost, land hungry, intermittent energy.
According to the Department of Industry and Science wind currently generates 4.1 per cent and solar 2 per cent of Australia's electricity. But even this is highly misleading because it is such low value power. You could close it down tomorrow (which it regularly does by itself) and it would make no difference to supply.
If we talk about total energy, as opposed to just electricity, wind and solar represent 1 per cent of Australia's energy consumption. This despite billions of dollars of investment, subsidies, creative tariffs, mandates, and so on.
Solar and wind simply don't work, not here, not anywhere.
The energy supply is not dense enough. The capital cost of consolidating it makes it cost prohibitive. But they are not only much more expensive because of this terminal disadvantage, they are low value intermittent power sources — every kilowatt has to be backed up by conventional power, dreaded fossil fuels. So we have two capital spends for the same output — one for the renewable and one for the conventional back-up. Are you surprised it is so much more expensive, and inefficient, and always will be? So wind and solar, from a large scale electricity point of view, are duds. Now I know that will send the urgers into paroxysms of outrage. But have you ever seen an industry that so believed its own propaganda. Note, when they eulogise the future of renewables they point to targets, or to costly investments, never to the real contribution to supply.
Let's look overseas where many countries have been destroying their budgets and their economies on this illusion for longer and more comprehensively than we in Australia. The Germans are ruing the day they decided to save the world by converting to solar and wind. Germany has spent $US100bn on solar technology and it represents less than 1 per cent of their electricity supply.
Energy policy has been a disaster. Subsidies are colossal, the energy market is now chaotic, industry is decamping to other jurisdictions, and more than a million homes have had their power cut off.
It is reported electricity prices in Germany, Spain and the UK increased by 78 per cent, 111 per cent and 133 per cent between 2005 and 2014 as they forced additional renewable capacity into their electricity markets. Sunny Spain used to be the poster boy for renewables in Europe — photovoltaic cells and wind turbines stretching on forever. Now they are broke, winding back subsidies, even the feed-in tariffs which were guaranteed for 20 years. But wait, what about the green energy jobs that everybody gushes about? Spain has an unemployment rate of 21 per cent with a youth rate of 45.5 per cent.
Britain is little better. Subsidies are being wound back, and a Department of Energy report points out that in 2013, the number of households in fuel poverty in England was estimated at 2.35 million representing around 10.4 per cent of all households.
It is no better in the US either. States with renewable energy mandates are backtracking faster than Sally Pearson can clear hurdles. Ohio has halved its mandate level (it was 25 per cent by 2025) because of high costs. West Virginia has repealed its mandate because of high costs, and New Mexico has frozen its mandates. Kansas was repealing its mandate which reportedly would save ratepayers $171m, representing $4367 for each household, and so the dismal story goes on. The US Department of Energy has found electricity prices have risen in states with mandates twice as fast as those with no mandate. As of 2013 California was the only state to adopt a feed-in tariff for solar power. It was immediately dubbed a failure by the renewable energy community because it offered only 31 cents per kWh, only five times the rate for conventional base load power.
Ah, but Asian countries are jumping on the bandwagon. Maybe. China built one new coalfired power plant every week in 2014, and India's coal-powered investment in that same year equalled the total electricity capacity of NSW and Queensland. To summarise — with all of the trillions spent worldwide on wind and solar, wind currently represents 1.2 per cent of global consumption of energy, and solar 0.2 per cent.
The good news, it is possible to reduce fossil fuel use in electricity generation — through hydro-electricity and nuclear fuel. Plenty of countries have done it — Canada 60 per cent hydro and 15 per cent nuclear; Sweden 45 per cent hydro and 48 per cent nuclear; Switzerland 54 per cent hydro and 41 per cent nuclear; France 11 per cent hydro and 79 per cent nuclear.
But Australia has zero tolerance of these two workable alternatives to fossil fuels. At least we are consistently inconsistent.
So where does that leave us? On the basis of evidence everywhere we could easily double the price of electricity and get nowhere near the 50 per cent target. What would that mean?
First, it means rapidly disappearing blue collar jobs in high energy industries like manufact­uring, car and ship building, smelting and refining, steel making and food processing. There may be still some construction jobs, but they will largely be assembly only, as all of the components will come from those countries more interested in growing the economy and eliminating poverty than stoking the warm inner glow. Make no bones about it, a clean green economy has no place for high-vis shirts.
Second, rapidly rising electricity prices and the subsequent increase in the cost of living, disproportionately affects those at the bottom of the income scale.
Policies like this are OK for the Greens. They can keep their virtue intact because they never have to deliver. As Gough Whitlam once said, only the impotent are pure.
Mainstream parties don't have that luxury. They need to look at the true costs, and benefits, of all policy proposals.
SOURCE
***************************************
For more postings from me, see DISSECTING LEFTISM, TONGUE-TIED, EDUCATION WATCH INTERNATIONAL, POLITICAL CORRECTNESS WATCH, FOOD & HEALTH SKEPTIC and AUSTRALIAN POLITICS. Home Pages are here or here or here. Email me (John Ray) here.
Preserving the graphics: Most graphics on this site are hotlinked from elsewhere. But hotlinked graphics sometimes have only a short life -- as little as a week in some cases. After that they no longer come up. From January 2011 on, therefore, I have posted a monthly copy of everything on this blog to a separate site where I can host text and graphics together -- which should make the graphics available even if they are no longer coming up on this site. See
here
or
here
*****************************************