Camera traps show animals have reclaimed Chernobyl's radioactive wasteland 30 years after the disaster -- and are in good health
Thus showing as completely wrong the Greenie claim that even tiny amounts of radioactivity are harmful. Chernobyl shows that even quite high levels are not harmful. Radioactivity has been much demonized for political reasons. Radioactive leaks from nuclear power plants will not do harm unless you are very close to them.

In other evidence of low harm from radioactivity, Tsutomu Yamaguchi was one of a small number of Japanese to live through both the Hiroshima and Nagasaki nuclear detonations.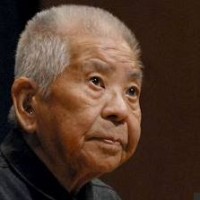 He was only only 3 km away from the epicenter on both occasions. He was badly burned by the heat but he recovered from that and lived to 93.

Exactly 30 years and one week ago, a small town in the former Soviet Union witnessed the worst nuclear disaster the world has seen.
Following a fire in one of its reactors, an explosion at the Chernobyl power plant in the former Soviet Union town of Pripyat leaked radioactive material into the environment and saw the surrounding area evacuated.
But while radiation levels in the region is still considered too high for humans to return, wildlife has moved back into the area and is flourishing.
Studies of the animals and plants in the area around Chernobyl are now providing clues as to what the world would be like should humans suddenly disappear.
The exclusion zone is still in effect around the site of the disaster in what is now Ukraine to protect people from the high levels of radiation which persist in the environment.
But in the absence of human activity, wildlife has flourished ­– making the site a unique habitat for biologists to study.
Scientists are monitoring the health of plants and animals in the exclusion area to see how they react to chronic radiation exposure.
Camera traps set up by researchers have captured a stunning array of local wildlife, including wolves, lynx, mouse, boars, deer, horses, and many others, as they wander through the area.
It shows that three decades on from the disaster, the area is far from being a wasteland. Instead life is thriving there.
Using the motion-activated traps to get snapshots of wildlife at a number of sites throughout the exclusion zone, researchers at the University of Georgia have recorded 14 species of mammal.
In a study published this week in the journal Frontiers in Ecology and the Environment, the Georgia group reports it found no evidence to suggest that the areas with the highest levels of radiation were keeping their numbers down, and that populations inside the exclusion zone are doing well.
Sarah Webster, a graduate student working on the project and first author of the study, told UGA Today: 'Carnivores are often in higher trophic levels of ecosystem food webs, so they are susceptible to bioaccumulation of contaminants.'
'Few studies in Chernobyl have investigated effects of contamination level on populations of species in high trophic levels.'
The exclusion zone, which covers a substantial area in Ukraine and some of bordering Belarus, will remain in effect for generations to come, until radiation levels fall to safe enough levels.
The region is called a 'dead zone' due to the extensive radiation which persists. However, the proliferation of wildlife in the area contradicts this and many argue that the region should be given over to the animals which have become established in the area - creating a radioactive protected wildlife reserve.
It would be expected that carnivores would receive extensive radioactive exposure, both directly from the environment and water sources as well as ingesting it through eating contaminated animals.
In the long-term, this accumulation of radioactive material would be expected to be harmful to the top predators and would restrict their number, but findings from the latest study don't seem to support this.
'We didn't find any evidence to support the idea that populations are suppressed in highly contaminated areas,' said Dr James Beasley, a biologist at Georgia and senior author of the paper.
'What we did find was these animals were more likely to be found in areas of preferred habitat that have the things they need – food and water.'
Other research groups working within the area, including the TREE consortium, have found that endangered Przewalski's horses – released into the exclusion zone in the 1990s – are breeding successfully.
In addition, the camera studies have identified a number of protected bird species, including golden eagles and white tailed eagles.
SOURCE
NOAA's monthly deception again
Sure, there's been a recent temperature rise but is it caused by human activity? They dodge that all-important question. They admit that El Nino is partly responsible but fail to quantify or correct for its influence. Scientists quantify. They don't indulgle in hand-waving dismissals. Ergo, none of the guff below is science.

So what is the science? The science is that the first 8 of their 11 months of warming were at a time when there was NO CO2 rise and hence no human cause. So the recent rise is clearly an effect of El Nino only. Below is a great coverage of El Nino effects, nothing more (excerpt only)

Last month marked the hottest March in modern history, setting the longest heat streak in the 137 years of record-keeping, US officials said.
The month's average global temperature of 12.7°C (54.9°F) was not only the hottest March, but continues a record streak that started last May.
The combined average temperature in March was the highest for this month in the 1880–2016 record.
The temperature was 1.22°C (2.20°F) above the 20 century average of 12.7°C (54.9°F).
This surpassed the previous record set in 2015 by 0.32°C / (0.58°F), and marks the highest monthly temperature departure on record.
March 2016 also marks the 11 consecutive month a global temperature record has been broken, the longest such streak in 137 years.
SOURCE
After Receiving $191 Million in Taxpayer-Backed Loans, Spanish Solar Company Files for Bankruptcy
A Spanish solar energy company benefiting from $191 million in financing from the Export-Import Bank declared bankruptcy last month, calling into question whether the embattled agency will see repayment of the tens of millions of dollars in taxpayer-backed loans on its balance sheets.
Abengoa, which operates worldwide, filed for Chapter 15 bankruptcy in U.S. Bankruptcy Court in Wilmington, Del., and has until the end of October to restructure its $16.4 billion of debt.
According to Ex-Im's records, the bank authorized more than $300 million in loans and loan guarantees to Abengoa and its subsidiaries, with more than a dozen transactions approved from 2007 to 2015.
Of the $316 million in financing Ex-Im authorized, the bank disbursed $191 million to Abengoa and its subsidiaries, its records show. The bank cancelled the remaining $125 million of outstanding credit, an Ex-Im spokesman told The Daily Signal.
Ex-Im's board of directors approved financing for four loan guarantees—totaling $112.8 million—to an Abengoa subsidiary on June 29. The bank's charter expired the next day, on June 30, marking the first time Ex-Im has experienced a lapse in its authority in its 81-year history.
According to the bank's spokesperson, Ex-Im's exposure to the solar company totals $66.2 million.
With Abengoa's questionable financial future, some question whether the green energy company will be able to repay the taxpayer-backed financing it received from Ex-Im.
"If they're going under, they're not going to repay their loans," Veronique de Rugy, a senior research fellow at George Mason University's Mercatus Center, told The Daily Signal.
A spokesman for Ex-Im told The Daily Signal the bank is continuing to work with the company to ensure its outstanding debt is repaid.
"Ex-Im Bank has and will continue to closely monitor this situation, and continues to work with all parties and creditors to recoup the outstanding debt," the spokesperson said in an email. "As with all transactions of this nature, the bank's exposure is covered by reserves, which are funded by fees assessed on borrowers, not the taxpayers."
Before Abengoa's financial woes were made public, the company was scrutinized in media reports for violating U.S. immigration law, workplace safety codes, and environmental regulations, according to the Washington Free Beacon.
Additionally, House Financial Services Chairman Jeb Hensarling, R-Texas, pressed Ex-Im Chairman Fred Hochberg, R-N.Y., on ties between the bank's advisory board and the Spanish green energy company last year.
In September 2013, the bank approved two loans totaling $33.6 million to Abengoa for solar projects in Spain and South Africa. When the bank authorized the loans, former New Mexico Gov. Bill Richardson, a Democrat, was one of 17 members serving on Ex-Im's advisory board.
Richardson, who also served as secretary of the Department of Energy under President Bill Clinton, was also a member of Abengoa's international advisory board at the same time.
Such ties between government agencies and private companies benefiting from taxpayer-backed financing are not uncommon, de Rugy said, and often times firms like Abengoa will "double dip" into several government programs.
"I think what we see with Abengoa, it's a perfect example of decisions and due diligence that is not driven by how sound a project is, but that is driven by politics," de Rugy said.
From 2007 to 2014, for example, Abengoa received $3 billion in financial assistance from both Ex-Im and the Department of Energy.
Through its 1705 loan program, the Department of Energy awarded the solar company more than $2 billion in loan guarantees for the construction of two solar plants in the U.S.: one in Phoenix, Ariz., and a second in California's Mojave Desert.
It was through the Department of Energy's 1705 loan guarantee program that the now-defunct Solyndra also received financing.
"It just tells you everything that's wrong with these programs," de Rugy said. "The decisions are made based on politics and who you know. The more your know, the more double dipping you're able to do."
According to the New York Times, Abengoa said $1 billion of the loans and loan guarantees it has received from the federal government have been repaid. The company did not return The Daily Signal's request for comment.
Ex-Im provides taxpayer-backed loans and loan guarantees to foreign countries and companies for the purchase of U.S. products.
Bank officials often boast of Ex-Im's 0.235 percent default rate and say it returns money to the Treasury each year.
But over the last year, Abengoa isn't the only company to receive taxpayer-backed financing from Ex-Im and face financial woes.
NewSat, an Australian satellite company, benefited from $100 million in Ex-Im loans from 2012 to 2014. The company filed for Chapter 15 bankruptcy in the United States last year.
The company's bankruptcy—and the decision-making that led to it receiving Ex-Im financing—was scrutinized by Republicans during a June Financial Services Committee hearing, who said the deal was evidence that the bank is "beyond broken."
Lawmakers said NewSat handed Ex-Im a "$100-million loss" at the "expense of the taxpayers."
SOURCE
Vermont Group files complaint against wind producers over green marketing claims
A group defending ridgelines against wind energy development has filed a complaint with the Vermont Attorney General's office and the Federal Trade Commission accusing local wind-power producers of making false green marketing claims.
In a complaint filed March 15, the Irasburg Ridgeline Alliance alleges that Renewable Energy Vermont, Georgia Mountain Community Wind and the Burlington Electric Department engaged in consumer deception in their descriptions and marketing of wind-generated electricity.
The citizen-led alliance claims that the organizations — a trade association, a developer and an electric utility — advertise renewable energy in marketing and promotions despite selling renewable energy certificates, or RECs, to out-of-state entities.
"Despite warnings, industrial wind producers continue deceptive 'green' marketing claims," the IRA said in a statement on Tuesday.
The group asserts that by selling RECs out of state, the organizations lose the basis for advertising their product as "renewable." The complaint states the three organizations are marketing wind-generated renewable power in violation of the Vermont Consumer Protection Act, 9 V.S.A. § 2453(a), which prohibits "deceptive or unfair practices."
"As far as what we know today, there is no so-called renewable project in this state that has not sold its RECs out of state," IRA spokesman Michael Sanville told Vermont Watchdog. "That being (the case), there should not be any company within the state that's advertising any of their energy generation as 'renewable.'"
Sanville said at least one neighboring state, Connecticut, recently complained about "double-booking" — a term used for counting renewable energy twice — and considered prohibiting purchases of RECs generated in Vermont. Sanville said the controversy led Sorrell to issue warnings to the Vermont solar industry late last year. Likewise the FTC warned Vermont energy companies in February 2015 not to make deceptive claims.
According to the alliance, the warnings didn't prevent Renewable Energy Vermont from continuing to promote "clean, green, and local" wind energy in television advertisements. In one ad released in November, Renewable Energy Vermont states that Vermont turbines power 46,200 homes with wind energy, even though certificates identifying that renewable power were sold to out-of-state entities for use in other states.
Also according to the alliance, a recent press release by the Burlington Electric Department makes the claim that Georgia Mountain Community Wind powers the local community with clean energy and provides "enough renewable energy to power more than 5,500 Vermont households."
The complaint notes that Burlington Electric and Georgia Mountain Community Wind are members of the Renewable Energy Vermont trade association, and questions whether the name "Renewable Energy Vermont" also is an example of deceptive marketing.
The attorney general's office is currently reviewing the IRA's complaint. Sanville said the group wants Sorrell to issue a cease-and-desist order on all green marketing efforts, and to award monetary damages.
Sanville said the IRA intends to hold the wind-energy producers' feet to the fire. He added that it would be hypocritical of the attorney general's office not to enforce Vermont's consumer protection laws against renewable energy producers after having investigated anti-big-renewables activist Annette Smith in January for allegedly "practicing law without a license."
Dr. Ron Holland, of the IRA, said the producers have had "ample time and warning to learn the Federal Trade Commission guidelines."
"We are tired of Vermont companies making illegal claims that their energy is renewable when it is not. That is why we took our concerns to the Vermont Attorney General and the FTC," Holland said in a statement.
Watchdog reached out to representatives from Burlington Electric Department and Georgia Mountain Community Wind on Wednesday, but they did not return our request for comment.
SOURCE
Obama Moves To Bankrupt Energy Companies
"If somebody wants to build a coal power plant, they can, it's just that it will bankrupt them because they are going to be charged a huge sum for all that greenhouse gas that's being emitted." -- President Obama, 2008
It should come as no surprise that President Obama has succeeded in destroying the coal industry.
The latest evidence is the announcement by Peabody, the world's largest private coal company, that it will file for Chapter 11 bankruptcy protection. Peabody is one of a number of coal companies hit hard by the drop in demand for coal to make steel as well as the emergence of cheap and abundant natural gas supplied by the shale boom.
This is the conclusion of Nicolas Loris of the Heritage Foundation. Loris explains that the Obama administration's destructive energy policies go beyond the coal industry by noting that there are two sets of energy companies.
First, there are companies such as Peabody, Arch Coal, Patriot Coal, Alpha Natural Resources, James River Coal and Walter Energy. Second, there are companies such as Solyndra, Abound Solar, Fisker Automotive, Beacon Power, and Vehicle Production Group. Both sets of companies have two things in common. They all have filed for bankruptcy and the federal government had a role in their failure.
"The government's role in bankrupting energy companies speaks to two overarching problems with U.S. energy policy: overregulation and subsidization," Loris writes. "Eliminating heavy-handed regulations that provide little to no environmental benefit and eliminating all energy subsidies will enable energy innovations and drive growth and success in the industry. Best of all, families and businesses will be the beneficiaries of the most reliable energy at the most competitive prices."
Following are excerpts from Loris's study of how regulation and subsidies destroy energy companies:
* According to a recent report by the Energy Information Administration (EIA), more than 80 percent of the nearly 18 gigawatts of electric generating capacity retired in 2015 was conventional steam coal. The EPA cites the Mercury Air & Toxics regulation, which has enormous compliance costs and minimal direct environmental benefits, with 30 percent of coal retirement in 2015.
* Global warming regulations will prevent the construction of new coal-fired power plants and could cause more of America's existing fleet to retire. The Department of the Interior recently announced a prohibition on leasing of public land to coal companies while it "reviews" the leasing process (a procedure that will inevitably result in making it more difficult and more expensive for coal companies to lease federal land).
* And the Mine Safety and Health Administration (MSHA) in the Department of Labor have promulgated a host of new rules that will increase the costs of mining coal and decision making authority away from individuals and instead empower Washington regulators to micromanage operations. Combined, the federal government's regulations have had a Shaquille O'Neal-sized hand in driving out coal production.
* Then there's the second set of companies. Each bankrupt company in the second group received taxpayer dollars as part of the Department of Energy's loan and loan guarantee programs. The government played a role in their failures by dangling taxpayer dollars for investments in alternative forms of energy technology, such as wind, solar or electric vehicles. In each instance, DOE lent money to companies that could not survive even help from the taxpayer.
* Private investors look at taxpayer-backed loans as a way to substantially reduce their risk. Private companies can invest a smaller amount than they otherwise would have to. The government's involvement in decisions that should be purely private investments skew the risk calculation and have resulted in economic losers.
SOURCE
Leading Australian conservative politician questions climate change beliefs
Attorney-General George Brandis has questioned the science of climate change, saying he's not "at all" convinced it is settled.
Labor has seized on comments by the senior Turnbull government minister that there were a number of views about the cause of climate change, arguing it proves the deep climate scepticism in the coalition.
"It doesn't seem to me that the science is settled at all," Senator Brandis told parliament on Tuesday during debate on the tabling of documents relating to the CSIRO.
The attorney-general was addressing a recent CSIRO restructure - undertaken internally - which will move the focus away from collecting climate data.
About 200 jobs are at risk, however the overall head count is expected to return to current levels within two years.
Senator Brandis said he wasn't embarking on the climate debate himself, but challenging the illogical position of the Labor party. "But I'm not a scientist, and I'm agnostic really on that question."
Senator Brandis said, if the science was settled - like Labor claims - why would Australia need climate researchers.
CSIRO head Larry Marshall said in an email to staff when announcing the restructure that the question of climate change had been proved and it was time to refocus on solutions to it.
However, scientists say without continuous data collection - some of which is undertaken by the CSIRO in partnership with the Bureau of Meteorology - huge gaps could form that could never be recovered.
Labor said the attorney-general's comments were breathtaking. "The commitment of Senator Brandis to addressing the impacts of climate change is so shallow, he hasn't made up his mind whether it actually exists yet," environment spokesman Mark Butler and shadow attorney-general Mark Dreyfus said in a statement.
Prime Minister Malcolm Turnbull lost the Liberal leadership in 2009 in part due to his commitment to climate change and an emissions trading scheme. As a backbencher, he heavily criticised the coalition's direct action climate policy.
Senator Brandis' office referred AAP to an interview conducted in 2014 in which the attorney-general told a reporter he was "on the side of those who believed in anthropogenic (human-caused) global warming and who believed something ought to be done about it."
SOURCE
***************************************
For more postings from me, see DISSECTING LEFTISM, TONGUE-TIED, EDUCATION WATCH INTERNATIONAL, POLITICAL CORRECTNESS WATCH, FOOD & HEALTH SKEPTIC and AUSTRALIAN POLITICS. Home Pages are here or here or here. Email me (John Ray) here.
Preserving the graphics: Most graphics on this site are hotlinked from elsewhere. But hotlinked graphics sometimes have only a short life -- as little as a week in some cases. After that they no longer come up. From January 2011 on, therefore, I have posted a monthly copy of everything on this blog to a separate site where I can host text and graphics together -- which should make the graphics available even if they are no longer coming up on this site. See
here
or
here
*****************************************