High-quality 19th century marker shows that the sea-level has FALLEN since then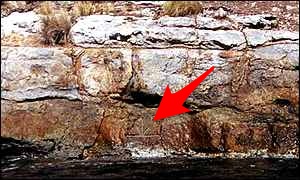 Tasmanian marker showing that the mean sea level of the mid 19th century was ABOVE the mean sea-level of today
The 'Isle of the Dead' may yet prove to be another nail in the coffin of global warming and its gruesome companion, Disastrous Sea Level Rises.
The `Isle of the Dead' is over two acres in size and is situated within the harbor of Port Arthur opening directly to the Southern Ocean. The isle itself is actually a graveyard (thus its eerie name), containing the graves of some 2,000 British convicts and free persons from the 19th century who lived and died at the nearby convict colony of Port Arthur between 1832 and 1870.
In 1841. renowned British Antarctic explorer, Captain Sir James Clark Ross, sailed into Tassy after a 6-month voyage of discovery and exploration to the Antarctic.
Ross and Governor Franklin made a particular point of visiting Port Arthur, to meet Thomas Lempriere, a senior official of the convict colony there, but who was also a methodical observer and recorder of meteorological, tidal, and astronomical data. It is important to note what Captain Ross wrote about it.
"My principal object in visiting Port Arthur was to afford a comparison of our standard barometer with that which had been employed for several years by Mr. Lempriere, the Deputy Assistant Commissary General, in accordance with my instructions, and also to establish a permanent mark at the zero point, or general mean level of the sea as determined by the tidal observations which Mr. Lempriere had conducted with perseverance and exactness for some time: by which means any secular variation in the relative level of the land and sea, which is known to occur on some coasts, might at any future period be detected, and its amount determined.
The point chosen for this purpose was the perpendicular cliff of the small islet off Point Puer, which, being near to the tide register, rendered the operation more simple and exact. The Governor, whom I had accompanied on an official visit to the settlement, gave directions to afford Mr. Lempriere every assistance of labourers he required, to have the mark cut deeply in the rock in the exact spot which his tidal observations indicated as the mean level of the ocean."
That mark is still there today, as can be seen in the photo.The photo was taken at midway between high and low tides.
There is intensive research presently underway by several institutions including the now corrupt CSIRO assisted by the head of the Inter-Agency Committee on Marine Science & Technology, Dr David Pugh, who is based at the University of Southampton, UK. But in spite of plenty of time we have yet to see their detailed explanation of just why this mark confounds all the predictions about sea level rise.
Dr. Pugh airily waves his hands and says in effect that poor old confused Lempriere, in spite of the detailed instructions about getting a Mean Sea Level (half way between high and low tide), he just put in the high water mark. This, of course, sounds logical to anybody steeped in the Green religion.
But not to anyone else and not to real scientists who look at evidence unflinchingly.
SOURCE
More Countries Caught Manipulating Their Climate Data
Weather agencies in Australia, Paraguay and Switzerland may be manipulating temperature data to create a sharper warming trend than is present in the raw data — a practice that has come under scrutiny in recent months.
Most recently, Dr. H. Sterling Burnett with the Heartland Institute detailed how the Swiss Meteorological Service adjusted its climate data "to show greater warming than actually measured by its temperature instruments."
In his latest article, Sterling wrote that Switzerland's weather bureau adjusted its raw temperature data so that "the temperatures reported were consistently higher than those actually recorded." For example, the cities of Sion and Zurich saw "a doubling of the temperature trend" after such adjustments were made.
But even with the data tampering, Sterling noted that "there has been an 18-year-pause in rising temperatures, even with data- tampering."
"Even with fudged data, governments have been unable to hide the fact winters in Switzerland and in Central Europe have become colder over the past 20 years, defying predictions of the Intergovernmental Panel on Climate Change (IPCC) and other climate alarmists," according to Sterling.
The Swiss affair, however, is not the first instance of data "homogenization" catalogued by scientists and researchers who are skeptical of man-made global warming. In January, skeptic blogger Paul Homewood documented how NASA has "homogenized" temperature data across Paraguay to create a warming trend that doesn't exist in the raw data.
Homewood found that all three operational rural thermometers in Paraguay had been adjusted by NASA to show a warming trend where one did not exist before. Homewood also found that urban thermometers in Paraguay had similarly been adjusted by NASA.
"[NASA is] supposed to make a 'homogenisation adjustment,' to allow for [urban heat island (UHI)] bias," Homewood wrote. "The sort of thing you would expect to see at Asuncion Airport, Paraguay's main gateway, handling over 800,000 passengers a year."
"However, far from increasing historic temperatures to allow for UHI, [NASA] has done the opposite and decreased temperatures prior to 1972 by 0.4C," Homewood added.
Before that, the Australian Bureau of Meteorology (ABM) was forced to admit it adjusts temperatures recorded at all weather stations across the country. Aussie journalists had been critical of ABM for being secretive about its data adjustments.
"Almost all the alterations resulted in higher temperatures being reported for the present and lower numbers for the past–with the higher numbers being used to demonstrate a historical warming trend–than the numbers that were actually recorded," wrote Sterling.
"Downward homogenizations in recent years were rare. In some areas, downward temperature trends measured over time showed a significantly increased temperature trend after homogenization," he added. "The difference between actually measured temperatures and homogenized temperatures topped 4 degrees Celsius over certain periods at some measuring stations."
Global warming skeptics have increasingly become critical of adjustments to raw temperature data made by government climate agencies. Such adjustments seem to overwhelmingly show a massive warming trend not present in the raw data.
Such adjusted data has been used by climate scientists and environmental activists to claim that 2014 was the warmest year on record. Adjusted data also shows that 13 of the warmest years on record have occurred since 2000.
NOAA and other climate agencies have defended such adjustments to the temperature record, arguing they are necessary to correct for "biases" that distort the reality of the Earth's climate.
NOAA scientists increase or decrease temperatures to correct for things like changes in the locations of thermometers (some that were once in rural areas are now in the suburbs or even in cities). Scientists have also had to correct for a drastic change in the time of day temperatures were recorded (for whatever reason, past temperatures were recorded in the afternoon, but are now often collected in the morning).
Other adjustments have been made to the data to correct for such "biases," but global warming skeptics question if the scope of the data adjustments are justifiable.
The U.K.'s Global Warming Policy Foundation has created a panel of skeptical scientists from around the world who will evaluate temperature adjustments to find out if they are scientifically justified.
"Many people have found the extent of adjustments to the data surprising," Terence Kealey, former vice-chancellor of the University of Buckingham, said in a statement.
"While we believe that the 20th century warming is real, we are concerned by claims that the actual trend is different from — or less certain than — has been suggested," said Kealey, who has been appointed chairman of the foundation's investigative task force. "We hope to perform a valuable public service by getting everything out into the open."
SOURCE
When Will Kerry Divest From Fossil Fuels?
Secretary of State John Kerry says that addressing the unsubstantiated man-made affects of climate change ranks among developed countries' top priorities. And the way leftists suggest we do that is to scale back capitalism, embrace cap and trade, shutter coal-fired plants and enact tough energy efficiency standards under the heavy hand of the Environmental Protection Agency, to name but a few. Our comfortable living standards, they admit, are difficult to relinquish, but it's necessary to stave off a climate crisis.
So why is Kerry investing in the very resources he says are contributing to global warming? Ron Arnold, executive vice president for the Center for the Defense of Free Enterprise, reveals in The Daily Caller that, as of March, "public records indicated that Secretary Kerry personally owned an estimated three to six million dollars in stocks of more than 50 oil and gas-related companies." Moreover, "Records from 2004 show that he's been constantly and deeply invested in fossil fuels for at least a decade, and is still injecting millions in working capital into the very industries he condemns."
Even worse, Kerry, while vying for Hillary Clinton's position as secretary of state, exploited a series of loopholes to obfuscate any ties to Big Oil and to garner the Office of Government Ethics' approval for the job. Is it too much to ask that, at the very least, our political elite practice what they preach?
SOURCE
The EPA Wants to Control Your Water
The EPA and the Army Corps of Engineers recently proposed a new rule defining "waters of the United States" for regulation under the Clean Water Act. Following the lead of Barack Obama's my-way-or-destruction tactics, the EPA wants to know, "Do you choose clean water?" If so, clearly you want the EPA's heavy-handed regulation. Or so the false choice goes.
Unfortunately, the EPA wants to expand the law's reference to "waters of the United States" to include not just rivers and lakes, but the large mud puddle on a remote ranch. Rep. Richard Hanna (R-NY), who cosponsored House legislation last fall to stop the overregulation, explains: The EPA "would redefine the scope of federal power under the Clean Water Act, creating jurisdiction over almost all physical areas with a connection to downstream navigable waters. This would put features such as ditches, natural or man-made ponds, flood plains, and prairie potholes, among others, under federal control.
I believe it would directly contradict prior U.S. Supreme Court decisions and is based on incomplete scientific and economic analyses." Make no mistake — the EPA is only using science and the environment to justify its power grabs.
SOURCE
Battery-powered ferry good for short round trips
With ten tons of batteries it can make 6 kilometer trips -- with special charging stations at each end of its route
The world's first electrical car and passenger ferry powered by batteries has entered service in Norway, representing a milestone on the road to operating emission-free ferries along Norway's coastline, with at least 50 other routes currently able to sustain battery-operated vessels.
The Norled ferry uses just 150 kWh per route, which corresponds to three days use of electricity in a standard Norwegian household.
Built in conjunction with shipbuilder Fjellstrand, Siemens installed the vessel's electric propulsion system and put up charging stations with lithium-ion batteries which are charged from hydro power. With the change to battery, shipowner Norled is reducing the cost of fuel by up to 60 percent, Siemens said.
Because the power grid in the region is relatively weak, Siemens and Norled decided to install three battery packs: one lithium-ion battery on board the ferry, and one at each pier to serve as a buffer. The 260-kWh-units supply electricity to the ferry while it waits. Afterward, the battery slowly recoups all of this energy from the grid until the ship comes back again to drop off passengers and recharge. Charging stations are housed in small buildings about the size of newsstands. The ship's onboard batteries are recharged directly from the grid at night when the ferry is not in use. Each battery pack corresponds to the effect of 1,600 standard car batteries.The Norled ferry will consume around two million kWh per year, whereas a traditional diesel ferry consumes at least one million liters of diesel a year and emits 570 tons of carbon dioxide and 15 metric tons of nitrogen oxides.
On board the ferry, Siemens installed its electric propulsion system BlueDrive PlusC. It includes a battery and steering system, thruster control for the propellers, an energy management system and an integrated alarm system. The integrated automation systems control and monitor the machineries and auxiliaries on the ferry and are connected via Profibus to all other subsystems.
"We are both optimistic and excited about this technology and how it will help shape the future of environmentally friendly maritime technology," said Mario Azar, CEO of the Siemens Business Unit Oil & Gas and Marine.
Unlike many electric cars, the emission-free ferry was developed from the ground up. The ferry, which is 80 meters long and 20 meters wide, is driven by two electric motors, each with an output of 450 kilowatts. It is made exclusively of light aluminum rather than the steel normally used in shipbuilding. This makes the ferry only half as heavy as a conventional ferry, despite its ten ton batteries and a capacity for 360 passengers and 120 vehicles. An aluminum hull also has double the lifetime as steel hull, which leads to lower maintenance costs.
Ship owner Norled operates on the ferry link across Sognefjord between Lavik and Oppedal, Norway. The fully electric ferry travels six kilometers across the fjord 34 times a day, with each trip taking around 20 minutes. The solution is a result of a competition that Ministry of Transport and Communications and the Norwegian Public Roads Administration launched in 2010. Batteries are expected to become considerably more efficient and less expensive in the next few years, which tip the scales further away from diesel as the most popular fuel source.
SOURCE
Australia: RICH AND GODLESS FORM MAJOR SUPPORT BASE OF THE GREENS
The appeal of the Greens to the rich and godless has been underlined by an analysis of voting patterns in the recent NSW election. The Greens picked up three lower house seats — Balmain, Newtown and Ballina — and two members of the upper house. The party's state-wide vote was unchanged at 10.3 per cent, but it achieved solid increases in the inner city — and big jumps in its support on the north coast of NSW, due to concerns about coal-seam gas.
Analysis of election results using 2011 census data compiled by the NSW parliamentary library reveals the ¬secret of the Greens' success ¬appears to be the party's appeal to atheists and the well-off.
In the top 10 electorates ranked by the proportion of households with income of $3000 a week or more, the Greens' primary vote averaged 17 per cent. In the 10 electorates with the lowest proportion of such families, the Greens vote averaged 10.9 per cent. And this figure was inflated by the Greens' outstanding results in the north coast seats of Tweed and Lismore, driven by the CSG issue. The electorates ranked one and two for people who nominate no religion, agnosticism, atheism, humanism or rationalism are Newtown and Balmain in inner Sydney. The No 3 godless electorate is Sydney, which is held by the Clover Moore-backed independent Alex Greenwich, who captures much of what would otherwise be the Greens vote.
Even with him getting 39.6 per cent of the vote, the Greens still managed a respectable 9.7 per cent primary vote. The Greens' other seat, Ballina, which includes Byron Bay and Mullumbimby, is ranked four for the number of atheists. Conversely, in electorates where the proportion of Christians is highest, Greens did relatively poorly. In the most Christian seat in NSW — Cootamundra in the Riverina — the Greens managed just 3.5 per cent of the vote. Although the Greens proclaim an emphasis on social justice and equity, working-class people ¬appear unconvinced. In electorates with the highest proportion of labourers, the Greens averaged only 4.8 per cent.
Greens MLC John Kaye said education, rather than income, was a better predictor of a likely Greens voter. "As a progressive party, we appeal to people who have been formally trained to look at alternatives and assess them," he said. Dr Kaye said it was a mistake to lump Balmain and Newtown together, because they were quite different electorates. Balmain was wealthier and had more families while Newtown had more students and public-sector workers. ABC election analyst Antony Green studied the demographics of the Greens vote in the 2010 federal election, concluding Labor and the Greens are not engaged in a battle over Labor heartland but that the Greens were concentrated in the inner cities and among the "knowledge elite." He remarked that "high Green support basically disappears at the end of the tram lines" in Melbourne.
Via email from the Australian Prayer Network
***************************************
For more postings from me, see DISSECTING LEFTISM, TONGUE-TIED, EDUCATION WATCH INTERNATIONAL, POLITICAL CORRECTNESS WATCH, FOOD & HEALTH SKEPTIC and AUSTRALIAN POLITICS. Home Pages are here or here or here. Email me (John Ray) here.
Preserving the graphics: Most graphics on this site are hotlinked from elsewhere. But hotlinked graphics sometimes have only a short life -- as little as a week in some cases. After that they no longer come up. From January 2011 on, therefore, I have posted a monthly copy of everything on this blog to a separate site where I can host text and graphics together -- which should make the graphics available even if they are no longer coming up on this site. See
here
or
here
*****************************************