Just When You Thought Scientists Couldn't Possibly Get Any Stupider
Three years ago, ingenious scientists predicted that DC cherry trees would bloom in February
Could cherry blossoms one day be blooming in winter? – The Washington Post
We just had our second coldest February on record, and Chesapeake Bay is frozen over.

With lots more record cold on the way.

You have to wonder how these people are able to tie their own shoes, much less find their way to their ivory tower to write and peer-review this kind of garbage.
SOURCE
Polar Vortex Common In The 19thC
I came across a chapter in Hubert Lamb's "Climate, History and the Modern World", which has more than a bit of topical relevance.
We are all well aware of the extremely cold winters in the eastern half of the States, both this year and last. This has coincided with warm winters in the west, the sort of extreme weather which warmists would like to blame on "climate change".
Well it turns out that they had the same weather patterns in the 1850's and 60's, and the reason was just the same - a meridional jet stream.
HH Lamb - Page 253
Lamb believed that this meridionality was actually more common during the Little Ice Age, and there is plenty of evidence of the same phenomenon during the cooling period of the 1960's and 70's.
Is the latest incarnation of this just weather, or an indication of a return to a colder era? Either way, it won't stop junk scientists blaming it on "global warming".
SOURCE
Warmists still promoting their flop film
Below is part of a blurb from "Newsweak" trying to drum up interest in the cinematic Kenner/Oreskes attack on climate skeptics. It's been out for a while now but seems to have been a box-office flop. I have said all I want to say about it before so will refer readers back to that
In Merchants of Doubt, their 2010 book that vivisects bad science and industrial cynicism, science historians Naomi Oreskes and Erik M. Conway decried the uneven battle for the popular imagination fought, on one side, by scientists ill-equipped for high-volume cable-TV tussles and, on the other, by the "well-financed contrarians" bent on dismantling whatever lab results, peer-reviewed theories and settled science might lead to even the most benign corporate regulations.
The authors unraveled the deny-and-obfuscate tactics concocted in the 1950s by Mad Men and Big Tobacco to cloud understanding of what even the proto-mainstream media was beginning to grasp. "Cancer by the Carton," read a 1953 headline in Reader's Digest. "Doubt," countered a public relations memo exhumed decades later from Big Tobacco's yellowed files, "is our product."
And doubt, argued Oreskes and Conway, became the mantra for purveyors of acid rain, ozone holes and, most significant, global warming. Keep the cigarettes burning, the CO2 combusting and the profits flowing for as long as possible.
Joining the fray is filmmaker Robert Kenner, whose surprisingly rollicking screen adaptation of Merchants of Doubt opens March 6 in New York and Los Angeles. It's a worthy follow-up to his 2008 Oscar-nominated Food, Inc., which arrived when Americans were primed to point fat fingers at Big Agra. This time, Doubt lands amid a national debate over science-legit, pseudo or just plain bad-that intensifies with every foot of Boston snow or new case of Disneyland measles.
Along with corporate greed and Madison Avenue chicanery, Kenner's film exposes a devoted and long-lived cadre of scientists (and their philosophical descendants) who established their careers during the A-bomb era and the Cold War's Big Science rivalries. Anti-communist ideologues, well-trained and often brilliant scientists such as physicists S. Fred Singer and the late Frederick Seitz saw (and see) corporate regulation as a pathway to socialism, an endgame more fearsome than any secondhand smoke or patchy ozone.
SOURCE
Now Europe wants to ban halogen light bulbs
The sale of halogen bulbs which are used in millions of homes could be banned as early as next year as part of the EU's energy-saving drive. It follows the prohibition of traditional incandescent bulbs, which have been phased out in an effort to cut greenhouse gas emissions.
Millions of halogen bulbs are sold in Britain every year, often for use in kitchen and bathroom spotlights. Any ban could consequently cause enormous inconvenience.
The European Commission and green campaigners say halogens are not much more efficient than traditional bulbs so should be replaced by energy-saving compact fluorescent bulbs - known as CFLs - and LEDs.
Yet these alternatives can be as much as 15 times more expensive. There is the additional problem that some LEDs do not work with the dimmer switches and wiring circuits currently used by halogen bulbs, while CFLs can take up to five minutes to reach full brightness.
The EC is due to hold a vote on the issue in April, when it could agree to go ahead with the proposed 2016 ban or push back the date to 2018.
Consumer group Which? argued there are good reasons for a delay. A spokesman said: `Half of Which? members still have halogen bulbs in their home and more than two in five have halogen spotlights. Delaying the ban until 2018 would allow more time for some of the compatibility and user issues to be resolved.'
And a campaign group of manufacturers called LightingEurope is demanding any ban on halogens is delayed until 2020 at the earliest, in order to minimise the impact on consumers and the industry.
The group's secretary general, Diederik de Stoppelaar, said: `A phase-out before 2020 is going to be costly and inconvenient to consumers. The industry supports the change to more energy efficient lighting... however, an earlier date does not allow for alternative developing technologies to be widely available.'
But Which? added that despite the inconvenience, there are some positives to switching. The new bulbs last longer and, because they are more energy efficient, they will cut electricity bills over time.
Typically, halogens use 10 per cent less energy than incandescent bulbs, while CFLs use 60-80 per cent less and LEDs up to 90 per cent less. LED lights are so efficient that a 5-watt bulb is, in theory, equivalent to a 35-watt halogen.
But while a typical 35-watt halogen spotlight costs about œ1, a 5-watt LED can be anything from œ5 to œ15.
The managing director of British lighting company BLT Direct, Steven Ellwood, supports the 2016 ban.
He said: `We understand the concerns of experts who want to delay the ban in order to iron out some issues. [But] implementing the ban sooner rather than later would see plenty of benefits for consumers, not to mention the environment.'
Other advocates of the 2016 deadline argue that the energy savings for Britain as a whole could be so large that it would eliminate the risk of black-outs caused by the closure of old and run-down power stations.
One analysis suggests that if all 27 million homes reduced their need for lighting by 100 watts on winter evenings, this would cut peak energy demand by 5 per cent.
SOURCE
Warmist Jihad?
Climate Crisis extremists attack experts who challenge claims of imminent climate Armageddon
Paul Driessen
ISIL and other Islamist jihad movements continue to round up and silence all who oppose them or refuse to convert to their extreme religious tenets. They are inspiring thousands to join them. Their intolerance, vicious tactics and growing power seem to have inspired others, as well.
After years of claiming the science is settled and unprecedented manmade catastrophes are occurring right now, Climate Crisis, Inc. is increasingly desperate. Polls put climate change at the bottom of every list of public concerns. China and India refuse to cut energy production or emissions. Real-world weather and climate totally contradict their dire models and forecasts. Expensive, subsidized, environmentally harmful renewable energy makes little sense in world freshly awash in cheap, accessible oil, gas and coal.
Perhaps worse, Congress is in Republican control, and in 23 months the White House and Executive Branch could also shift dramatically away from the Freezing-Jobless-in-the-Dark Side of the Force.
Climate Crisis industrialists are also fed up with constant carping, criticism and questions from growing numbers of experts who will not kowtow to their End of Days theology. Once seemingly near, their dream of ruling a hydrocarbon-free world of "sustainably" lower living standards become more remote every week. Extremist factions had dreamed of a global climatist caliphate and want vengeance.
So borrowing from Barack Obama and Hillary Clinton mentor Saul Alinsky's book, Rules for Radicals, they have gone on the attack: Pick a target, freeze it, personalize it, and polarize it. A good tactic is one your people enjoy. A tactic that drags on too long becomes a drag. Keep the pressure on, with different tactics and actions. They've also borrowed from the Islamic State playbook: Silence your enemies.
Led by Greenpeace associate Kert Davies, this Climatist Jihad wing of the climate chaos movement has launched a well funded, carefully choreographed vendetta of character assassination and destruction, vilifying dangerous manmade climate change "deniers" and trying to destroy their careers. Their Big Green, Big Government and media allies are either actively complicit, rooting from the sidelines or silent.
Instead of bullets, bombs and beheadings, they use double standards, Greenpeace FOIA demands, letters from Senator Ed Markey and Congressman Raul Grijalva, threats of lost funding and jobs, and constant intimidation and harassment. Submit, recant, admit your guilt, renounce your nature-rules-climate faith, Climatist Jihadis tell climate realists. Or suffer the consequences, which might even include IRS, EPA and Fish & Wildlife Service swat teams bursting through your doors, as they did with Gibson Guitars.
Their first target was Harvard-Smithsonian Center for Astrophysics scientist Wei-Hock "Willie" Soon. Working closely with Greenpeace's Climate Investigations Center, the Boston Globe and New York Times alleged that Dr. Soon received $1.25 million from the fossil fuel industry, but failed to disclose those funds when his scientific papers were published and falsely claimed he had no conflict of interest.
The charges are bogus. Harvard had full knowledge of Dr. Soon's research financing and took 40% of the grant money off the top: some $500,000! The details are all public records, and Dr. Soon has a solid track record of going where his careful and extensive research takes him - regardless of where the money comes from. Not a scrap of evidence suggests that he falsified or fabricated data or conclusions, or twisted his science to satisfy research sponsors, on any of the numerous topics he has studied.
He has received incredible flak from environmentalist pressure groups, media outlets and even his own university - and has courageously stood behind his research, analyses and findings, which continue to withstand intense scientific scrutiny. Harvard-Smithsonian recently said it "does not support Dr. Soon's conclusions on climate change," and Harvard Earth and Planetary Sciences Professor Daniel Schrag averred that Soon's approach to finding global average temperatures was perhaps not "as honest as other approaches." But they offer not a scintilla of evidence to support their allegations of inaccuracy and dishonesty, and give him no opportunity to respond.
Indeed, one of the most prominent aspects of the climate imbroglio is the steadfast refusal of alarmist scientists to discuss or debate their findings with experts who argue that extensive, powerful natural forces - not human carbon dioxide emissions - drive Earth's climate and weather. "Manmade disaster" proponents also refuse to divulge raw data, computer codes and other secretive work that is often paid for with taxpayer money and is always used to justify laws, treaties, regulations, mandates and subsidies that stifle economic growth, kill jobs and reduce living standards.
Dr. Soon is not the only target. The Climate Jihadists are also going after Robert Balling, Matt Briggs, John Christy, Judith Curry, Tom Harris, Steven Hayward, David Legates, Richard Lindzen, and Roger Pielke, Jr. More are sure to follow, because their work eviscerates climate cataclysm claims and raises serious questions about the accuracy, credibility, integrity and sanctity of alarmist science.
Climate Crisis, Inc. wants a monopoly over the issue. Its members focus almost exclusively on alleged human causes of climate change and extreme weather events - and would love to see skeptics silenced. Crisis proponents will not even attend scientific conferences where skeptics discuss natural causes and alarmists have opportunities to defend their hypotheses, models and evidence. (Perhaps the FCC needs to investigate this monopoly and issue "climate neutrality" rules, to ensure honest and balanced discussion.)
It fits a depressing pattern: of the White House, Democrats and liberals shutting down debate, permitting no amendments, conducting business behind closed doors, not allowing anyone to read proposed laws and regulations, rarely even recognizing that there are differing views - on ObamaCare, ObamaNetCare, IRS harassment of conservative donors and groups, PM Netanyahu's speech to Congress, or climate change.
The Climate Crisis industry thrives on tens of billions of dollars annually, for one-sided climate research, drilling and fracking studies, renewable energy projects and other programs, all based on dubious claims that carbon dioxide and other greenhouse gas emissions threaten climate stability and planetary survival.
Businesses, job holders and consumers pay the huge costs of complying with the resultant regulations and soaring energy costs. Taxpayers pay for much of the research and propaganda that drives the rulemaking. Russia and hard-left foundations have also contributed billions to the process; and government unions, environmental pressure groups and renewable energy companies give generously to researchers and to politicians who keep the alarmist research programs, regulatory processes, mandates and subsidies alive.
All of this raises another elephantine issue. If a couple million dollars over a decade's time creates near-criminal conflict-of-interest and disclosure problems for skeptic/realist scientists, what effects do billions of dollars in research money have on alarmist researchers and their universities and institutions?
Few, if any, alarmist researchers have disclosed that their work was funded by government agencies, companies, foundations and others with enormous financial, policy, political and other interests in their work, ensuring that their conclusions support manmade factors and debunk natural causes. Many of those researchers have signed statements that their research and papers involved no conflicts, knowing they would not get these grants, if their outcomes did not reflect the sponsors' interests and perspectives.
Moreover, ClimateGate, IPCC revelations and other investigations have revealed extensive and troubling incidents of manipulated data, faulty models, wild exaggerations, broken hockey sticks, and completely baseless claims about hottest years, disappearing glaciers, coastal flooding and other "crises." And those claims severely impact our energy costs, jobs, living standards, economic growth and freedoms.
We need to end the double standard - and investigate the alarmist researchers and institutions.
Or better yet, let us instead have that all-out, open, robust debate that climate realists have long sought - and alarmists have refused to join. Equal government and other money for all research. All cards and evidence on the table. No more hiding data and codes. Answer all questions, no matter how tough or inconvenient. And let honest science decide what our energy and economic futures will be.
Via email
Historic documents show half of Australia's warming trend is due to "adjustments"
Adjustments that cool historic temperatures have almost doubled Australia's rate of warming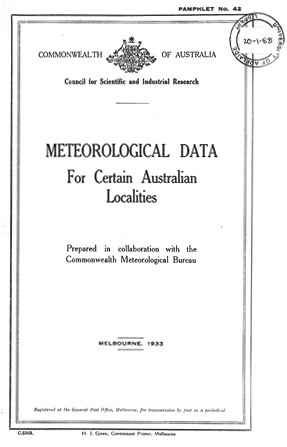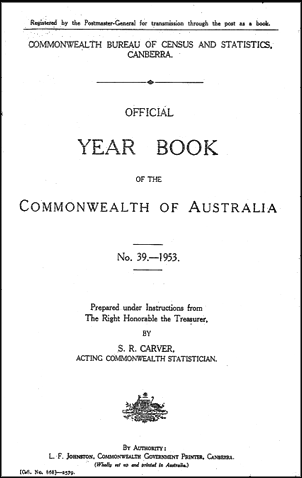 There was a time back in 1933 when the CSIRO was called CSIR and meteorologists figured that with 74 years of weather data on Australia, they really ought to publish a serious document collating all the monthly averages at hundreds of weather stations around Australia.
Little did they know that years later, despite their best efforts, much of the same data would be forgotten and unused or would be adjusted, decades after the fact, and sometimes by as much as one or two degrees.
Twenty years later The Commonwealth Bureau of Census and Statistics would publish an Official Year Book of Australia which included the mean temperature readings from 1911 to 1940 at 44 locations.
Chris Gillham has spent months poring over both these historic datasets, as well as the BoM's Climate Data Online (CDO) which has the recent temperatures at these old stations. He also compares these old records to the new versions in the BOM's all new, all marvelous, best quality ACORN dataset. He has published all the results and tables comparing CDO, CSIR and Year Book versions.
He analyzes them in many ways – sometimes by looking at small subsets or large groups of the 226 CSIR stations. But it doesn't much matter which way the data is grouped, the results always show that the historic records had warmer average temperatures before they were adjusted and put into the modern ACORN dataset. The adjustments cool historic averages by around 0.4 degrees, which sounds small, but the entire extent of a century of warming is only 0.9 degrees C. So the adjustments themselves are the source of almost half of the warming trend.
The big question then is whether the adjustments are necessary. If the old measurements were accurate as is, Australia has only warmed by half a degree. In the 44 stations listed in the Year Book from 1911-1940, the maxima at the same sites is now about half a degree warmer in the new millenia. The minima are about the same.
Remember that these sites from 1911-1940 were all recorded with modern Stevenson Screen equipment. Furthermore, since that era the biggest change in those sites has been from the Urban Heat Island (UHI) effect as the towns and cities grew up around the sites. In some places this effect may already have been warming those thermometers in the first half of the last century, but in others UHI can make 5 to 7 degrees difference.
If Australian thermometers are recording half a degree higher than they were 70 – 100 years ago, we have to ask how much of that warming is the UHI effect? Common sense would suggest that if these older stations need any correction, it should be upward rather than downward to compensate for the modern increase in concrete, buildings and roads. Alternatively, to compare old readings in unpopulated areas with modern ones, we would think the modern temperatures should be adjusted down, rather than the older ones.
Chris Gillham discusses the potential size of the UHI changes:
"In 2012 and 2013 it was anticipated that UHI warming in south-eastern Australia will continue to intensify by approximately 1C per decade over and above that caused by global warming (Voogt 2002), with tests in 1992 showing a UHI influence up to 7.2C between the Melbourne CBD and rural areas. [PDF]
Smaller but significant UHI influences were found in regional towns, with a 1994 test observing a UHI intensity up to 5.4C between the centre of a Victorian town and its rural outskirts."
The situation with adjustments stays roughly the same if we go back even further. Gillham compared 226 stations during the period from 1855 -1931 and the average is about half a degree less than what it is now — from 2000-2014.
The first station in the CSIR record, Melbourne, starts in 1855. Each year, new stations came online. By 1865 there are ten stations and by 1880 there are nearly 30.
Ideally we could compare 50 stations which didn't move or start and stop over the same period, but even the ACORN dataset in the 1900s doesn't do that, introducing new stations up to the 1970s.
It is hard to draw conclusions from the CSIR record as is. But neither can it be ignored. Roughly two thirds of the temperatures were recorded on Stevenson screens, but much of the data in the 1800s was recorded on screens, sheds and shades until Stevenson screens were introduced across Australia over the 20 year period from 1887 – 1907. And scientists in the 1930s were very much aware of the effect of slight changes in screens as one long running comparison of different screens side by side had already been going for over 30 years in Adelaide. (I'll write more on that soon).
It's rough but, as rough guides go, it's the only data we have. Other peer reviewed papers have estimated Australia's average temperature change to 0.09C in 1000AD based on two groves of trees in Tasmania and New Zealand. Wouldn't thermometers be kinda useful?
One small piece of good news is that at least the early CDO records maintained by the BoM online appear to match the averages within the Year Book and CSIR tables. At least the copies of the original data put online are accurate as far as these rough tests go.
The Bottom line
There is a treasure trove of information in these historic documents for people interested in long-term climate.
The difference between the original records and the adjusted ACORN dataset suggests that the adjustments cooled original temperatures by 0.4C between 1910 and 1940, which means that around 45% of the modern "warming" trend is due to these homogenisations and adjustments which have not been independently justified and oddly appear to go in the opposite direction to what common sense would suggest might be necessary. In the older and larger CSIR tables, there is an overall cooling adjustments of 0.5C.
Thanks to Chris Gillham for the massive amount of data crunching and tracking it takes to provide meaningful numbers.
Chris Gillham's Conclusions:
Downward ACORN adjustment of historic temperature records from weather stations before 1940 adds 0.3C or 0.4C to Australia's rate of climate warming since 1910 but the reason for the downward adjustments is unclear.
Various timescale and station comparisons show insignificant changes or warming up to 0.5C from 1931 to 2000-14. These temperatures from 1855 to 1940 are compared to what the BoM describes as the hottest decade ever recorded in Australia (2014 claimed as the third hottest).
Other historic documents add weight to the evidence that pre-1910 temperatures were not significantly cooler than current readings.
For example, On the Climate of the Yass-Canberra District published in 1910 by Commonwealth Meteorologist Henry Hunt shows temperatures at 10 locations were on average 0.1C warmer in all years before 1909 than in 2004-2013. Hunt also presents 1909 summer and winter mean temperatures at six northern Australia locations which average 0.2C warmer than those locations in 2004-2013 (download PDF).
Their dataset timescales include the first 85 years of temperature recording at most weather stations across Australia in a network more than twice as large as ACORN, and their averages are a legitimate historic record indicating climate warming has been significantly less than calculated with adjusted data since 1910.
SOURCE
***************************************
For more postings from me, see DISSECTING LEFTISM, TONGUE-TIED, EDUCATION WATCH INTERNATIONAL, POLITICAL CORRECTNESS WATCH, FOOD & HEALTH SKEPTIC and AUSTRALIAN POLITICS. Home Pages are here or here or here. Email me (John Ray) here.
Preserving the graphics: Most graphics on this site are hotlinked from elsewhere. But hotlinked graphics sometimes have only a short life -- as little as a week in some cases. After that they no longer come up. From January 2011 on, therefore, I have posted a monthly copy of everything on this blog to a separate site where I can host text and graphics together -- which should make the graphics available even if they are no longer coming up on this site. See
here
or
here
1909>1931>
*****************************************